Faithful readers of Reuben Munoz's blog, Rancho Reubidoux, will have followed Reuben's decision to join the Riverside Flower Show and Garden Tour, cheering him on as he underwent the harrowing process of qualifying to be on the tour and then the months of grueling preparation leading up to the fateful weekend. Fortunately, I live within 50 miles of RR and wouldn't miss the chance to tour Reuben's garden for the world. Garden designer Dustin Gimbel, who blogs at non-secateur, drove out with me to catch the tour of RR yesterday, a gorgeous, balmy Sunday. Tickets for the tour were bought at the Elks Lodge, where the "Flower Show" part of the festivities takes place, with tables holding row upon row of lovingly tended blooms in vases, orchids, succulents, all neatly identified. Very country fair. I could have happily passed a couple hours in the flower show hall, but the prospect of seeing Reuben's legendary Rancho lured us quickly out of the hall, back in the car, with the "treasure map" in hand that would lead us to the fabulous riches of Rancho Rubideaux, home to Reuben, Paul, Inky and Frito, the latter two safely tucked away with friends for the tour.
Reuben's own blog has a thorough pre-tour pictorial. On Sunday, the strong mid-day light was definitely an annoyance as far as taking photos.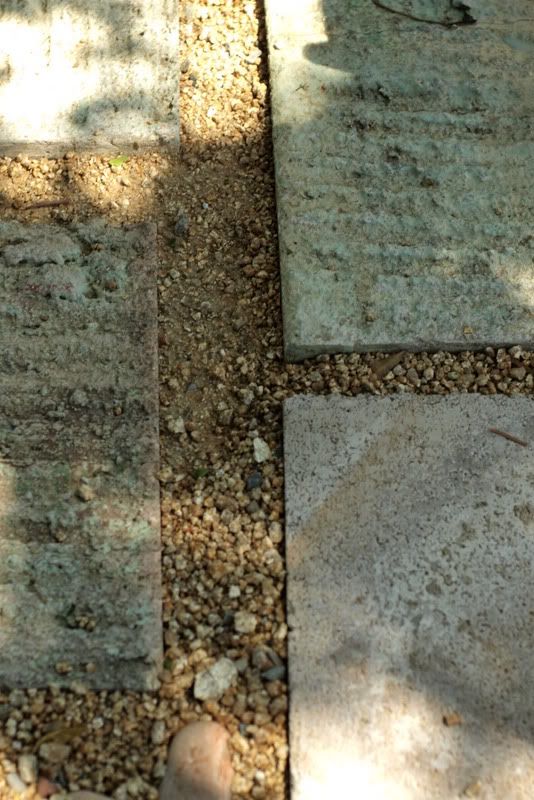 What I wish I could convey is the extraordinary sense of moving through this fiercely personal landscape, because Reuben's artistry lies in modeling space. One-dimensional photos capture the vignette compositions but in no way convey how each vignette is related to the whole, the careful planning of sight lines and attention to flow around plants and seating areas. What you can't get from photos is the immersive sense of being in a wholly unique space that envelopes and seduces. There is an exquisite tension between objects and plants, always perfectly balanced. Reuben's blog could mistakenly lead you to expect a magpie's collection of folk art interspersed among succulents and gravel, but he heavily relies on repetition of simple geometric forms, building up to fluid but powerful integrations of the organic and inorganic. What surprises is the sense of elegant spaciousness that pervades this garden, which at the same time houses an astonishing number of objects lying in wait to discover. It is not crowded or overly fussy, but a serene space for strolling on crunchy gravel, circling around beautiful specimens of Furcraea macdougalii in the ground, giant tree aloes in enormous containers. The simple materials of stone, wood, concrete and gravel are the groundwork upon which Reuben builds stark contrasts or sublime echoes in form with the abstract, rusted shapes of cast-off objects from forgotten industrial pursuits.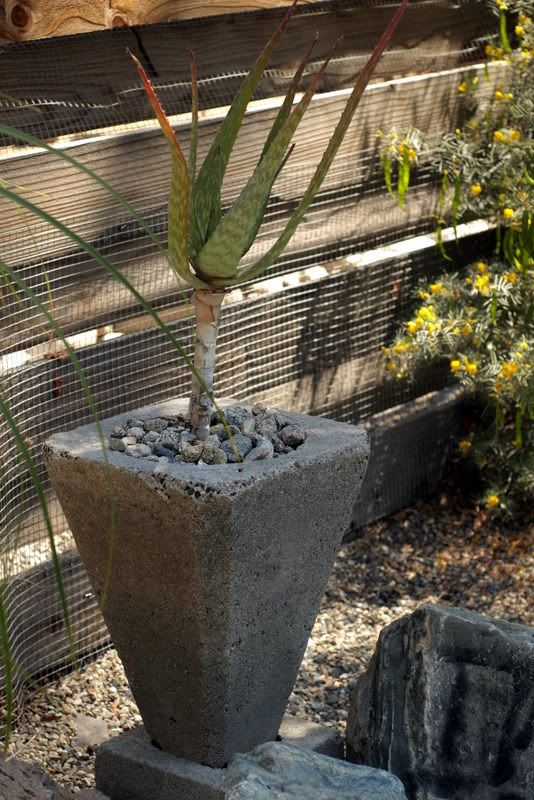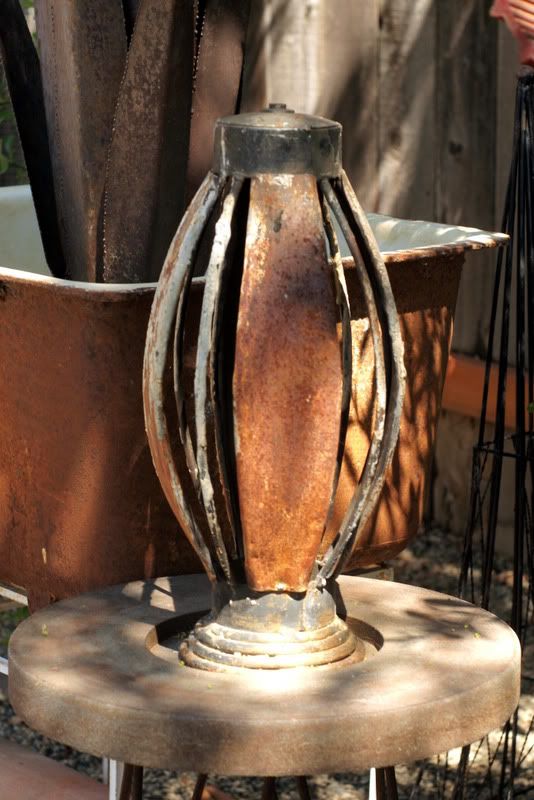 (I asked Dustin, a plant encylopedia in jeans and T-shirt, the name of this pencil euphorbia but have already forgotten it. Edited to include identity of Euphorbia mauritanica. Thank you again, Dustin.)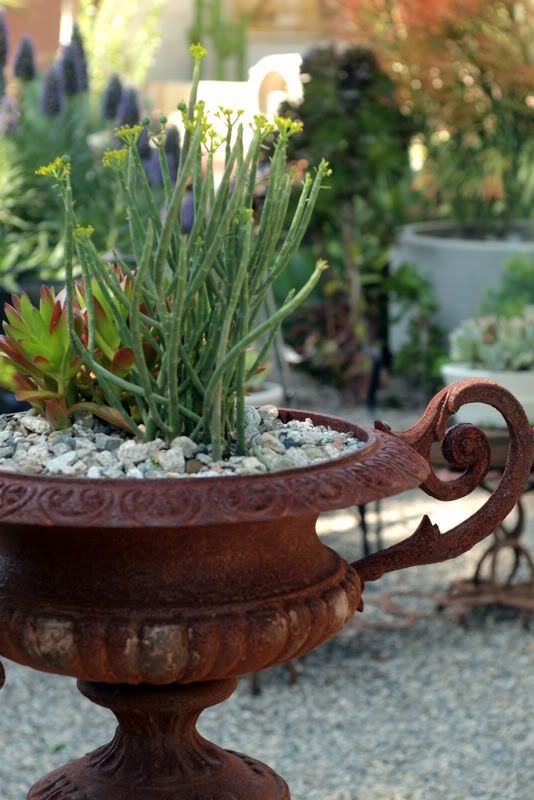 Confidently dipping into this continuum, this endless river of human creativity and innovation found at flea markets and thrift stores, Reuben plucks from the river what he needs to build his own acropolis.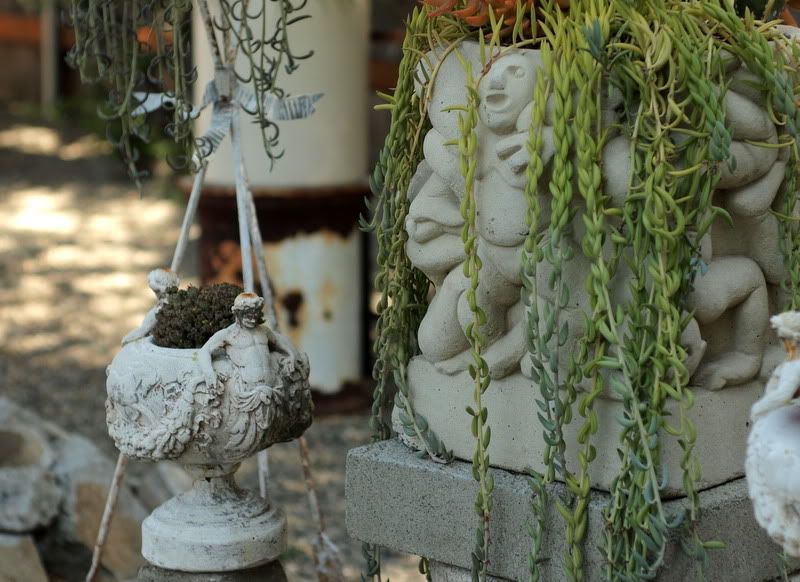 Many of the containers are of thick-walled concrete, some of huge, industrial proportions (that make one tremble with desire).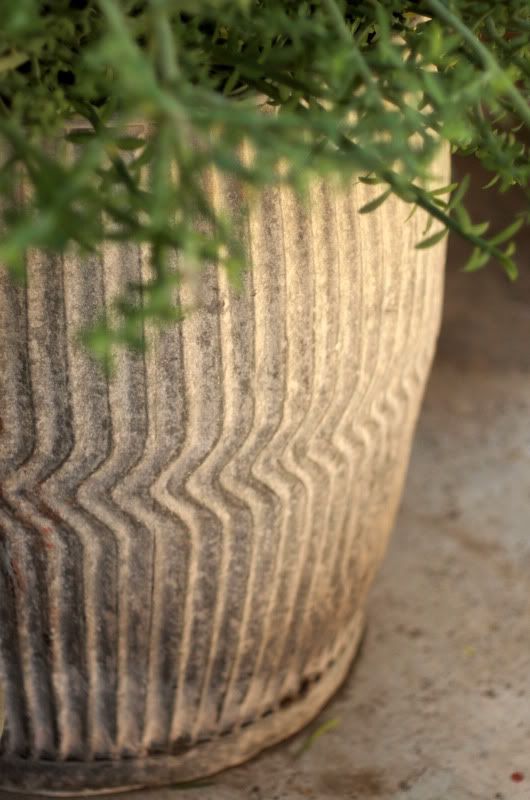 Over and over when queried on his sources, Reuben's one-word answer was "Craigslist."
This former industrial wash basin and pedestal are of epic proportions, the basin at least 5 feet in diameter.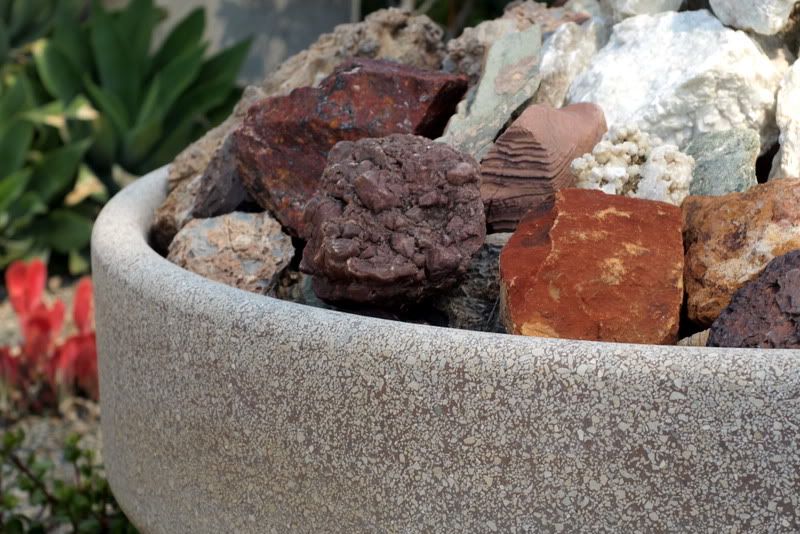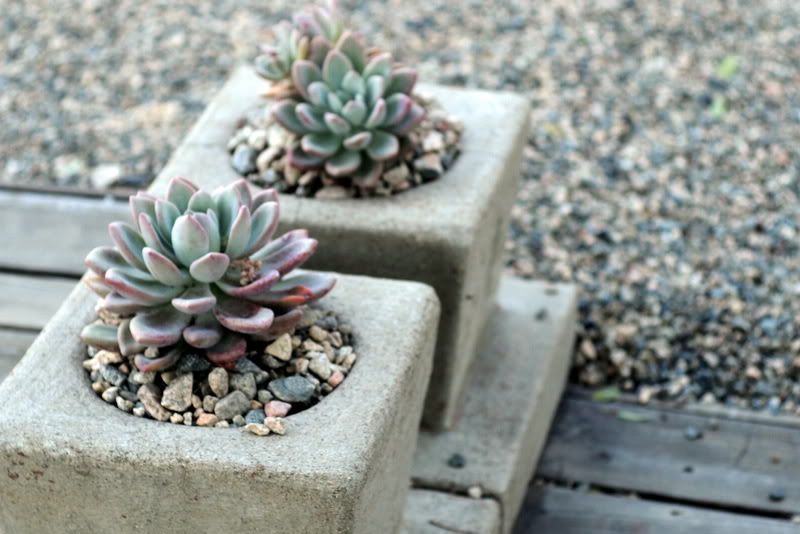 Big, fluffy euphorbia. Didn't look like any E. characias I'd ever seen.
The back garden was professionally graded, the slope broken up by gravel terraces with railroad ties for low retaining walls.
Plenty of sitting areas (in which to collapse dumbfounded).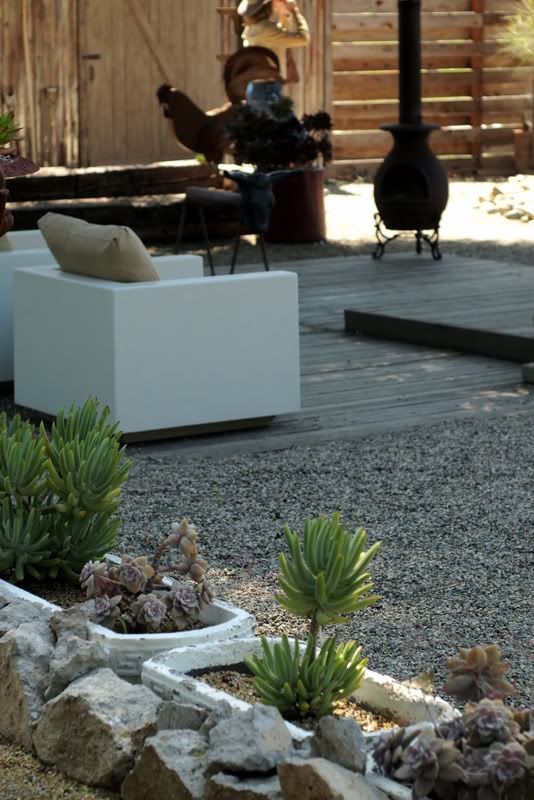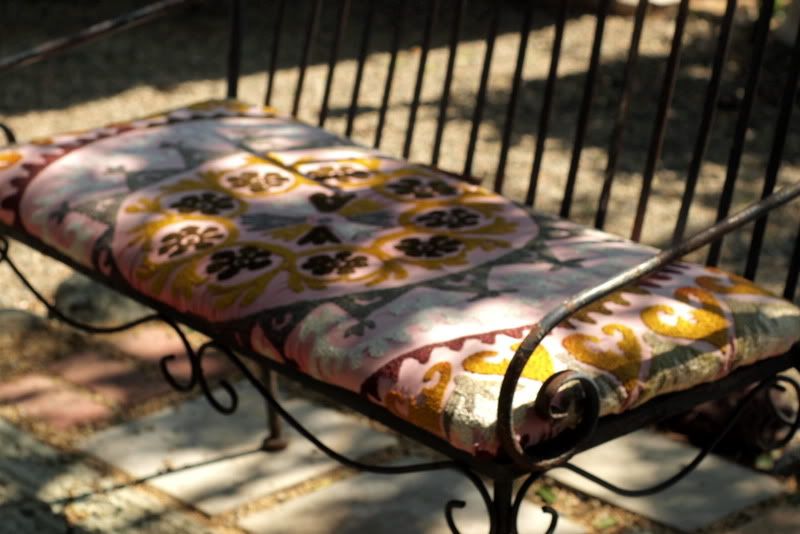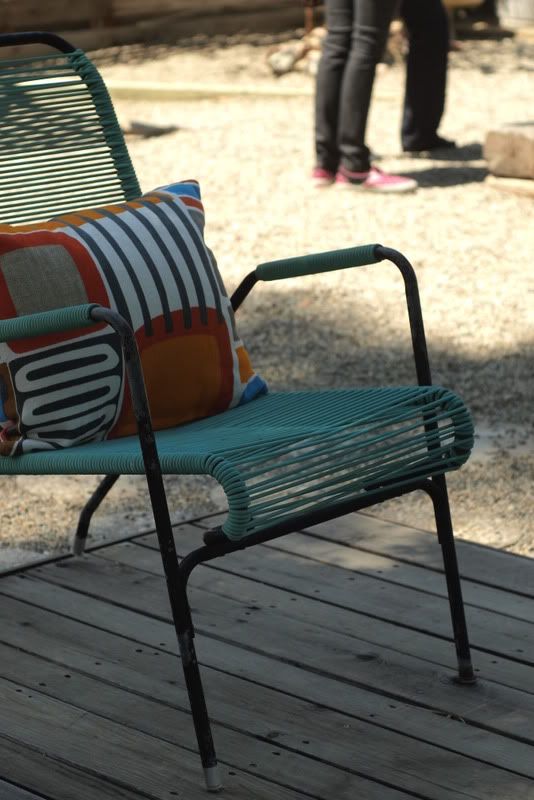 I expected to be dazzled by Reuben's incredible eye for flea market treasures, but what surprises is the restraint he exercises in placement, knowing when to pull back before a complex piece tips over into chaos. He never allows his zeal as a collector of both plants and objects to undermine the result.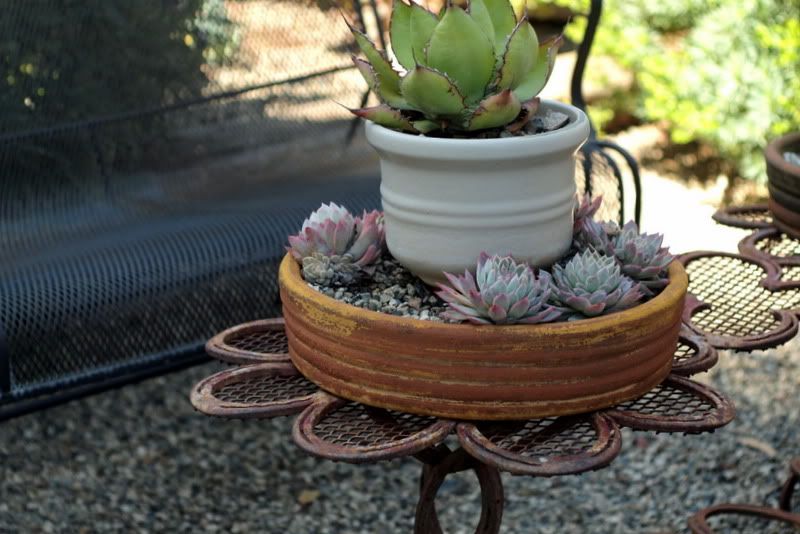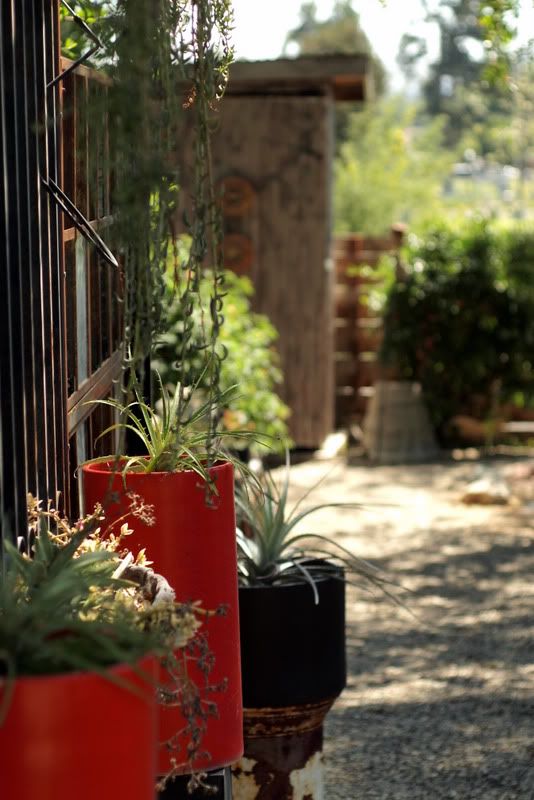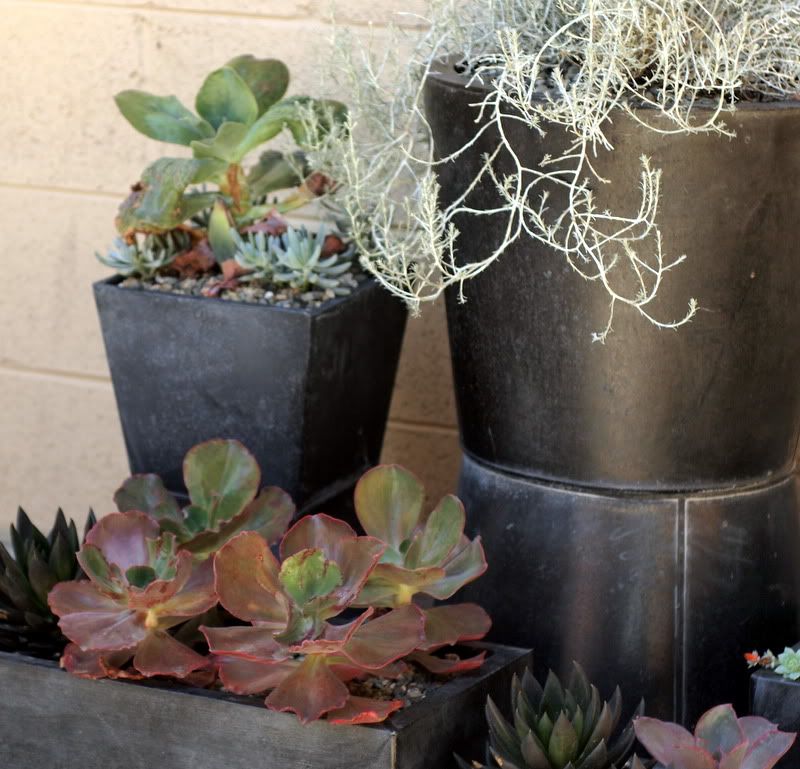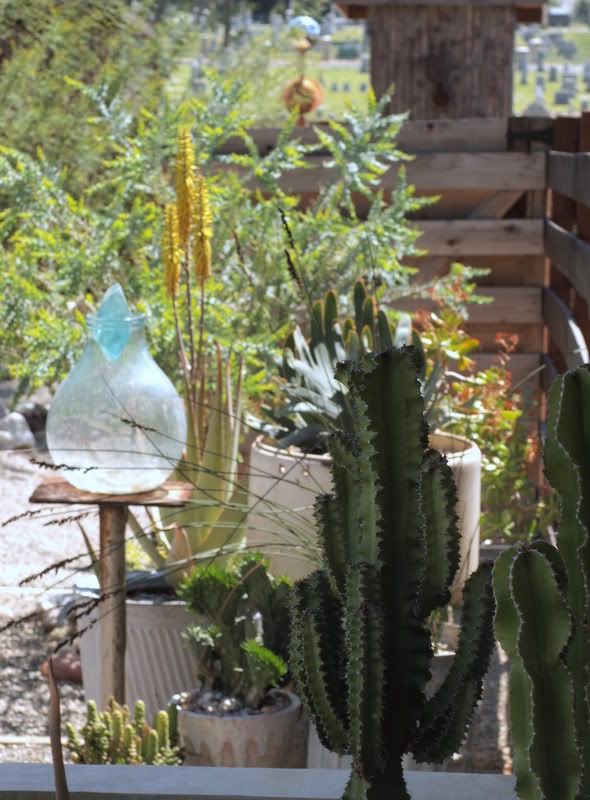 In every gesture one senses Reuben's brilliant grasp of how a garden is uniquely suited to absorb an infinite variety of meditations on space and form, shadow and light, the ephemeral and the enduring.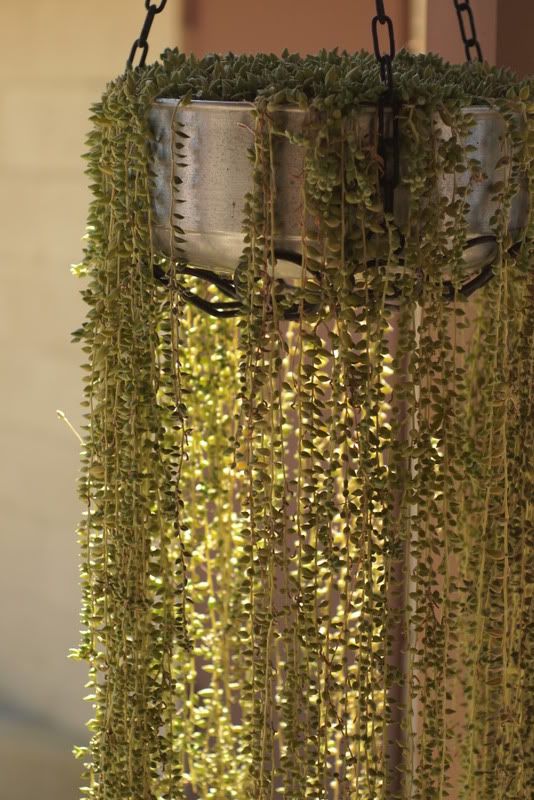 This sensual feast of a landscape prompted a visit from the city of Riverside to "check whether or not our water was reaching us, as the meter reading was so low."
(From Reuben's tour handout.)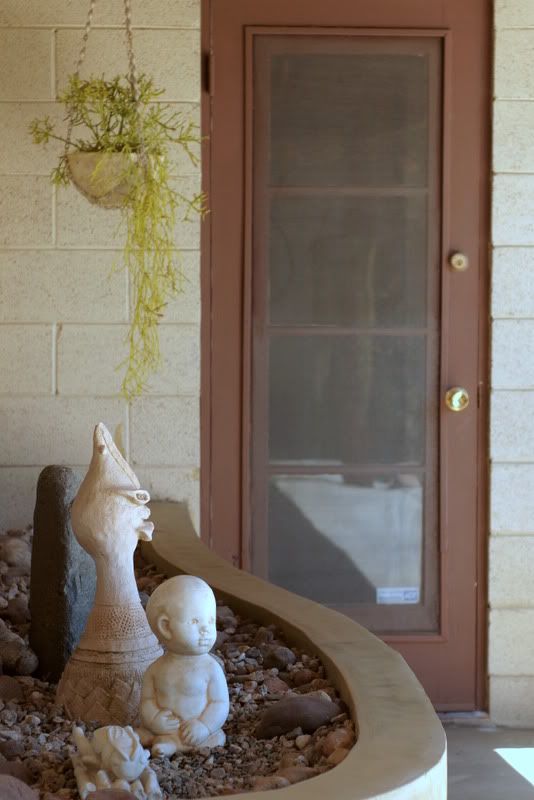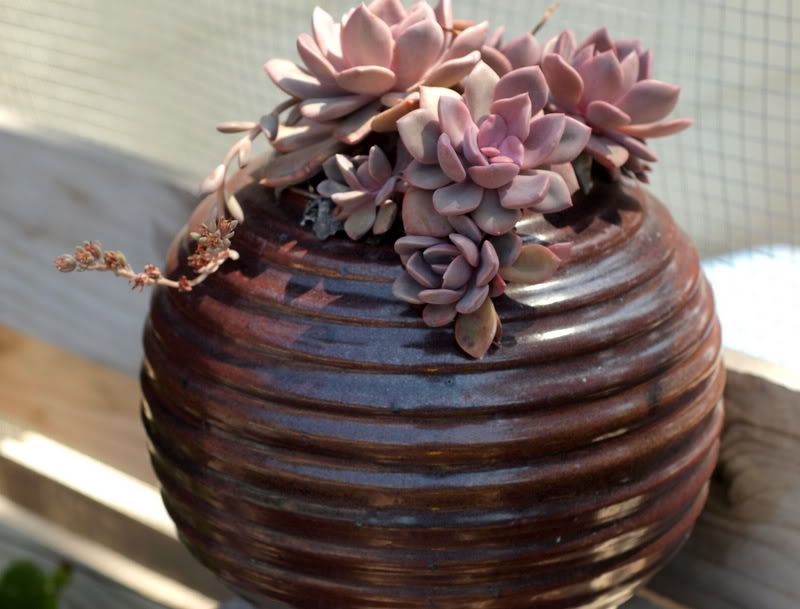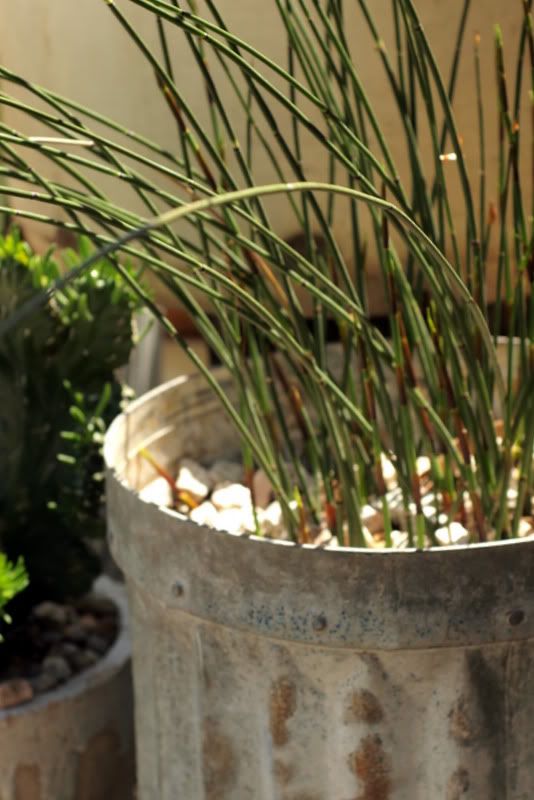 Reuben admits in his tour handout to "an uncontrollable need to control his environment." I have a theory that garden-makers are really utopianists, and Reuben's garden only strengthened that theory.
Reuben and Paul tirelessly mixed among the tour guests, answering our numbingly repetitive questions cheerfully. Dustin brought an offering of Agave franzosinii, and I brought a little Aeonium sedifolium, which Reuben already possessed and had tucked into this huge ceramic urn.
I hope the staggering amount of work doesn't prevent Reuben from opening his garden again so others can make the trip. This is a garden that must be engaged on foot, where plants and objects are sited with sculptural precision, their dimensional interplay revealed as one wanders among the riches of Rancho Rubideaux.