I saw something tangentially related to gardens in the window of a golf shop in Koreatown recently, UV-protective clothing, which gives me the barest of opportunities to write about one of my favorite LA neighborhoods.
Los Angeles' most densely populated neighborhood, Koreatown is also packed with epoch-defining memories. One of its landmarks, the Ambassador Hotel where Robert Kennedy, Jr. died, was bulldozed just a couple years ago to make way for a sorely needed school, the end result of an incredibly rancorous civic decision-making process. On a happier note, you won't find better Korean barbecue anywhere else, the night life is jumping, and there's architectural curiosities like the Spanish Revival Chapman Market for shopping and dining. Image found here.

Koreatown is as Blade Runner as LA gets, and was the first neighborhood allowed to erect huge electronic and digital signage. Where Koreatown begins and ends is disputed by those who care about such things, but two Art Deco gems are easy landmarks. The old Bullocks Wilshire building, now the Southwestern Law School, at Wilshire Boulevard and Westmoreland, an archival photo.
And the Wiltern Theater at Wilshire and Western. Image found here.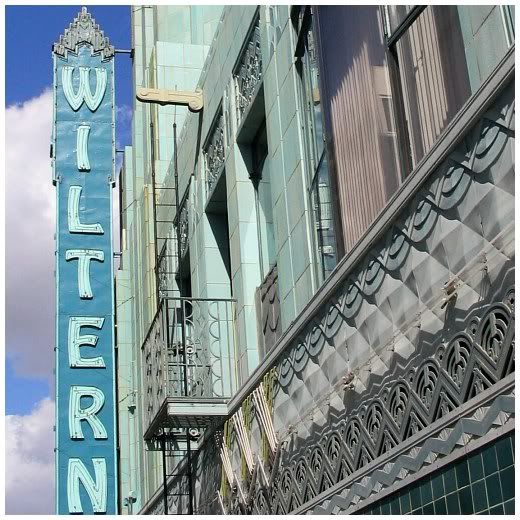 (Personal historical tour: I saw a scrappy British band called Radiohead for the opening of their OK Computer tour at the 2,300-seat Wiltern Theater in 1997. I expected The Bends and a few tidbits from the just-released album, which I hadn't yet heard. They played OK Computer in its entirety. And, yes, it was life-altering.)
Western and Wilshire is the terminus for the "Purple Line" subway, which leaves downtown LA and runs under Wilshire Boulevard through Koreatown and is a major reason for the vitality of this neighborhood. After Western you must travel by bus or car through the neighborhood known as the Miracle Mile, past LACMA at Fairfax and Wilshire, on through Beverly Hills, into the UCLA college hub town of Westwood, finally arriving in Santa Monica, ending at the Pacific Ocean.
I was riding this Purple Line subway early one workday a few weeks ago, admiring the surrounding variety and diversity of inked skin, and in particular someone's entire head tattooed with Maori-like scroll work. Getting off the train, one of the first shops I passed between Vermont and Normandie had a window poster depicting a torso with what looked like elaborately tattooed arms, wrist to shoulder, in a style similar to the Maori-like designs I had seen just minutes earlier on the train.
On closer inspection, it was UV-protective clothing made by Kool Dog USA.
"'Kool Dog' Product is soft, comfortable, lightweight, cooling. These unique elements make 'Kool Dog' ideal for casual wear, as well as for professional and recreational uses such as golfing, hiking, inline skating, fishing, soccer, baseball, climbing, jogging, driving. The versatile use of the material has enabled 'Kool Dog' to successfully market its products to a broad range of consumers."
I was disappointed not to find a shirt (*these are just sleeves!) exactly like the one in the golf shop window on the website but still think Kool Dog's use of bold patterns mimicking tattooing is a brilliant idea. Although Kool Dog doesn't reference the niche market of gardening on its website, their clothing does seem a good fit for those of us who spend long summer days futzing in the garden or touring other gardens. Maybe this type of clothing is yesterday's news, but if so, I haven't yet come across it. Today's New York Times had an article on UV-protective clothing, which brought me back to Kool Dog's unique line. The idea is such a good one, I'm just surprised to find it hidden away in the window display of a golf shop in Koreatown.

*Edited 6/12/11: An email to Kooldog advised me these are just sleeves, and they offered to send a free sample. We'll see what the mail brings…