Where were we? I've been working at the day job like a navvy, trying to clear some time for spring garden visits, shows and whatnot. But the garden in March initiates a measured sequence of distractions, which can really mess with the most resolute work ethic. (I think "resolute" was a one-word self-description used by one of the Republican primary candidates but now can't remember which. Romney? Strange how none of them used the one-word descriptors that are always at the tip of my tongue for them.)
Back to the much more important business of gardens. I've recently discovered that a good part of the front gravel garden has been planted almost exclusively in blues, greys, and yellows. Yes, at one time I apparently mustered some self-restraint.
It's mostly succulents, grasses, and small evergreen shrubs, very few perennials except the self-sowing Spanish poppies. The orange blooms will get a fantastic backdrop here. I don't remember consciously planning this blue/yellow-only business. I'll have to search the back pages of the blog.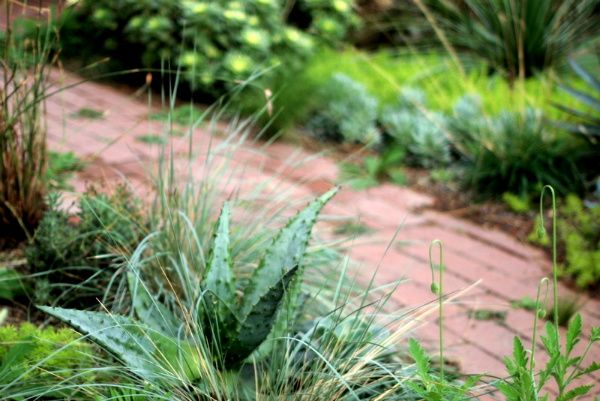 March's Garden Design features an interview with landscape architect Andrea Cochran. The interview was emphatically not plant-driven, since landscape architecture, not horticulture, was under discussion, but this quote was a compadre thrill:
"I'm a sucker for anything in the blue-gray family…If you go blue-gray with chartreuse: home run." To have anything in common with Ms. Cochran's taste I count as a personal home run.
More chartreuse from Agave attenuata 'Kara's Stripes.'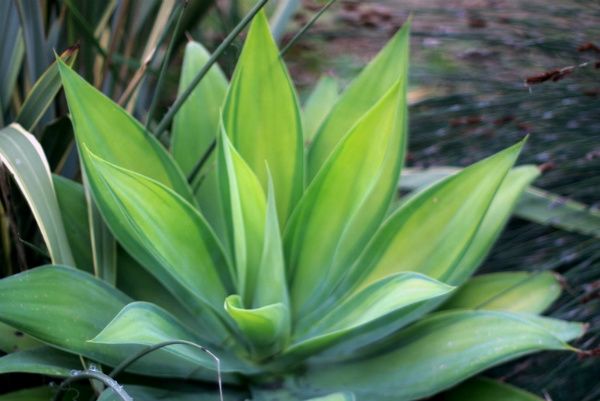 The gravel garden now has some of the nicest looking agaves, including 'Blue Glow' in the first photo and a powder-blue A. potatorum below. The attenuatas can really look beat up, but 'Kara's Stripes' has if anything improved over the winter.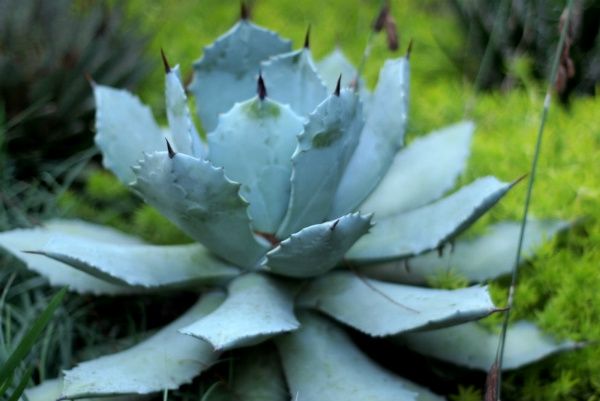 The opposite end of the gravel garden by the driveway doesn't continue the blue/yellow-only theme. There's lots of breakage and damage at this end, and ad hoc replacements are made on the fly.
Recent death of a large agave provided an opportunity to try out Sideritis syriaca* here. I haven't been this smitten with a plant since my first ballota.
Very easy on the eyes, this blue/yellow/green.
*Reddish stems on this one makes it more likely Sideritis cypria.