Offramp Gallery – November 18 – December 23, 2012
Opening Reception: Sunday, November 18, 2-5pm
Closing Reception & Holiday Party: Sunday, December 23, 2-5pm
1702 Lincoln Avenue | Pasadena, CA 91103 | 626-298-6931
Artists Sue Dadd and James Griffith seem to invariably have both their names spoken in the same breath.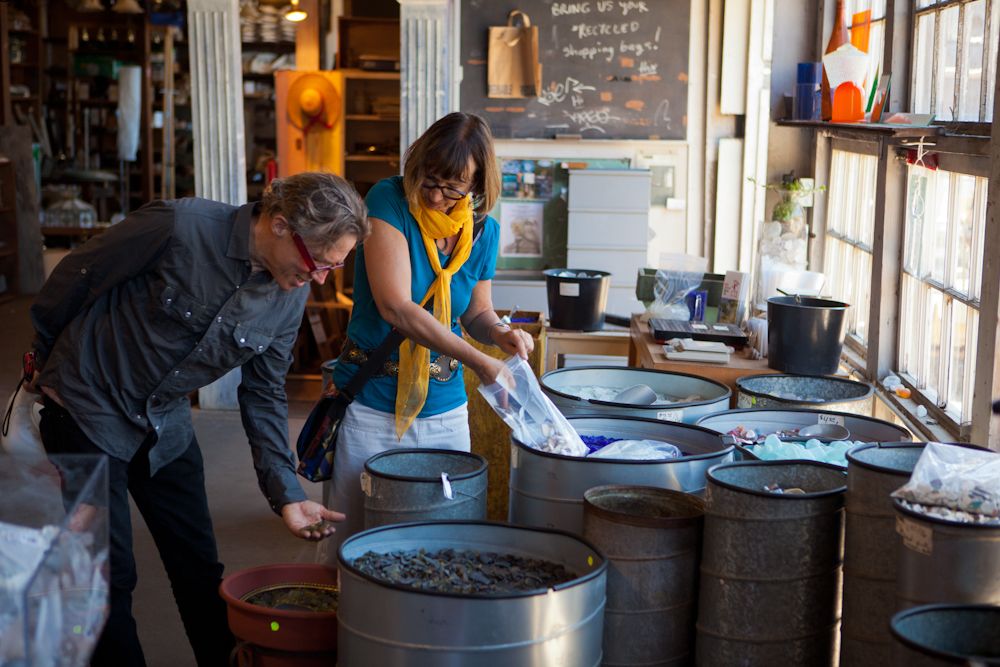 Bagging some glass mulch at Building Resources in San Francisco.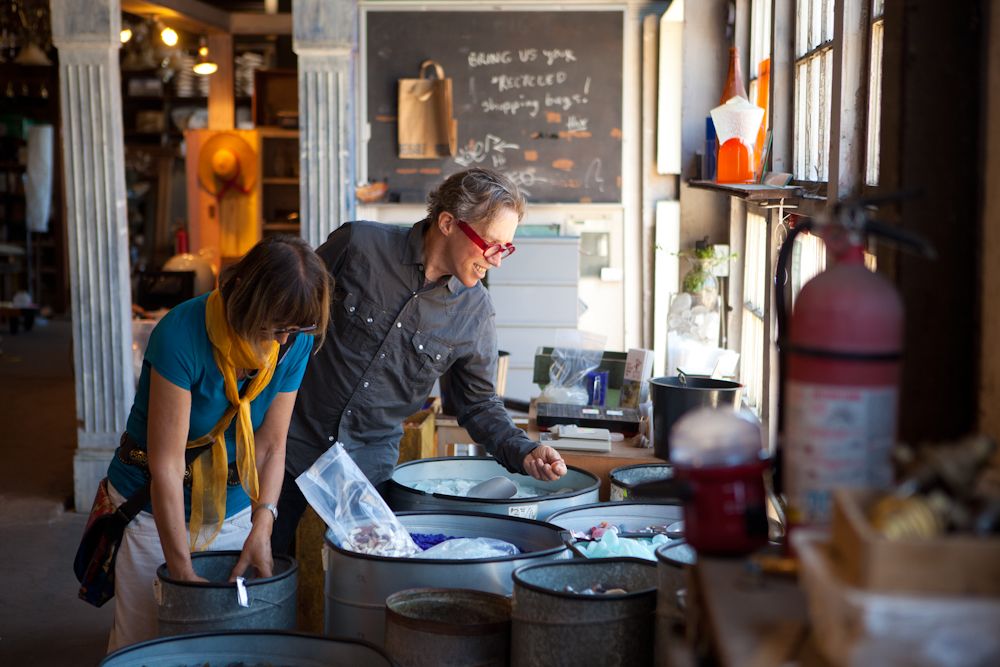 It's only natural, since they are an exceedingly charming couple.
But their extraordinary achievement, the amphitheater they created and named the "Folly Bowl," might also be partially responsible for this reflexive joining of their names.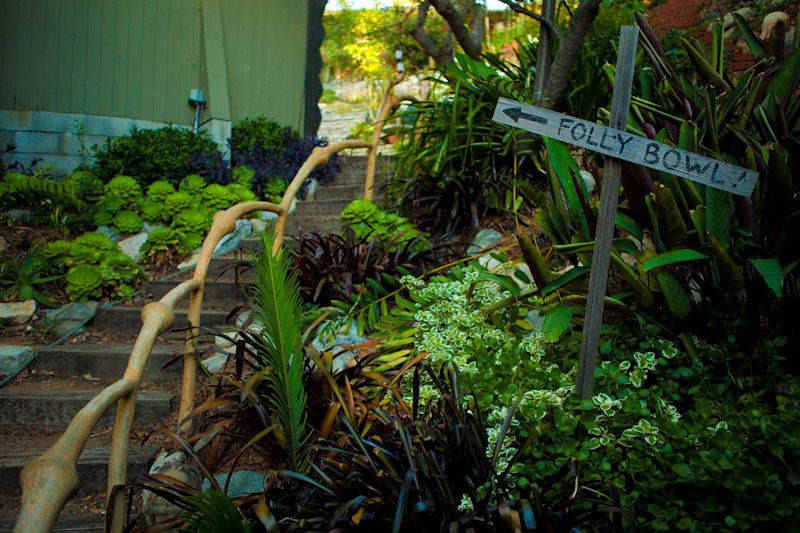 From James' resume: "Collaborated with Susanna Dadd in the design and construction of an amphitheater, a sculptural garden project, seating 120 and currently used for cultural events, including the Microtonal festival and other modern music collaborations. This project is the recipient of a Pasadena Arts Council Gold Crown Award 2008."
Built with "urbanite," broken concrete, gathered from local roadworks.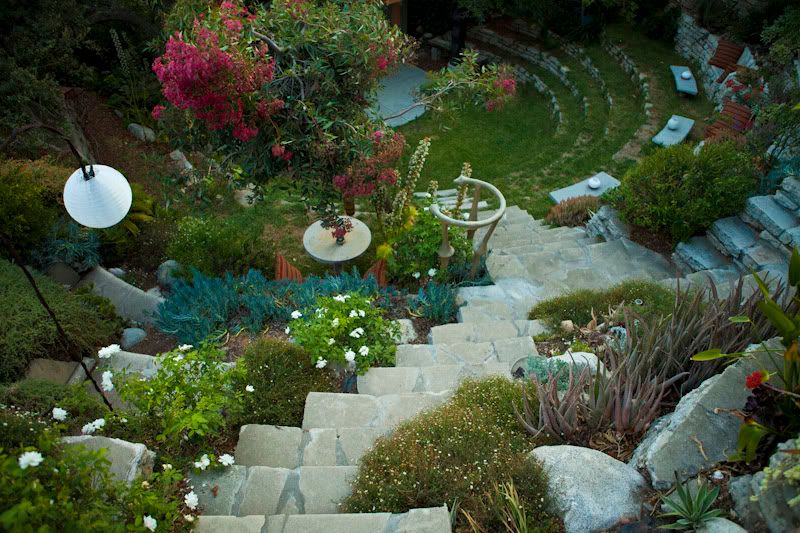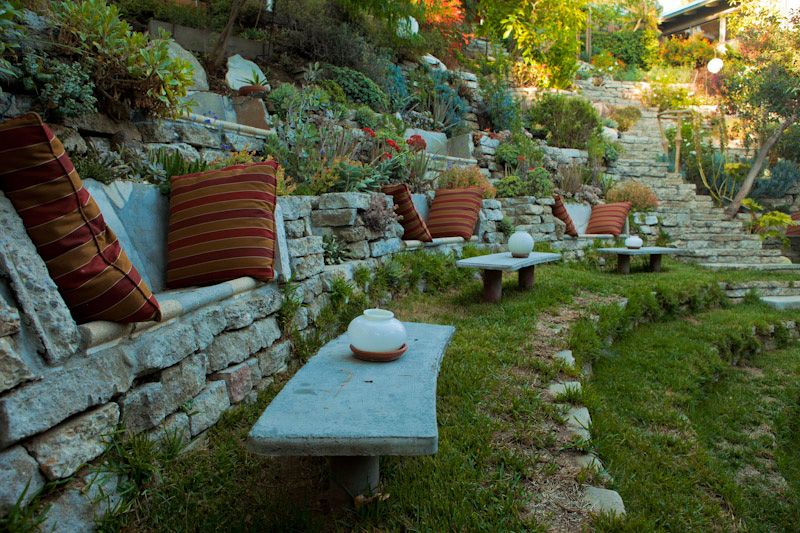 The steep ravine tumbling beneath the aerie of their home in the Altadena foothills was laboriously, bucket by bucket, slab by slab, transformed from an overgrown tangle and erosion nuisance into a modern-day interpretation of a timeless amphitheater.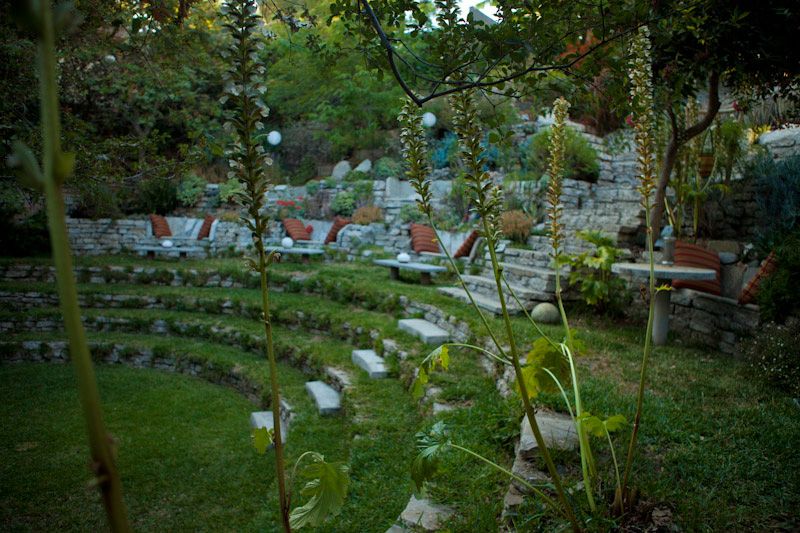 Where an annual summer series of concerts is held.
The handrail sculptures are by James Griffith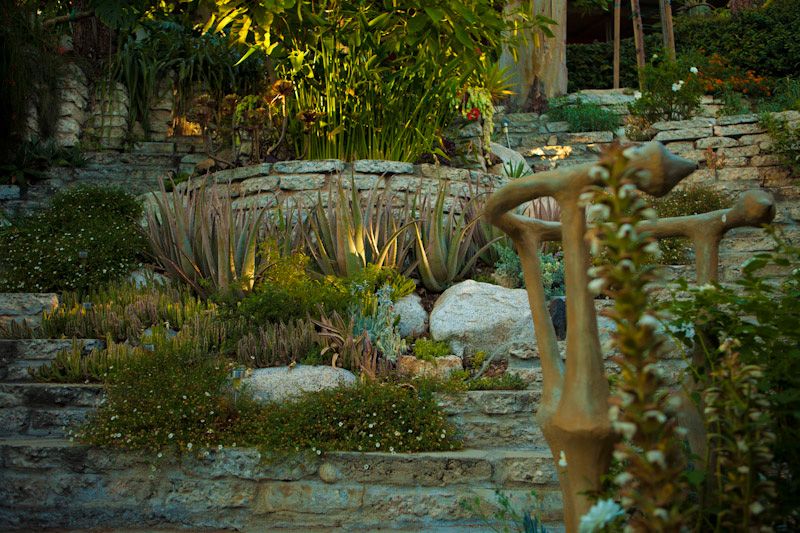 Where most people would see unclaimable ground, Dadd and Griffith saw a unique opportunity. So many times when visiting gardens someone will invariably make the reductive comment, "Looks like a lot of work." There are temperaments that express themselves most fully through the physical and mental exertions required of painting, sculpting, making gardens, while, to others, it will always just look like an awful lot of work. And it's true, while outdoor design grows increasingly popular, Dadd and Griffith's energetic, physical engagement with the natural world is a rarity. The stamina of these two, physically and mentally, is boundless. Very few gardeners are also artists trained in painting and sculpture. And though many of us would happily count the Folly Bowl as the achievement of a lifetime, it is just one of the many gardens Sue Dadd has designed, while James' restless energy is currently poured into his tar paintings that will be exhibited this November at the Offramp Gallery in Pasadena.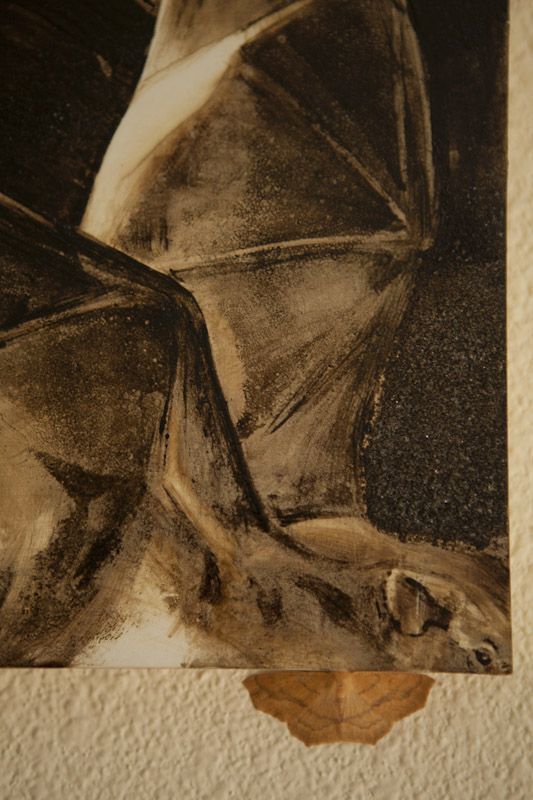 Yes, tar, as in the La Brea Tar Pits. Pit 91, to be exact. I initially chalked up photographer's MB Maher's claim, that the Griffith paintings he's been collecting were literally painted with tar, to his usual tall-tale flair. I loved this study of a bat in Maher's San Francisco apartment, which the little (live) moth seems so attracted to, but tar?
You're kidding me, right?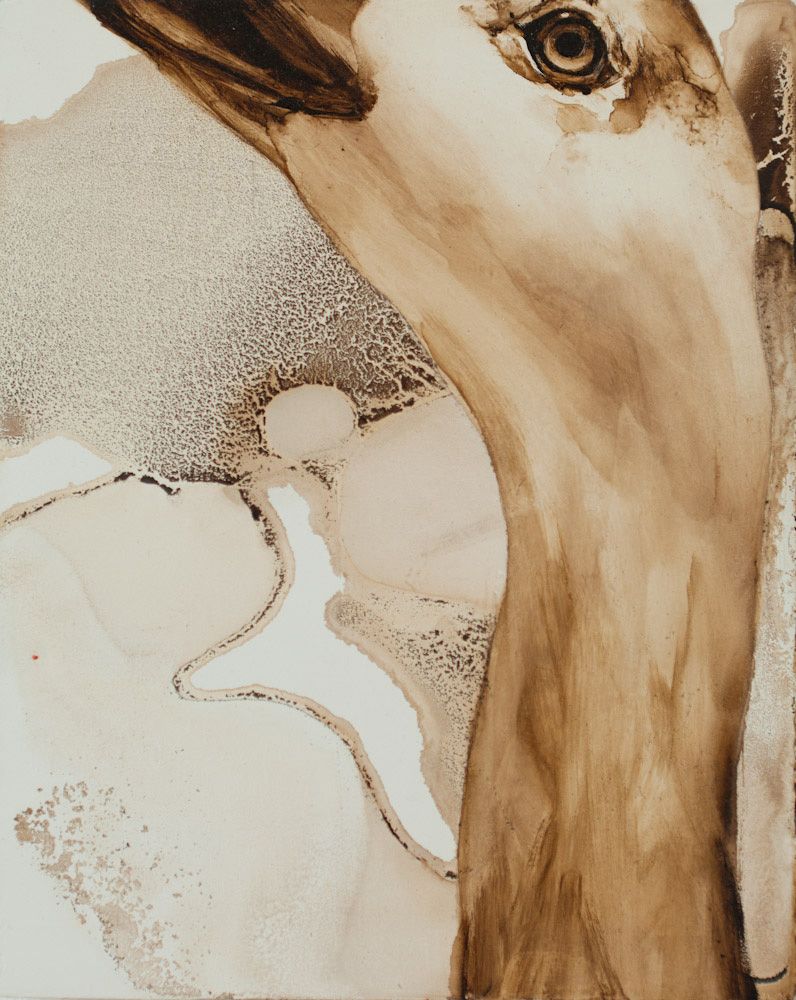 From MB Maher's collection, James Griffith's tar series
Again and again, Maher swore the medium was tar. As with any first-rate raconteur, one of Maher's more endearing traits is never letting facts get in the way of a good story. Then I had the occasion recently to hear James himself describe his tar painting series, which as it happens does indeed begin from a bucket of ooze gathered from Pit 91 at that schoolchildren's field-trip delight, the La Brea Tar Pits.
From James' Artist's Statement:
"As an artist who is always on the hunt for new painting materials, it was the gooey messiness of tar that first trapped my attention. The pleasure of probing an oozing puddle of tar with a stick and pulling out runnels of shiny black strands is no doubt an ancient experience also shared by early humans. This primal quality of 'playing' with tar (collected from the La Brea Tar Pits) lead me to think about the meaning of making contemporary art with a primordial goo."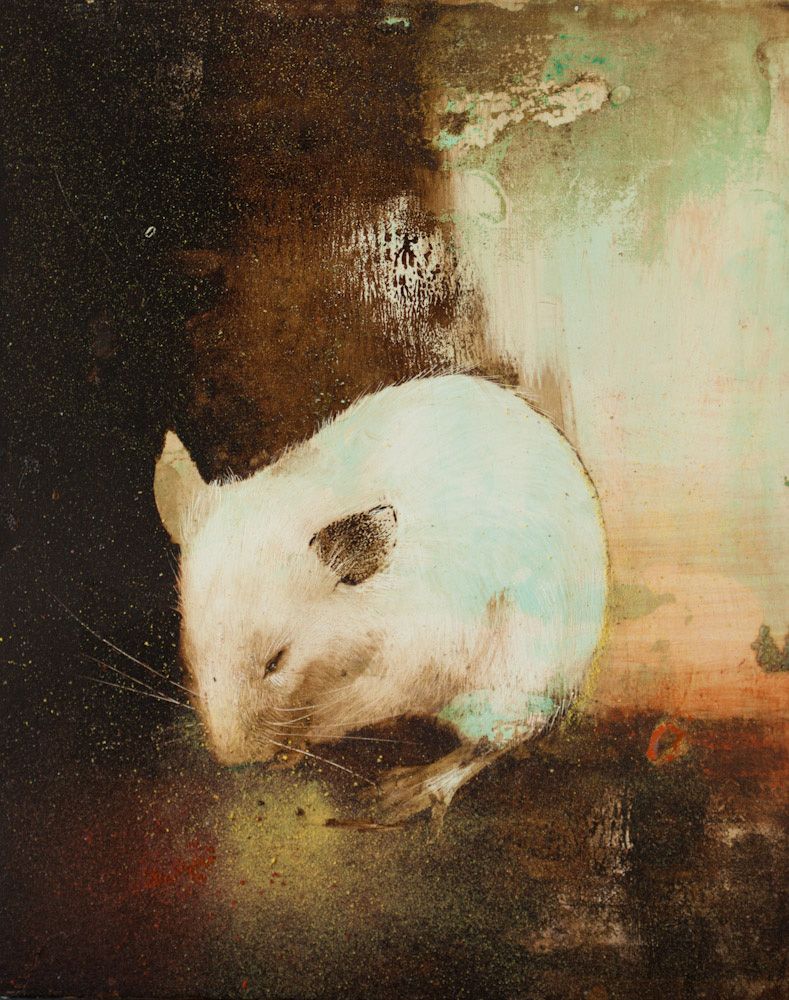 "Now, as I paint images of contemporary nature in a medium such as tar, the image is re-framed with an awareness of this moment's ancient provenance. It underscores its place in time. The 'painted moment' can be seen as a brief segment in a vast fluid process we call Nature."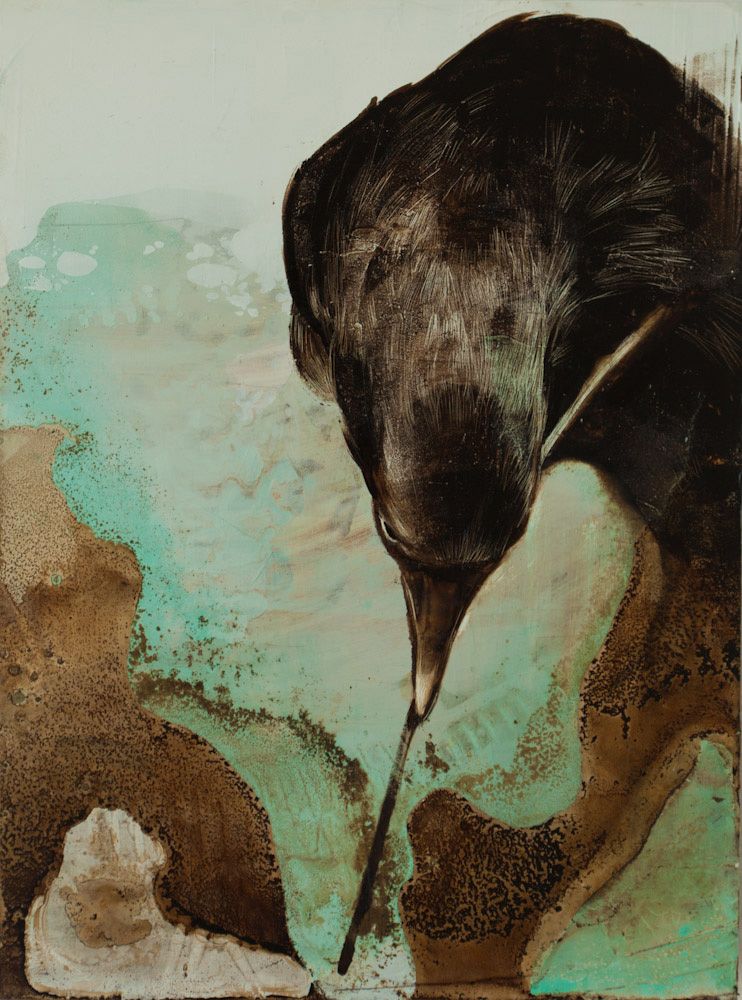 "I have further stirred this cauldron of meaning by adding other natural materials to the tar paintings. Yellow pollen dusts the surface with the promise of renewal from nature's reproductive power. Volcanic and glass sand add grit and sparkle to the darkness of tar. Copper sulphate adds a beautiful but poisonous blue…Hope and redemption swirl together with the threat of danger on a grand time scale."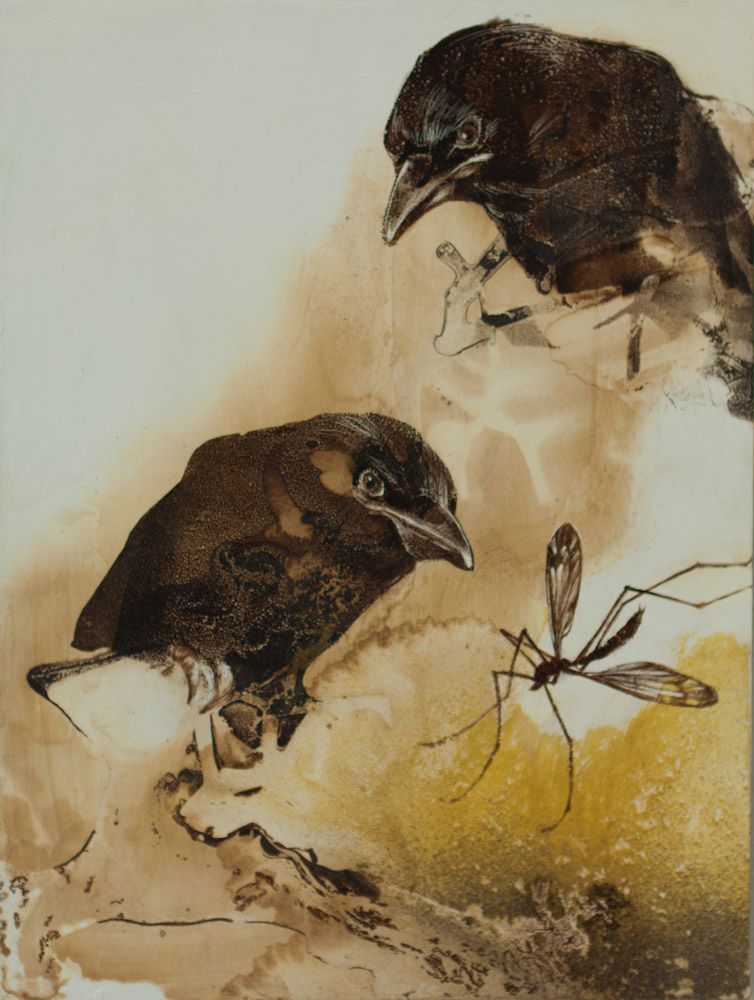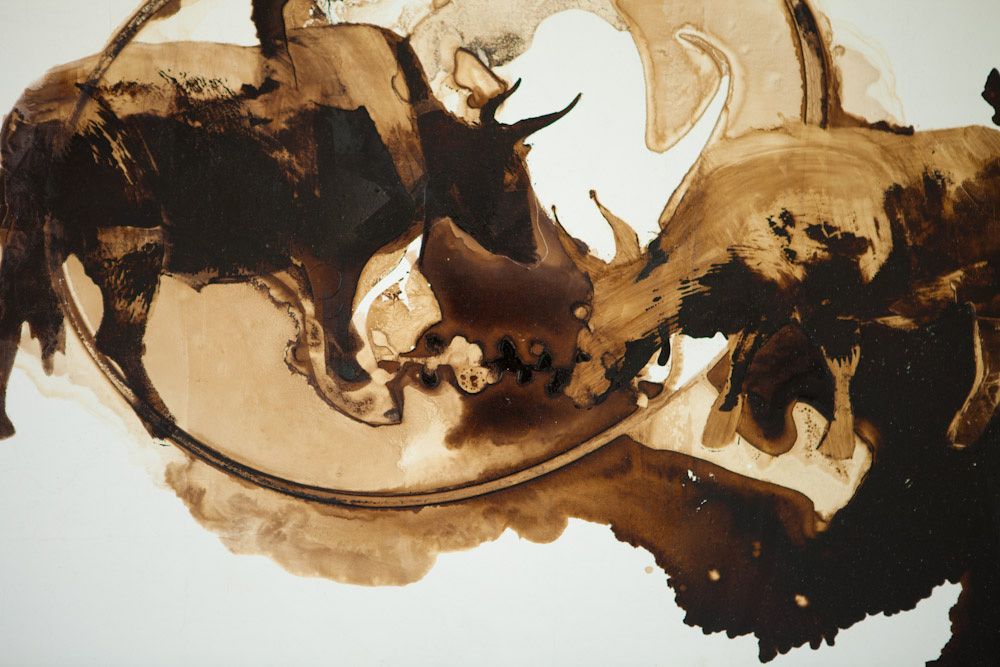 Through the use of various fixatives, the tar is rendered fit for painting. The finished work is closer to an etching than a painting. You'll have to ask James about it at his show. It's a fascinating process he loves to share. These photos by MB Maher from a recent visit to James' studio reveal some of the secrets of the alchemy behind the tar paintings, which to me possess the totemic and hypnotic appeal of cave art.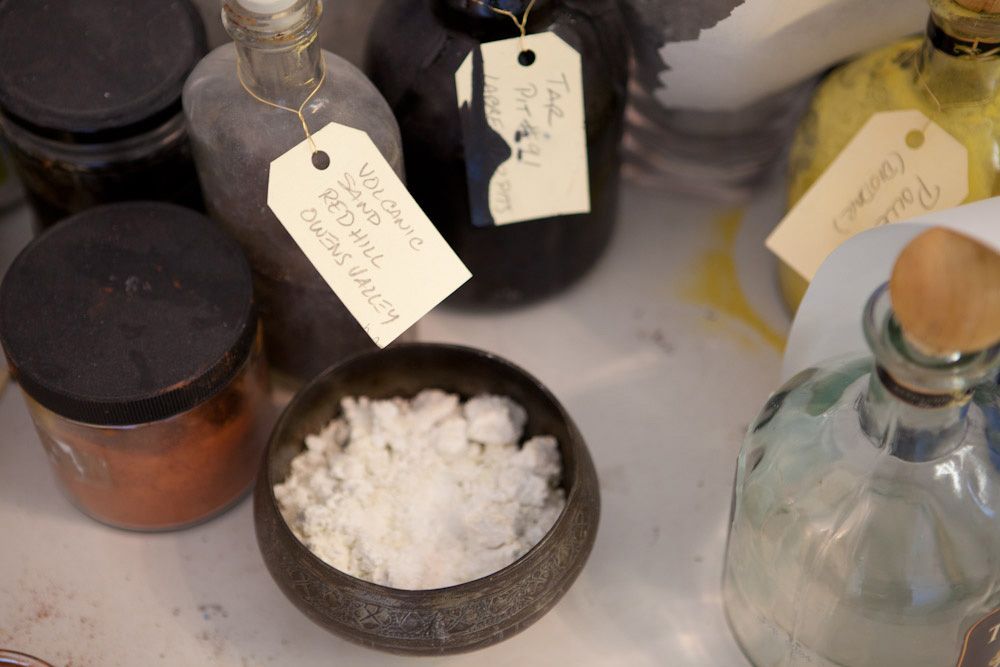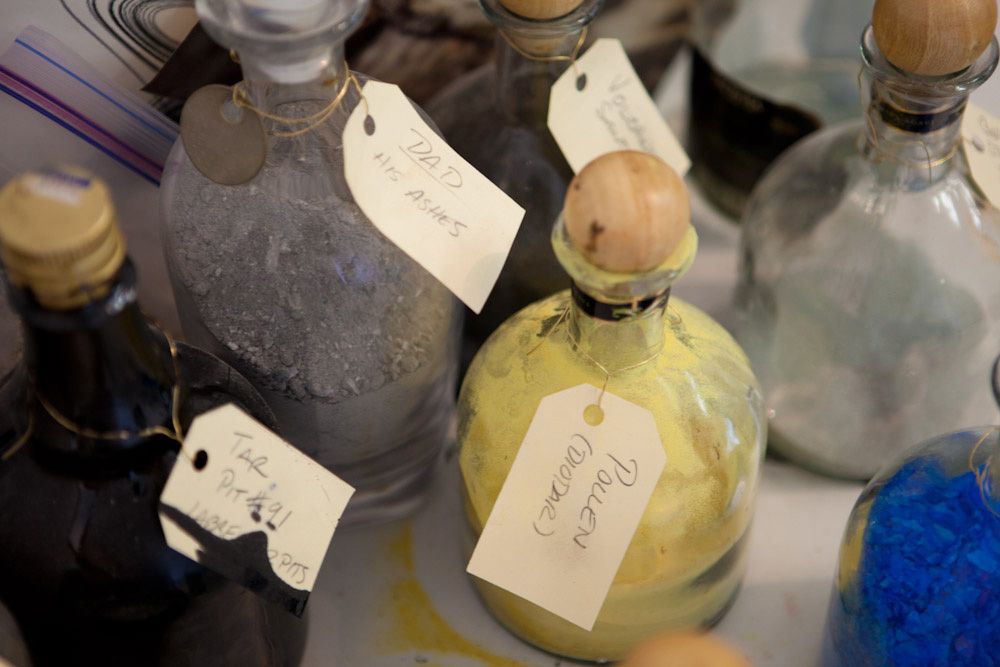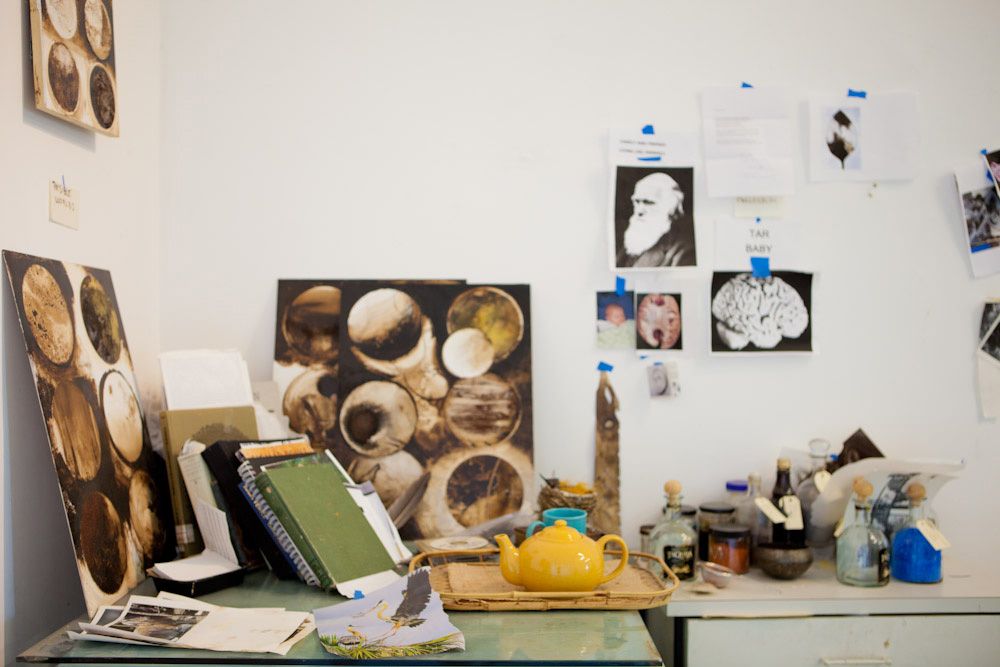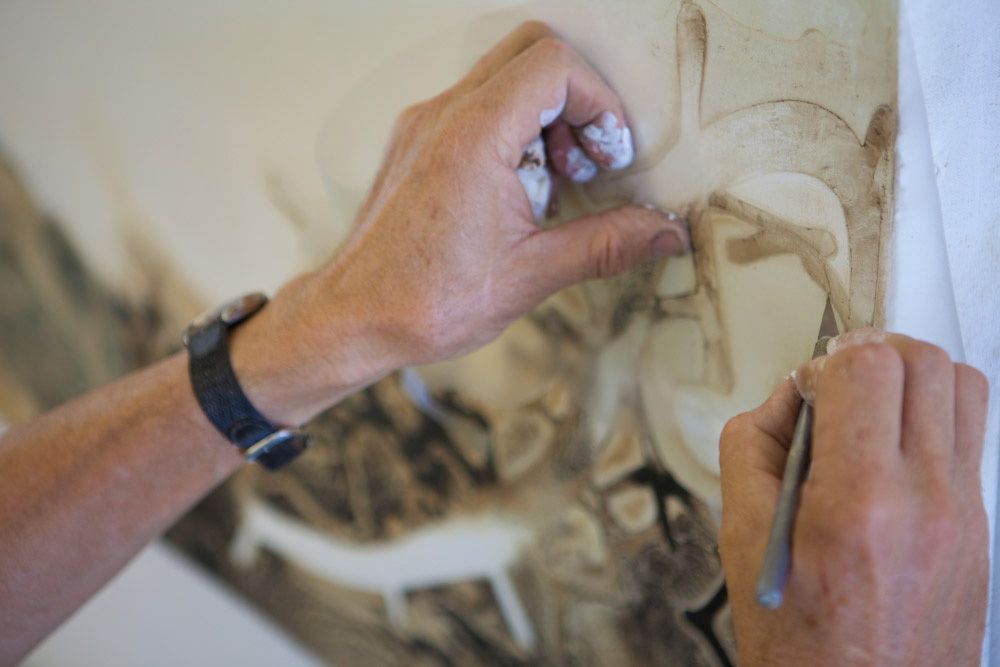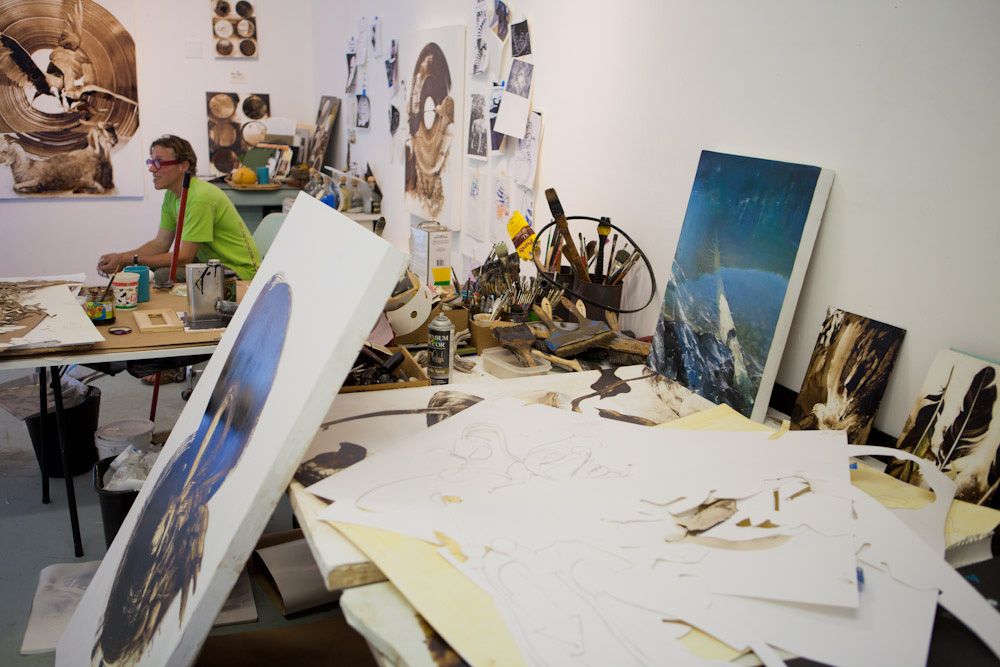 All photos by MB Maher.