I kept telling everyone, "I'm going to a talk by the Succulent Lady!"
Unlike my friends and family, most garden bloggers need no further description to know I'm talking about Debra Lee Baldwin, in Southern California promoting her new book Succulent Container Gardens.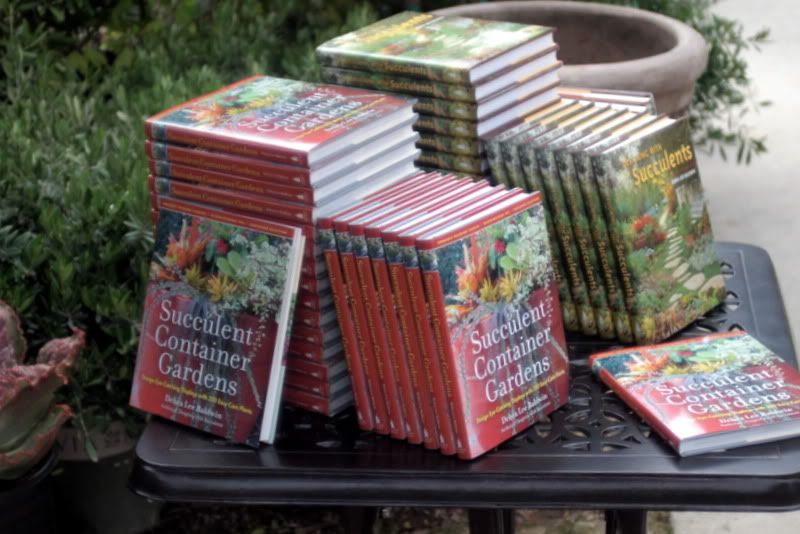 A brief digression, in words and pictures. The talk was held at Roger's Gardens, in Corona del Mar, California, no more than a mile from the Pacific Ocean. I don't think I've written of this nursery before, but we go way back. Decades. At one point I contemplated a blog post entitled "Roger's & Me," because we are that intertwined (unbeknownst to them), but there is a lurking ambivalence to my patronage. I was once shopping at a very small, independent nursery, and in discussing erodiums I mentioned I had bought such-and-such plant at Roger's, only to become the recipient of a severe stank eye, with no further explanation or conversation on the subject. (Indeed, Debra mentioned in her talk that Roger's is the most successful independently owned nursery on the entire West Coast.) I can surmise that small, mom-and-pop nurseries feel intimidated by this juggernaut of a destination nursery and landscape design firm in one of the wealthiest enclaves in Orange County, California. Being a promiscuous collector of plants, I have no such qualms, but do make it a point to visit and buy from all the smaller nurseries. What a big heart, right? More like a big plant lust.
Which is what I've appreciated about Roger's, their buying in lots of rare stuff in 4-inch pots for planting up their nursery display gardens, which they change out frequently, and they have gotten on board with landscaping with succulents and woody lilies in a big way. Over the past couple years, the entire perimeter of the nursery has been transformed into a wonderland of exotic drought-tolerant shrubs, succulents, aloes and agaves, and what's left over from their landscaping is always made available for sale at the nursery. I probably check this nursery out twice a month during summer. And there's no doubt that Roger's Gardens has its finger on the pulse of the horticultural zeitgeist. They were the first U.S. nursery to bring in David Austin roses from England and imported and showcased terracotta pots from Impruneta, Italy, before I'd ever heard of such wizardry with clay. And heaven help me, they now have an impressive selection from Annie's Annuals. Annie and company have an affinity for aeoniums that I heartily share, like this Aeonium spathulatum var. cruentum, who jumped like a lost puppy into the trunk of my car yesterday: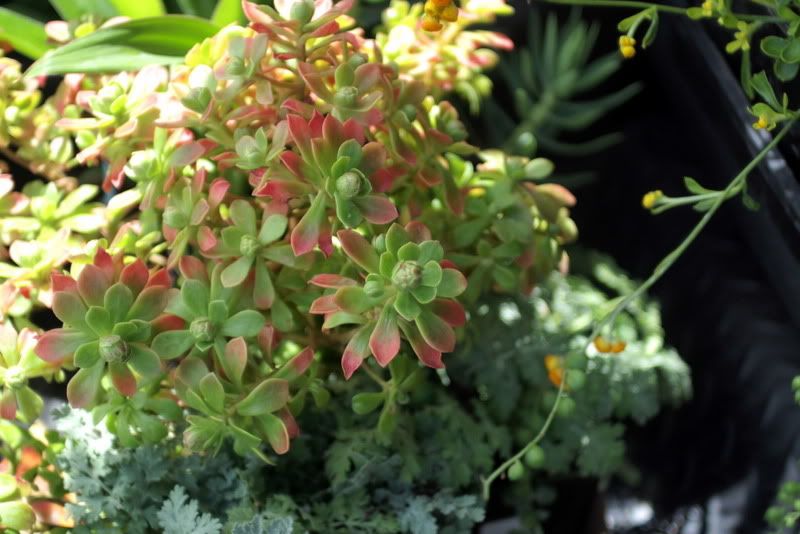 In the great heyday of salvia collecting, at least a decade ago, Roger's enthusiasm for salvias rivaled that of Betsy Clebsch's, though increasingly the retail space allocated for perennials has been shrinking at Roger's. In fact, most of that space once lined with gallon cans of perennials has been filled this year with Japanese maples. Succulents, once relegated to a small collection in an out-of-the-way section of the nursery, have also taken over vast amounts of prime nursery real estate. But I noticed this summer it's all about edibles. For the first time, Roger's has built a raised bed display garden near the main entrance and planted it with veggies. They've always had designer tomatoes for summer and a good selection of vegetable seeds and plants, but this summer the emphasis on edibles has the unmistakable appearance of a raison d'etre. (Another sidebar: Roger's is building a nice collection of another genus I've been increasingly interested in, begonias. Here's Begonia 'Paul Hernandez, a luxurians hybrid. I took this photo yesterday to document the Saxifraga cotyledon I brought home from Roger's after Debra's talk, which is perfect for this shady urn, and the photo shows the massive leaf of 'Paul Hernandez.' With Plectranthus argentatus.)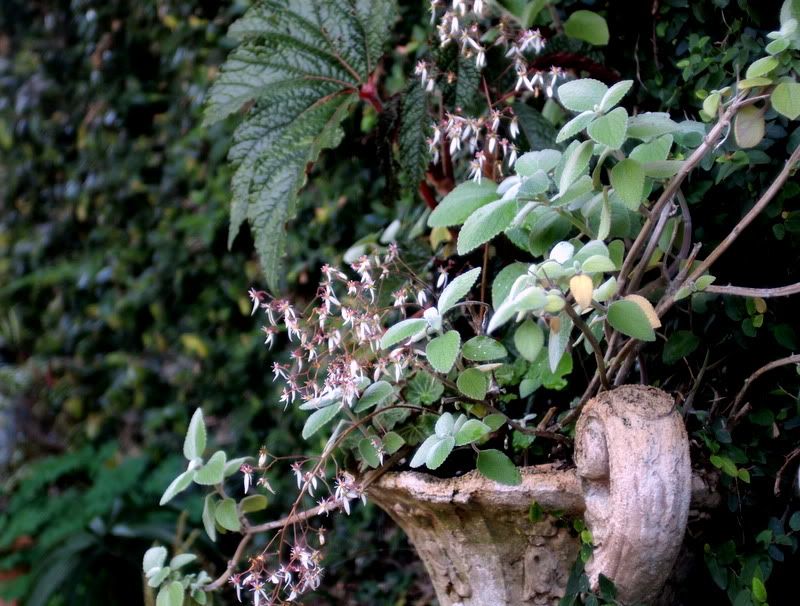 In a recent post by Loree of Danger Gardens she blogged about her enthusiasm for bromeliads, and I commented how they're what's hot down in So. Calif., too, not necessarily replacing succulents but certainly augmenting succulent summer displays, and it was this nursery I was thinking about. Their central display bed upon entering the nursery has been changed over from agaves and succulents to almost entirely bromeliads this summer. The chartreuse sedum running along the bottom of the photo, 'Ogon,' is good for shade: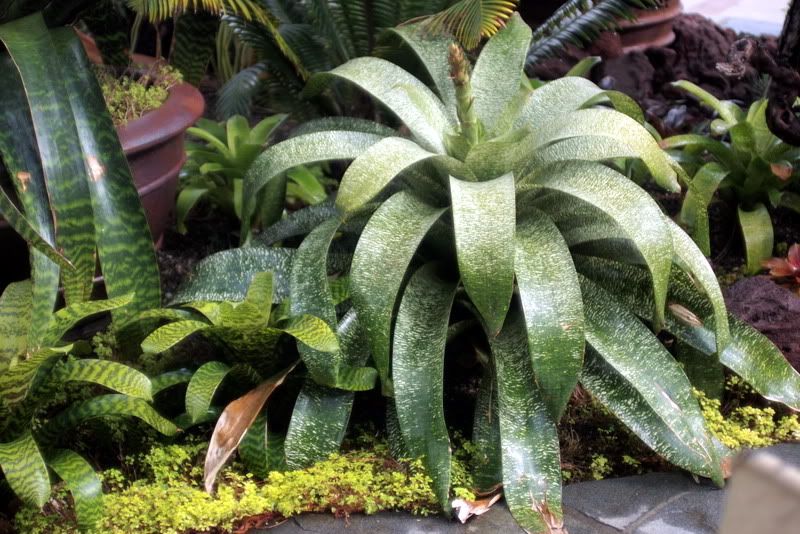 Dyckias are hot too, and then there's this winged-leaved or jacks-shaped leaved plant that I also saw at Western Hills recently, which exudes a unique, galactic kind of energy, no? If anyone knows its name, please comment. (Edited: Many thanks to Kelly of Floradora for the identification of Colletia paradoxa.)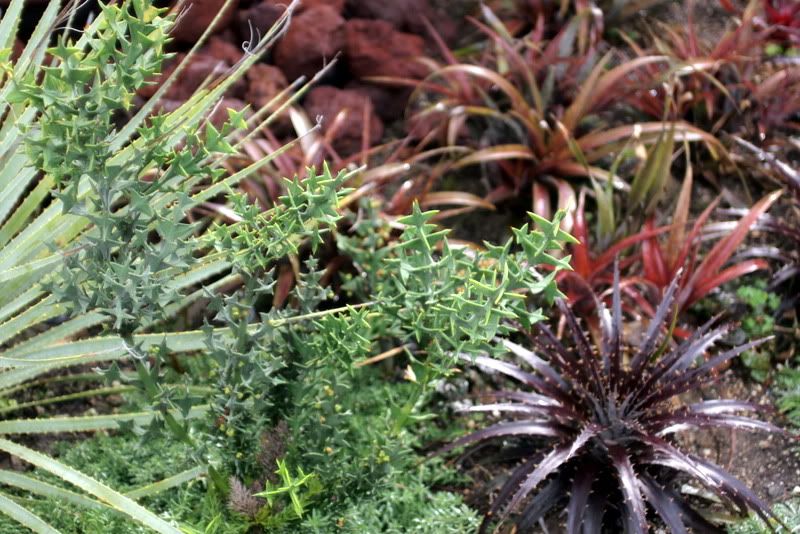 That's probably more than enough of the Roger's & Me back story. I was there bright and early on a Saturday morning for Debra Lee Baldwin. Countless times I've prowled this nursery while talks were being held in the small amphitheater, now backed by a tall hedge to separate it from the rest of the nursery, but I had never once attended a talk here before. So today it was my tuchas sitting on the hard, wooden amphitheater benches, awaiting the succulent lady to begin her talk. Every seat eventually filled up.
Although I've long grown aloes, agaves and yuccas, it was probably Thomas Hobbs' books, Shocking Beauty and The Jewel Box Garden, that revved up the use of smaller succulents for me and launched quite a few ghastly experiments with succulents and moss. (I'm probably in the minority, but any book with the word "designing" or "design" in the title I usually avoid and am more intrigued by lush, Byronic titles for books, searching more for inspiration than instruction, so have to disclose that I have yet to purchase Debra's books. But titles can be deceiving and are often foisted on books by editors, and a cursory look at Debra's books was plenty inspirational.) There was a mossed succulent wreath on a table for Debra's talk, but she never discussed it and mentioned peat moss and sphagnum moss only to say they should be avoided for their properties of holding water too tightly and then being too difficult to re-wet. I've noticed a distinctly anaerobic odor to one of the few remaining moss experiments I've kept, which is coir instead of moss, probably even worse for water retention.
Debra's creations are much more sleek, and she referred often to the concept for pots of "Thrillers, Fillers & Spillers." She asked the audience for a show of hands of those familiar with this concept, and surprisingly it was very few. Perhaps it's more of an East Coast thing? West Coast designers have expressed some fatigue with this rigid formula, but in Debra's hands it was a vivid tool for demonstrating planting techniques in front of a large general audience of mixed design experience. Generic potting soil is augmented by perlite, which can be bought cheaply in bulk under the brand "Dry Stall" from feed stores when you're stopping by to fill up on alfalfa pellets to nourish the garden and checking out the trendy livestock troughs.
Debra created two separate succulent pots to demonstrate her process. She had pushed a shopping cart like one of us regular punters through the nursery before her talk to gather materials. On the cart can be seen the Zwartzkopf aeonium that she broke into pieces and flung into the audience — Debra's PT Barnum instincts are spot on. Also on the cart is the golden Sedum nussbaumerianum, Sedum 'Ogon,' and the firesticks Euphorbia tirucalli. The two pots she made were composed of mainly small aeoniums, echevarias, and sedums. (The pots were raffled off to the audience, so no photos were possible.)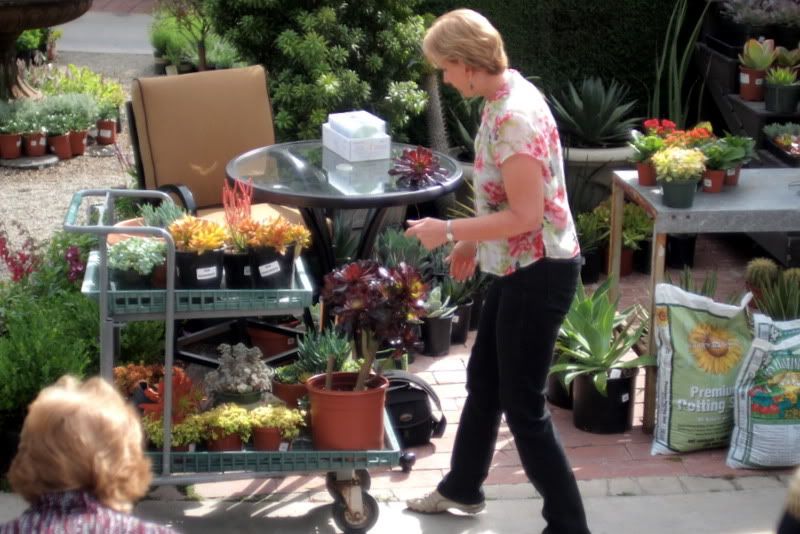 As a speaker, she's a natural, warm and enthusiastic. Not at all a clock-watcher, she ran well over the given hour to answer questions and to make up the second pot. In both cases, she used shallow bowls, one terracotta and one a golden ceramic with browny-red streaks, filled the soil to the rim, and built up a souffle of succulents high above the pot's rim. What looks like an unstable tower will knit together in about a week, she says, so treat it gently and keep it in dappled shade during that time. A big, ruffly echevaria from a 5-inch pot is sited in the center, sitting high on the potting soil nearly flush with the pot's edge, then the smaller succulents are pressed in around and around, like frosting a cake. The amount of succulents used for a 12-inch bowl was astonishing, and she admitted the design proportions fall apart fairly quickly as the succulents grow, in six months or so. Just when you think a toothpick would have trouble finding a crevice, Debra pronounces it time to mulch with gravel. She revealed the magazine Sunset's mantra for photo shots, the equivalent of "no wire hangers": No bare dirt, ever. And a soft painter's brush is useful for brushing off debris. Chopsticks come in handy for reaching in to compress the soil. Her favorite color for glazed pots is either cobalt blue or deep red — she takes her colors straight up and primary. She admitted that she doesn't always follow conventional wisdom in allowing calluses to form on new succulent cuttings before using them in pots and only follows this precaution for rarities.
The success of her books, still on Amazon's best-seller lists, Debra feels is partly due to their publication coinciding with a severe drought in California. In her own inland San Diego garden, many of the succulents she experimented with were marginally hardy, and the Great Freeze of 2007 culled the weak from the herd. She now grows only succulents hardy for her zone, so there's no longer a need to throw bed sheets over tender plants when frost is predicted. Over and over she referred to the Southern California coastal communities as the "banana belt," where everything and anything succulent flourishes due to the maritime influence, whereas just a few miles inland aeoniums will mush out in a rare freeze like that of 2007. Photographs for her books were taken within a 50-mile radius of her own garden in San Diego.
More video tutorials, photos, and Debra's speaking schedule are available on her website Debra Lee Baldwin, and Debra also blogs at Gardening Gone Wild.