No, I haven't done a recent tally. But, boy, do they ever count when the days heat up and stay hot. Nothing looks as composed under the sun as an agave.
Hard to say if their numbers are increasing, since I've been giving away the large americanas and seeking out smaller, slower-growing kinds. New to the garden this summer, found at a recent succulent show, Agave 'Snow Glow,' kin to 'Blue Glow,' both Kelly Griffin's hybrids.
Not new but one of the few agaves I own that still looks like it just came off a grower's bench. Three offsets of this dwarf butterfly agave 'Kissho Kan' are making good size in the front gravel garden. Good size for a dwarf, slow-growing agave.
The mother plant has grown so snug in its small pot that dunking it in a basin is how it gets very occasionally watered now. Keeps the leaves bright and shiny too. Looks like a mean water lily, doesn't it?
Sweeping jacaranda leaflets off the bricks at the front of the house this morning, I noticed that Agave desmettiana is beginning its monocarpic death dance and will be throwing a bloom stalk very soon, after which it will expire in that dramatic, Madame Butterfly flourish that ends the life of every agave. So subtract one desmettiana.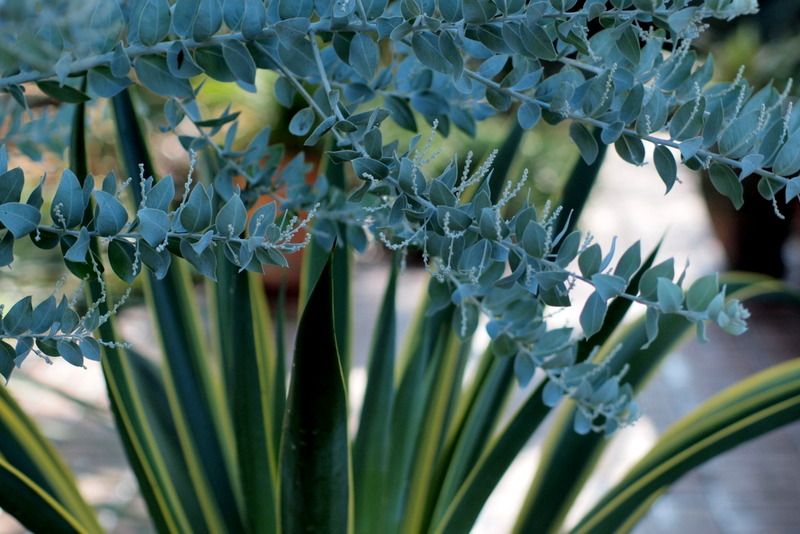 For once it's an occasion I've actually been looking forward to since the Acacia podalyriifolia is getting tree-like fast and needs a lower-growing understory.
Agave parryi 'Cream Spike' finally showed up at nurseries this summer in less pricy sizes, another small agave that can remain in its pot for some time.
The big agaves are undoubtedly an awe-inspiring sight, but a small garden can support only so much awe. Thank goodness for the little ones. All the essentials for late summer on a small table.