Or, more specifically, Agave filifera ssp. schidigera 'Shira ito no Ohi' (Queen of White Thread Century Plant). No one seems to know the origin of the variegated form of this wee agave with the big name, whose queenly title was bestowed by Tony Avent of Plant Delights. Another gorgeous agave for containers, I slipped mine from its confines this summer and released it into the garden, hoping to push its speed of growth up a bit. At maturity, it won't be much larger than a foot across. I don't typically grow sharp, spiky plants in the back garden, which gets changed up often. That's what the front gravel garden is for. But this slow-growing agave's single rosette is not destined for intimidation, just endless fascination.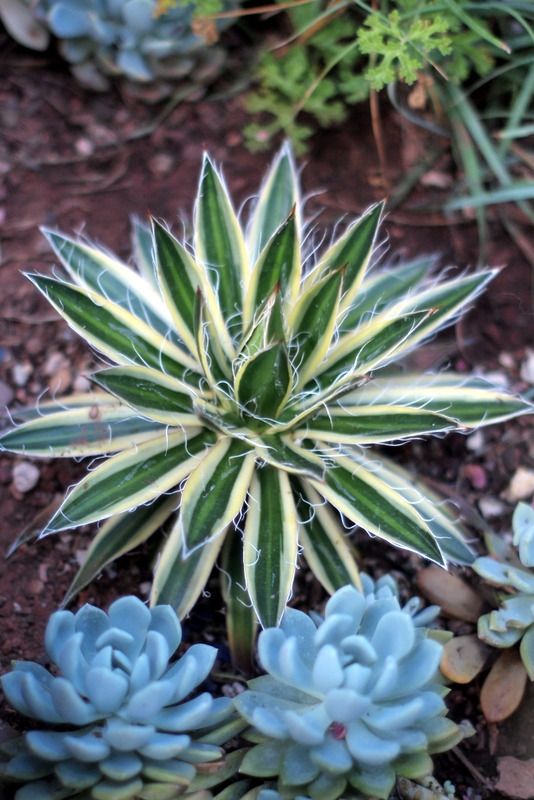 Agave filifera ssp. schidigera 'Shira ito no Ohi.' Nice threads.
Another Mexican succulent, Echeveria elegans, the Mexican Snowball, providing scale.
If memory serves (and it often doesn't), it was this echeveria that designer Kellee Adams said was the most sun-tolerant at the Wave Garden in Richmond, California, a stop during the 2013 Garden Bloggers Fling.

In an August 22nd lecture on "The Amazing Plants of Mexico," Brian Kemble, Curator of The Ruth Bancroft Garden, pointed out that this agave's famous threads are a recessive trait. When crossing a "thready" agave with one lacking threads, progeny will always be threadless. In case you were wondering.