Where & When: Find us Sunday, December 15, 2013, at the Long Beach Antique Market. It opens early (6:30 a.m.!), so it won't take too big of a bite out of your day.
Who: Me, garden designer Dustin Gimbel (non-secateur), and graphic artist Reuben Munoz (RanchoReubidoux) will be manning the stall for a winter blogger meetup and pop-up shop at one of the best flea markets in Southern California. Our little flea market just became even merrier, now that Reuben has joined the festivities.
Why: Holiday shopping at the malls has always been a no-go zone for me, and online shopping can get a little…well, sterile. I've made it a tradition to hit the fleas in December, for the people watching, for the serendipitous flea-bagging, for the sheer spectacle of it all. I can't wait to find out what it's like on the other side of the table, not that I won't be squeezing in a good browse too…
What: There'll be some industrial salvage, pots and plants, along with some hand-made stuff created just for this flea, including mural pieces by Reuben.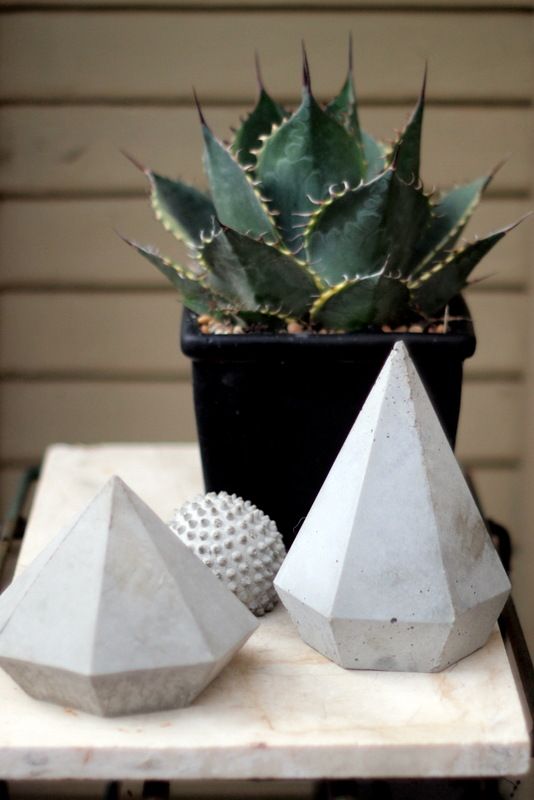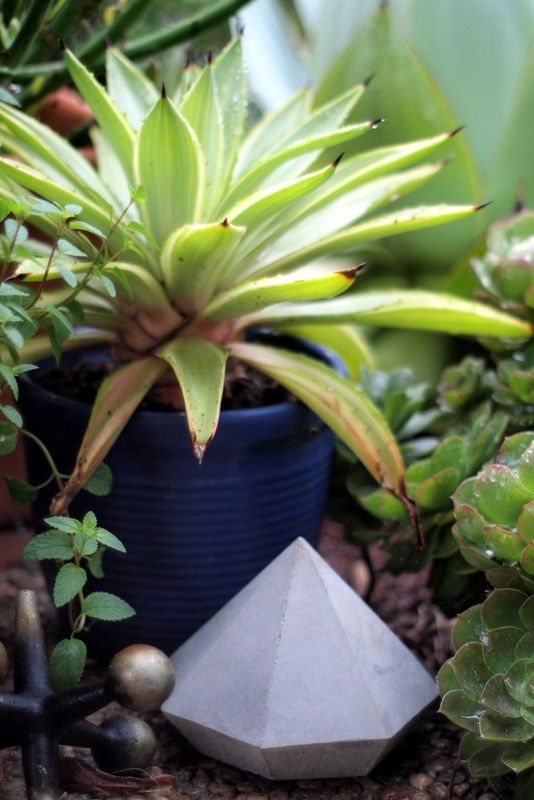 Dustin's concrete gems continue to proliferate, short and squat gems, elongated pyramidal gems, sea urchin gems…
(Diamonds are an agave's best friend.)
And I'm coaxing more and more sailor knotwork out of Marty now that his summer job on the Catalina Island ferries is on hiatus, the huge doorstops that take incredible muscle to tighten (I can't do it yet, dammit!) as well as smaller sizes for bookshelves, paper weights — wherever the eye would like to trace the lines of a briny, ropy orb, or a computer-fatigued hand needs to grasp and weigh something reassuringly solid, or a reminder is needed that fresh breezes and adventures are on the way. The office is more rigging loft now, with rope strewn everywhere. We found some beautiful vintage line at a marine salvage yard in Newport Beach, including some lovely honey colors and subtle variegateds.
I can hardly bear to sell any of it, so even if I have to reload the car with it all, it's a win/win. At least we'll get the chance to meet up with some of you, our comrades and fellow devotees of the impeccable design work done by the plant kindgdom. We're gathering up simple textures and shapes that people with an eye for beautiful plants would like to have nearby, especially in winter. I can't speak for Reuben, though — no telling what he's up to! And I have no idea how we're going to fit it all into one stall, especially since Dustin wants to bring some big specimen plants. But it promises to be a very merry flea indeed, if slightly shambolic as the best fleas are, with hot cider and cookies. We'd all love to meet up with you there. (Marty dared me to fit in the word shambolic. He should know I never back away from a dare.)