Over the holidays, daytime temps have been hovering around 80 degrees Fahrenheit. Considering my sister-in-law's flight into Los Angeles from Cody, Wyoming, was delayed by storms for four days, it seems churlish to complain about the warm weather. I'll just say that it was intensely exciting to see wisps of fog begin to blow in from the ocean Saturday afternoon, starting out thin, like faint smoke signals, then quickly bulking up into billows large enough to trigger the foghorns. At this dessicated point mid winter, I gladly welcome moisture in whatever form it chooses to come.

Cussonia gamtoosensis as fog-catcher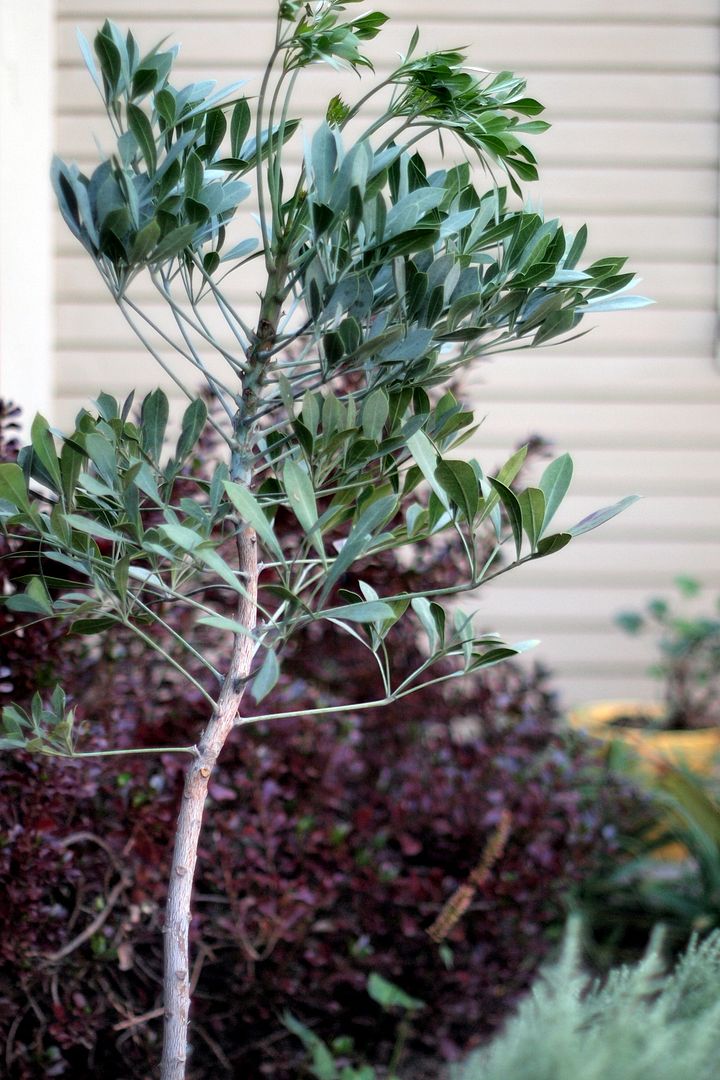 Still young, crooked, and gawky, the canopy should broaden substantially by next winter.

I transplanted both of my South African cussonias, C. paniculata and gamtoosensis, into the garden over the summer. These evergreen mountain cabbage trees are stunning in containers and are worth the trouble of hauling in for the winter where not hardy. Odd that they are seen more often as conservatory plants in colder climates than they are here in Los Angeles, where they need no protection during winter. I've become less inclined to water containers all year, so the cussonias were planted in the garden when each had attained enough size and height so as not to appear absurdly puny in the landscape. The paniculata inexplicably declined almost overnight, with the caudex collapsing and turning to mush. Full sun too strong? Clay soil too heavy? Because of its caudiciform ways (swollen base of main stem for water storage), I may have mistakenly assumed it preferred dryish soil after transplanting it into the garden, because now I'm finding lots of references that say otherwise. Not that I'm shirking blame, but the paniculata was a weak grower even when pampered in a pot. The gamtoosensis has been much easier, steadily gorgeous every inch of its growth, whether in container or garden, and now is almost 5 feet tall. (Please, please don't try anything inexplicable now, okay?) Mine was found in a remaindered section at a local nursery but was grown by Annie's Annuals & Perennials.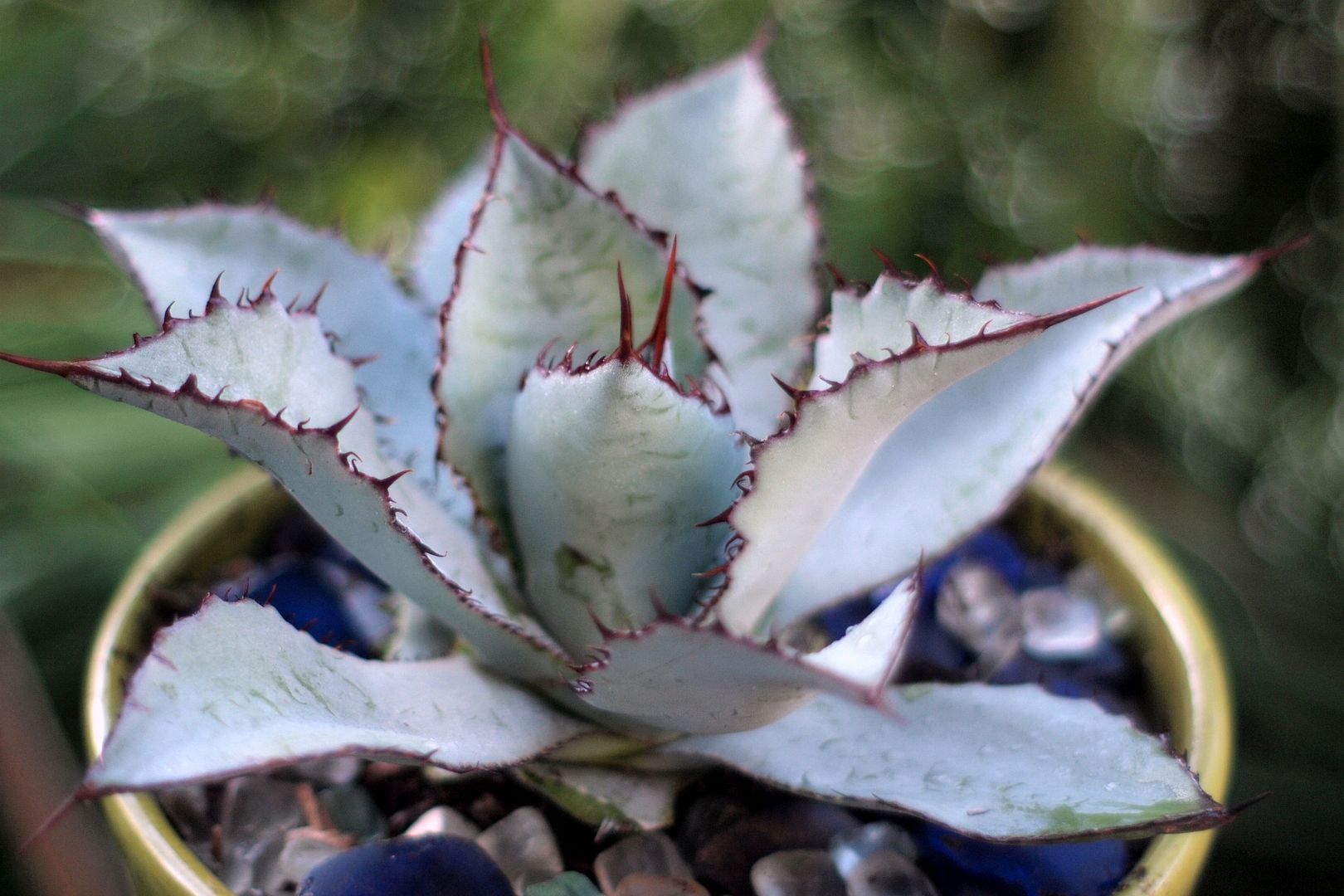 Something else new for pots, a dwarf, very blue form of Agave guadalarajana with burgundy teeth and spines named 'Leon.' Monterey Bay Nursery's label says ultimate size 2X2 for this "Maguey Chato." From tissue culture by the wizards at Rancho Soledad.
Cyrus Pringle
collected this agave near Guadalajara for the Smithsonian in 1893. A devout Quaker, Mr. Pringle is one of the "top five historical botanists for quantity of new species discovered," with quite a lot of his collecting done in Mexico. Winter is the perfect time to read about Tintin-like botanist adventurers. Which reminds me that finding a comfortable pair of hiking boots is resolution No. 1 for the new year.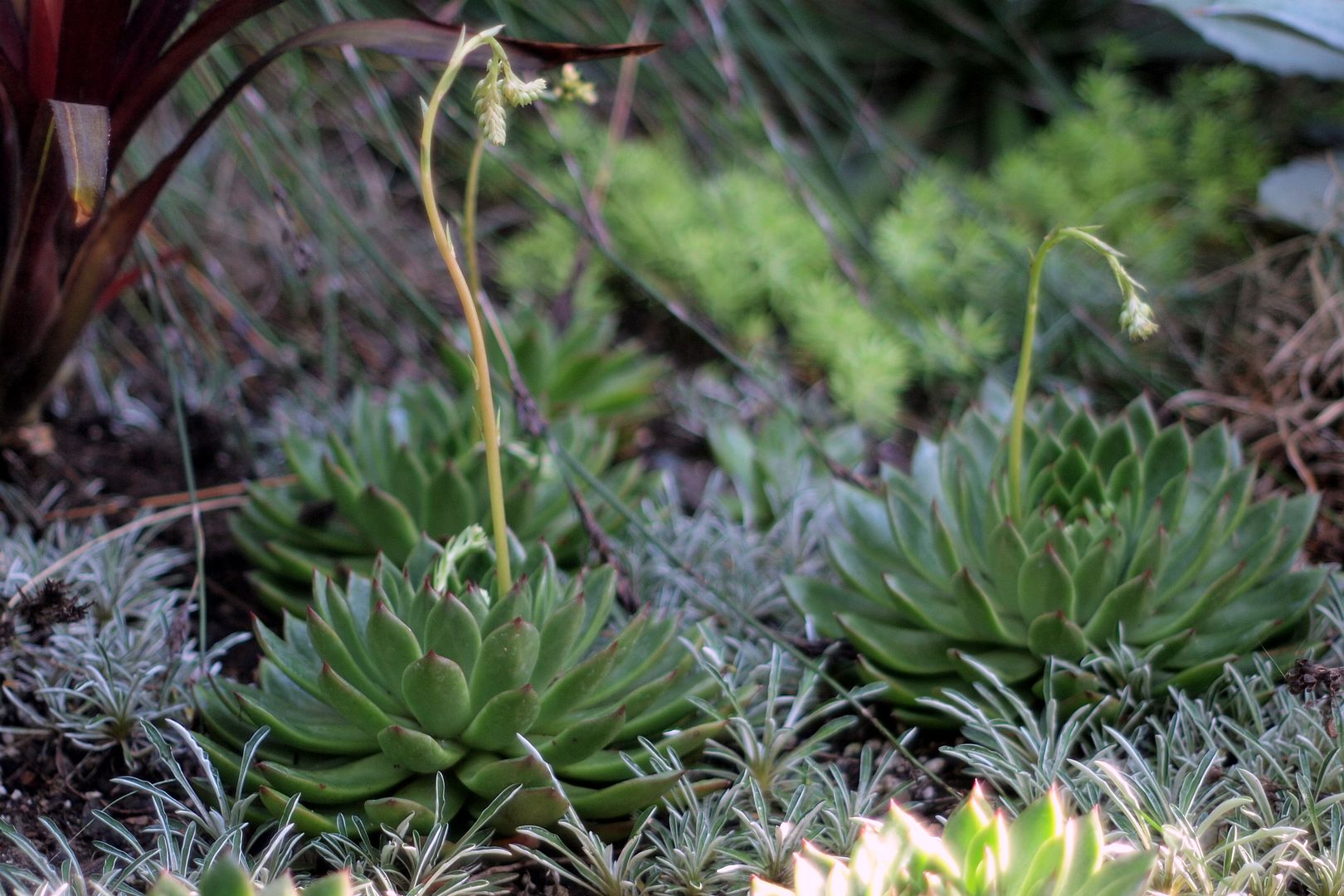 Also from Mexico, Echeveria agavoides is unsnaking bloom stalks to dangle its tiny flower rattles. When a group is in bloom, the various twisting, goose-neck stalks are charming contrast to their solid, ground-hugging attributes. This echeveria was given the RHS Award of Garden Merit in 1993 as "suitable for growing under glass."
In the last week of December, Agave desmettiana opened its pollen pop-up shop for the bees. The bloom stalk is approx 15 feet tall. Not at all sure what to plant here, if anything, when it dies after flowering. I'm leaning toward a low and silvery carpet of Dymondia margaretae to show off the acacia that will take over here.
And there's been lots of puttering with odds and ends collected from plant shows over the summer.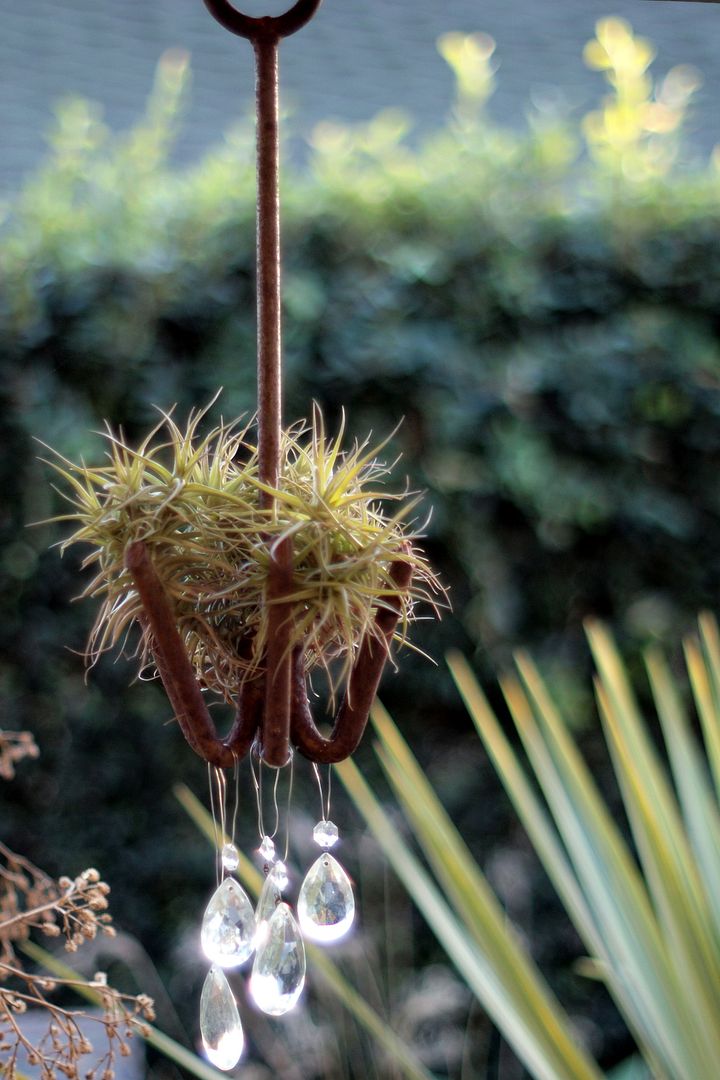 And experiments with catching the amazingly luminous, low-angled light these last days of 2013.