I love terraced gardens, with their multiple shifting perspectives from up, down, side to side. I can probably trace this appreciation to an aunt's hilltop home in the harbor town of San Pedro, Calif. My dad's sister had a house that overlooked Los Angeles Harbor, bought with fishing money, when there were still big local schools of sardine and albacore. The hill was buttressed by multiple terraces. The plantings were nondescript, but the idea intrigued me even as a kid, this modest example of domestic-scale geoengineering, with the land falling away beneath you, yet there always being level ground underfoot provided by the terracing. Visiting the terraced villages of the Cinque Terre in Italy many years later was a continuation of this childhood fascination. Terraced gardens still pull me in to this day, as this local one did featuring a favorite agave from western Mexico, the Cow Horn agave.
Agave bovicornuta here being harassed by a bougainvillea. Yucca rostrata on the topmost terrace.
Aeoniums and lavender, Kalanchoe tomentosa, Aloe striata, with an attempt to tame and train bougainvillea against a retaining wall.
A Dragon Tree holds a corner of the upper terrace.
Another feature of terrace gardens: incredibly satisfied-looking plants in the free drainage and warmth from the stone in this eastern exposure. This house and garden is just a couple blocks from the ocean.
Deep green and blue again, this time the green provided by the Pencil Cactus, Euphorbia tirucalli. The blue agave looks like possibly Agave celsii 'Nova' (now going by A. mitis.) except that solitary agave is not known for pupping so many offsets. It also looks a lot like my 'Dragon Toes,' which does offset freely.
Seems like I gravitate for a while to the powder blue agaves or variegated agaves, but there will always be room for the deep emerald green of the Cowhorn Agave. Mine succumbed to overwatering in the back garden a couple years ago, and I haven't seen it on offer locally since. The back garden is becoming almost as dry as the front gravel garden, so I've started planting agaves in the ground in the back again. We'll see how they fare.
With rosemary and Echeveria agavoides.
What the bougainvillea really wants is the terraces all to itself. I'd never unleash it in this situation, where keeping it in bounds will require frequent trimming, putting the succulents in danger of being trampled if not smothered first. I do admire the horizontal line of its dark green leaves snaking across the retaining walls in the upper photos, but the amount of labor and leaf litter…All that clipping sacrifices the flowers anyway, turning what's normally a study in scarlet to a minor meditation on magenta.
A glimpse of the sloping front lawn of the house next-door, which shows how the Cow Horn agave matches the depth of color of green grass.
With the paddle plant, Kalanchoe luciae 'Fascination.'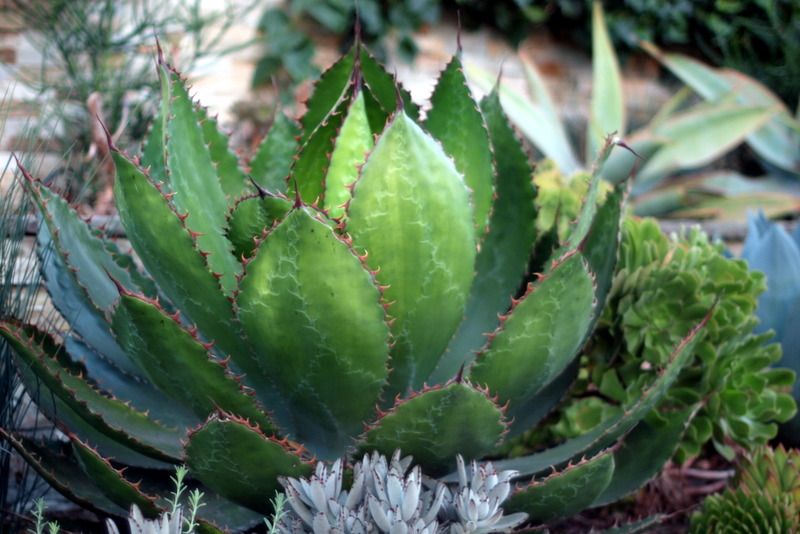 Another bonus of terraces is the fact that agaves are not at shin level, which is where I frequently engaged with my Cow Horn agave — but always in cowboy jeans, of course.