If you asked me what I planned on doing when I woke up that morning a couple Saturdays ago, tackling the enormously overgrown clump of dyckias in the front garden was as remote a contender as washing the windows, which never ever cracks the top 20. To be honest, there were no ambitions at all that hot Saturday morning, the end to an even hotter week. (This week brought the Santa Ana winds, warm temperatures, not hot, but very, very dry.) I started off early Saturday morning with no real plan, so just grabbed a broom and began to sweep. Sweeping is always a good default until a plan formulates out of the post-Friday fog. I can't remember the progression from sweeping to intimately grappling with this most dangerous of terrestrial bromeliads, but I'm sure it had something to do with being unable to sweep under the many rosettes spilling onto the bricks that catch all the duff from the jacarandas, the rachis and such. (If I didn't have jacarandas in the parkway, there's no way I'd be familiar with that term rachis, the main shaft of a compound leaf, in the jacaranda measuring about about a foot long.) Jacaranda detritus piles up in drifts, clogs the crowns of plants, burrows deep in the dasylirions, and is especially inaccessible in this spiny clump of dyckia. The dyckia came home as a solitary rosette from the first Western Hills Nursery in Occidental, California (now under new ownership), a very long time ago, and boy howdy has it prospered and multiplied. Whenever I see gorgeous varieties of diminutive dyckias in 4-inch pots on offer at plant sales, I have this barbed, cautionary tale at home to remind me to just walk on by.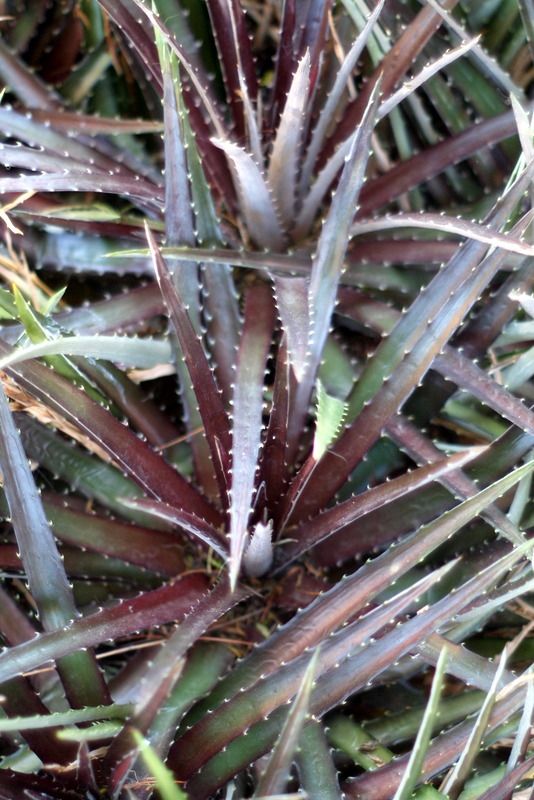 Those stiff, barbed leaves really mean business.
So many ways to inflict pain: poke, puncture, scratch, embed, scrape, stab, infiltrate. And with the hot, dry weather, my hands were hurting before I even started.
The clump has sprawled onto the bricks, making it impossible to sweep up the prodigious jacaranda debris that accumulates year-round. Leaflets, rachis, flowers, the occasional branch.
Instead of ignoring the piled-up debris sticking out from under the dyckia like I always do, I grabbed a shovel to loosen and pull out three largish rosettes off the bricks.
Vast amounts of dead, dried leaves were then able to be tugged and pried out of the interior of the clump.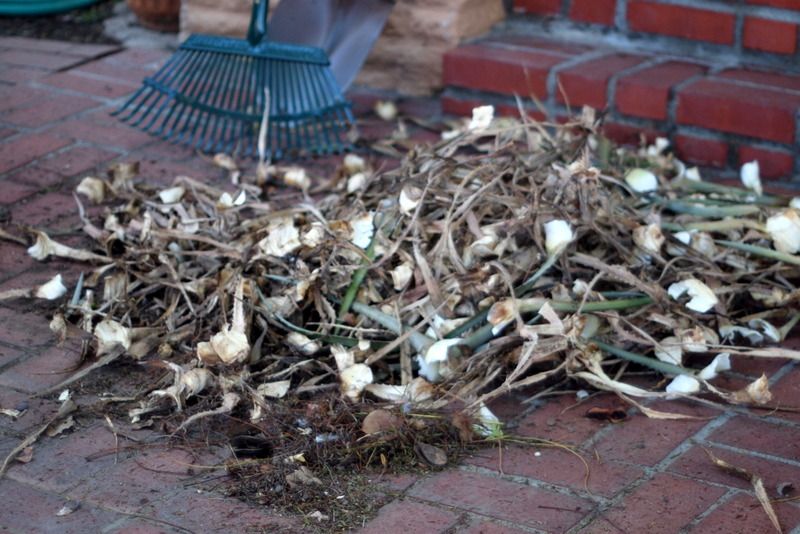 I wasn't sure how far I would go with the shovel. Complete removal has crossed my mind many times.
While I wrestled with the dyckia, others opted to polish their rims.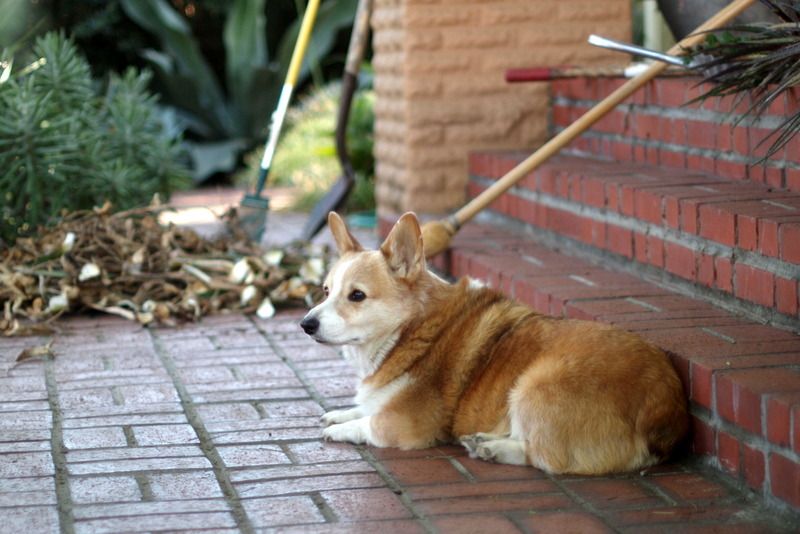 Or watch the Saturday morning parade of dogs on leashes passing the gate.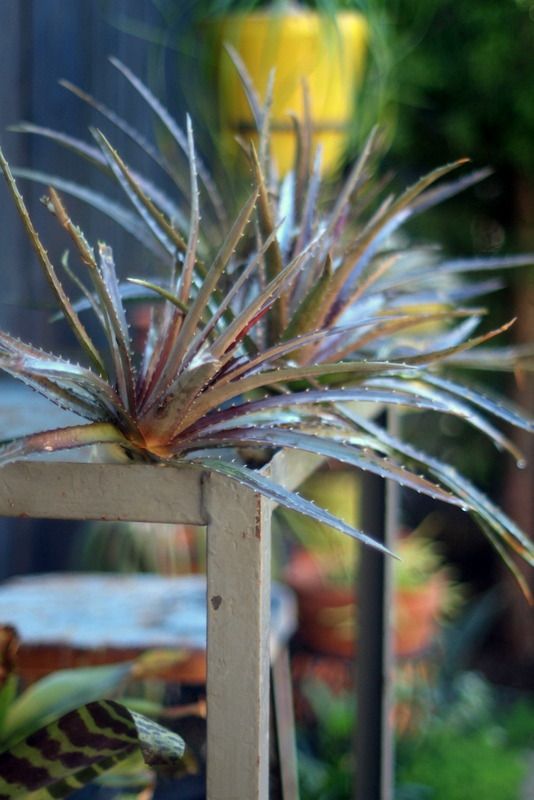 Seeing how beautiful the single rosettes were, I decided not to remove the clump. For now.
The three rosettes had very little root attached but were cleaned up anyway.
Because doesn't it just look like a plant with a will to live?
A couple were potted up in a shallow container with extra grit.
With a mature clump, you get the wands of Starburst-orange flowers, but to me dyckias are just as impressive as single rosettes.
Wonderful container plants, able to take temperatures down to 15 to 20 degrees. Here in zone 10 they grow into these massive clumps.
I really should bring more varieties home — but it will be for containers only.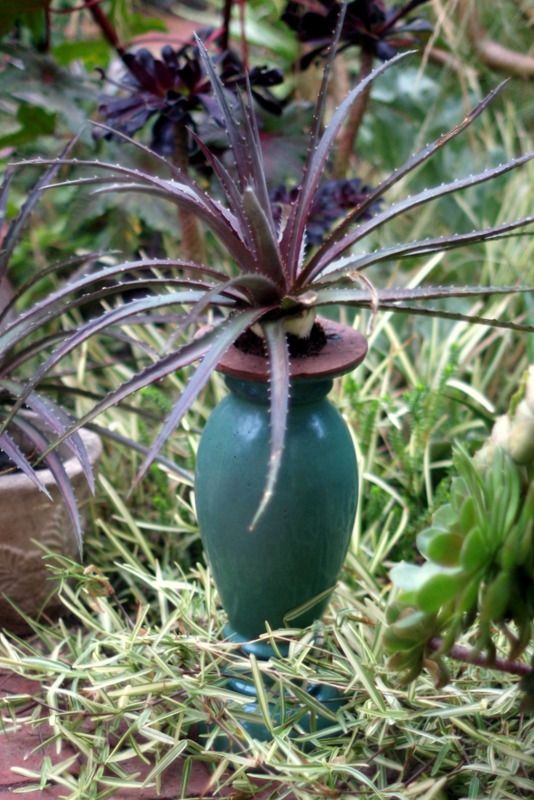 The third was wrapped in moss and stuck in the opening to this pedestal I found cleaning out the garden shed.
It's been around for so long, I forget when, where and why I brought it home. It nearly made it to the curb earlier in the week in a garage purge.
I checked this cutting today, and it hasn't rooted yet but is still firm. If it doesn't root, no big loss.
The trick to thinning out a dyckia clump is, first of all, obviously, wear gloves, long sleeves. And, secondly, move with slow, purposeful movements.
And not thinking about it too much beforehand helps too.