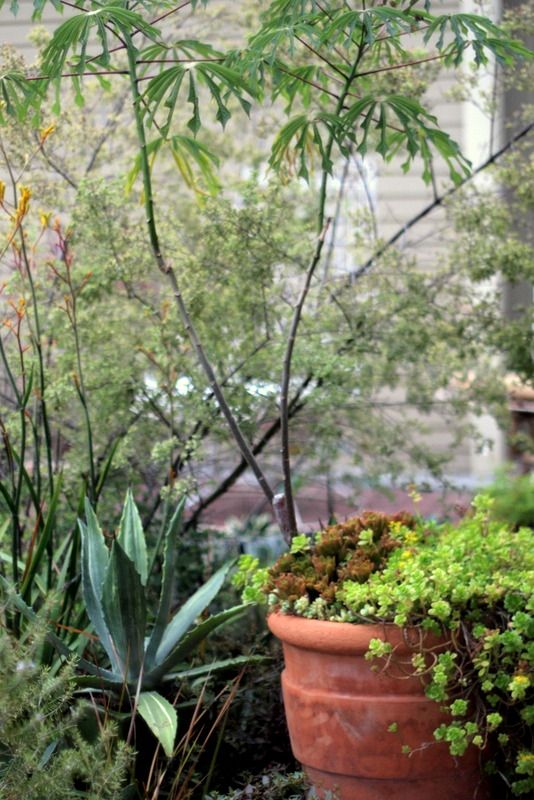 This clump-forming, bronzy aeonium spent last summer as underplanting for a potted manihot with Sedum confusum.
The dry-tolerant manihots make a nice light canopy, which helps to prevent sun scalding on succulents, whether potted or in the ground.
The list of trees for providing light shade in summer for succulents, minus the messy debris and leaf litter, is a short one.
(In fact, yesterday I removed one of the worst offenders for chronic leaf drop onto spiky plants in my garden, Euphorbia lambii.)
The manihot's leaves are shed occasionally throughout summer, dropped entirely, not in leaflets, and are easy to remove.
Deciduous, all leaves are shed late in the season, sometimes not until December here.
Though reputed to be prolific, the manihot is not much of a reseeder here, but I did find a couple seedlings this year which I greedily seized and potted up.
Thankfully, here on the coast, full sun is not as much of a challenge for succulents as it would be further inland.
Back to the subject of this post, because I don't find this succulent mentioned often.
Aeonium 'Copper Penny' was so good in a container that I had to see what it could do in the garden.
Slugs nipped the leaf edges in late winter/early spring, but it's grown out of that chewed-on phase now and is a solid clump of smooth, burnished copper.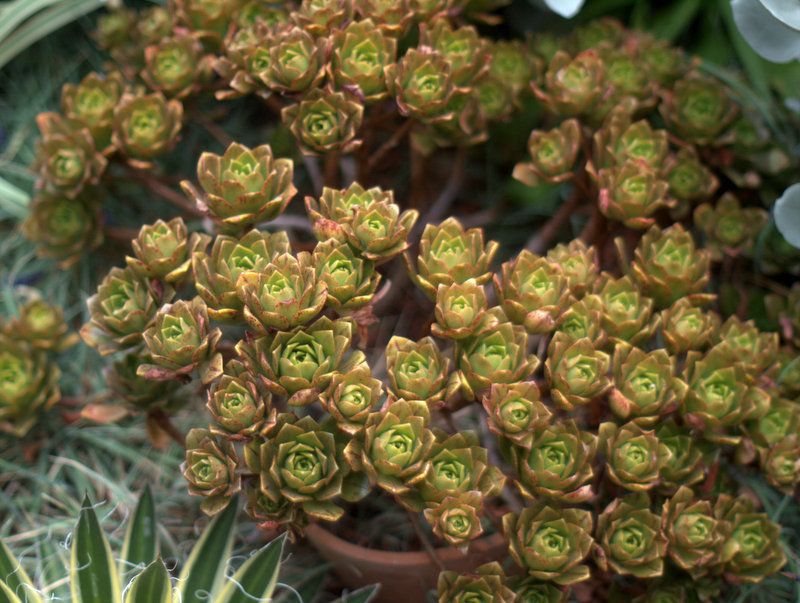 Relatively solid. It was splaying apart slightly in the middle, so a broken piece of pottery was inserted to prop up a branch off a neighboring agave.
Its shrubby habit reminds me of a jade plant. Deepest color is brought out by full sun.
Aeoniums are also great leaf shedders in summer, which is when they stop active growth.
In contrast to many of the other aeoniums in my garden, 'Copper Penny' sheds very little and keeps a much neater appearance.
Close inspection reveals curious red flecks to the leaves. A great little succulent to keep an eye out for at the nurseries.