I don't have any travel plans this summer, so July's rhythm has been work, work, work, decompress in garden, shower, repeat. And I don't really mind because the garden is so absorbing this time of year. At least once a day I stand as close to the center of it as possible, on a rapidly disappearing access path, like Moses parting the Red Sea, to study the fleets of winged insects that visit. They're the perpetual fireworks of the July garden. The air space is thrumming with the familiar bees, bumblebees, wasps, lawn skippers, hoverflies, but there's so many that are nameless to me. Like the British research ship-naming contest, they may as well be Buggy McBug Faces. I was even convinced the other day that the tiny and rare El Segundo Blue butterfly paid a visit. Since its only known remaining habitat is under the flight path of LAX, that's unlikely. But when your identification skills are sketchy at best, anything is possible, even rare blue butterflies.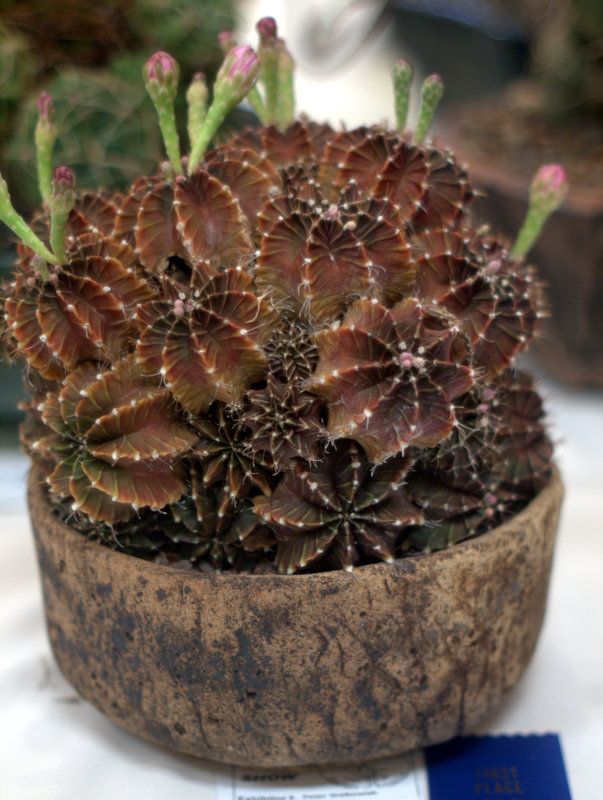 I did get out to the CSSA show at the Huntington last week. Here's a splendid Gymnocalycium friedrichii as proof.
I brought home just a couple plants, an Agave colorata and Euphorbia multifolia, but like clockwork, every summer I become convinced I need more shelves. So Marty helped me rig a new shelving system, which gets lots of the pots up off the ground.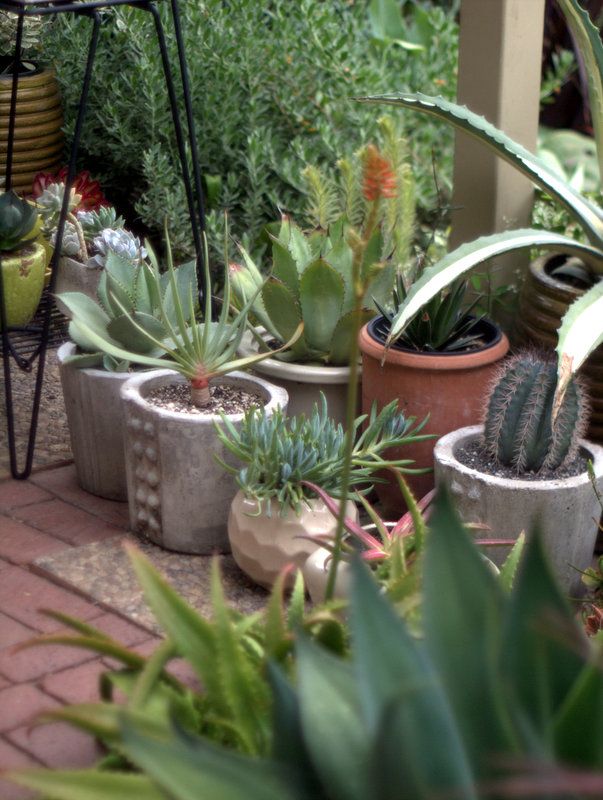 Not that I have anything against pots on the ground, but I like options for closer, eye-level inspection too.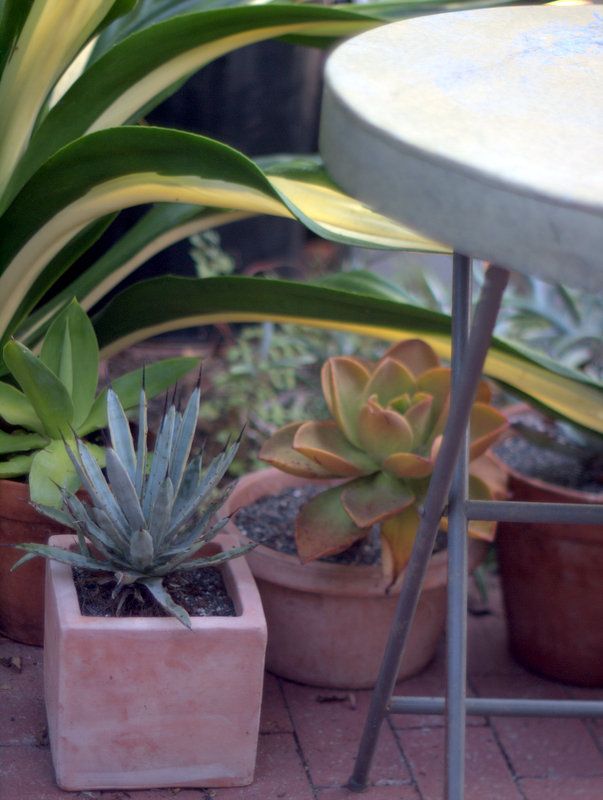 Sturdy potted plants are fine at ground level.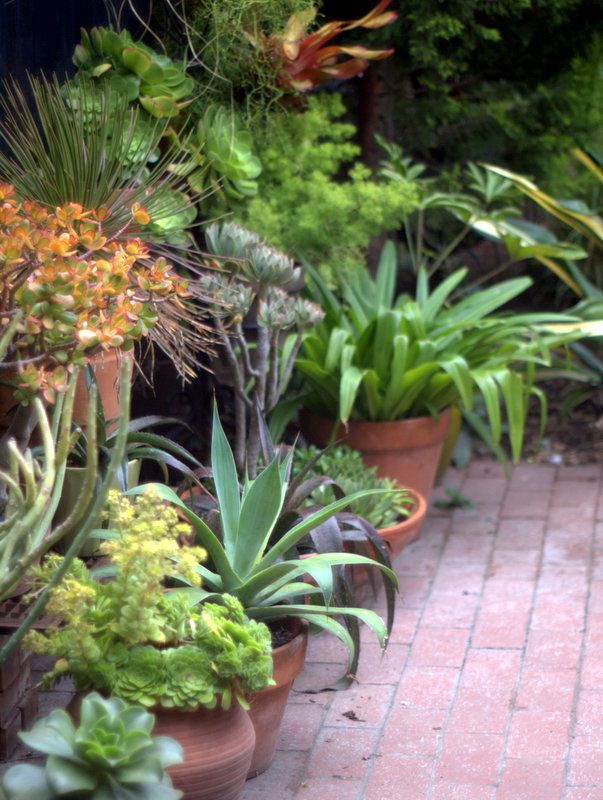 Last summer I massed lots of sturdy stuff against the east (blue) fence.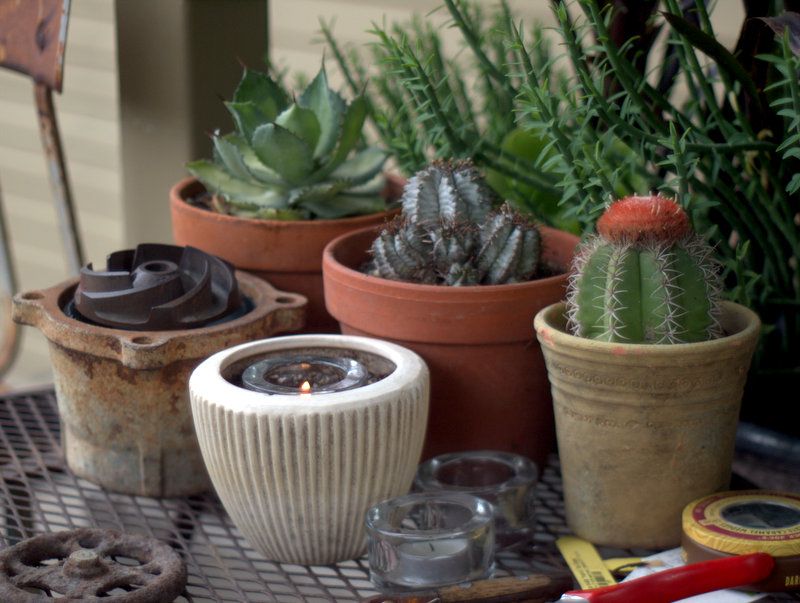 But the little treasures have a better chance of survival if they're right under my nose. Little side tables and shelves, a garden needs them too, right?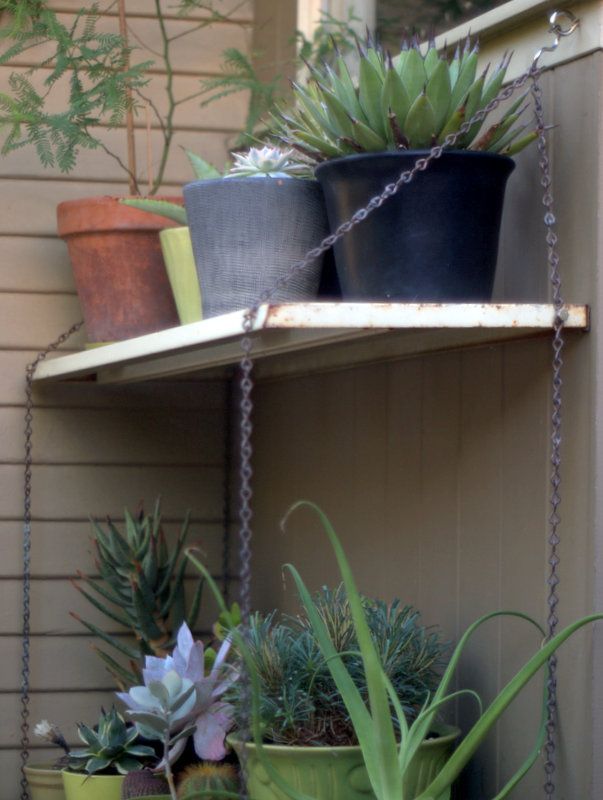 I found these shelves at Building REsources in San Francisco last spring. They reminded me of old ironing boards.
The diamond perforations looked ideal for drainage. I saw great potential, but Marty wasn't convinced with any of my early design proposals. This arrangement suits everybody.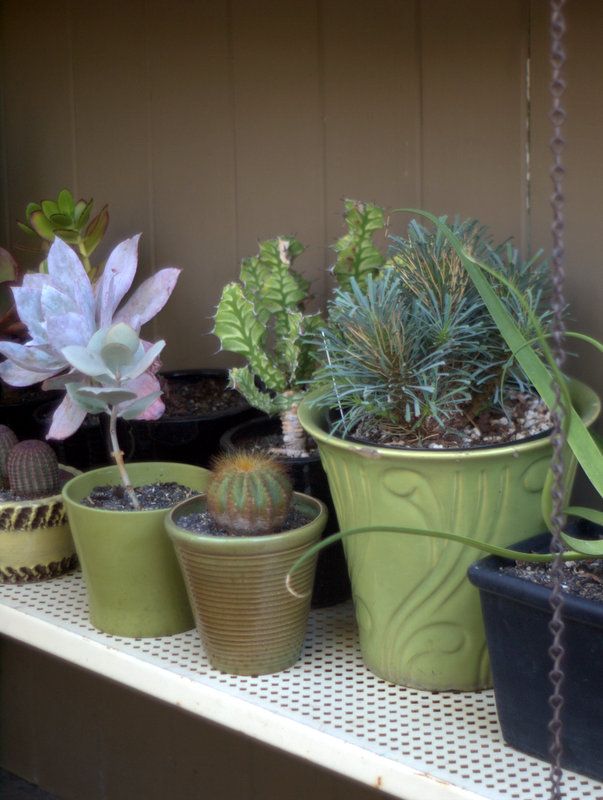 Euphorbia multifolia is temporarily cached in that lime green swirly pot.
I've seen this exact pot sitting on a neighbor's porch a couple streets away, but have never seen it anywhere else, flea markets, etc. A collecting friend gave me this one when it became chipped. What are the odds of there being two in my neighborhood?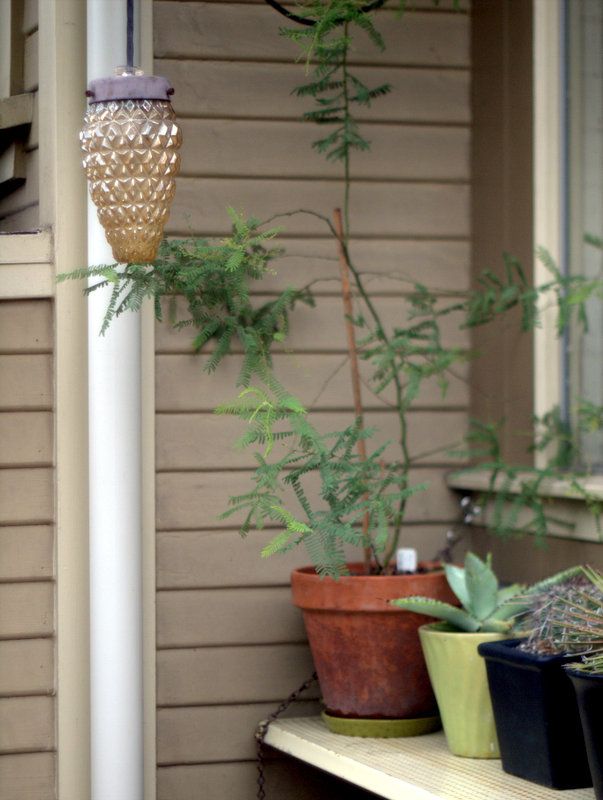 The shelves are hung against the bird house/bath house. I like this corner for its morning sun/afternoon shade. The ferny plant is a young Acacia cardiophylla. I thought the parakeets would appreciate something leafy to look at.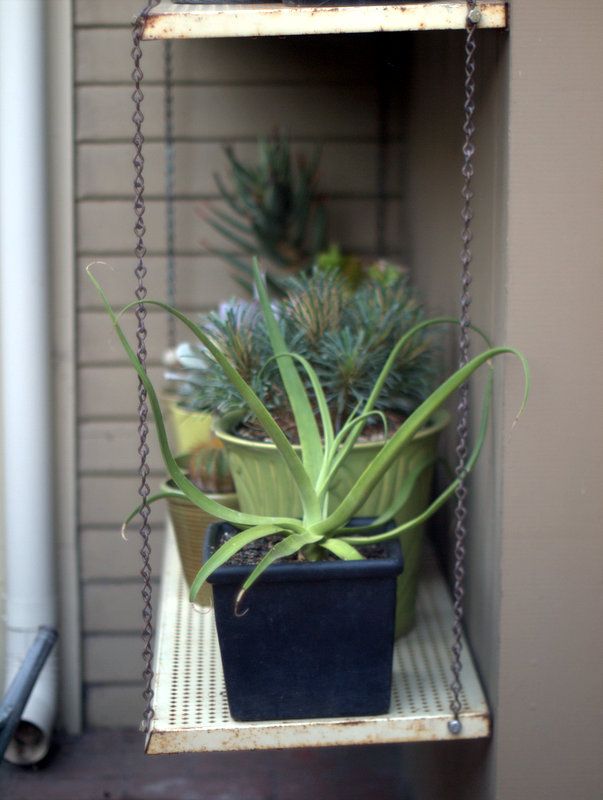 Now that they're hung, I'm wondering if they shouldn't have been painted first. (Edited to add that rust was a problem and the shelves were ultimately dismantled.)
The shelves are rigged so that unhooking them for painting would be incredibly easy. And the spray paint has really been flying around here lately. Someone cleaned out a garage and unloaded boxes of spray cans on us.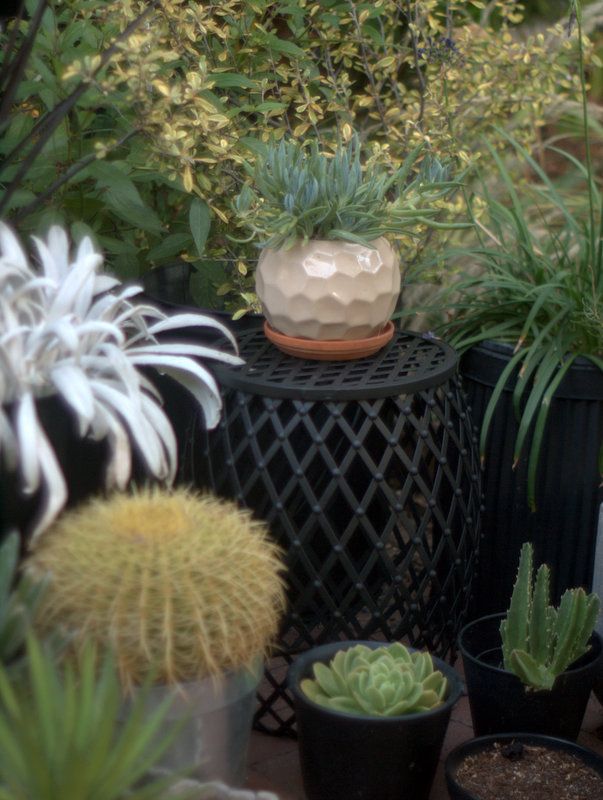 Marty has done all the painting. I come home from work, and there it is, the marvel of fresh paint. For someone who has had a lifelong tolerance for rust, I'm growing alarmingly fond of fresh paint. I can't seem to move beyond black though. Marty had repainted this metal jardiniere in its original orange, and it was gorgeous. But my eye kept stuttering and tripping over it. I guess that's called a focal point, right? I needed it black, and Marty reluctantly repainted it again. What a guy.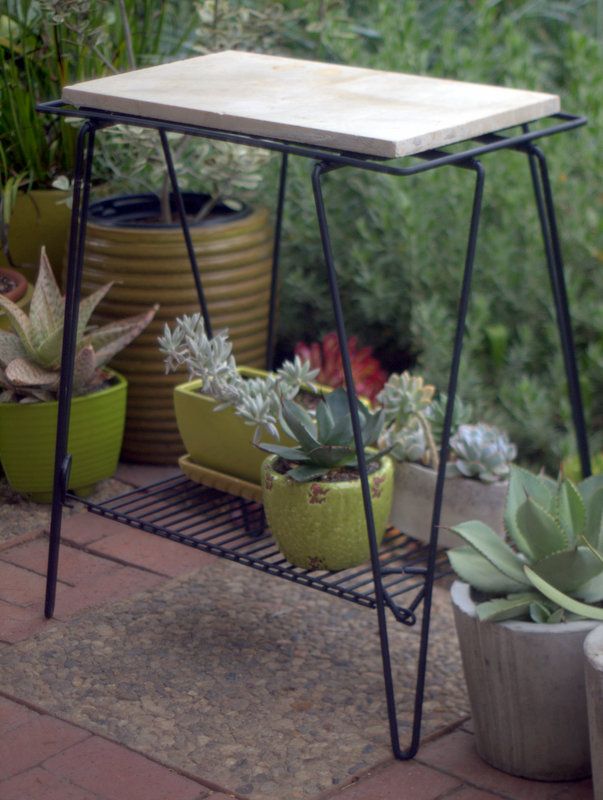 And this old aquarium stand with those great hairpin legs got some fresh black paint too. The marble top also came from Building REsources a few years ago.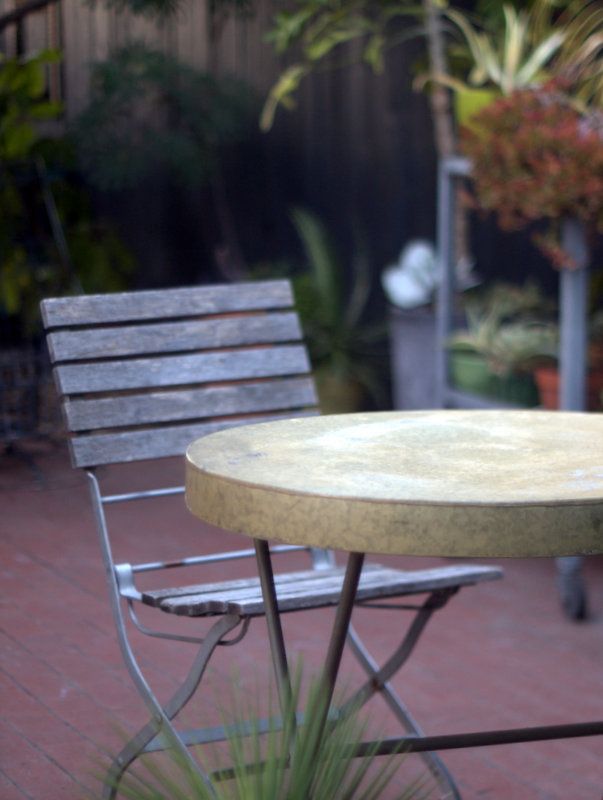 Fresh paint is great, but some old finishes are too good to cover. I found this galvanized table really cheap at a great shop in San Pedro.
This shop is so good, with such great prices, that I'm hesitant to name it.
Okay, that would be incredibly selfish. It's House 1002 on Pacific Avenue.
So the question remains, to paint or not to paint? If we do repaint, I'm leaning toward repainting the shelves their original color, not black, but I'm open to suggestions.