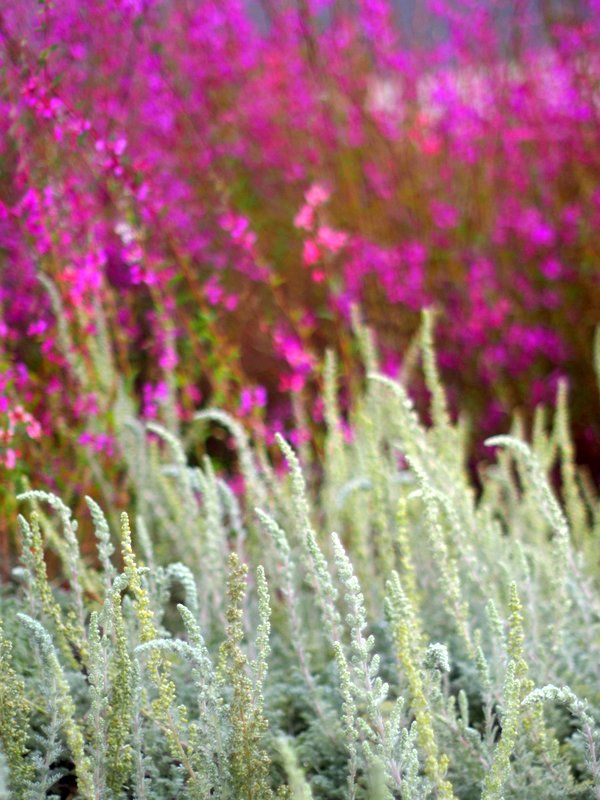 Some quick odds and ends. This is an old photo from the Theodore Payne tour a couple months back, of Artemisia 'David's Choice' and clarkia, one of those fleeting moments in spring that indelibly sears the visual cortex.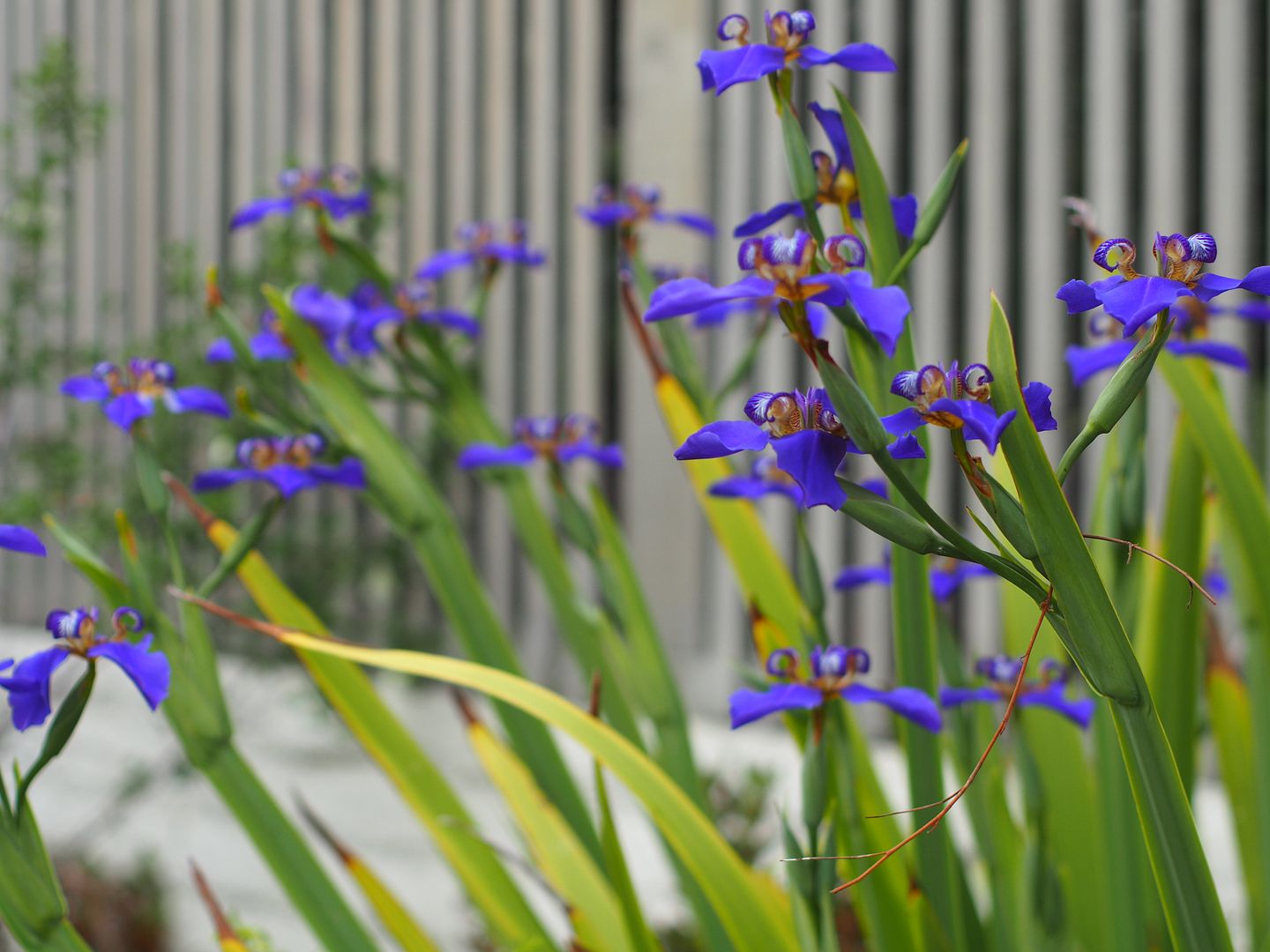 Last weekend this silky, cobalt blue iroid at the Sherman Gardens in Newport Beach, California, got the rods and cones firing. A floaty, winged performance entirely new to me.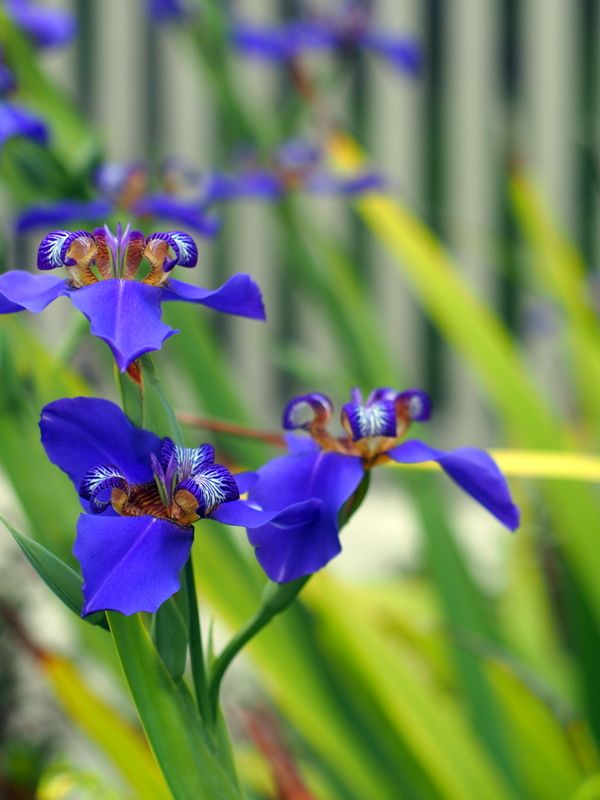 I'm guessing *Neomarica caerulea, which I've always associated with Roger Raiche, extraordinary plantsman and former horticulturalist at the Berkeley Botanic Garden, who has grown neomarica for many years. I suppose I just assumed that even though neomarica is from Brazil, it must be partial to Northern California/Bay Area's cloud forest-like conditions, not Los Angeles. Coastal Newport Beach seems to suit it fine, so maybe Long Beach will too. The entire plant had great elegance and body, unlike the stiff spring performance of, say, Dutch iris. Annie's Annuals occasionally carries it, and I need to keep track of when it's next on offer. Making first-time, in-person acquaintance of desirable plants never gets old, especially ones as legendary as this.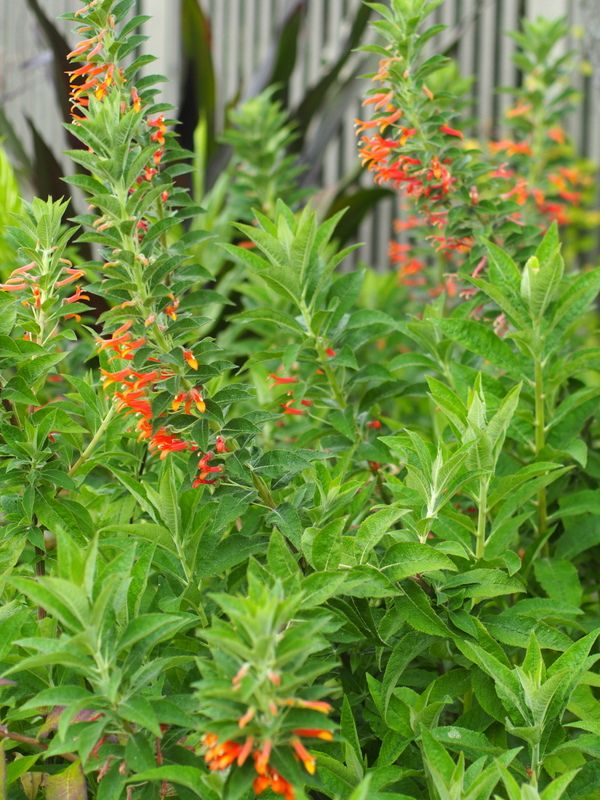 Another uncommon plant, this **lobelia looked as at home as any Jerusalem sage. It's so exciting to see a rare plant that didn't get the memo on how rare things are supposed to behave, i.e., struggling, weak growth, sunburnt leaves, suffering from mysterious soil ailments. I'm guessing that this is **Lobelia aguana. (Edited 7/1/17: It's Lobelia excelsa.) Judging from this healthy, happy, floriferous performance, it looks like a sure bet for coastal SoCal. In my own garden at home I'm growing a lush, big-leaved lobelia new to me, L. fistulosa, and although yet to bloom, it's also seemingly enjoying life and not agonizing over whether to live or die (talking about you, Lobelia tupa).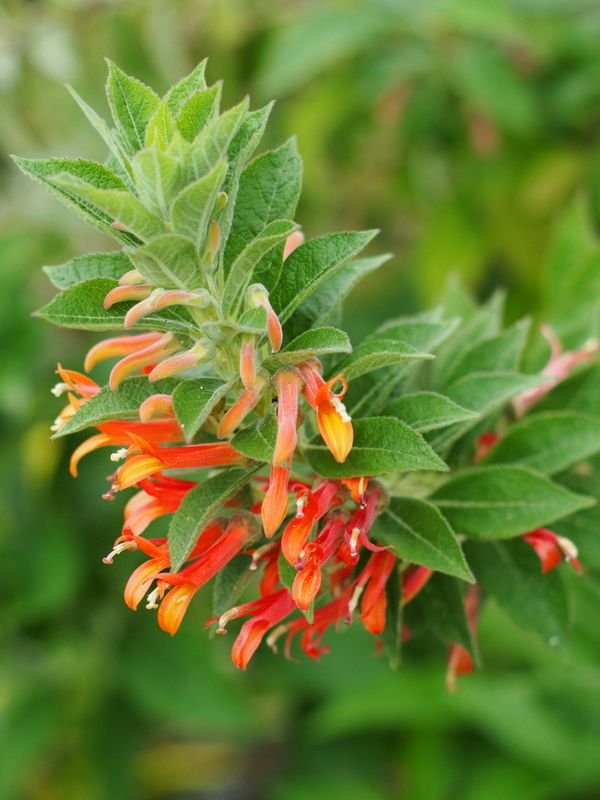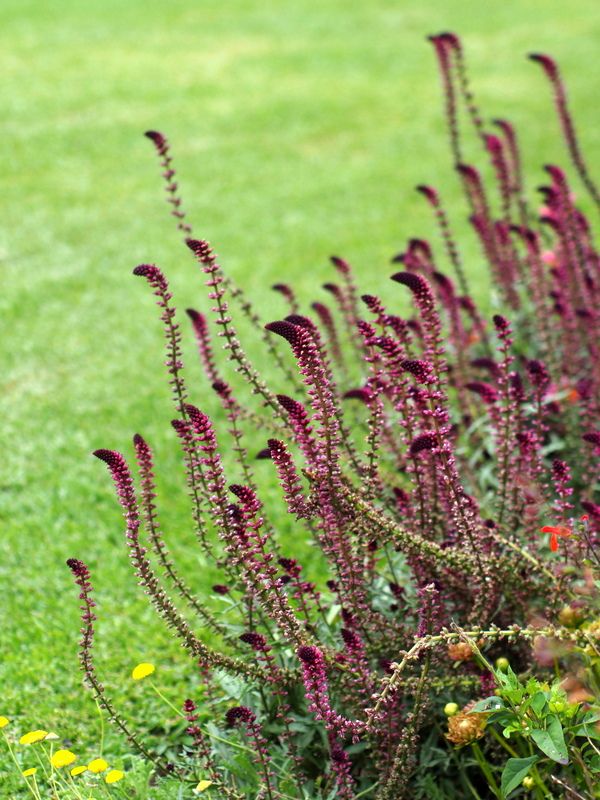 Lysimachia atropurpurea 'Beaujolais' is undeniably thrilling. I had one good summer with it a few years back, but it didn't return and didn't reseed. Finis.
The Sherman Gardens also has one of the best specimens of Leucadendron 'Jester" I've seen, big and bushy, without the usual awkward or patchy growth.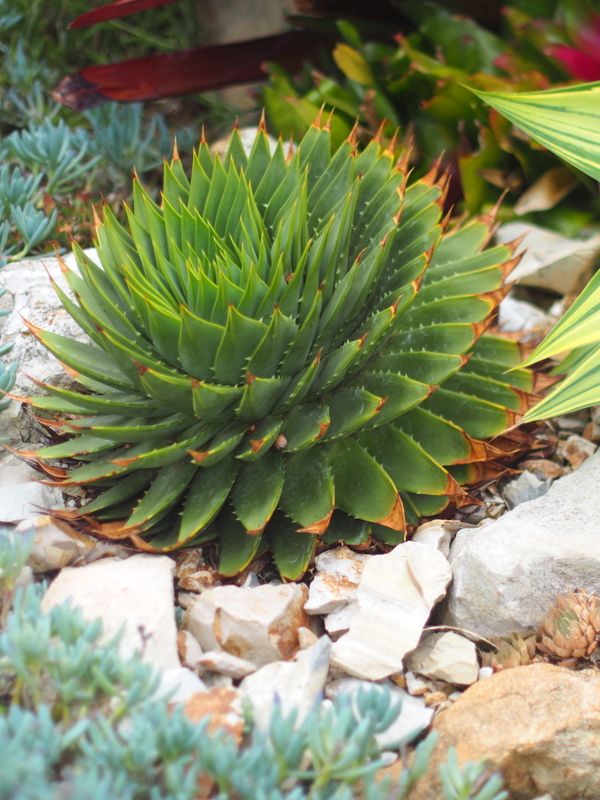 No visit to the Sherman Gardens is complete without paying homage to the spiral aloes in the succulent garden designed by Matt Maggio.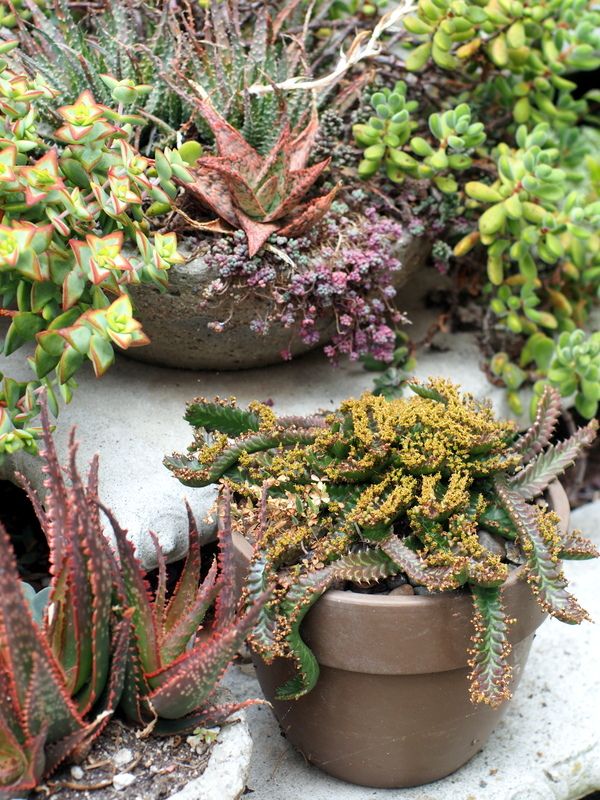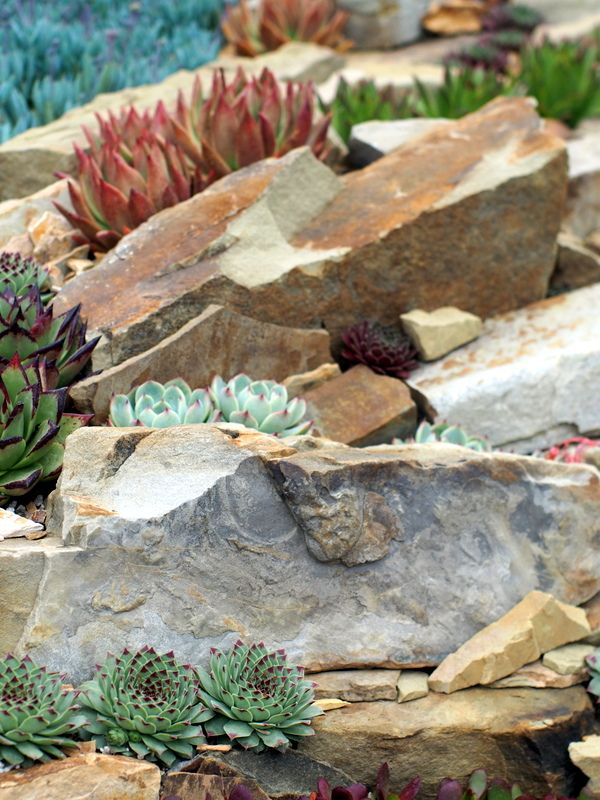 Since visiting Denver Botanic Gardens, I've developed a new appreciation for crevice gardens. I confess when I first saw this work by Matt Maggio, I thought it was mostly stylistic, not necessarily intended as a recreation of habitat. The Third International Rock Garden Conference was held this past May in the Czech Republic, the birthplace of crevice gardens. (You can read Kenton J. Seth's impressions of the conference on his blog, I Need A Cup of Tea.)
My use of rocks in the garden thus far has been limited to placing them to protect small plants from wayward paws and feet. But there's no denying the strong affinity of rock and plant.
Blue stones for blue echeverias. Fun for a public garden, but not something I'd want to do at home.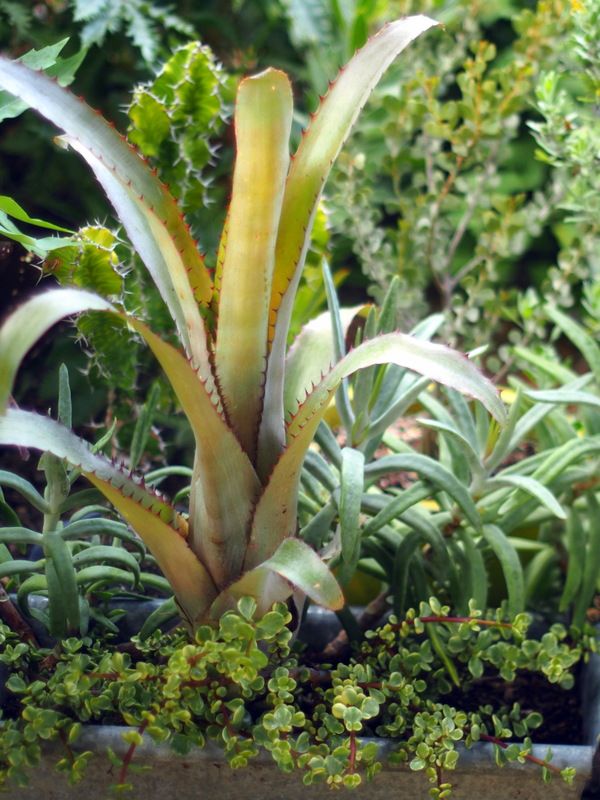 I found this pup of Aechmea bromeliifolia var. rubra at the Los Angeles Cactus & Succulent Society show and sale in Encino last weekend, along with a small pot of the long-sought Aloe tomentosa, a summer-blooming aloe with white flowers. The event was really well attended, another indication that succulents are still having their moment, with cactus in particular catching everyone's fancy. (See "Looking sharp! How the cactus became the world's most-wanted plant," The Guardian, May 31, 2017.)
*Edited 6/19/17 Reader Rachel Dunn says she has bought neomarica from a seller on eBay, and I did find a source for a large 3-gallon neomarica at International Garden Center here in Los Angeles. The IGC is also currently carrying Lobelia aguana under Annie's Annuals & Perennials label, and the leaves appear to be too slim for a match.
**Edited 7/1/17 This lobelia has been identified as L. excelsa.