Nothing much new to report for September Bloom Day, hosted by Carol at May Dreams Gardens. Anything new in bloom here is from fall planting. Okay, so technically I'm a little premature with fall planting, but patience has never been my strong suit.
Tecoma 'Bells of Fire' is a newish compact variety that will probably behave more like a shrub than vine.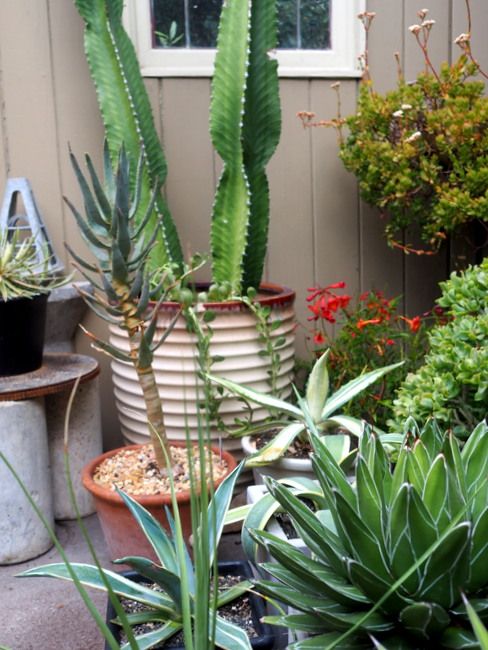 It's been tucked into a corner of the narrow planting strip on the east patio, the same strip where Passiflora 'Witchcraft' was recently planted adjacent to a now fence-high Tecomaria 'Hammer's Rose.' Vines or vine-like plants seem to be the answer for this awkward little strip. (Both the tecoma and tecomaria come from the tropical bignoniaceae tribe.) When planting the Tecoma 'Bells of Fire,' I trained a hose with a steady jet of water into the hole, waiting for the water to top the rim then slowly reabsorb. Waiting and waiting — I never could get the hole to fill, because the soil continually sucked in every drop. At least the drainage is good. The potted agaves are getting moved to this patio for full winter sun, whereas that little potted quiver tree, Aloe dichotoma, has been flourishing in harsh sun here all summer — a very tough customer.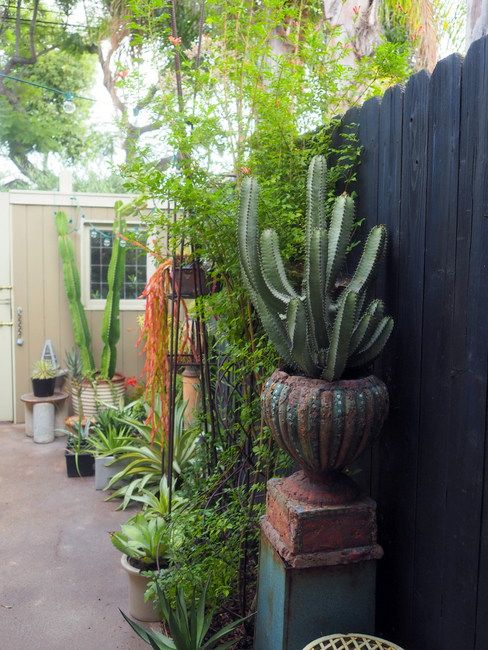 Although it comes with the toughest of bonafides, even the tecomaria has been a struggle to shepherd safely through the dry season in this hellish strip. The photo isn't very helpful other than to show that the tecomaria, just behind the potted Euphorbia canariensis, has finally topped the fence, with a few light peachy blooms at the tips. If the tecomaria and passiflora want to mingle on the rebar trellis, so much the better. Vines are intrinsically social beings, after all.
This strip has become a notorious graveyard for plants. The soil seems determined to revert to bone-dry dust. I suspect my neighbor's palms and lawn on the other side of the fence are the water-hogging guilty parties.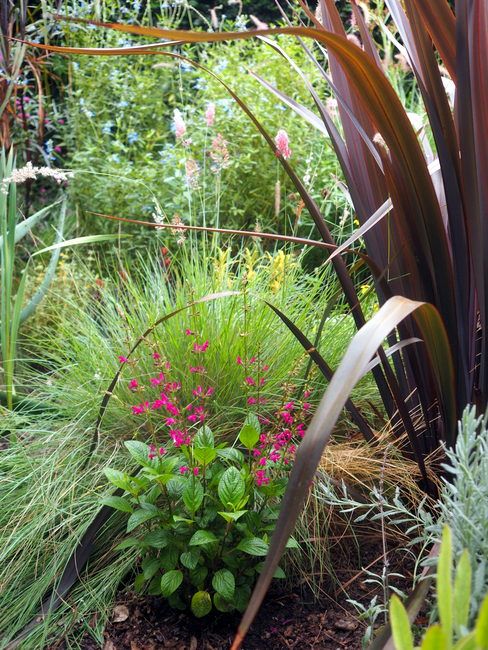 More fall planting. Salvia chiapensis is a long-time, absolutely reliable friend of the garden that has cycled in and out for many years. Of all the salvias I've grown, this salvia is a standout for its relatively compact, vase-like shape, willowy habit, long period of bloom, and the toughness of its crinkly, rugose leaves, which never droop mid-day like the thin leaves of the spectacular new hybrids such as 'Wendy's Wish' and 'Love and Wishes.' By planting it in fall, it's a gift for the year-round hummingbirds throughout fall and most of winter. So much easier than messing around with feeders. It's always available locally, like this beautifully grown specimen from H&H Nursery, whenever I want it back in the garden.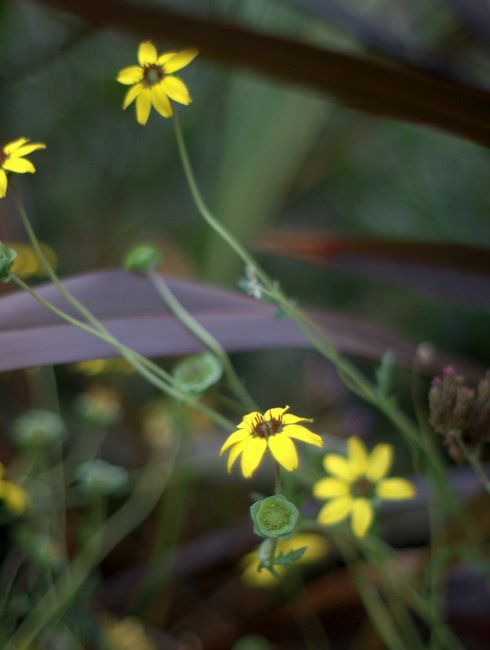 The chocolate daisy Berlandiera lyrata has been in bloom all summer and really does scent a hot mid-day with chocolate perfume.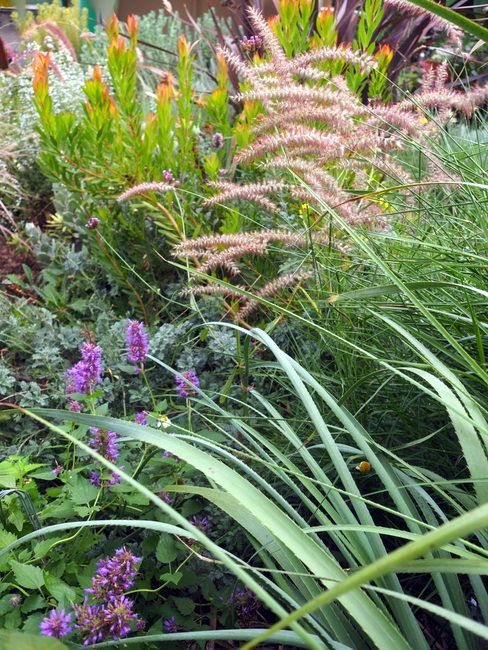 Agastache 'Blue Boa' was planted early/mid summer. Pennisetum 'Karley Rose' leans in, a boisterous grass with a big presence. One clump was removed earlier in the summer.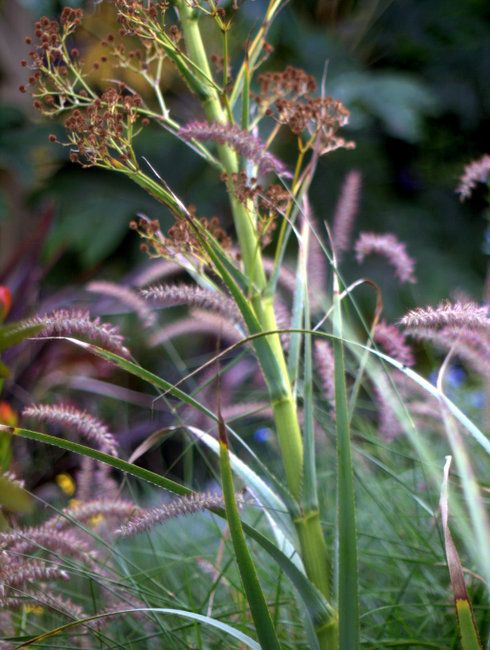 The serrated, strappy leaves belong to Eryngium pandanifolium, whose seedheads are now a rusty brown.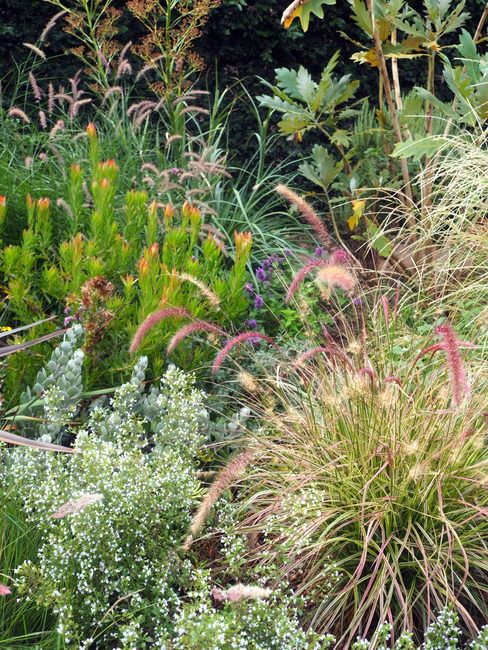 Looking from the back porch. Grasses are Pennisetum 'Karley Rose,' in the back, Pennisetum 'Cherry Sparkler' in the foreground (replacing a 'Fairy Tails' mid summer that had taken on the manners of a playful baby elephant). A glimpse of Miscanthus 'Little Kitten' leans in from the right. This miscanthus is not what I would describe as small and kittenish — it's becoming apparent that if you love grasses, be prepared to split them up into smaller clumps every year, a job for late winter here. Still, I do think our dry, rainless summers are a good match for grasses. No worries of them getting smashed to the ground in rainstorms, and they sail their plumes on surprisingly little supplemental irrigation.
Muhlenbergia 'Fast Forward' began ramping up the past week, but it is getting squeezed by Miscanthus 'Little Kitten'
Verbena bonariensis is mostly finished, except for one seeded into the bricks.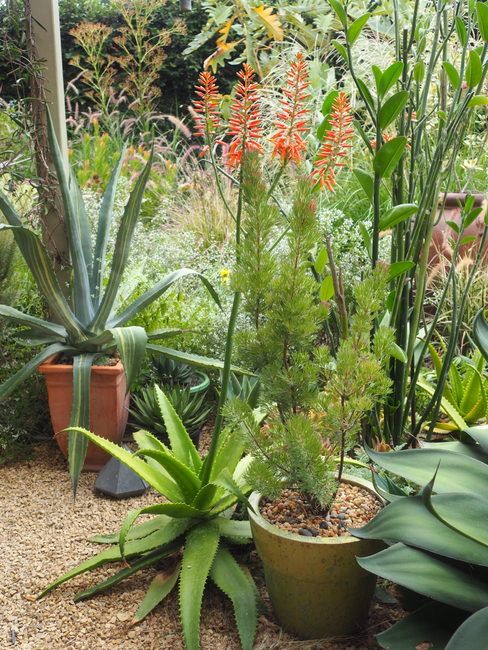 Several plants of Aloe 'Cynthia Giddy' dotted throughout the back garden continue to make rod-straight torches 3 feet tall, which completely satisfies my craving for strong verticals throughout summer. The big succulent leaves of Pedilanthus bracteatus are to the right, lightly in bloom now too.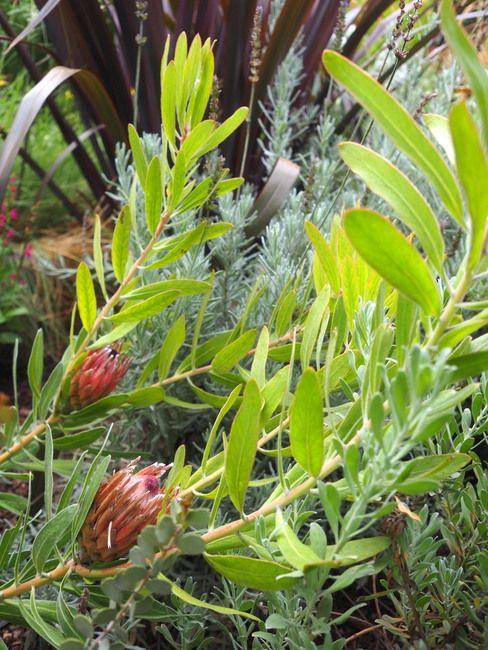 Protea 'Pink Ice' threw its first two blooms this summer. I poured the water on all summer to get it established, something I apparently failed at with two leucospermums.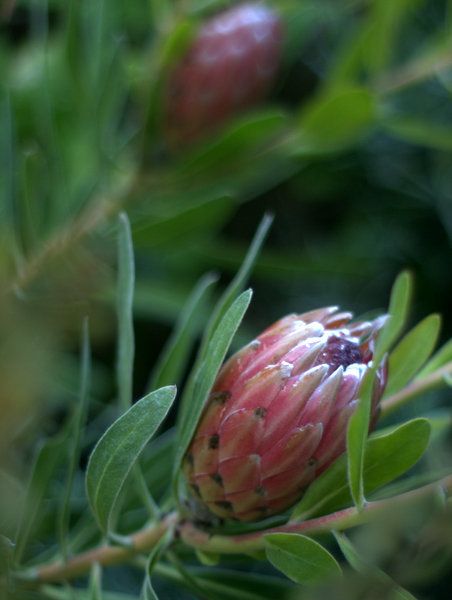 It's always a surprise how much care and vigilance future drought-tolerant shrubs need to become established. If you hand water like I do, slip-ups happen. A lot.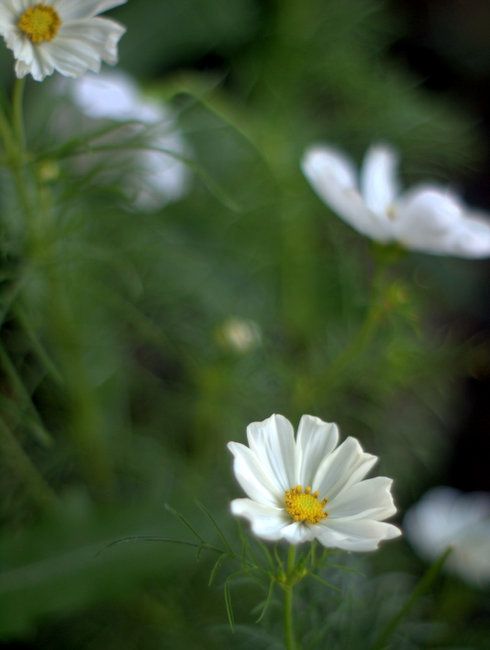 A container filled with white cosmos was added in August, with some dark purple sweet potato vines, and that wraps up another Bloom Day report, fall-planting edition.