I was at the Huntington last Sunday to attend a talk by author Andrea Wulf ("The Invention of Nature") on Alexander von Humboldt. If Ms. Wulf has scheduled speaking engagements in your area, I urge you to attend. She is a mesmerizing speaker, as fluent and voluble on her subject as the polymath Humboldt was reputed to have been on his many subjects of interest (agriculture, manufacturing, geology, botany, zoology, meteorology, mapmaking, among others), in that slim window before specialization took over the natural sciences, when information began to flood in beyond the capability of one human to thoroughly comprehend. Perhaps you're already aware, but I was surprised to find that many events such as these are now free, requiring no admission to the Huntington. In fact, because of the new layout, all of the Huntington up to, I believe, the rill garden is free, and many of the lectures are held in this area.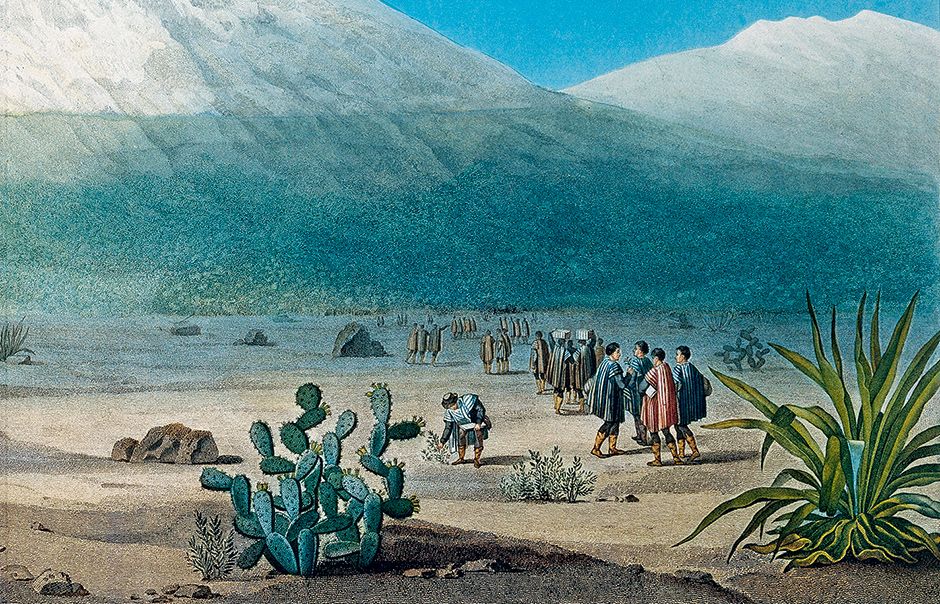 Alexander von Humboldt and Aimé Bonpland collecting plants at the foot of Chimborazo in today's Ecuador; aquatint from Humboldt's Vue des Cordillères et monuments des peuples indigènes de l'Amérique, 1810–1813, via The New York Review of Books. I'd sooner give up dark chocolate than my subscription to the NYRB.
Wulf's talk focusing on Humboldt's South American expedition was part of the Huntington's "Visual Voyages: Images of Latin American Nature from Columbus to Darwin," an offshoot of the Getty's ongoing "Pacific Standard Time: LA/LA initiative," "a far-reaching and ambitious exploration of Latin American and Latino art in dialogue with Los Angeles," across multiple venues that, after years of planning, has coincidentally arrived at a political moment underscored in irony.

Beginning October 28, the Huntington offers up its archives of botanical drawings "In Pursuit of Flora: 18th-Century Botanical Drawings from The Huntington's Art Collections."
Another date I've calendared is December 10, 2:30 p.m., "Cochineal in the History of Art and Global Trade." "Alejandro de Ávila Blomberg of the Oaxaca Ethnobotanical Garden and Oaxaca Textile Museum will explore the historical and cultural significance of this natural crimson dye. Used from antiquity, cochineal became Mexico's second-most valued export after silver during the Spanish colonial period. Free; no reservations required." Shirley Watts introduced me to this subject via Natural Discourse.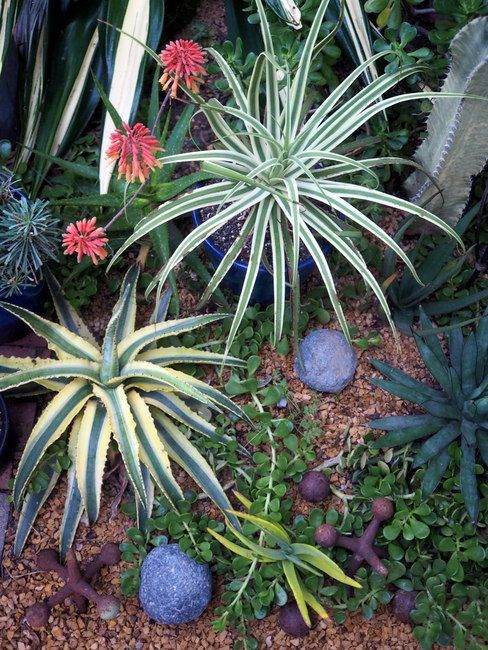 Now on to upcoming plant sales. There's lots to choose from. The Los Angeles Times has done an excellent job of corralling the sales, so I'm cutting and pasting from their article:
Oct. 21-22
35th Friends of U.C. Riverside Botanic Garden fall plant sale
Cactuses, succulents, wildflowers, native plants, trees, house and shade plants, even cool-season vegetables … UCR's Botanic Garden sale has just about everything. The list of plants is available online. Master gardeners and other vendors will sell edible plants and offer classes. Admission to garden $5 donation; once inside entry to the sale is free. 10 a.m.-4 p.m. Oct. 21 and 9 a.m.-3 p.m. Oct. 22. 900 University Ave., Riverside; follow signs to the garden. Info: UCR Botanic Garden Fall Plant Sale
Oct. 21-23
San Diego Botanic Garden fall plant sale
The year's biggest fundraiser for the San Diego Botanic Garden, also known as Quail Botanic Garden, offers California natives, succulents, bromeliads, sub-tropicals, perennials, fruit trees and house plants, many propagated from the garden's stock. Admission to the gardens is $14 ($10 seniors and students) on Oct. 21; $5 on Oct. 22 and 23. Once inside admission to the sale is free. 10 a.m.-4 p.m. Oct. 21-22, 9 a.m.-noon Oct. 23, when all plants are half price. 230 Quail Gardens Drive, Encinitas. Info: San Diego Botanic Garden fall plant sale
Oct. 26-28
Theodore Payne Foundation for Wildflowers & Native Plants annual fall sale
The region's largest selection of California native plants for beginners and seasoned gardeners, plus native seeds and bulbs. 8:30 a.m.-4:30 p.m. Oct. 26-28 at 10459 Tuxford St., Sun Valley. Info: Theodore Payne Foundation fall sale
Oct. 27-28
Los Angeles County Arboretum & Botanic Garden fall plant sale
Offering drought-tolerant/low-water plants, landscaping and ground cover plants, herbs, scented geraniums and succulents. Book sale too. Admission to the gardens is $9 ($6 for seniors 62+ and students with ID.) Once inside admission to the sale is free. 301 N. Baldwin Ave., Arcadia, 9 a.m.-4 p.m. Oct. 27-28. Info: LA County Arboretum fall plant sale
Oct. 27-29
Huntington Library fall plant sale
Large selection of California natives, including manzanita, salvia, buckwheat and ceanothus; popular Southwestern plants such as tecoma, Texas ranger and chocolate daisy; and Australian natives ideal for our climate, such as grevillea (spider flower) and callistemon (bottlebrush). Herbs, cactuses, succulents and bulbs too. 10 a.m.-5 p.m. Oct. 27-29. Admission to the gardens is $25 on Oct. 27, $29 on Oct. 28-29 (seniors 65+ and students with ID, $21/$24 on the respective days). Once inside admission to the sale is free. 1151 Oxford Road, San Marino. Info: Huntington Library fall sale
Nov. 4-5
Fullerton Arboretum California native plant sale
More than 100 varieties of California native plants, propagated by the arboretum's horticultural staff. List of available plants online. 10 a.m.-4 p.m. Nov. 4-5. Admission to the arboretum is $5 donation; once inside admission to the sale is free. 1900 Associated Road, Fullerton. Info: Fullerton Arboretum native plant sale
Temps are going to climb back into the 90s, even up into the 100s again, so bring water and a hat!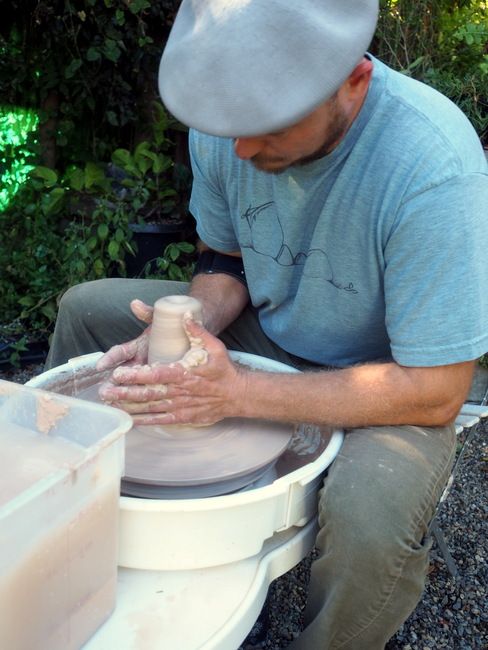 And that's not all. If you want to catch up with what garden designer and ceramicist Dustin Gimbel has been up to, head to the Artistic License Fair, October 20-21.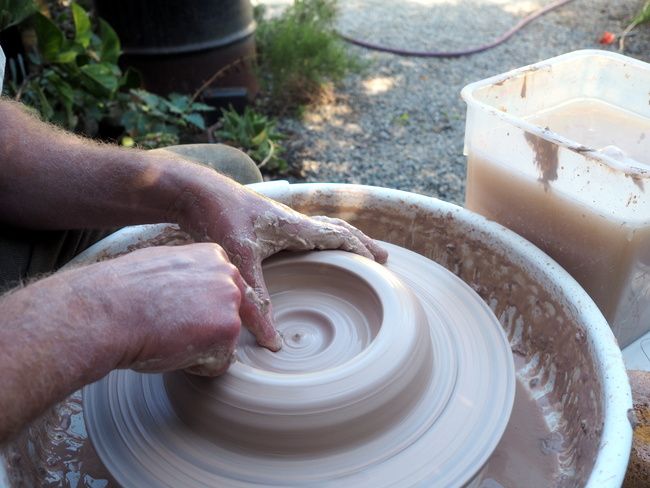 Also, up in Northern California, Cornerstone Sonoma's postponed Harvest Festival will be held this weekend, October 21 and 22, with proceeds going to support victims of the recent wildfires.
And the Mediterranean Garden Society will be holding their 23rd Annual General Meeting in Pasadena, California, October 26-29, 2017. I just might be able to shoehorn in the Santa Barbara pretrip, fingers crossed.