Australia. Big continent. Vast, you might say. My familiarity with Australian garden design, however, is the opposite of vast. Southwestern Australia is one of the five true mediterranean climate zones, like where I live here in Los Angeles — dry summers, wet winters (theoretically). And also like here at home, climate change is unsettling longstanding rainfall patterns. In many respects, we are close compatriots, horticulturally speaking, and I'm enjoying becoming more and more familiar with a few of its many exceedingly gorgeous plants. So many of Australia's plants feed my hummingbirds all winter. Yet what I know about Australian garden design would fit in a hummingbird's beak. English, French, Spanish, Dutch — a decent amount of garden design news gets through. But Australia? It's basically a news blackout. There's The Planthunter, Georgina Reid's excellent blog, which doesn't seem to load for me lately. She's even done a piece on an Australian designer I've been looking into today, Fiona Brockhoff, but I can't load the article ("Fiona Brockhoff's Seaside Rebellion.")
Here's a couple photos of Ms. Brockhoff's work to whet your curiosity too. Dry gardens with a beautiful control of volume and tension.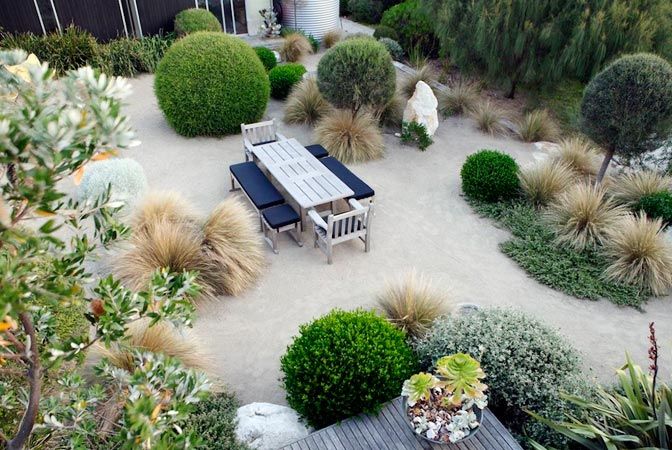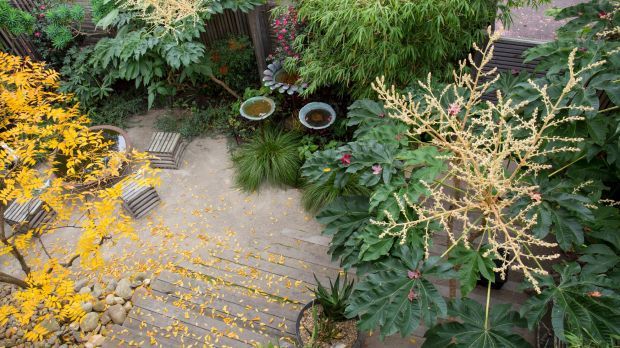 photos via The Sydney Morning Herald, "Renowned designer Fiona Brockhoff opens her Toorak garden."
Michael McCoy is another high-profile garden designer in Australia. You can learn more about him via his blog The Gardenist. Verbascums, Stipa gigantea, penstemons, euphorbias — we could be in Beth Chatto's garden in East Anglia. It would seem Australian designers are also scouring the world for beautiful plants to handle their summer dry gardens, as well as utilizing the best of their own native plants –just like home, where a mix of exotic and native plants are being called on to help deal with an unpredictably changing climate.
So alluringly strange yet familiar at the same time. Greg Lyons' garden, photos by photographer Claire Takacs for Homelife.
Photos of Greg Lyons' garden by photographer Claire Takacs for Homelife.
It only makes sense to do some research, because you never know when a trip to Australia might present itself, right?