Is it just me, or has all subtlety been suddenly drained from the world? All sense of nuance seems lost. (In addition to lethargy, extreme heat occasionally brings on irritable, sweeping generalizations.) Here in Southern California, record cool temps all summer abruptly spiked into, you guessed it, record high temps the week of the Pacific Horticulture event, "Gardening Under Mediterranean Skies VIII." In the days just prior, enthusiasm and excitement trickled away drop by salty drop with every uptick in degree, 100, 101, 102, 103, ultimately achieving 113 degrees at USC in downtown Los Angeles, where the official civic thermometer resides.
Enthusiasm for the long-awaited symposium itself never waned, of course. The event was being held at the LA Arboretum, in the foothills only 30 miles away, but always at least 10 degrees hotter than where I am at the coast. As the heat wave progressed, 10 degrees' difference was beginning to loom as very significant math.
Okay. Just one speaker. If I narrowed it down to just one must-see speaker, who would it be? That's impossible. Okay. Two speakers. I could always forego the bus tour of local gardens held after the speakers each day, which would tour gardens like Sue Dadd and James Griffith's Folly Bowl.
MB Maher attended the opening Thursday and provided a glimpse of the garden delights ahead.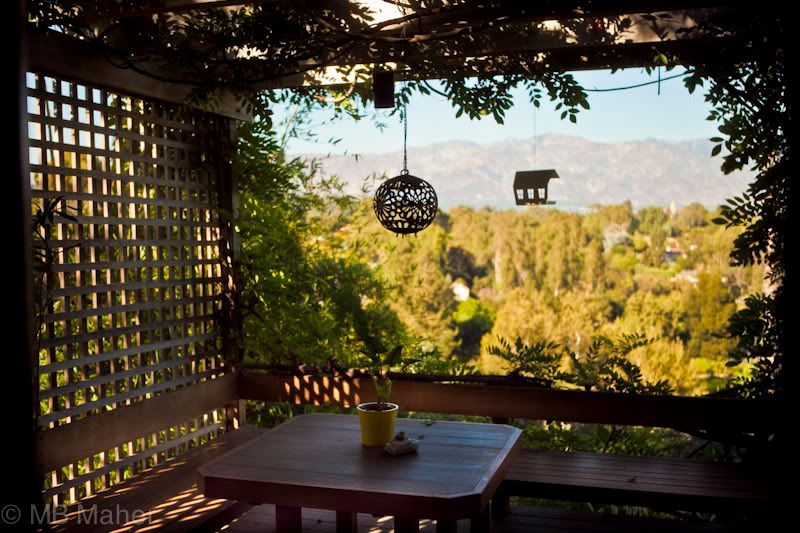 Of course, it had to be Jeffrey Bale on Saturday and Marcia Donahue on Sunday. Amongst the list of stellar speakers, these were two I had yet to see. I had first seen Bale's pebble mosaic work at a 2008 tour of Lucy Hardiman's garden in Portland, a small "prayer rug" in her hellstrip, was floored to see a modern revival of pebble mosaics, and have been tracking his career ever since.
After Saturday in the foothills, I opted not to return to see Marcia Donahue on Sunday. I'll just have to make another trip to the wonderfully cool, foggy Bay Area to attend one of her open garden Sundays. I have to confess, it wasn't only the heat that did me in. I was spooked, seriously intimidated by the hortilati, the stars in my rarefied galaxy, such as Robin Parer of Geraniaceae. Keeyla Meadows wandered amongst the booths, smiling beatifically, and at his booth John Greenlee vociferously expounded on the beauty of Arundo donax 'Golden Chain,' (a plant I just tucked into my garden today, ordered several weeks ago from Plant Delights). Debra Prinzig inquired as to which tour bus I would be joining. Blogging less than a year, I felt sure the press pass hanging around my neck branded me, at best, a cheeky upstart, at worst, an impostor. What an odd, completely unexpected reaction I has having.
Upon arriving, I rushed up to Robin Parer's booth to inquire if she was selling 'Salome,' a geranium I've grown and lost several times and, standing before her, was struck freakishly mute. No Latin or common names could be summoned, just lots of nervous hand flapping. Robin, taking me for a rank punter, began to gently advise of the difference between true pelargoniums and herbaceous geraniums, assuming what I was after were probably lipstick red pelargoniums for a lone windowbox. Another customer came to claim her attention, and I slunk away, shamed to the core. Three minutes later, botanical Latin flooded back, and I was able to get a complete question out. No, Robin wasn't carrying 'Salome' today and would not sell it in any case to someone in Southern California because of its poor performance here. I made a small purchase from Robin then headed to the auditorium to find a seat, but was still seriously rattled by my Harpo Marx routine at her booth. (I described it to my husband later that night, to which he rejoined, "So you were piss shy." Ah, the art of brevity.)
In the auditorium, all nervousness subsided when I joined an audience that oohed and laughed and whispered in astonishment at exactly the same moments, like one giant, delighted organism, in response to Bale's lecture and slide show of his work. Permeability is on his mind, and breaking up our water-sloughing driveways to transform them into grander, more porous and creative entrances to our gardens. We need to rent concrete saws on the weekend for $200 and get busy. This whippet-lean man inhabits a world that's a blank canvas waiting to be mosaiced and pebbled and freed from the mundane and utilitarian, to be infused with personal symbology, where designs inspired by Miro swirl underfoot. His mortared-in mosaic work is always surrounded by permeable paving. Examples of ancient permeable paths still serviceable today flickered across the screen, his own photos of Rome's Villa Borghese, the Boboli in Florence, the Granada in Spain. Bales is a prodigious traveler, exploring the world's cultures through their poetics of stone, returning dozens of times to South America and Asia. Gravel for surfacing gets high approval, especially when there are cost constraints, as does getting prone in gardens, whether for lounging, bathing, or sleeping. Sitting in a chair is way too formal of a garden encounter for Bale, an unapologetic sybarite who favors layering throw rugs on seating areas in summer. His book on sale after the talk, "The Gardens of Jeffrey Bale," is full of details than can be adapted on a smaller scale for possibly less energetic stonemasons.
In a New York Times profile published in December 2009, Bale stated of his work, "'I feel that the designs should have meaning and trigger consciousness." Elsewhere Bale has stated his intention is "to manifest an Earthly and Heavenly paradise through the gardens that I build."
In autumn of 2009, MB Maher photographed some of Jeffrey Bale's design work in the Pacific Northwest.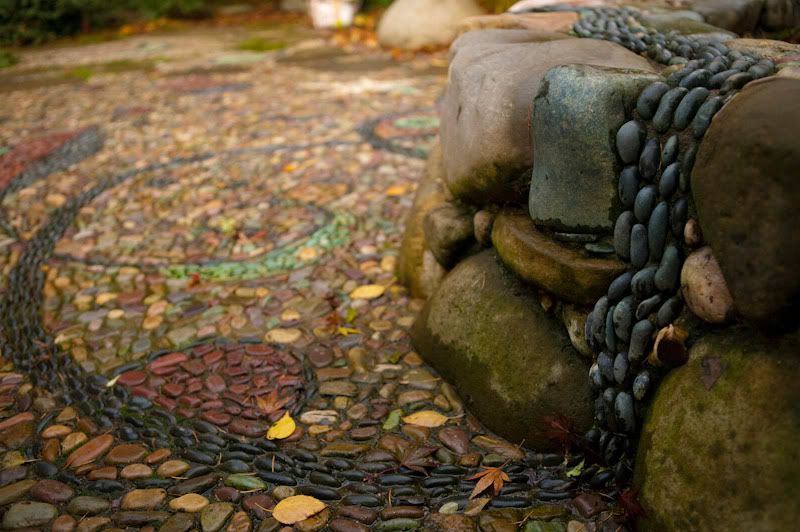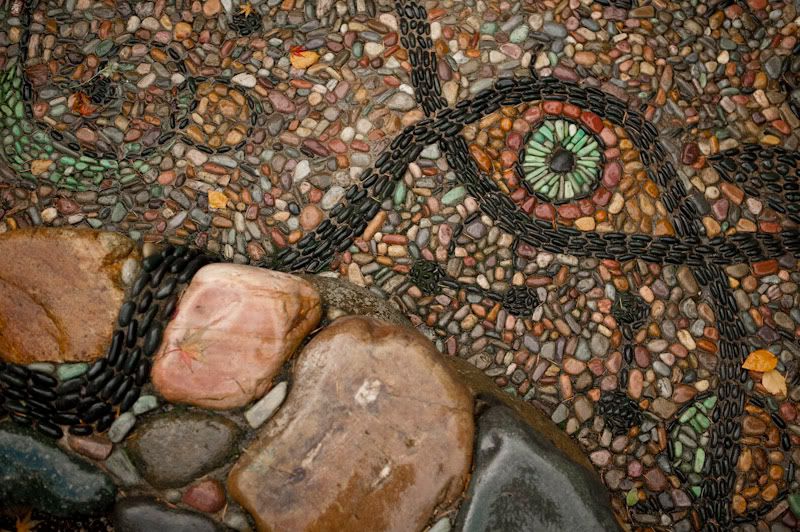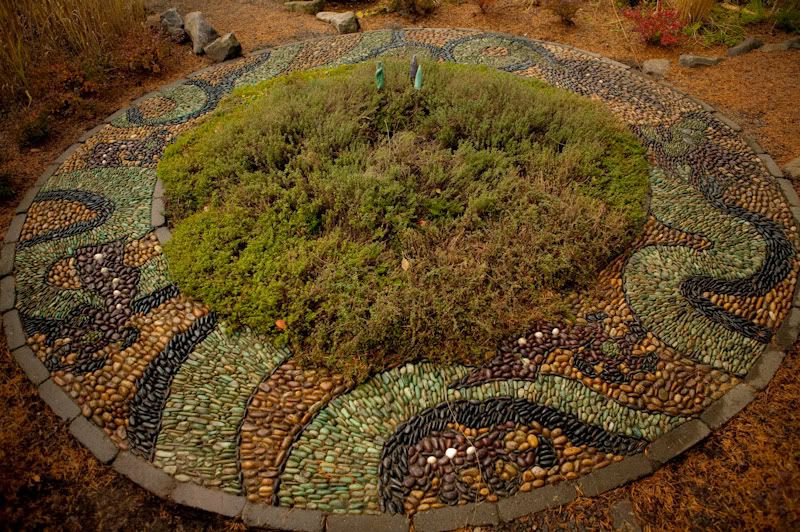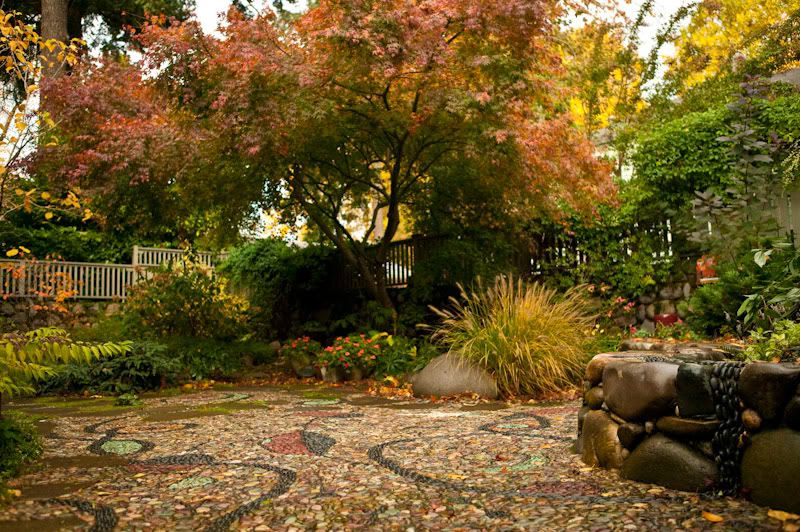 After Bale's talk, I ventured out into the arboretum and shared some shade with a peacock under trees near the cactus and succulent garden. Puya mirabilis's lime green flowers were just beginning to bloom. The habit of this puya is similar to dierama, tall, arching and elegant, but takes up very little space when not in bloom, perfect for my gravel garden. Sitting quietly with my peacock friend, I watched wedding planners set up chairs on a lawn in 105-degree heat and reflected on how the brick-on-sand path running through my gravel garden could use a bit of inlaid detail. And about the driveway, when the weather cools off, anything is possible…