Can you believe spring is here? Maybe it's not full-on spring yet in your neck of the woods, but I've been on a tear the past few days, covering a lot of counties, San Diego, Orange, and Los Angeles, just trying to keep up. Mostly I've been stalking plants; some to simply admire, some to sell on at the popup, and some to keep. And let me just say those last two categories are extremely fluid.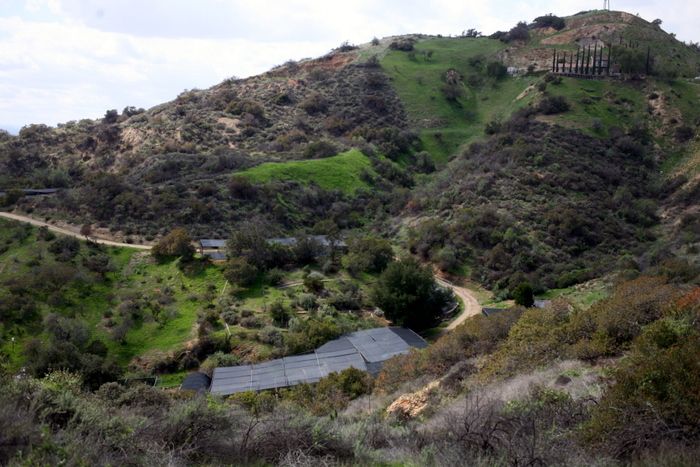 Looking down at Theodore Payne greenhouses from Wildflower Hill
At the Theodore Payne Poppy Day Spring Plant Sale on Saturday I found Ceanothus 'Valley Violet,' a UC Davis Arboretum All-Star recommended for small gardens, tolerant of summer-dry garden conditions as well as varying amounts of supplemental irrigation. I'm debating whether to pull out a couple clumps of summer-blooming agastache for this spectacular spring-blooming shrub. Still mulling over this seasonal trade-off.
(Note: The Theodore Payne Foundation is graciously donating two pairs of tickets for the 15th Annual Theodore Payne Native Plant Garden Tour to give away at our upcoming popup on April 14th at Urban Americana. More details soon!)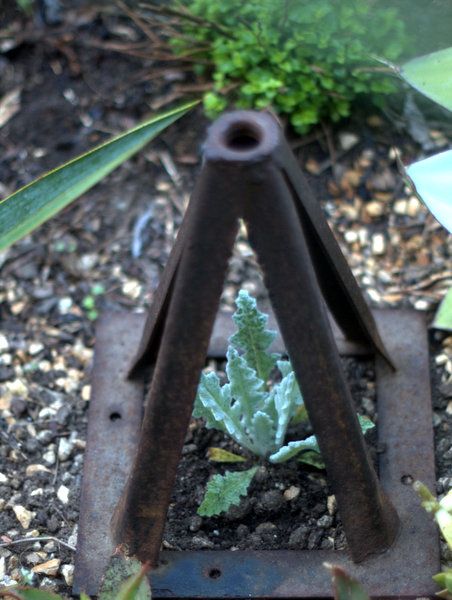 What I did immediately plant in the garden from the sale was Salvia carduacea, an annual known as the Thistle Sage. (Car jack stands make excellent cat exclusionary devices, dontcha know.) A bunch of little dudleyas bought at the sale are earmarked for the popup.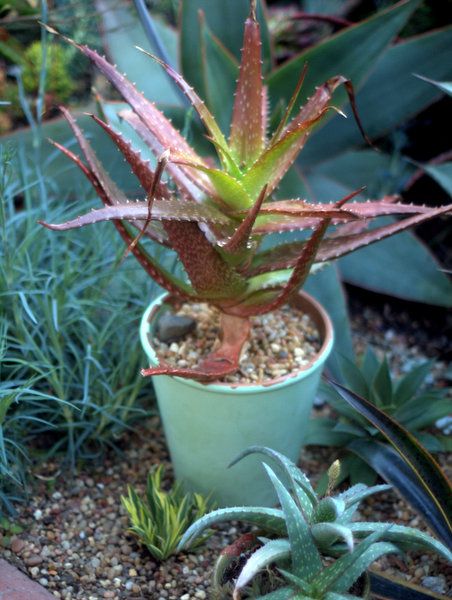 The tall aloe in the green pot is a gift from Hoov/Piece of Eden — be careful when admiring a potted plant in her garden!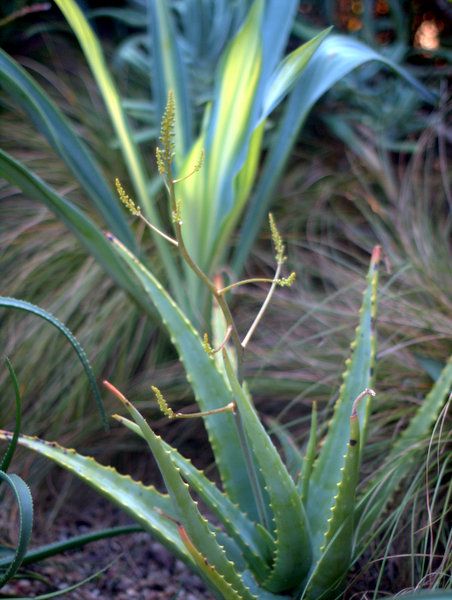 Now, with this aloe on the other hand, I literally begged for a division. Aloe megalacantha, a stunning, profusely blooming, golden-flowered variant from Arid Lands.
That's Sisyrinchium 'Stripey' at the base of the tall pot, a fairly new variegated Blue-Eyed Grass getting a tryout this spring too.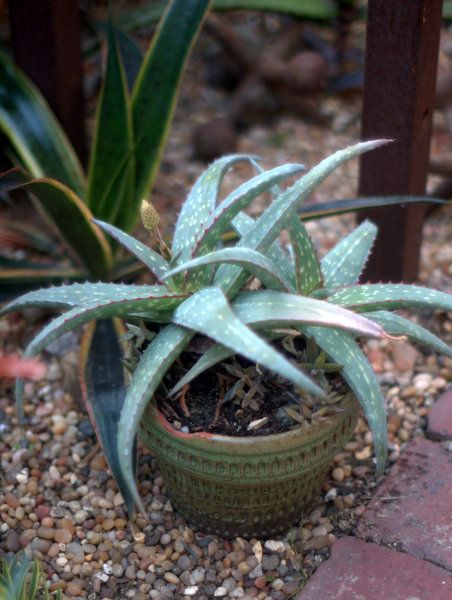 The little aloe in the stamped pot was bought at the Baker garden on Sunday, a fabulous "Coffee in the Garden" event sponsored by the Southern California Horticultural Society. Since the '70s this former horse property in Tarzana has been sculpted into gardens and planted with renowned rarities:
"Donna Marie's late husband Bill Baker was responsible for collecting, hybridizing and introducing a number of plants to the nursery trade, including Pachyphytum 'Bill Baker', Dyckia 'Brittlestar' and Aloe 'Hercules.' As a team, they also collaborated on many high profile landscape installations throughout Southern California."
Royce Wood, artist, botanical illustrator and landscape designer, and Tim Thomas, botanist and co-author of the book Southern California Mountains Wildflowers, both spoke movingly of their friend Bill Baker.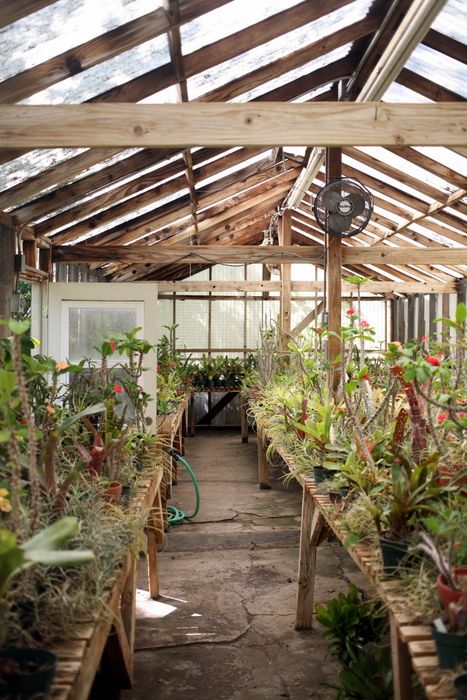 Before and after the talks there was greenhouse after greenhouse to explore filled with bromeliads, cactus and other succulents, all for sale at very competitive prices.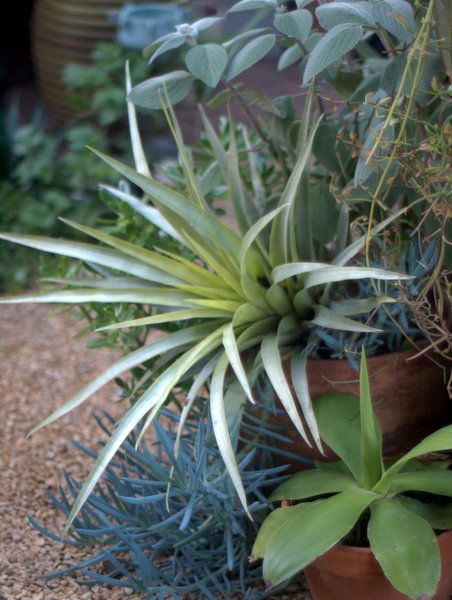 Enormous tillandsias.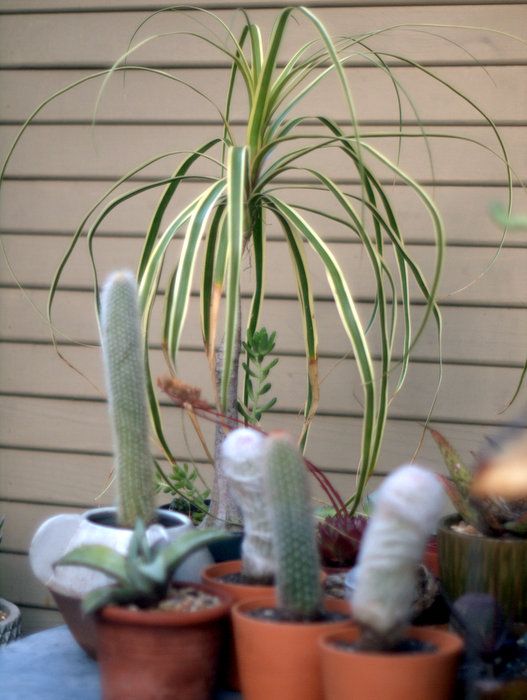 A variegated ponytail palm of this size is hard to find for less than a hundred, and this one was way under that price.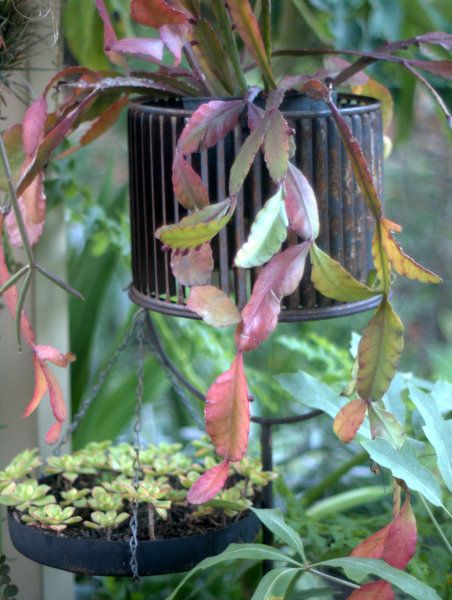 An overwhelming selection, with literally thousands of plants to choose from. Bench after bench devoted to just dyckias! I admit to total spontaneity as far as purchases. I gave up on scrutinizing small plants and focused on the great deals available in larger sizes. For example, this rhipsalis. Its intense coloration completely won me over.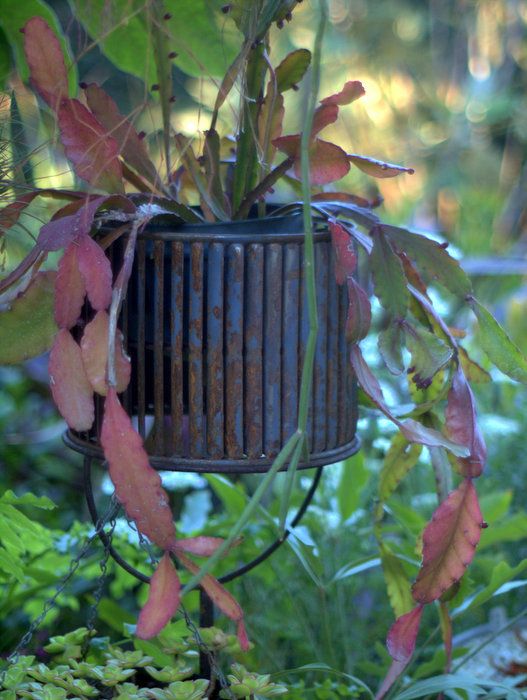 I love it temporarily spilling out of this ventilator/fan thingy. Possibly Rhipsalis crispata?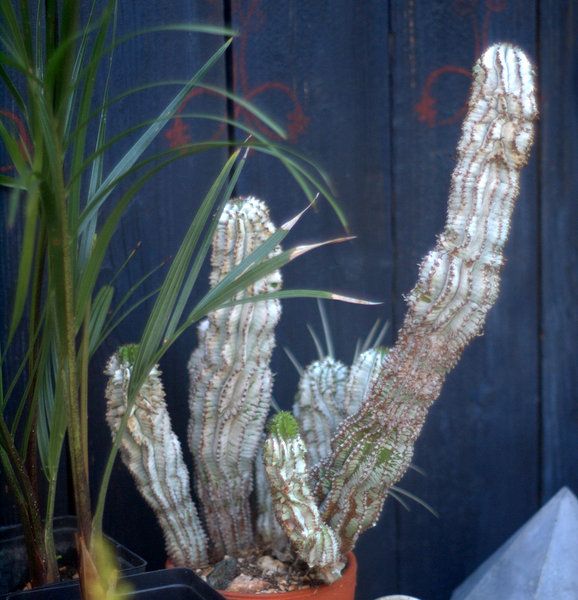 Just one more, I promise — Euphorbia horrida, another incredible find from the Baker garden sale.
Now that we're closing in on April, it's all coming thick and fast. Here's some upcoming dates to keep in mind:
April 4-8, 2018, San Francisco Flower & Garden Show
April 7, 2018, San Diego Horticultural Society Spring Garden Tour "Enchanting Encinitas"
April 5-7, 2018, Dwell on Design LA
April 7-8, 2018, APLD Garden Conference, Los Angeles, California
April 14, 2018, "Cross-Pollination," a pop-up plant fair, 12-6 p.m., Urban Americana, 1345 Coronado Ave., Long Beach, CA 90804
April 14, 2018, UC Santa Cruz Spring Plant Sale
April 14-15, 2018, Theodore Payne Native Plant Garden Tour
April 26-29, 2018, 29th Annual At Home in the Garden Show, South Coast Plaza, Costa Mesa, California
April 27-29, 2018, Huntington Botanical Garden Annual Spring Plant Sale
April 30, 2018, Garden Conservancy Open Days, Pasadena, California, 10 a.m. to 4 p.m.