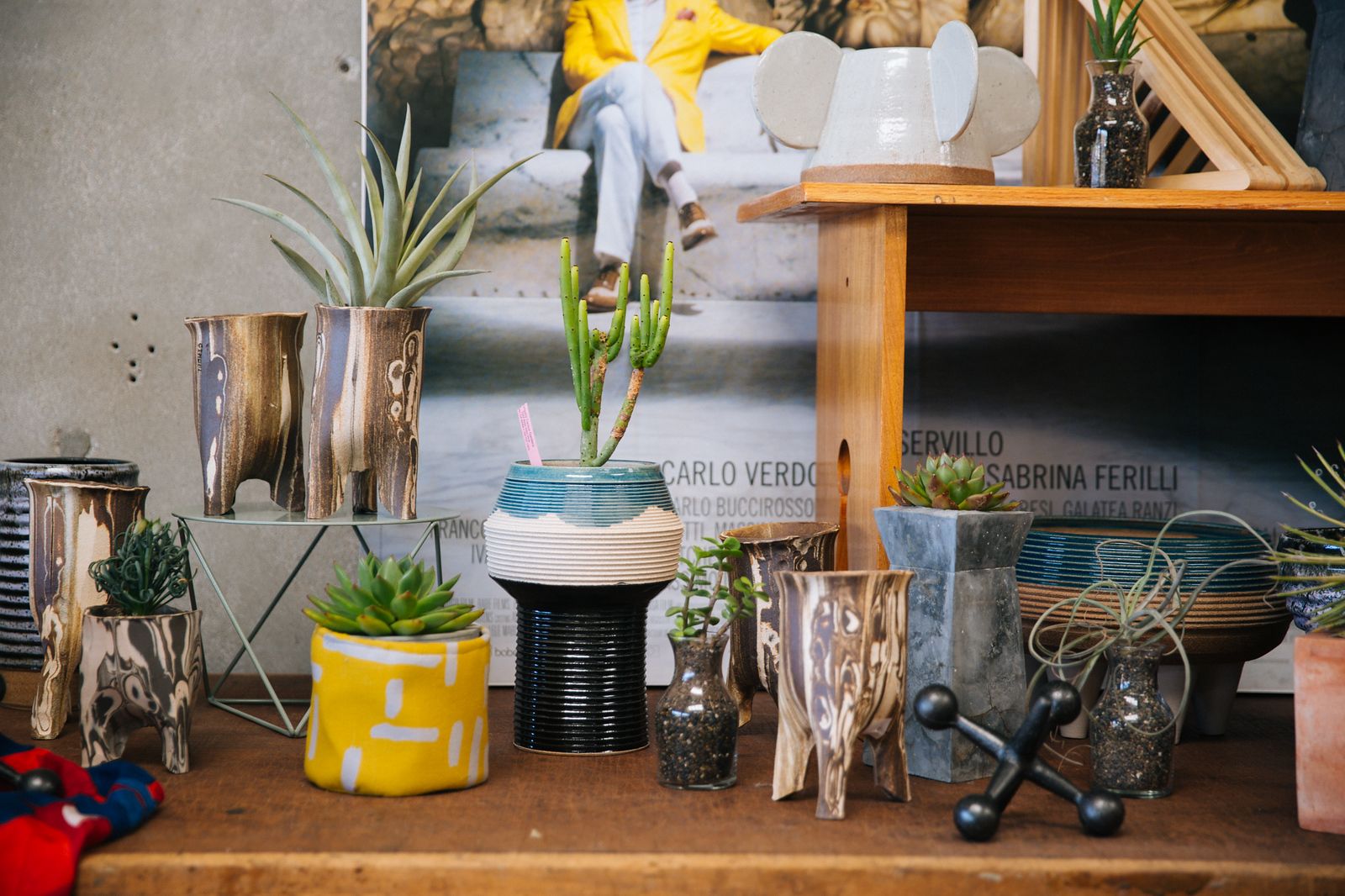 photos by MB Maher
Here's a look at the tables as they were first set up, before the sale. Dustin Gimbel's footed "log" pots were a big hit and sold out. (Luckily, you can find the "Gimbel Marbelized Trunk Planter" at Potted.) All the ceramic pottery is Dustin's. The black jack on the right represents my first semi-success making a silicone mold. It's cast in concrete, painted black (because we had to glue one of the points back on after it broke coming out of the mold, hence semi-success. Might have to try resin next.) Not for sale, just for staging because, boy, was I proud. The cloth pots I had sewn up by my favorite local seamstress Nina. The backdrop is a French movie poster from the Italian film "La Grande Bellezza" (The Great Beauty), which succinctly sums up not only life in the Eternal City but a plant-obsessed life as well. Eric Trine graciously loaned some of his powder-coated metal work for height. Urban Americana generously allowed use of a couple of their industrial-size work tables, so we didn't have to mess around with a bunch of small tables. (Big thank you!)
With a handful of exceptions, there weren't many hard-core plant collectors in attendance, so it was so interesting to see which plants made pure, nonobsessed hearts beat faster. Some small cacti of course. I found a wonderful selection in 4-inch pots at Grigsby's in Vista. But hands down, Dustin's South African bulb, Albuca spiralis, was the plant star of the show. It has it all — chartreuse, fritillary-like flowers, gorgeous scent, and intricate, scrollworked leaves. An entire flat quickly sold out. Everyone was drawn to the crazy spirals. So it was amazingly fortuitous that the species name plainly referred to those spirals, because it reassuringly made botanical latin seem so sensible and easy to remember (ha!). The concept of summer dry/dormant, however, was met mostly with shocked disbelief.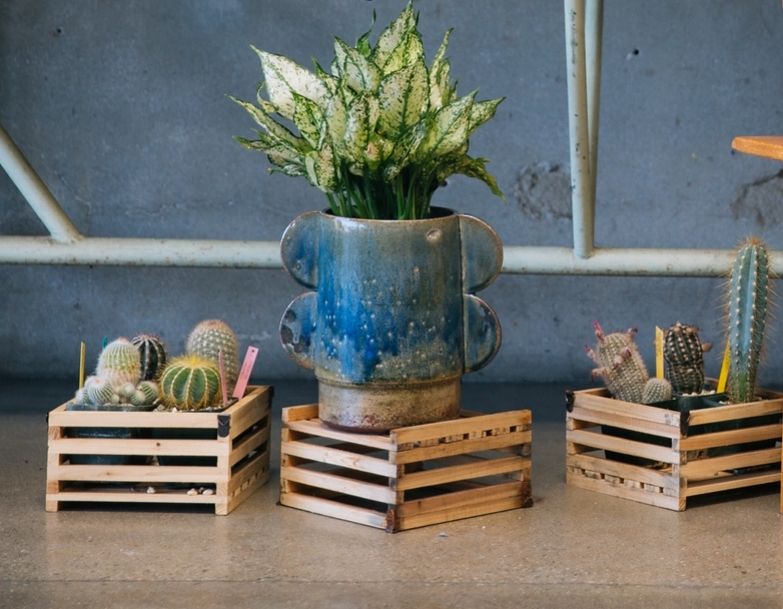 The wooden staging was made by Marty, inspired by some old vanda boxes I found for sale at Quail Botanical Garden, seen above holding some of Grigsby's cacti. He riffed on the boxes and came up with triangles, then isosceles triangles, and as is his fashion, meticulously overbuilt every one of them — a small elephant could balance on them on one foot. (Big thank you! xoxoxo)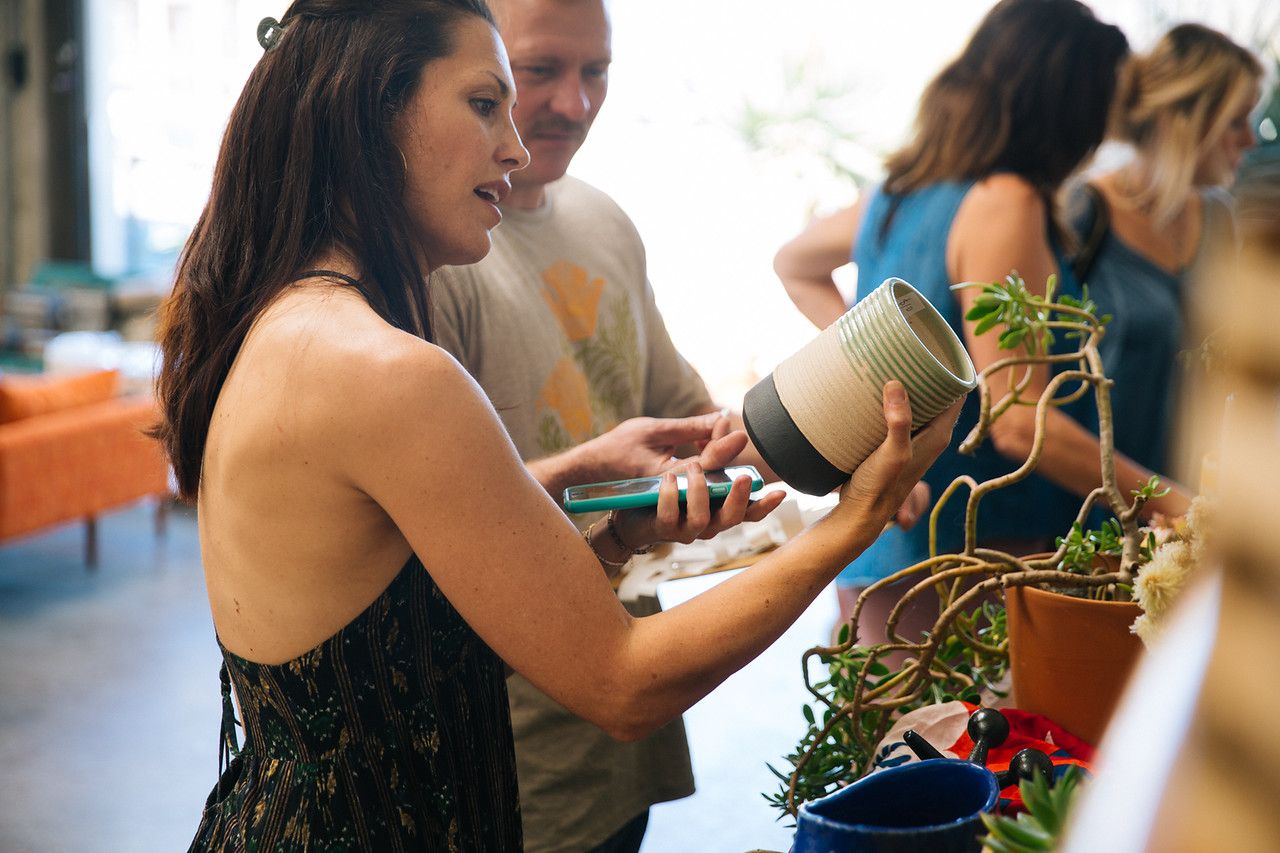 Kelly Hazel King (hazeljewelryinfo@gmail.com) and her jewelry fit right in — charming, affable, didn't blink at the set-up madness, was helpful and in unfailing good humor all day.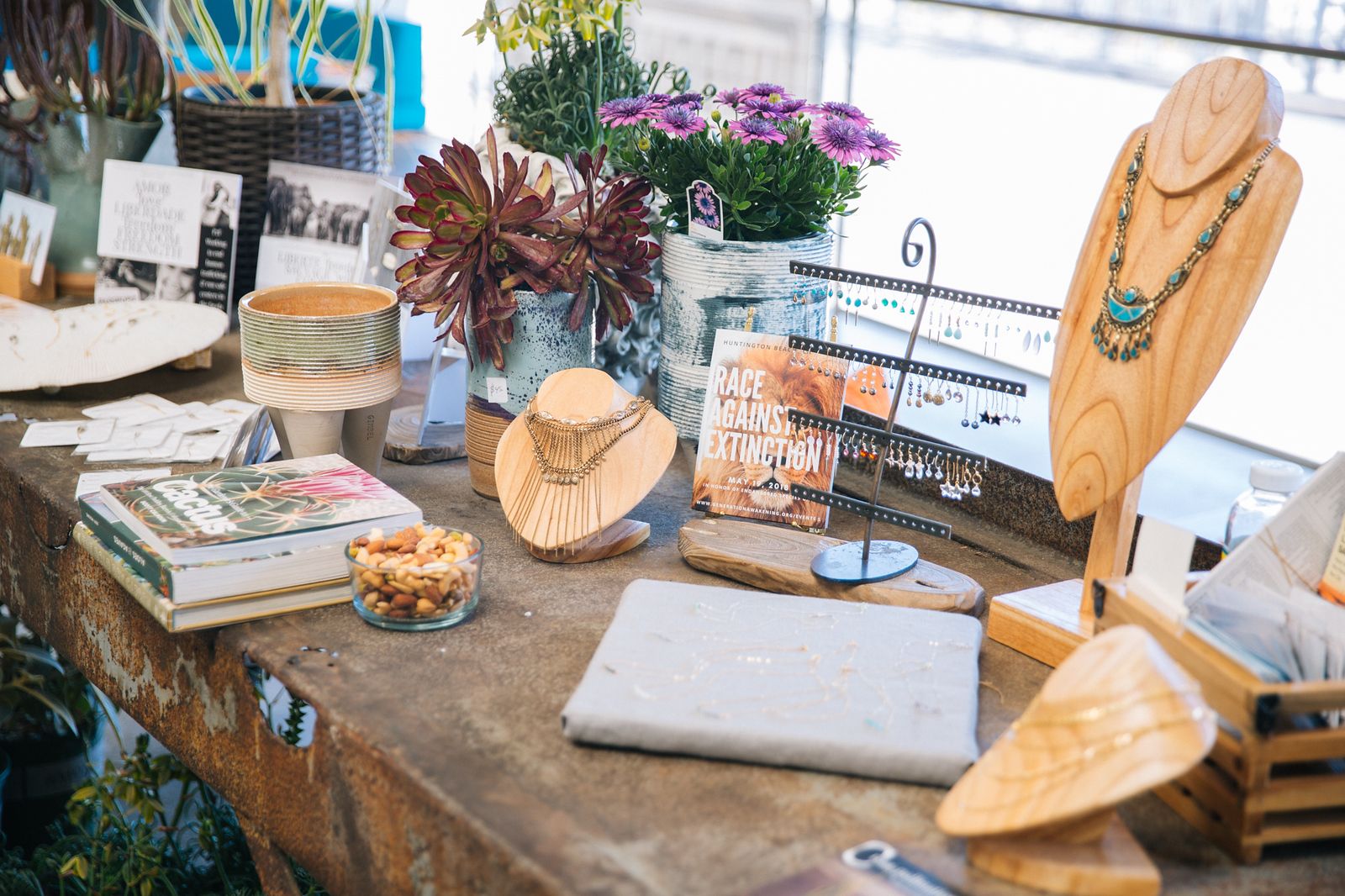 I had to laugh when she unexpectedly staged hand-out literature for her favorite nonprofits, just as I had info for the Surfrider Foundation, River LA, Heal the Bay, and the Theodore Payne Foundation. And she bought plants and pottery! A real peach. (A warm, big thank you!)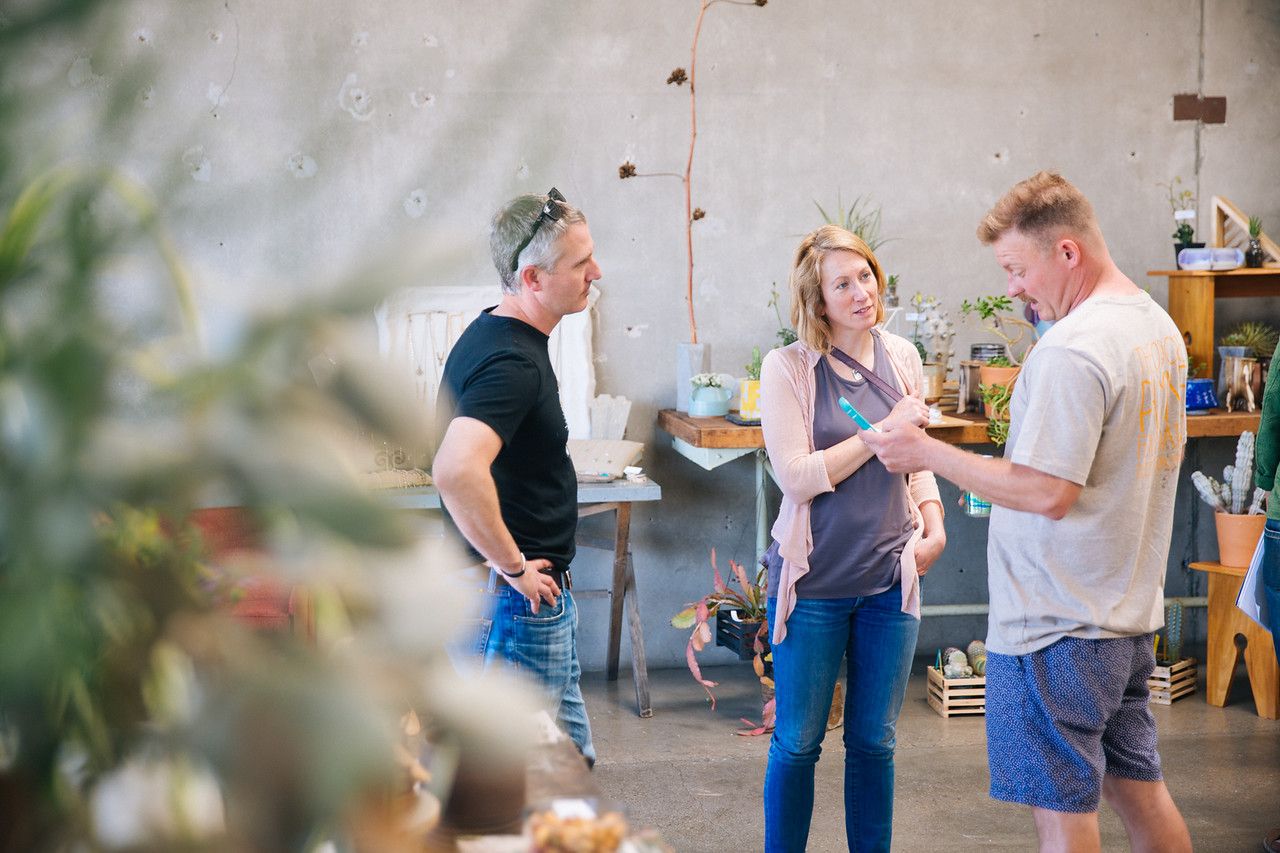 I'm so glad Mitch grabbed a photo of Amy Bouck, blogger at The Lower Left Corner, seen here chatting with Dustin. She and her husband traveled up from San Diego for the sale (another big thank you!) It was such a treat to meet them both. Nicest people ever. Amy fell for the albuca, the fiery red rhipsalis hanging low just behind her, possibly R. crispata from the recent SoCal Hort sale at the Baker home in Tarzana, and some pottery I think. (Quick on her feet too — I just discovered this morning she's already got some photos up on her April Bloom Day post!)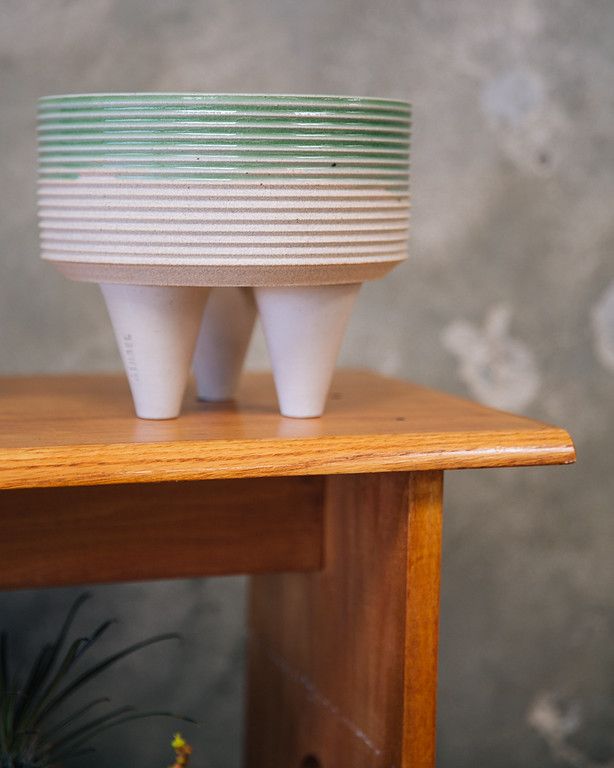 This footed ridge pot was one of Jeremy's selections (bixbybotanicals). He visited with his entire family — his wife, who I hadn't yet met, and those charming kids. I'm always impressed by the quiet, thoughtful absorption in their surroundings these two kids possess — must be all the visits to museums and botanical gardens! Congratulations on their third child on her way this June.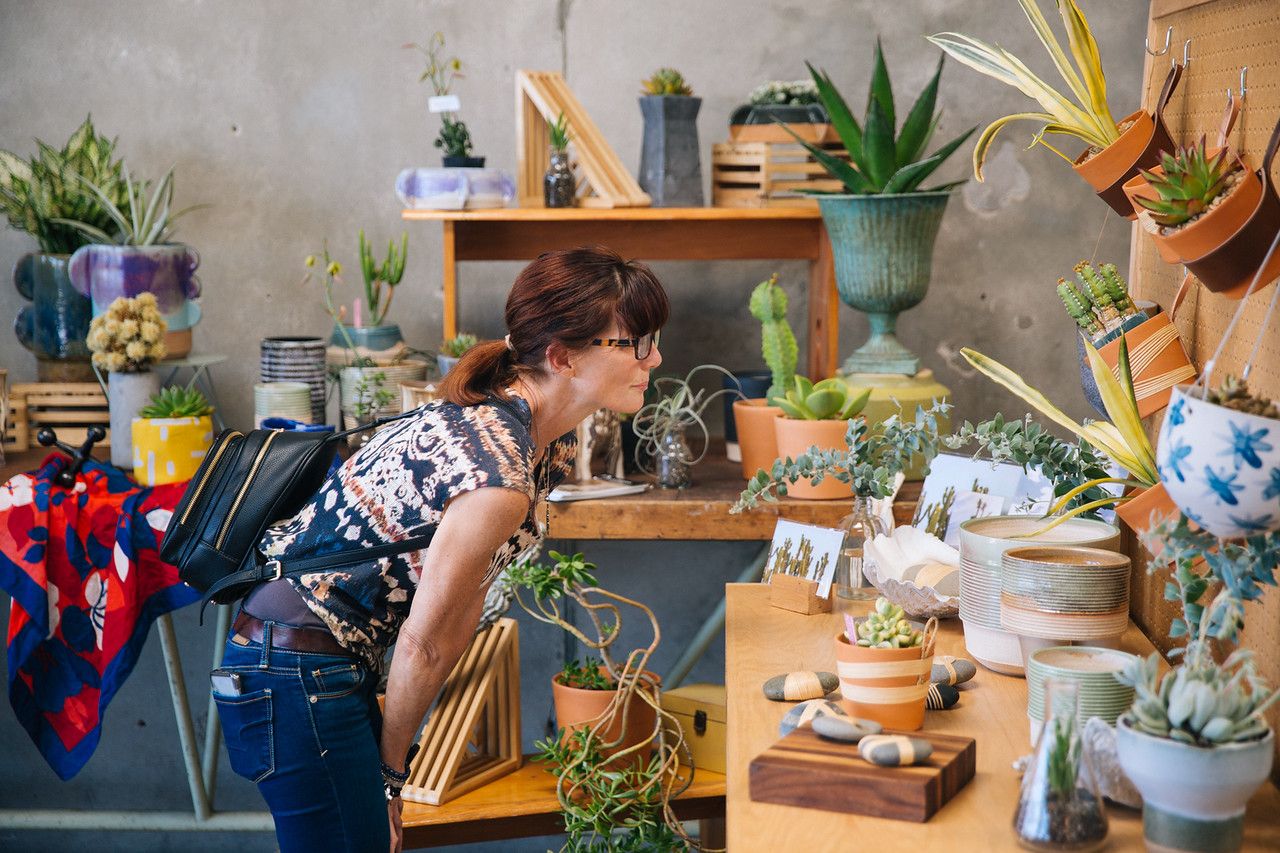 Mitch, as usual, did yeoman's work with the staging and photography. There aren't thanks big enough for everything he does.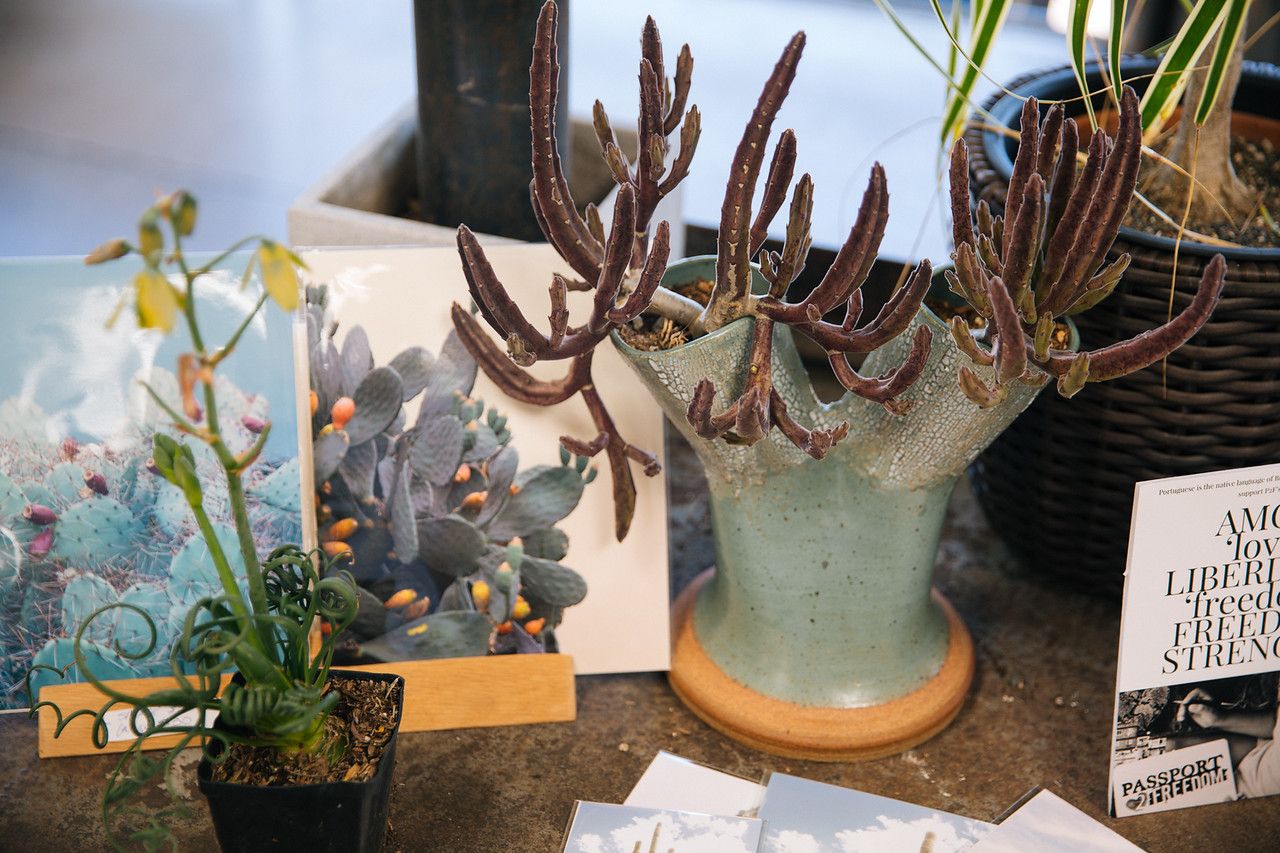 Long beach designer Kevin Sheby, who works mainly in canvas and leather, jumped in last minute to add some beautifully appropriate, nature-inspired work to the popup, and Jane's desert photo work (Wilder California) was a lovely addition as well (endless big thank you's!)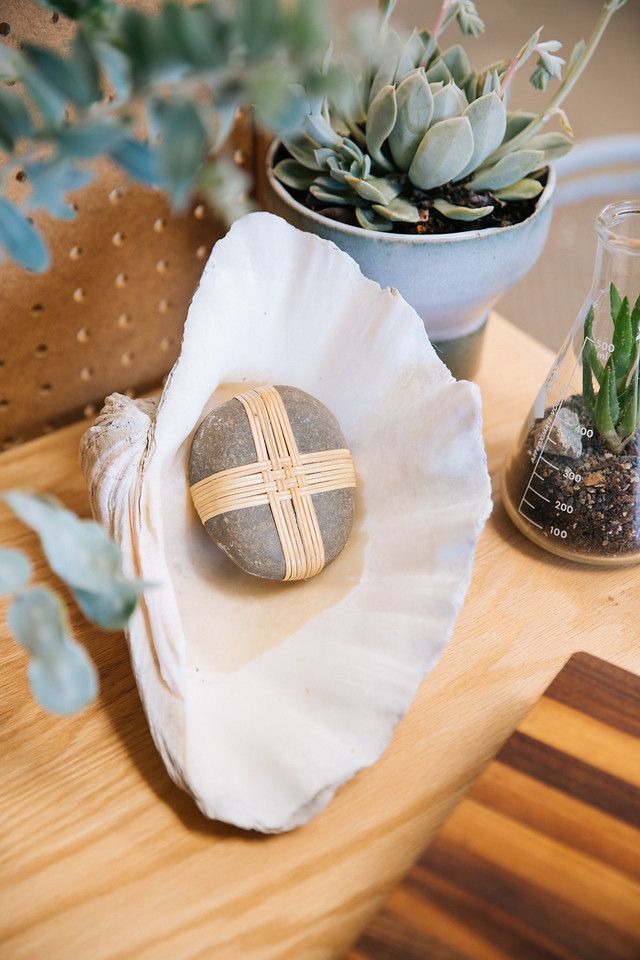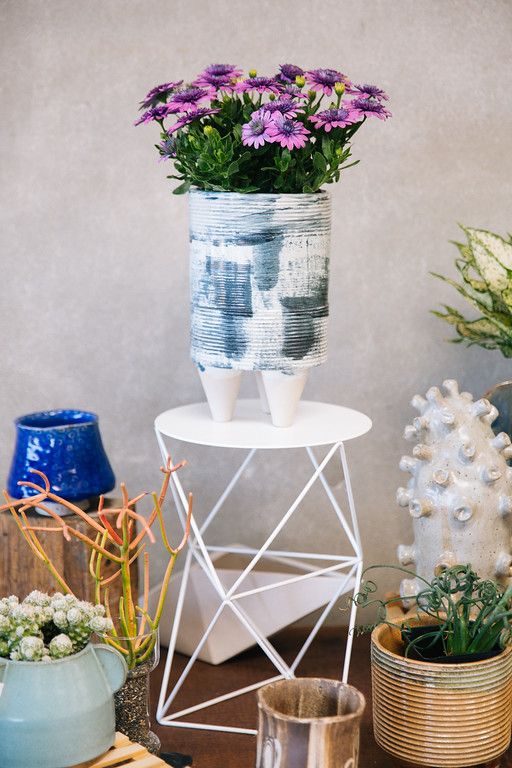 The ridge pots had a lot of fans. Even my mom bought one!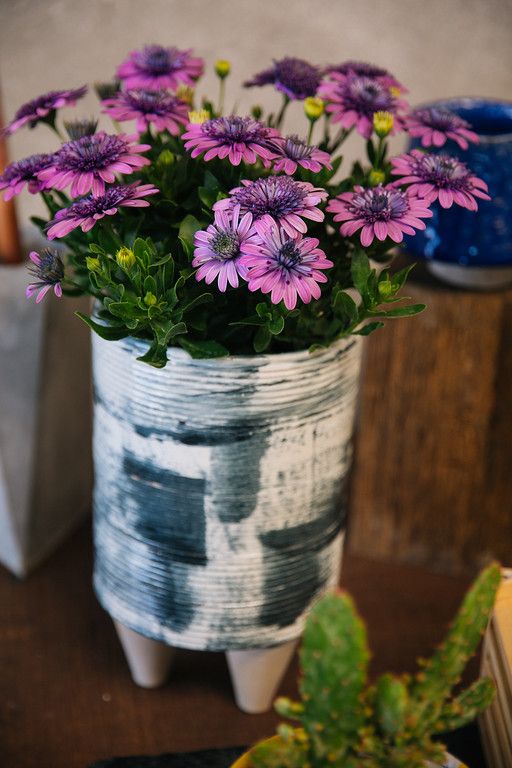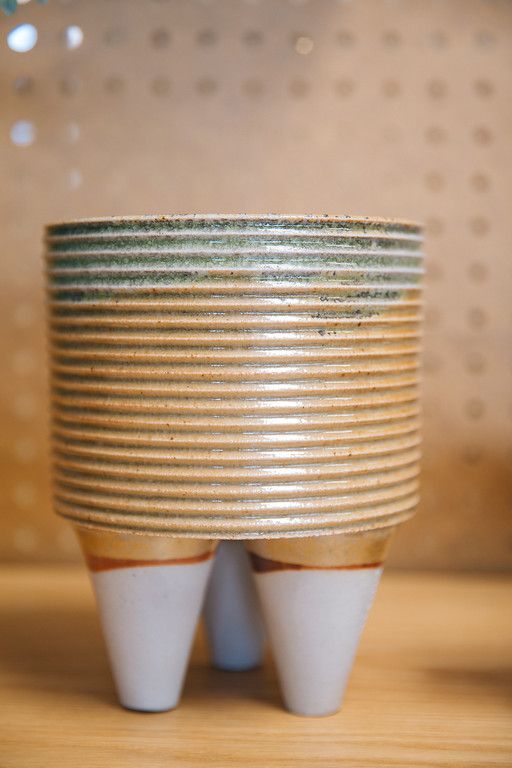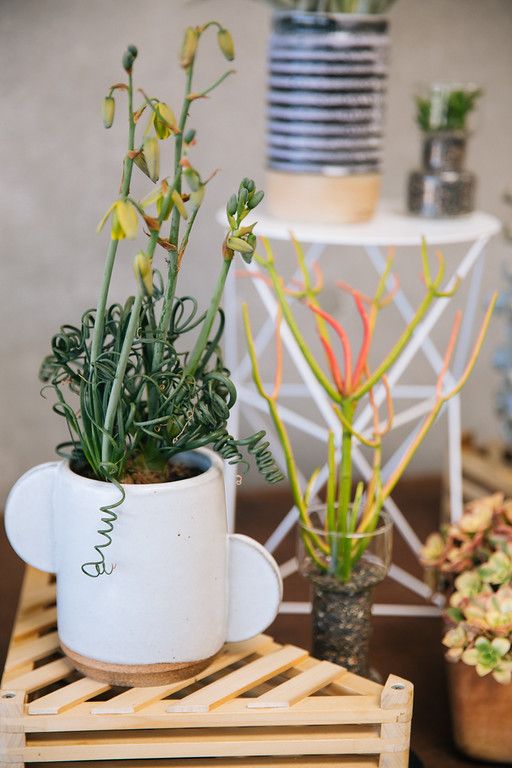 A very nice couple from, I think, Minnesota flew home with ceramics, and were this close to taking a chance on getting the albuca through airport security.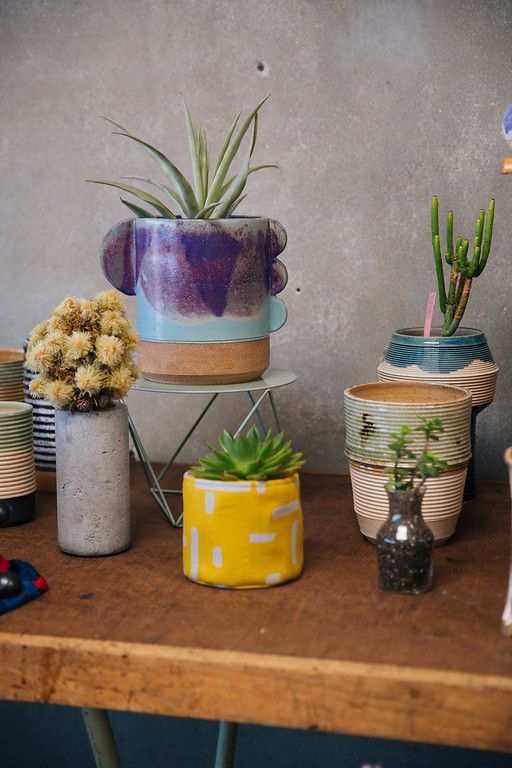 Another bit of staging that attracted attention was the concrete vase on the left. When I trimmed back the Featherhead Bush, Phylica pubescens, I couldn't bear to just toss out the feathery clippings so threw them into a box in the garage. Unsurprisingly, they dry amazingly well. All that was needed was a bit of dried agave bloom stalk for height, a glue gun, and some moss to fill in at the base.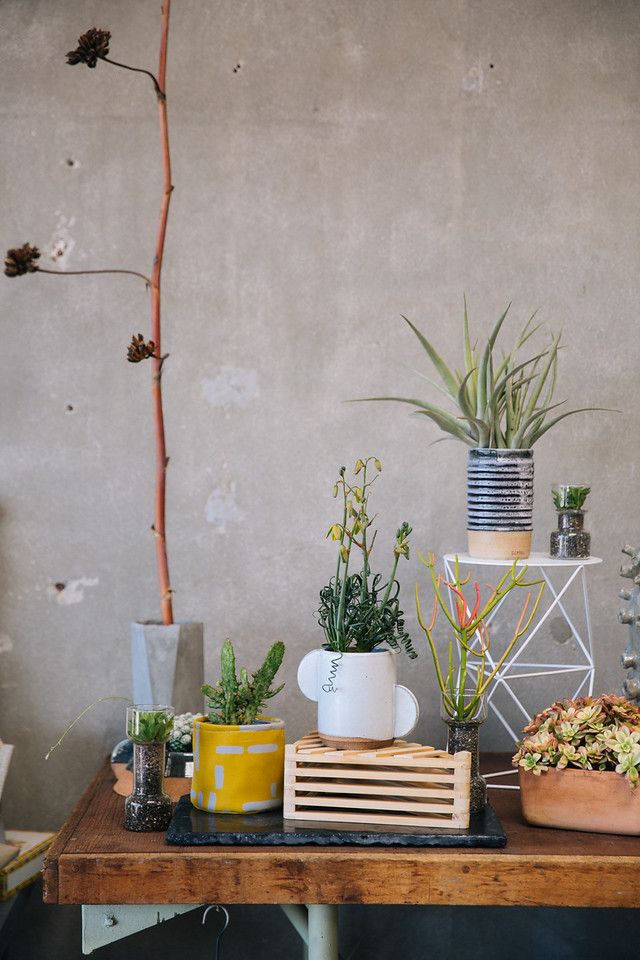 And here's that same dried agave bloom spike used again, on the left, disappearing out of frame, which also caused some buzz ("What is that?") It's at least a year old now and finally stopped dropping seeds everywhere. Moral: never throw any dried botanical relics away.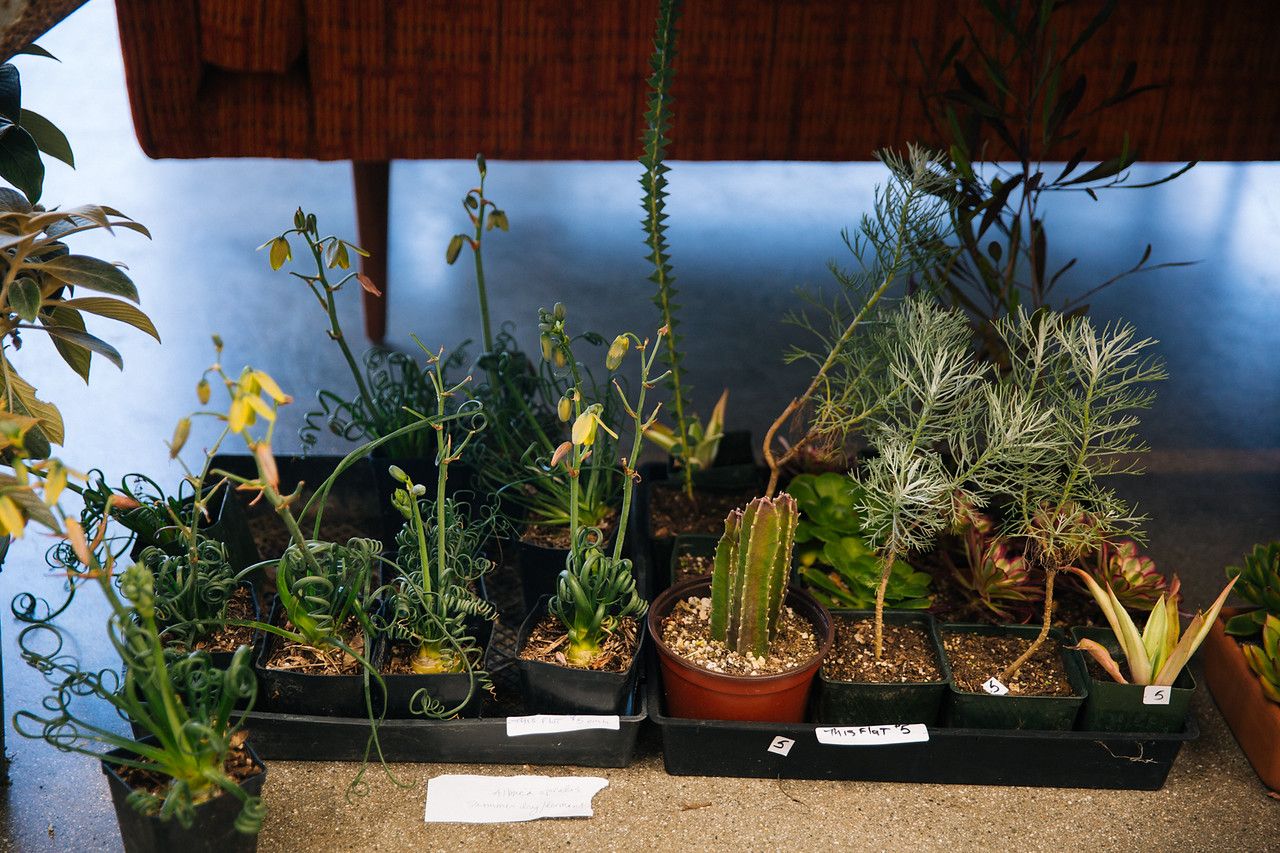 Big thanks to Gail and Kris for graciously donating cuttings, and to Loree for getting the word out on her blog.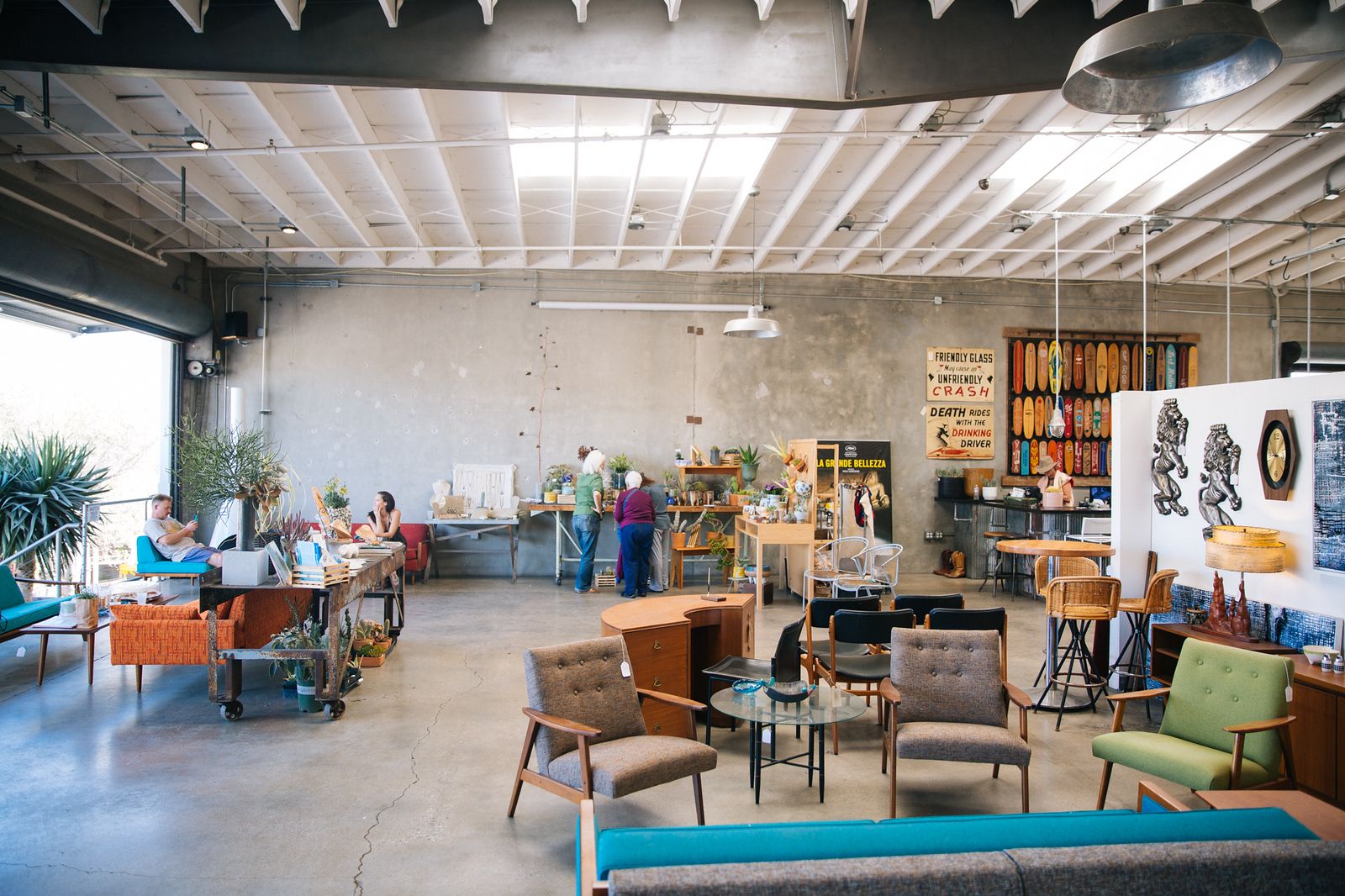 Whenever the crowds momentarily thinned we took full advantage of small breaks on the nearby couches. The roll-top doors at this end of the building near the loading dock are kept fully open during business hours, and the space even on a warm day stays cool, bright, and airy. Enormous thanks to Urban Americana for letting us unleash our popup at their stunning showroom.