The Chinese Fringe Tree, Chionanthus retusus, seemingly leafs out and blooms simultaneously. Every year before it does so and appears instead to be quite dead, I fear that this is the year it has truly died, succumbing to lack of winter chill. It's one of the few deciduous trees, along with cotinus, that I planted when we first moved in almost 30 years ago. Since then I've planted mostly evergreens like acacia. But it's a nice, mediumish-sized tree that has no aspirations to gigantism, and helpfully shades the east side of the house, giving the parakeets in the screened bathhouse off our bedroom something to chirp about, with all the squirrels and birds freely making use of its branches and canopy. (I may as well tell you that the parakeets revealed their true names to me in a dream recently. Speaking for them both, the yellow one politely informed me that she is "Bierksa," and the noisy green parakeet is "Golder." I believe we had named them PeeWee and Ike, respectively. I tell you, I have some wacky dreams…but whatever, we're going with the new names.)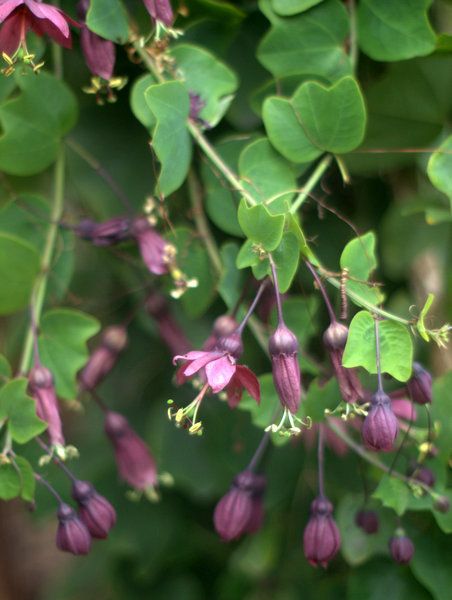 Passiflora 'Flying V' stayed evergreen over winter and erupted in spring with loads of small, parasol-shaped flowers. I think I've compared the floral effect before to the annual vine Rhodochiton atrosanguineum, the Purple Bell Vine, which seems to like a cooler summer than I can offer. This passion vine completely and enthusiastically accepts my garden's terms. I like that.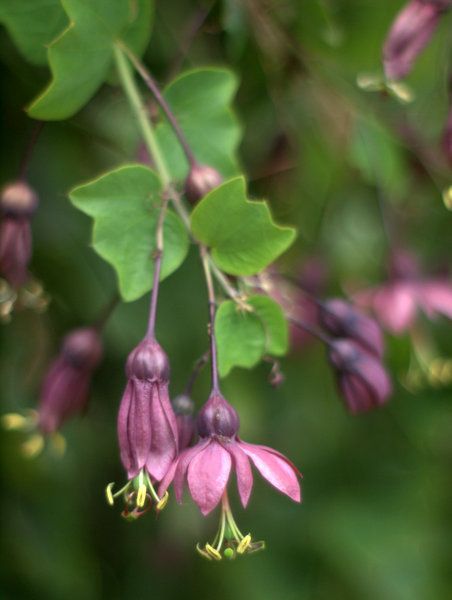 It's already sprinkled with tiny Gulf Fritillary caterpillars.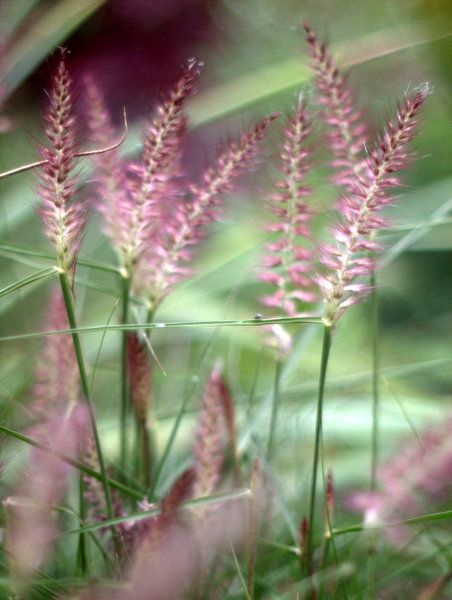 Pennisetum 'Karley Rose' is always in a rush to bloom first among grasses. A bit messy and disorganized, and best if given strong shrubby support from neighbors.
New to the garden this year and throwing its first bloom, Miscanthus nepalensis, the Himalayan Fairy Grass, which I'm so hoping decides to make a new home in Los Angeles — a very long way indeed from Nepal.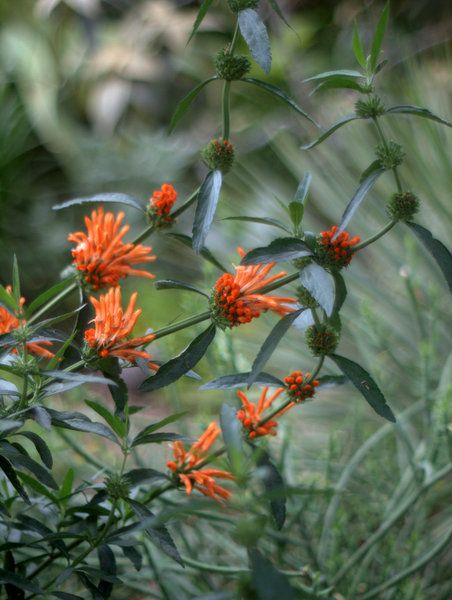 I offered the Lion's Ear, Leonotis leonurus, an inhospitable, terribly dry spot under the Purple Fernleaf Acacia because I know how thuggish and overwhelming it can be in good garden conditions.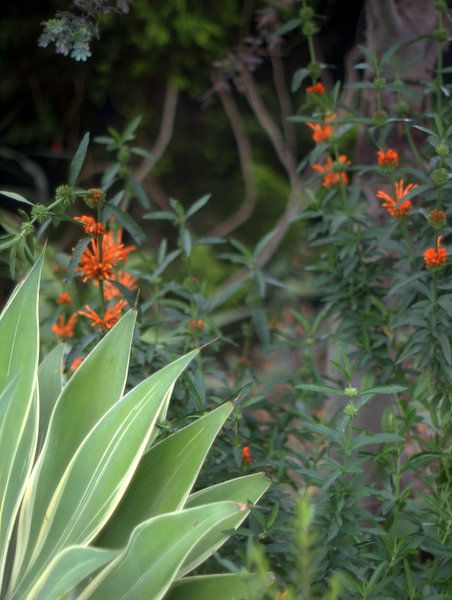 It apparently has no clue it was insultingly offered the worst conditions in the garden and is having a fabulous time here.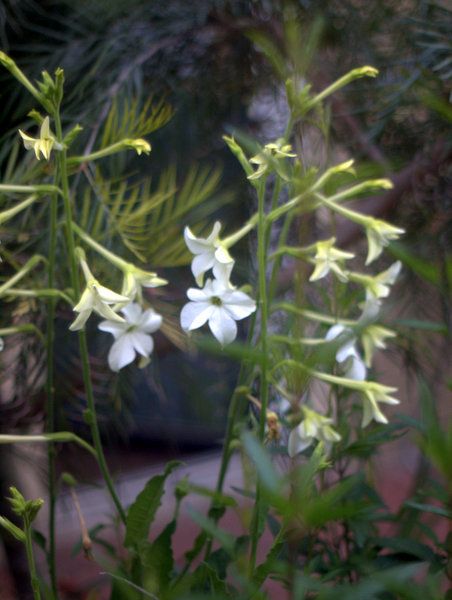 Nicotianas in chartreuse and white continue to reseed.
Centranthus lecoqii, a valerian I really like for the two-tone shading to the flower trusses. Reseeds robustly, like all valerian, but easily edited.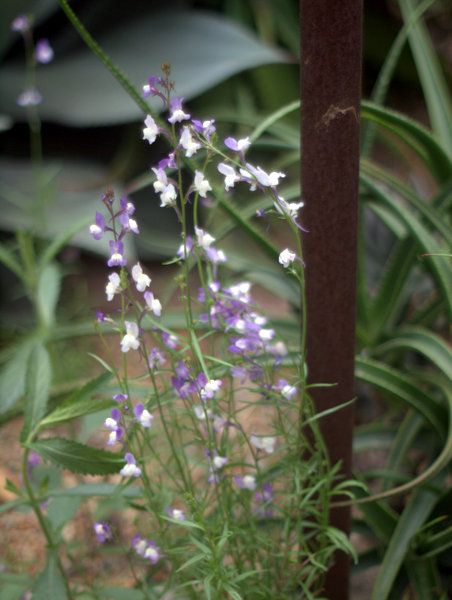 I bought this Linaria maroccana seed from Chiltern's, the 'Licilia' series, 'Licilia Azure'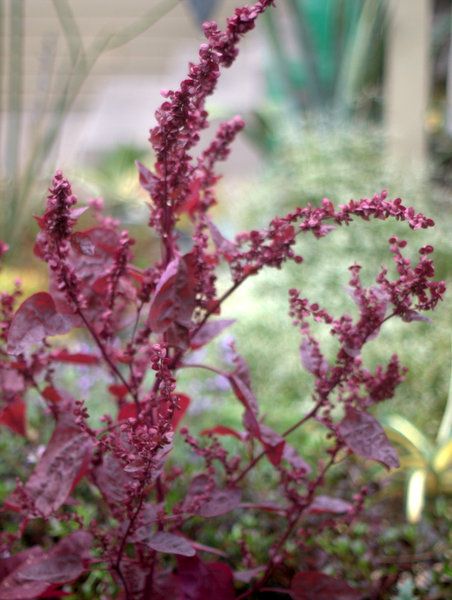 Seedheads of purple orach, a cool-season, spinach-like green that I grow for its tall, slim silhouette and deep color. Seed came from Wild Garden Seed.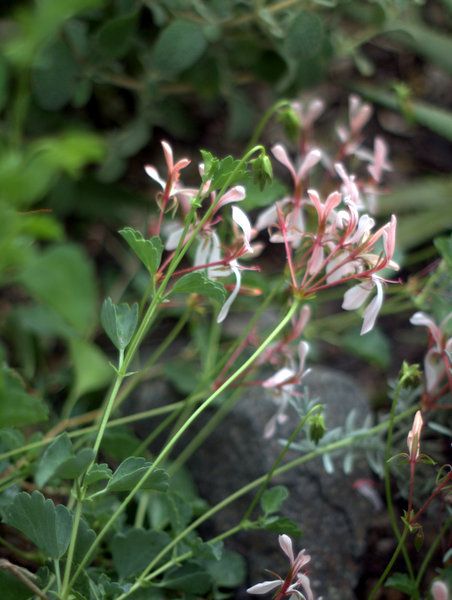 A succulent-leaved pelargonium known as the Sorrel Geranium that I bought from the Huntington in 2017. Pelargonium acetosum 'Peach.' It's really starting to grow on me. Tolerates very dry conditions.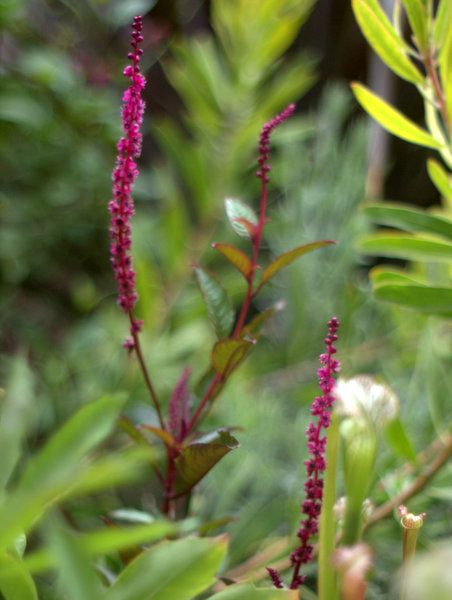 Phytolacca icosandra, the South American Button Pokeweed, from Annie's Annuals, supposedly to 9 feet but probably much less in a container. I have no idea what to expect — so exciting!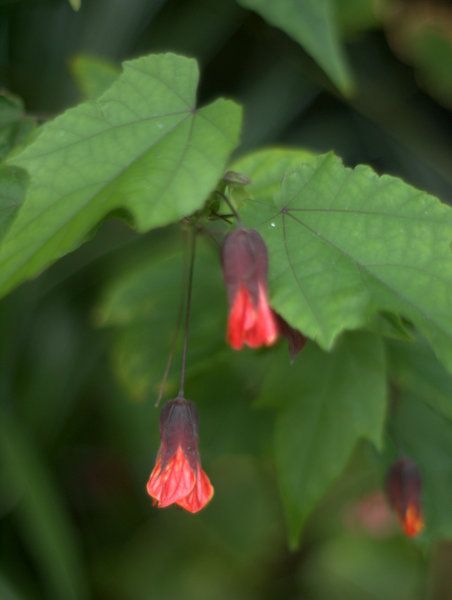 Found the tag on this flowering maple. Abutilon megapotamicum 'Red.' Brought home mid-winter, it was irresistible, beautifully grown — and then it immediately collapsed under my care, no longer getting that fertilizer "push" from the growers. It dropped most of those leaves, looked hideous for a while, and is now adapting to the real world aka life under my care. I can't believe I still fall for those nursery growing tricks — I blame it on January.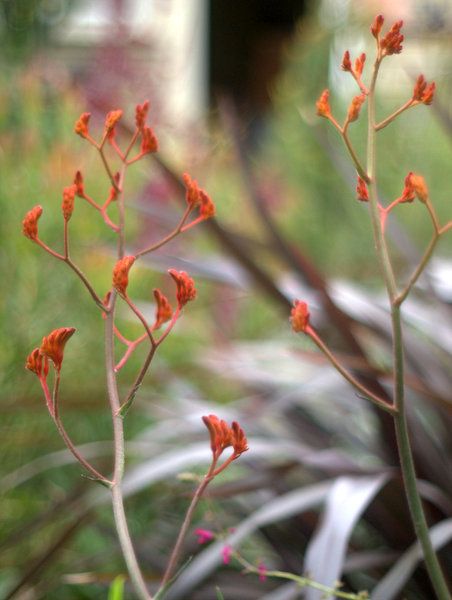 There are two clumps of paws in the garden this summer. 'Tequila Sunrise' is one. I hate that it continually reminds me of that song but love the color.
It grows at the outer edge of the tetrapanax canopy, with the big leaves trimmed off when they cast too much shade.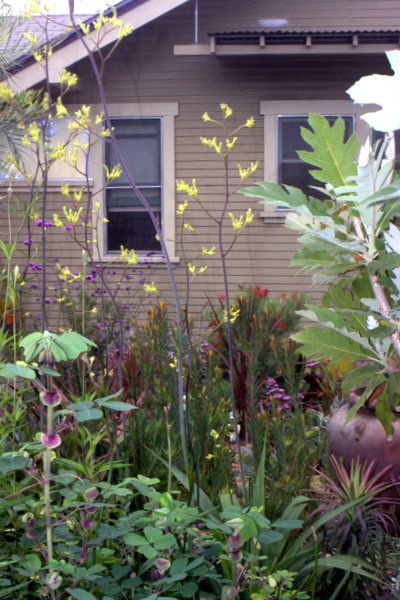 Taken late in the evening and not the best quality, but this shows the height of the lost-tag, yellow anigozanthos this year, despite relatively low rainfall over the winter. (Have we even reached 5 inches of rainfall this season?) It's not 'Yellow Gem' because there's no orange in the flower, just a pure chartreusy yellow. Long-lived and over 6 feet tall — it's a keeper. And there's that spot we missed over the kitchen window awning…
In the background is Grevillea 'King's Fire' and Verbena bonariensis, Amicia zygomeris in the foreground.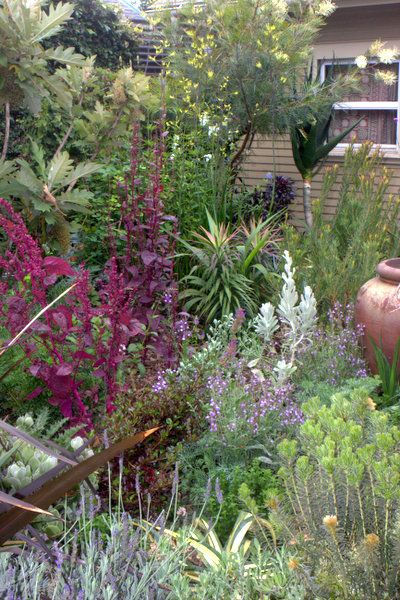 Looking away from the house at the garage/office window, orach in foreground, kangaroo paws and Grevillea 'Moonlight' in the background, with bog sage, Salvia uliginosa, just starting to bloom next to the paws. And flowering tobaccos have some head room for reseeding under the grevillea now that it's large enough to be trained into a small tree.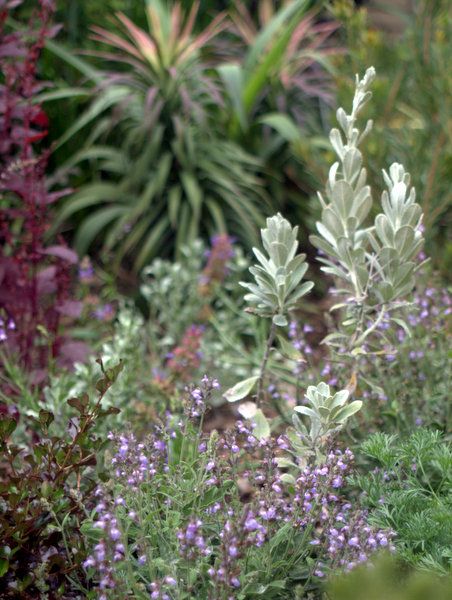 The silver behind Salvia fruticosa is struggling Calif. native Hazardia detonsa, the Island Bristleweed. I hate to call it quits with this one, but it's not very happy. New basal growth seems stunted.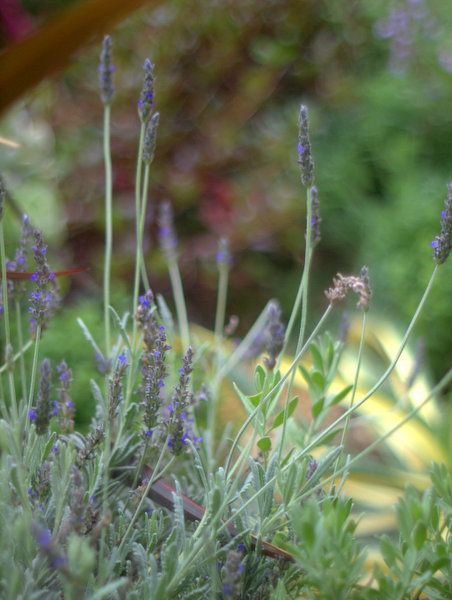 The lavender is 'Goodwin Creek Grey.'
Gaillardia 'Mesa Peach' is an experiment in containers — too big and sprawly for the garden.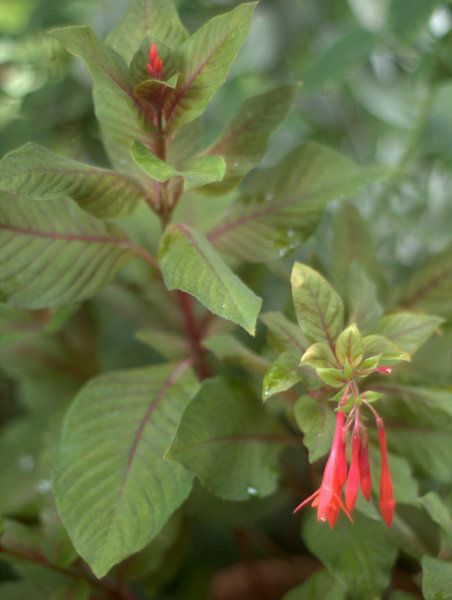 Fuchsia 'Koralle' (or 'Coralle'?) from Denver Botanic Garden plant sale last spring. (BTW, Denver will be the destination for next year's Garden Bloggers Fling.)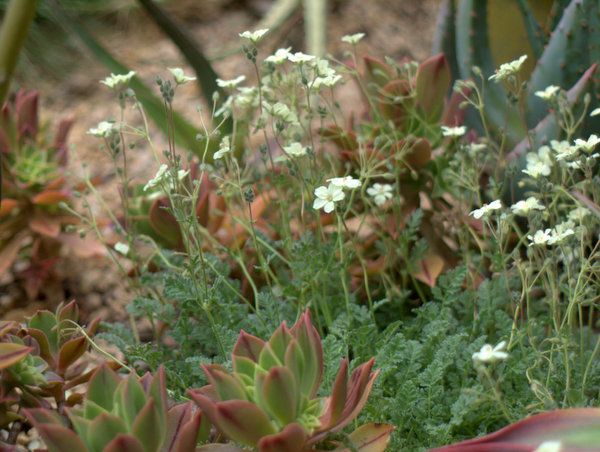 Erodium chrysanthum and what I think is either hybrid Aeonium 'Berry Exciting' or Aeonium leucoblepharum.
Baja spurge, Euphorbia xanti. There are vast, enormous hedges of this at the Huntington adjacent to the Desert Conservatory that were in full bloom my last visit. I've kept mine in a container.
A gift aloe from Dustin. Aloe camperi? The bloom timing fits, but it's clean green leaves are very unlike a smaller Aloe camperi already planted in the garden with spotted leaves. San Marcos Growers discusses the various spotted and unspotted camperis in leaf, which may explain the mystery. My original aloe, still small and yet to bloom, may be Aloe camperi 'Cornuta.'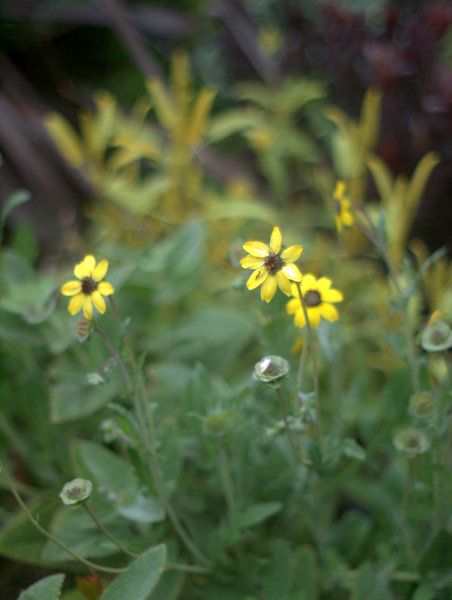 The chocolate daisy, Berlandiera lyrata, is the right height, the right amount of reseeding and tolerance to dry conditions, the right sort of absorbing seedpod detail, the right sort of contrasting stamens — it's the daisy with the right stuff for this garden, including that fantastic chocolate scent. (Thank you for everything, Mr. Wolfe!)
As always, the Bloom Day reports are collected by Carol at May Dreams Gardens.