I've been in somewhat of a torpor since cracking a rib earlier in the week. Planting, digging, relocating potted plants, shoving heavy things around, in other words, my favorite pursuits — very little of this is possible at the moment. Trying to ignore the situation and just work through the pain does not seem to be the quickest road to healing. So a drive down to San Diego tomorrow for the San Diego Cactus & Succulent Society sale and show will be positively therapeutic. If the flat tire on my car is fixed in time. It's been that kind of a week, hasn't it?
Garden Rant had a piece this week on the limited release of Five Seasons: The Gardens of Piet Oudolf. I'd already had the date of June 29 calendared, which is when the film will be shown at the Royal in Santa Monica, with a Q&A with the filmmaker Tom Piper opening night. Upon reading in Garden Rant that "Oudolf and his evocative garden designs have been drawing international attention since he designed the Royal Horticultural Society's Glasshouse Borders in Wisley, England," I went over my photos again taken at Wisley last October. How did I miss these borders?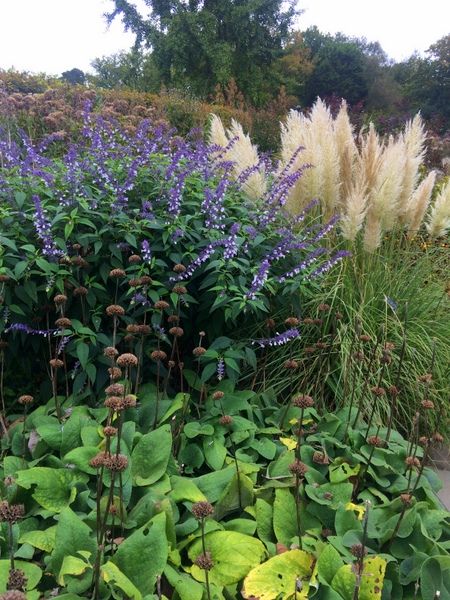 Maybe this snippet is from one of the glasshouse borders?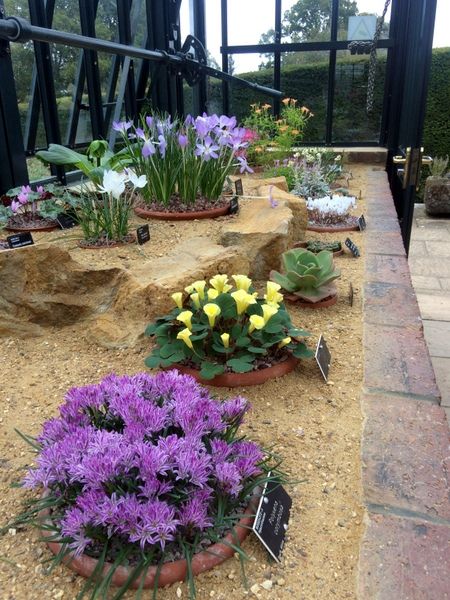 Judging from my photos, my attention was elsewhere. In the glasshouses, it seems. These were the smaller glasshouses near the rock garden.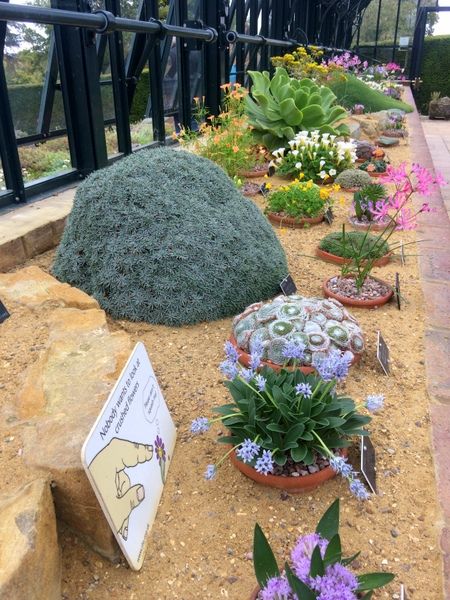 (Sign admonishes: "Nobody wants to look at crushed flowers")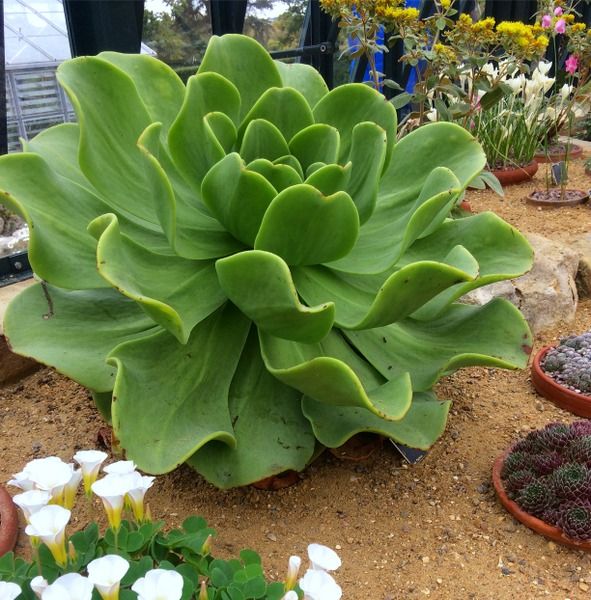 My own Aeonium nobile has sent up a bloom stalk the past week. Something this fabulous just has to be monocarpic, of course.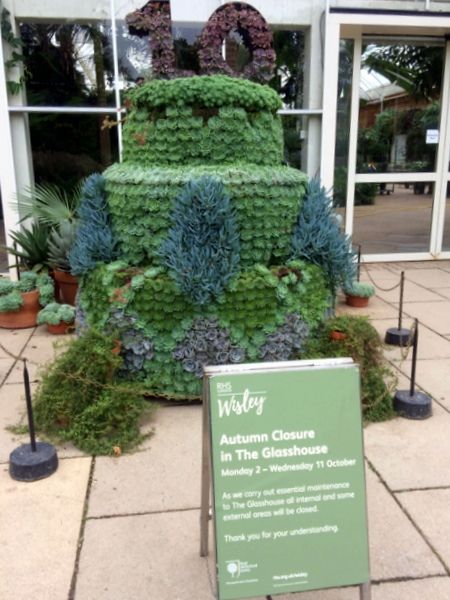 The ginormous glasshouse which the Oudolfian borders reference was shuttered for renovations but still able to muster a cake to celebrate its 10th birthday.
And speaking of mortality and aging of plants, I loved this quote from National Geographic's "Oldest European Tree Found—And It's Having a Growth Spurt": "aging isn't programmed into trees, so they are effectively immortal." What a cheerful thought!
""Old trees usually eventually die because of external disturbances, such as a strong wind…"
"A cluster of old or dead Heldreich's pine trees sits on a ridge in Italy's Pollino National Park, where researchers discovered the oldest tree in Europe." – National Geographic
And checking out the photos again from my trip to England in fall 2017, I found the inspiration for a recent plant order to Annie's Annuals.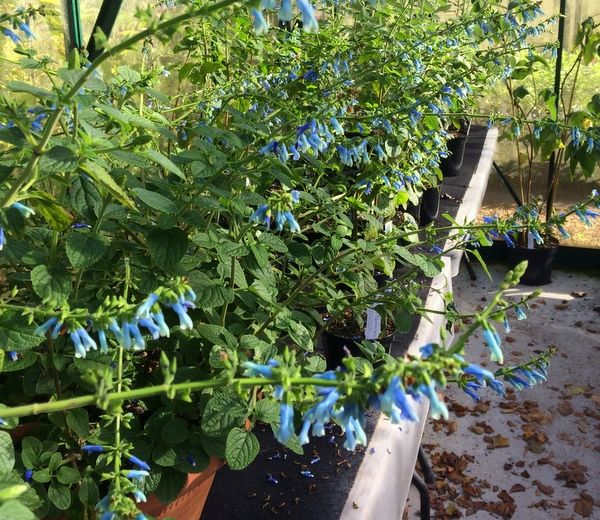 This is Salvia bullulata on the growing bench at Derry Watkins' nursery Special Plants last October. Blue is not an unusual color in the protean genus salvia, but the limpid blue of S. bullulata is very unusual for a salvia and reminds me of the turquoise shades possible with corydalis. I pounced when Annie's offered it this spring. Currently out of stock, you can add it to your wishlist.
Another salvia first seen at Special Plants, 'Jean's Jewel,' was tracked down state-side to Flowers By The Sea, which has an incredible list of salvias. 'Jean's Jewel' is a guaranitica hybrid with atypical violet-pink flowers and somewhat more compact habit of growth.
Even with a sore rib, walking is still an available pleasure, and I can still get lost in thought on city walks. And because I have always loved city walks, this observation from "Why Walking Helps Us Think" was surprising: "A small but growing collection of studies suggests that spending time in green spaces—gardens, parks, forests—can rejuvenate the mental resources that man-made environments deplete. Psychologists have learned that attention is a limited resource that continually drains throughout the day. A crowded intersection—rife with pedestrians, cars, and billboards—bats our attention around. In contrast, walking past a pond in a park allows our mind to drift casually from one sensory experience to another, from wrinkling water to rustling reeds."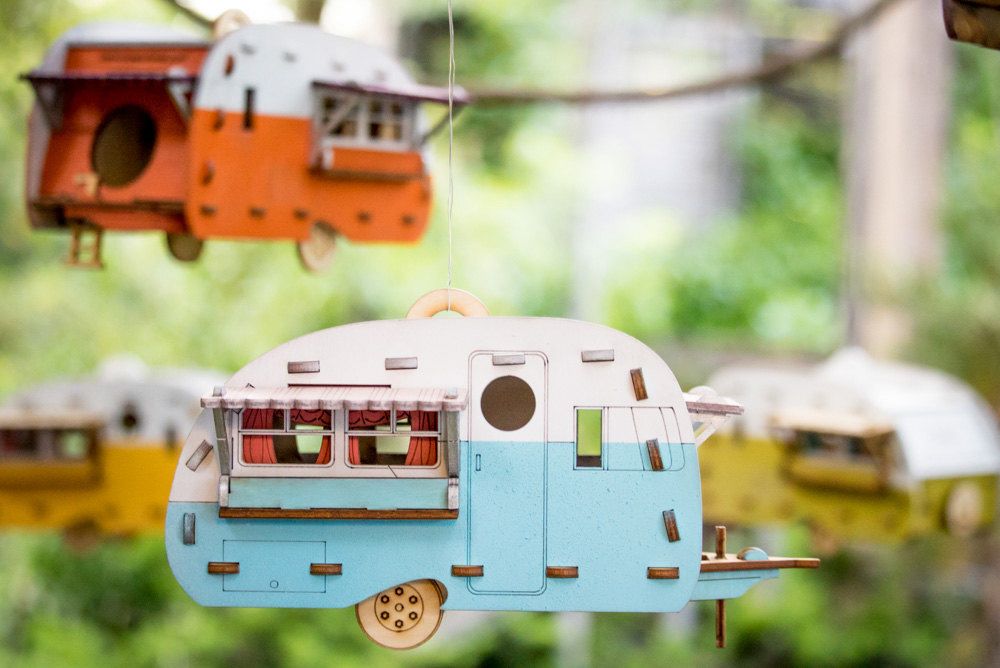 And one of my latest design blog crushes, This Is Colossal, has a great idea for Father's Day, "vintage camper birdhouse kits that are the perfect backyard outpost for a family of birds. The design was inspired by a 1974 Serro Scotty Hilander that once belonged to Williams, complete with decorative window shades and accessories such as flowers, a grill, and a few lawn flamingos."
Have a great weekend!