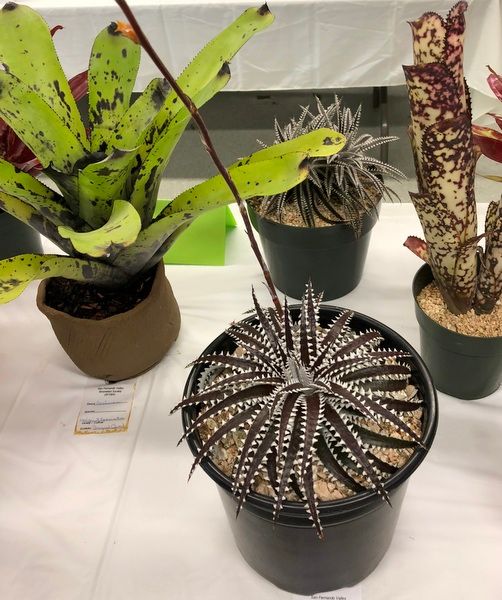 Dyckia 'Uncle Ray,' Exhibitor Bryan Chan, (San Fernando Valley Bromeliad Society) won best in its class at the recent World Bromeliad Conference in San Diego, or so I was told by a docent at the Los Angeles Cactus & Succulent Society Annual Drought Tolerant Plant Festival this past weekend. It seems like there's a show and sale every weekend now, and you can keep current by checking this link here. The huge Intercity Show & Sale August 11 and 12th at the Los Angeles Arboretum is one I don't want to miss. Wagon, camera, cash — I'll be ready next time.
On Saturday, shopping started out very promising at a table loaded with bromeliad pups, where I was reeled in by a good-sized offset of Neoregelia 'Apollo's Poetry' (which name puts me in mind of a favorite Bjork song "Pagan Poetry.") Unfortunately, the bromeliad table is also where shopping for me ended, as this entire sale ran on cash only, and I was as usual cash poor, reliant as I always am on plastic. Pathetic, right? In fact, so pathetic a gentleman offered $5 to make up the difference on a Bilbergia 'Pink Champagne' I was loath to give up on, frantically emptying out my pockets for a few stray dollars. (And I am chagrined to admit I accepted the $5! Bless you, sir!) Still it was a great time, with so many beautiful plants to ogle at the sale and indoor show, so I figured I'd switch my energies to photos…but left my camera at home. Sans camera or cash, I wandered the sales tables for quite a while, thinking that if I found an Aloe broomii or nice specimen of Euphorbia cooperi I'd run out to find an ATM. Neither of those surfaced, but I'm glad I stuck around because a very nice person named Heather recognized me somehow from the blog and introduced herself.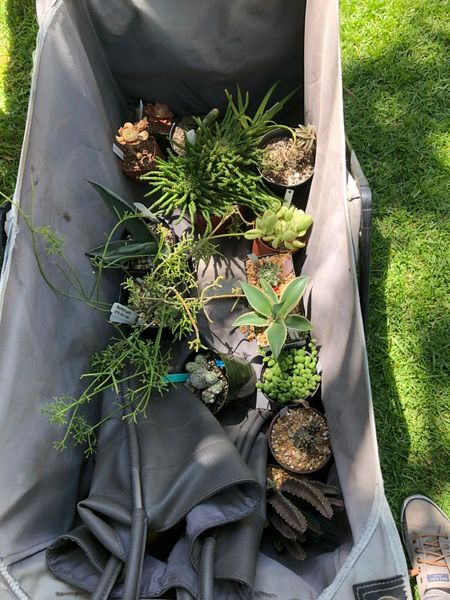 Unlike me, Heather was a boss and came fully prepared, including bringing a wagon to fill with gorgeous plants. (Heather, if you're reading, I think Los Angeles needs a garden blogger with your organizational skills!)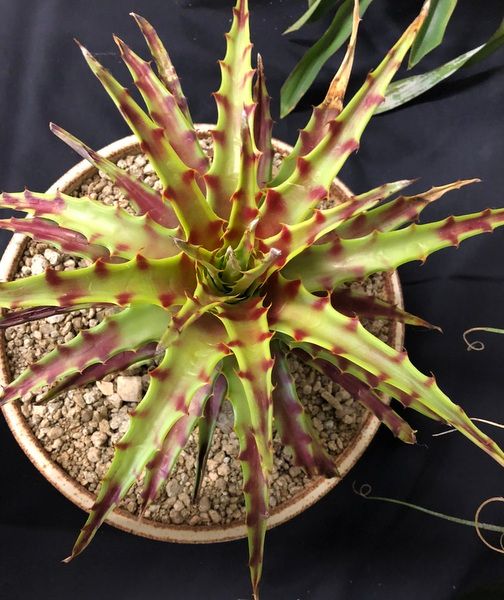 I did grab a dozen or so photos with the camera phone, like this hechtia with a tart mix of colors reminiscent of limes and salsa.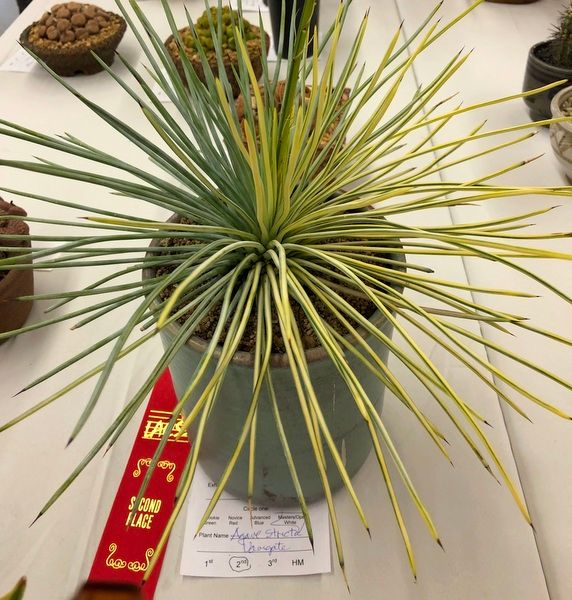 Loved this variegated Agave stricta, which was in bloom.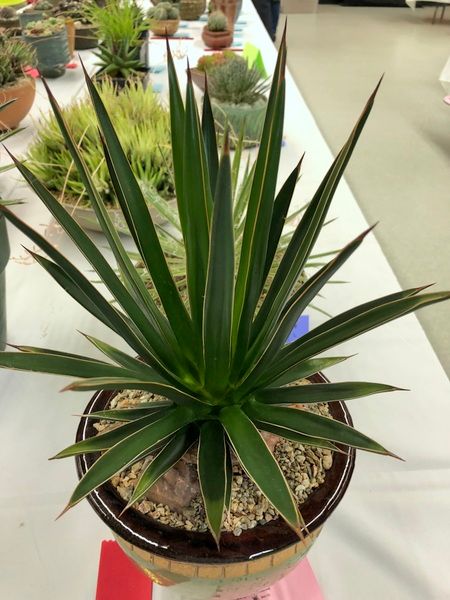 And this is what my Agave ocahui aspires to be — pristine, no leaf tip burning.
Chunky Agave pumila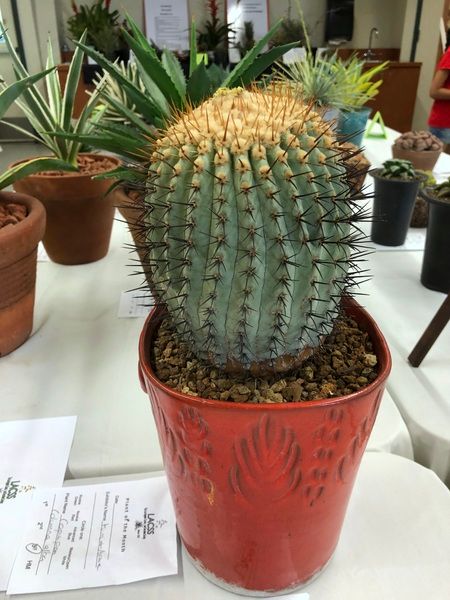 Copiapoa columna alba. This Thursday, on June 14, Kelly Griffin will be giving a presentation on these Chilean cacti entitled "Copiapoa Land" at the next meeting of the San Gabriel Valley Cactus & Succulent Society, LA County Arboretum, 7:30 p.m., Ayres Hall.