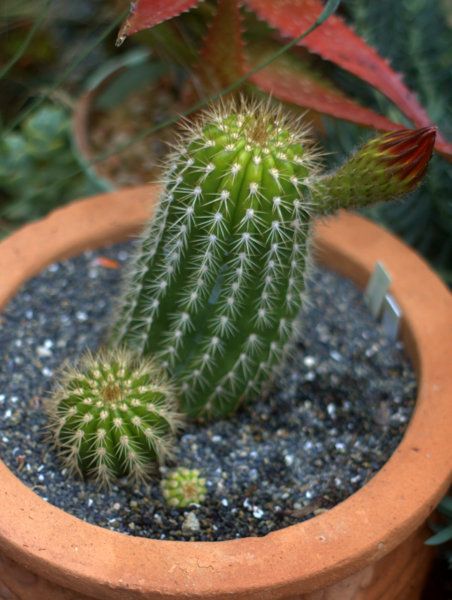 I bought this Echinopsis 'Arizona Sunset' at a San Diego garden visit a couple weeks ago sponsored by the San Diego Horticultural Society. The echinopsis was among plants for sale at the entrance to the private home and garden, all of which I quickly checked out without finding anything pulse quickening before heading out to explore the generous-sized garden. It was only after hearing the garden talk later that day by Brent Wigand that I raced back to the sales area to grab one of his echinopsis, which opened a bloom in my garden today.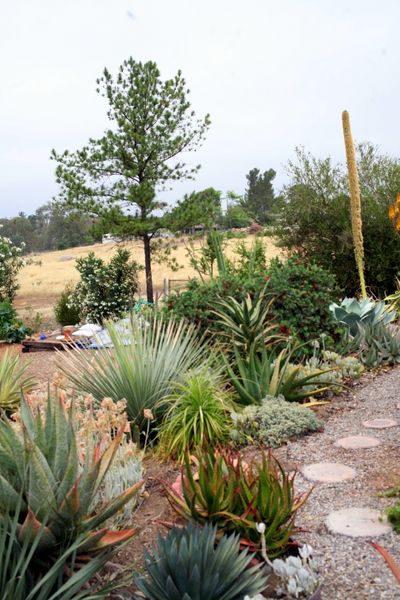 I knew there was a speaker scheduled for 11 a.m. to talk about propagation, but I was having such a great time strolling the grounds that I let the appointed hour come and go. I could hear the talk commence in the distance, but I was in no hurry to leave the garden.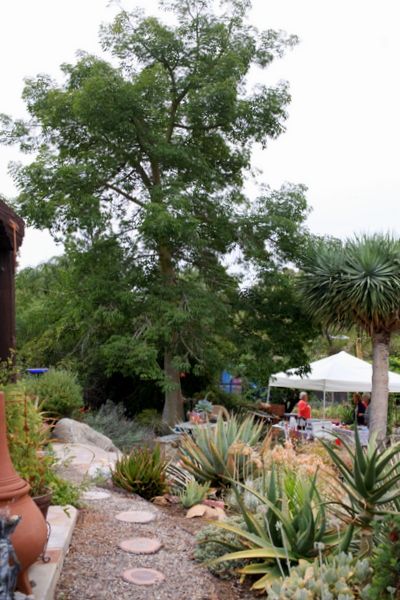 The drive south from Los Angeles to San Diego, even on a Saturday, is awful — but the properties are invariably spacious and the plants fabulous, heavy on succulents.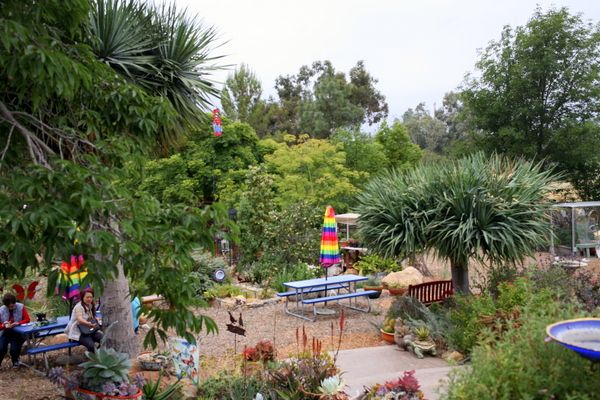 After a 2-hour drive, much of it stop-and-go, I needed to move, not stand still listening to a lecture on propagation, which I assumed would be fairly basic. I tend to assume way too much.
"An extra-added treat for the gathering will be a visit by Mr. Brent Weigand [sic] from Wildomar! He is an avid hybridizer of succulents and will be discussing (at 11 AM) some of his methods and techniques. He will also bring some of his fabulous plants to sell!"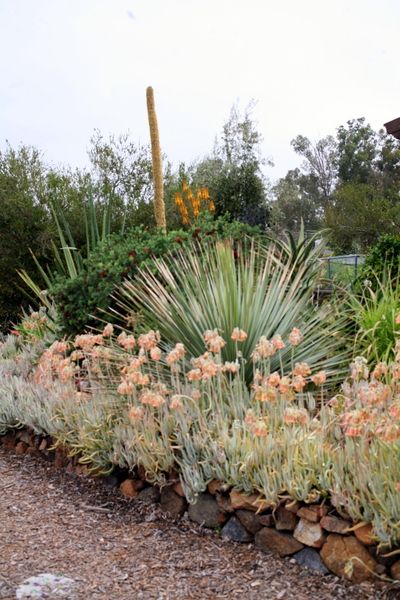 I eventually drifted over to the crowd gathered around the speaker, where all the chairs were taken. Brent looked to be in his late 30s at most and was already well past introductory remarks, immersed in tracing his background in horticulture. A childhood surrounded by entrepreneurial plants people, exemplified by his mother who ran a nursery out of their home and garden — suddenly this young man was of enormous interest to me, possibly a long missing puzzle piece. And was it Weigand or Wigand? Could this be Judy Wigand's son, Judy of Judy's Perennials fame?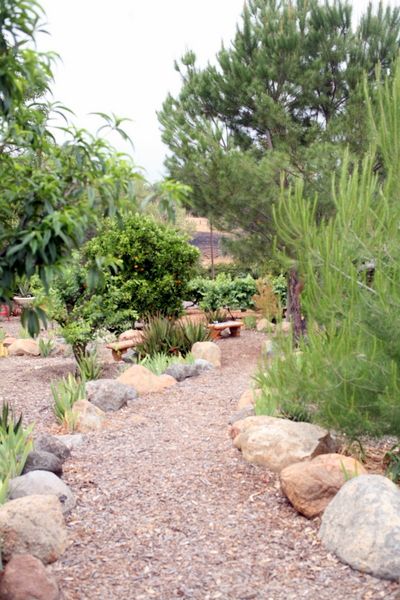 In the '80s I also made the drive to San Diego to visit gardens and nurseries, Judy's Perennials being one of the top lures. I'm sure I learned about it via an article by the excellent garden writer (and also one of my horticulture instructors) Robert Smaus for the Los Angeles Times ("On Cultivating a Taste for the Back-Yard Nursery"). Watsonias, Fred Meyer's alstroemerias, penstemons, Judy was growing all of the sexy plants before they became household names and were still difficult to source, and then she simply fell off my radar. (Not a reader of San Diego newspapers, I did not know that after her 15-year-old nursery closed she continued to write articles like this one.) And strangely enough, while I was having my own nostalgic reverie, Brent began to talk of one of his mentors in plant propagation, Bill Teague, and surprised everyone, including himself, by having to fight back tears in speaking of his old friend, who passed away in 2010. (Mr. Teague was a commercial protea grower for many years and a horticulturalist at the formerly named Quail Botanical Gardens, now San Diego Botanic Garden. Read more about him here.) We're such a tender bunch, plants people, and just possibly overly sensitized to the passage of time and seasons.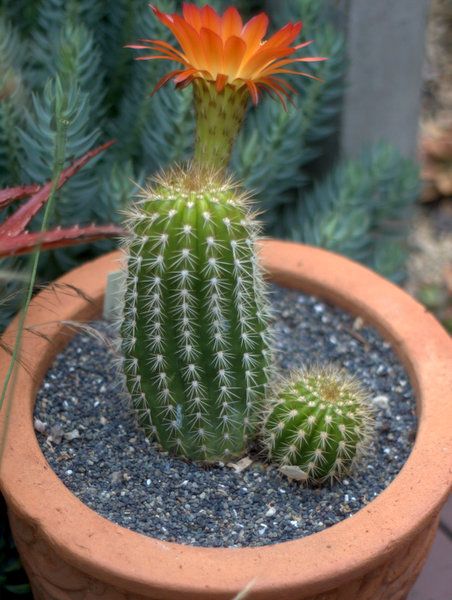 Brent's early enthusiasm was cycads, and he had access to the great collectors, including Loran Whitelock's collection, which recently was donated to the Huntington. At one point Brent's home garden had over 200 specimens. As his botanical interests diversified, and as requests to buy some of his collection increased, Brent figured why not? There were plenty of other plants he wanted to grow. He began to sell off his cycad collection and now has possibly 15 remaining. Astonishingly, the craigslist offerings drew the attention of buyers from all over the world, including some buyers who tried to entice Brent into making illegal transactions where shipping plants would be prohibited. He cited Oprah Winfrey, Brad Pitt, and — wait for it — Saddam Hussein as enthusiastic collectors of cycads. Brent's youthful enthusiasm for collecting these prized gymnospermums, along with selling other plants out of his home garden, has netted him the whopping sum of $500,000. He says his goal is to make a million out of his backyard. Nice to see the backyard nursery tradition stayed in the family.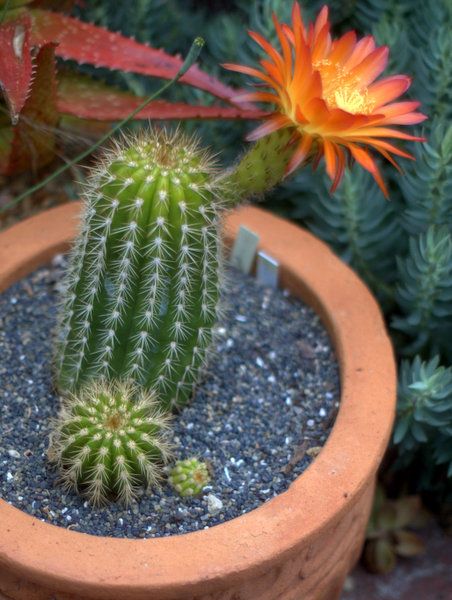 So not only did he now have my undivided attention because of a possible connection to a nursery I loved and seemed to know all the big names in SoCal plants, the propagation discussion turned out to center on aloe hybridizing. Now I was riveted. He contrasted his intuitive method to the rigorously scientific method of Kelly Griffin, whose results might likely end up in tissue culture so the stakes were that much higher. And unlike aloe breeders like Karen Zimmerman at the Huntington who are interested in the bumpiest, most corrugated leaves possible, Brent wants to see spinier aloes and experiments with species like marlothii and erinacea. I'm completely on board with this direction and immediately wondered about a cross between marlothii and peglerae I recently brought home.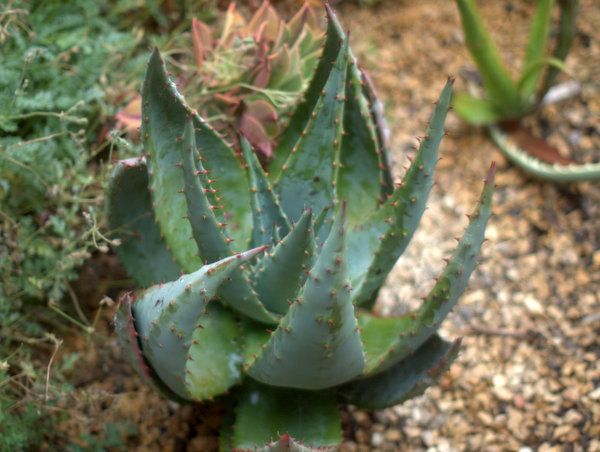 During the question-and-answer session, I asked what could one expect when a stemless aloe like peglerae is crossed with a trunking aloe like marlothii. Brent wasn't sure which trait would be dominant but added that my plant was in fact his very own handiwork.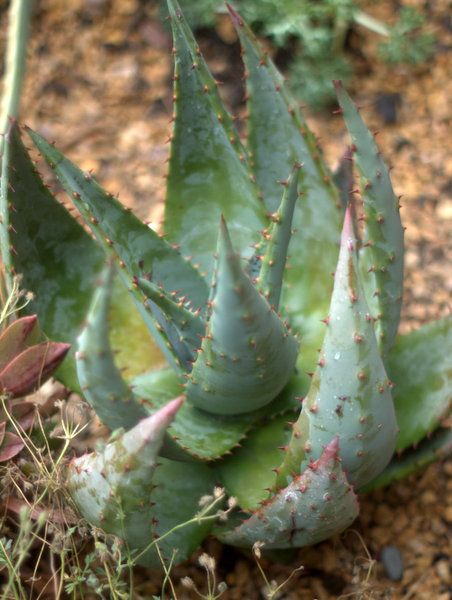 I also confirmed that he is indeed the son of Judy Wigand of Judy's Perennials. Of course he is. Small-world day.
You can contact Brent Wigand and his Aloe Gardens Nursery at aloegardens@gmail.com. Nine months out of the year he is a special eduction teacher for the Lake Elsinore Unified School District, so catching him at home during summer is a good bet. One of his latest enthusiasms is echinopsis, and he has some stunning hybrids on offer.