July 15th arrives slightly singed and battered. I was just noticing this morning that the big serrated leaves of Bocconia frutescens were untouched by that nasty 109F heat, whereas I've had to cut sheafs of tetrapanax stalks to clear out all the crispy leaves.
But the heat can't get a purchase on the grevilleas' lacy, finely cut leaves. What a good plant 'King's Fire' has blossomed into.
I grow very few big and juicy flowers anymore but was making an exception for a couple dahlias. But this year the dahlias became so badly mildewed and then heatstruck that they've already been cut down. By July the garden mostly fizzes with tiny blossoms.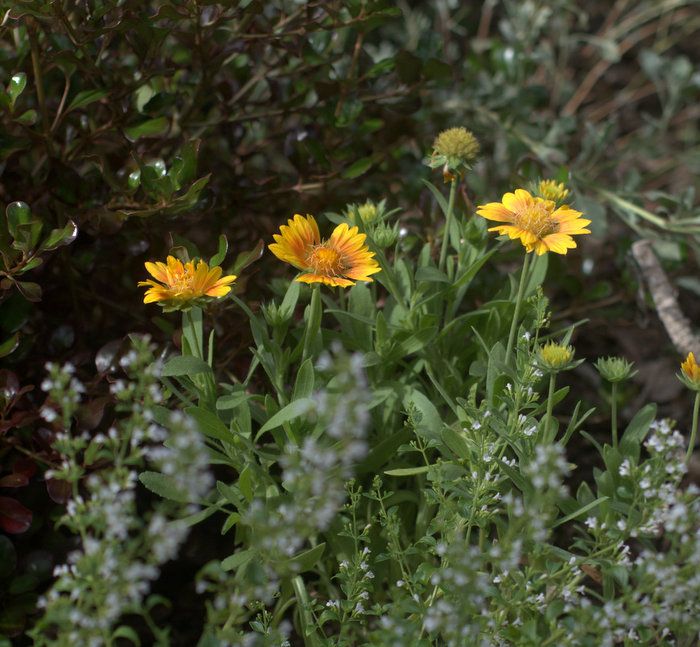 Gaillardia 'Mesa Peach' planted in early summer represents for summer daisies this year.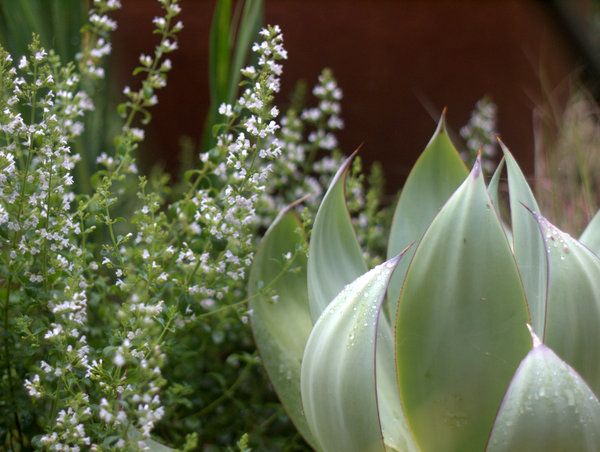 Icy Agave mitis var. albiodor and calamint. Icy is a great look for July.
Aeonium nobile's monocarpic swan song.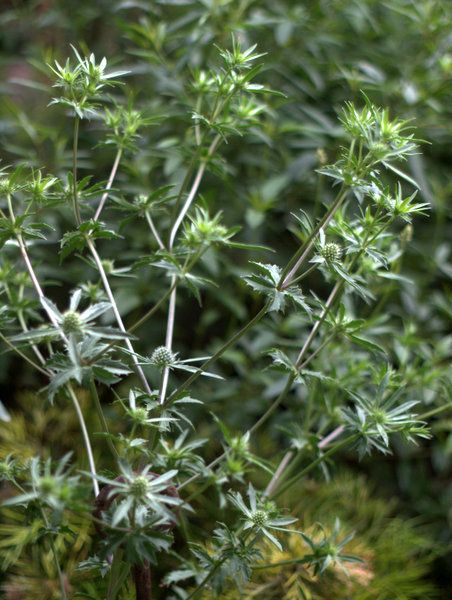 Eryngium planum
And E. pandanifolium, just two bloom stalks this year.
If only glaucium would reseed. Such fabulous plants that tolerate hot and dry conditions.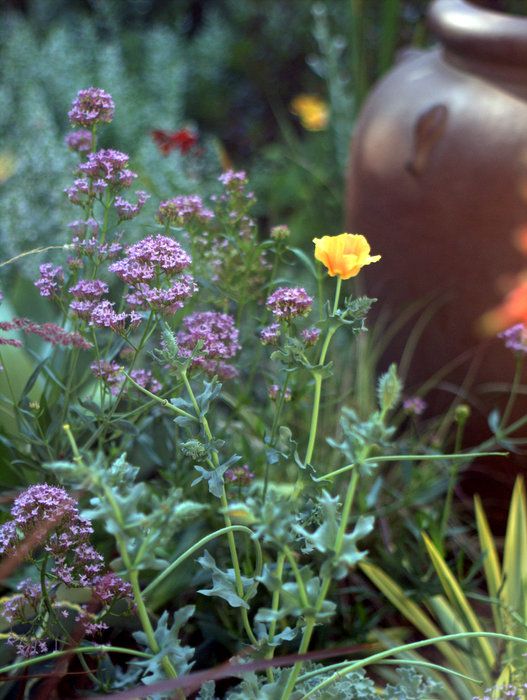 Really nice with Centranthus lecoqii.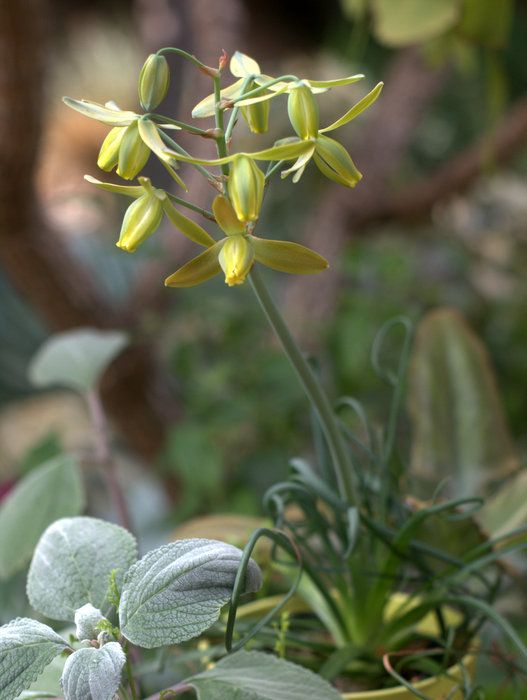 Keep Albuca spiralis watered and it may kick summer dormancy down the road a bit.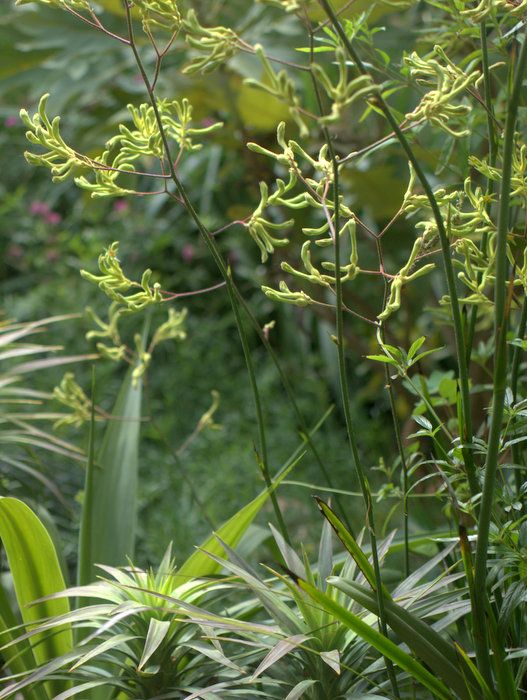 The pale yellow kangaroo paws seem to be the most sun resistant. The other paw, 'Tequila Sunrise,' has bleached to a biscuity-orange now.
Aloe 'Cynthia Giddy' is throwing another bloom spike as this one finishes.
The pergola is a godsend to people and plants. If I could give a new garden in zone 10 a single piece of advice, it would be to build a pergola, a breezeway, a covered patio — some sort of shade structure asap now that record-breaking heat is the new normal. I'm constantly playing around with the potted plants under the pergola — I can't imagine having a garden with a southern exposure without it. (That's one of three pots of Amorphophallus impressus in the foreground. Loves the heat but appreciates some shade under the pergola. I moved the big-leaved tropicals out of the sun and under the pergola too.)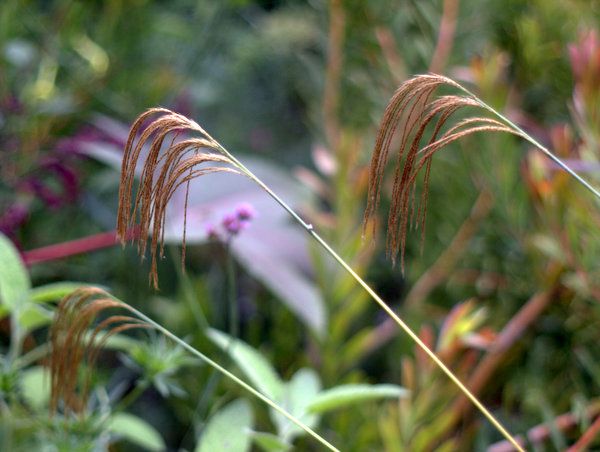 New to the garden this year, Miscanthus nepalensis sailed through the heat and has about 9 blooms now — not that I'm counting or anything…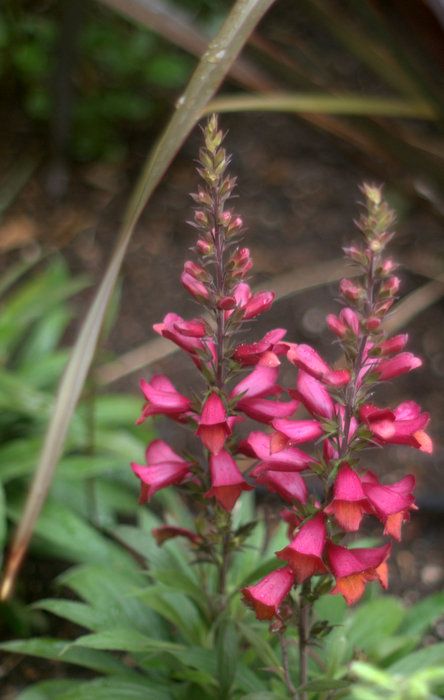 And in the ground just a few weeks, planted from blooming gallons, Digiplexis 'Illumination Raspberry Improved' needs to be babied and shaded from the strong afternoon sun. Which is why, as a rule, one shouldn't plant so far into summer. But I haven't really given digiplexis a thorough trial, and here these were, inexpensive and beautifully grown, with 'Improved' helpfully included in their name, etc., etc. — this summer's exceptions to the rule. (Edited: Digiplexis melted away over fall/winter 2018/2019.)
Solanum valerianum 'Navidad Jalisco' is slowing down and not as full of blooms as this photo taken in late June. (Edited: this vine was strangling the lemon cypress and has been removed.)
A self-sown Solanum pyracanthum mixes it up with salvias, verbena, berkheya, gomphrena, but most obvious from this photo is my great affection for Yucca 'Blue Boy.'
Stay cool!
Thanks to Carol, our host for Bloom Days on the 15th of every month.