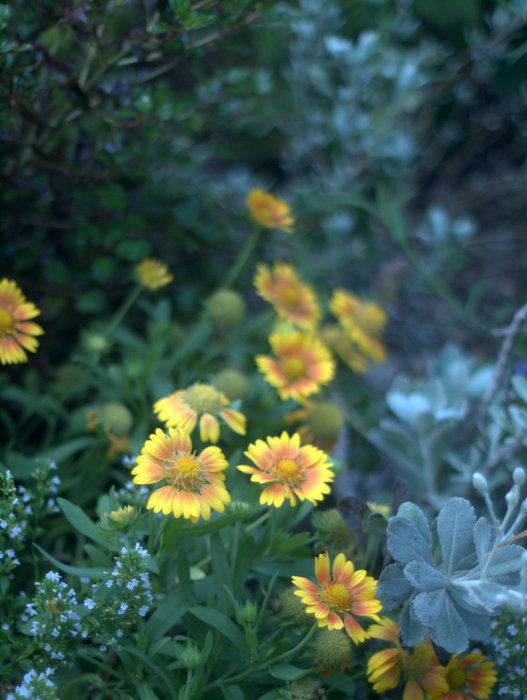 The 'Mesa Peach' gaillardias seem to be this year's answer to my craving for a low-growing summer daisy that fits in nicely among the permanently resident aloes and agaves. Similar water and light requirements, not too extravagant in summer growth size. So I went out in search for more last week to strengthen the narrative of intermittent golden clumps among succulents, shrubs and grasses to carry the garden through with some verve to November.* (Anthemis 'Susannah Mitchell' seemed like a contender in soft buttery yellow but is truthfully quite sprawly and inclined to smother neighboring plants. And the last clump died without any cuttings taking root, so that's that.)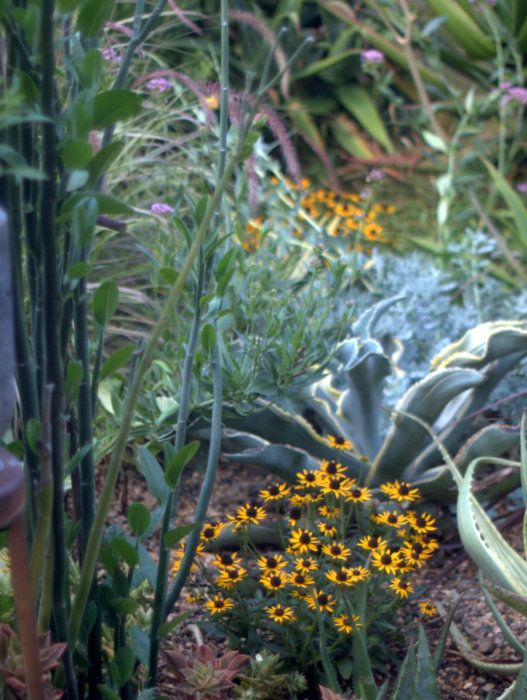 At the nurseries there were some red gaillardias available but no 'Mesa Peach.' Not the color story I wanted to tell. But there were a couple Rudbeckia 'Little Goldstar,' a dwarf selection entirely new to me. Curiosity prevailed.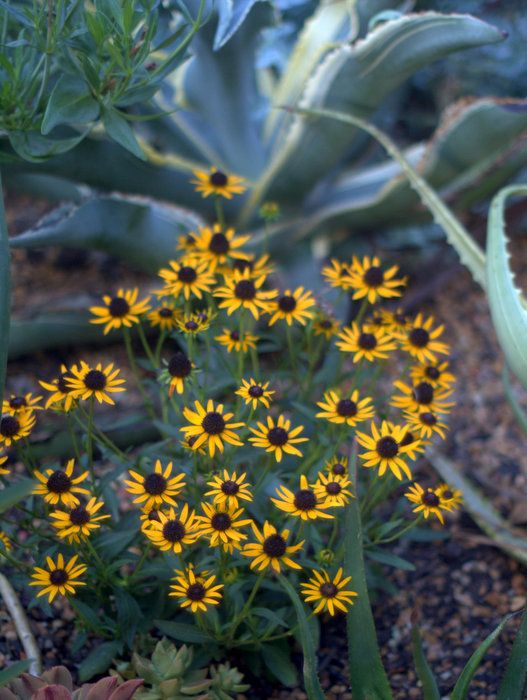 Hello, little friend! From Jelitto, propagated by tissue culture. Perfectly grown nursery plants brought home in August is the quintessential garden hack. But then August deserves a good hack, doesn't it? Fortunately, we're having a temporary reprieve as far as high temperatures, dipping into the 80s for the week, so planting now is not the complete and utter madness it would seem. We'll see if they make it to September bloom day. (And don't even think of planting stuff like Calif. natives now.)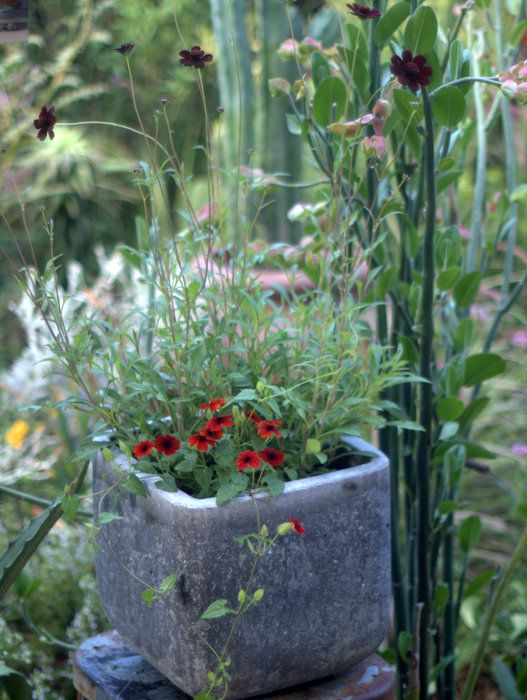 The chocolate cosmos project 2018. Too many previous failures to count, but its deep color on small, perfectly formed daisies, luscious scent and long, swaying stems never fail to incite another desperate trial. Full sun, free draining potting soil this summer. It always fails in garden soil for me. I grab them when they become available at nurseries in August.  (Edited:  Flowered until January 2019!  The pot definitely helped extend the bloom — cold, wet soil shuts this cosmos down fast.)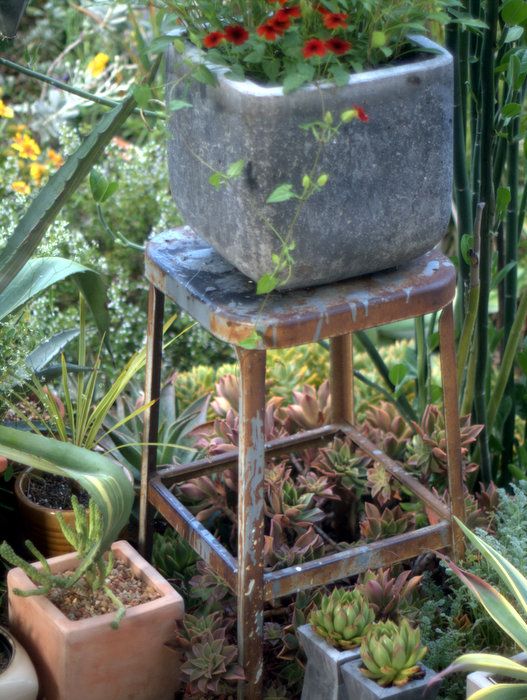 Using a metal shop stool to elevate the pot keeps the chocolate cosmos at nose and eye level and allows the dark red thunbergia, possibly 'Arizona Dark Red,' to spill down the sides. No aeoniums were harmed in the making of this project.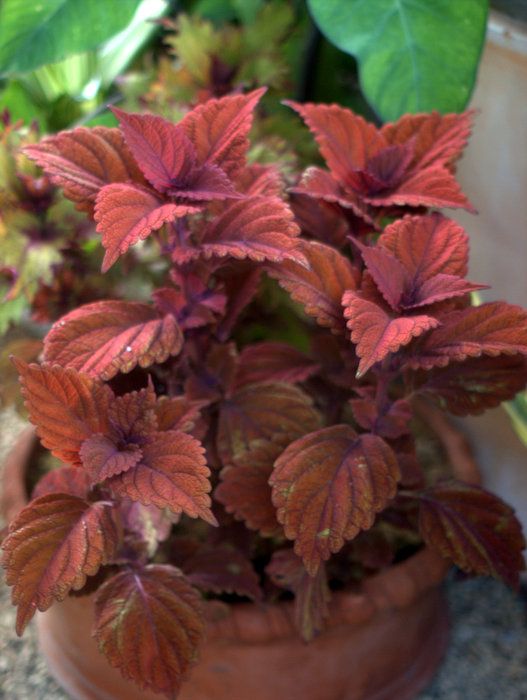 Coleus 'Inferno' and 'Henna' were also brought home. Above is 'Inferno.'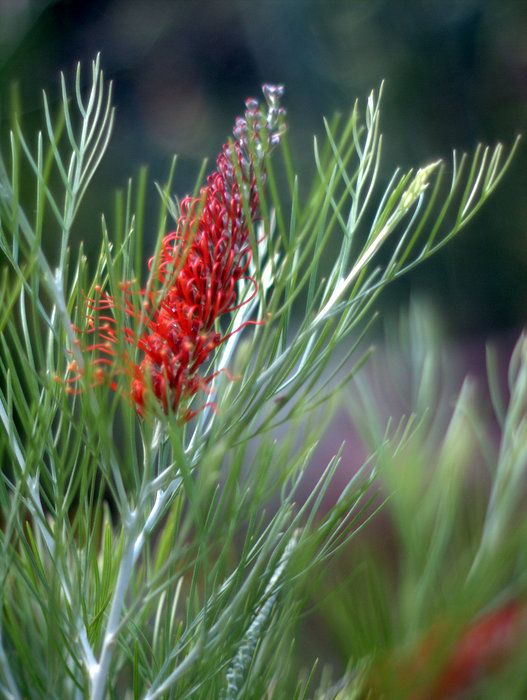 The grevilleas are now the ever-blooming anchor plants of the garden, both 'Moonlight' and this one, 'King's Fire.'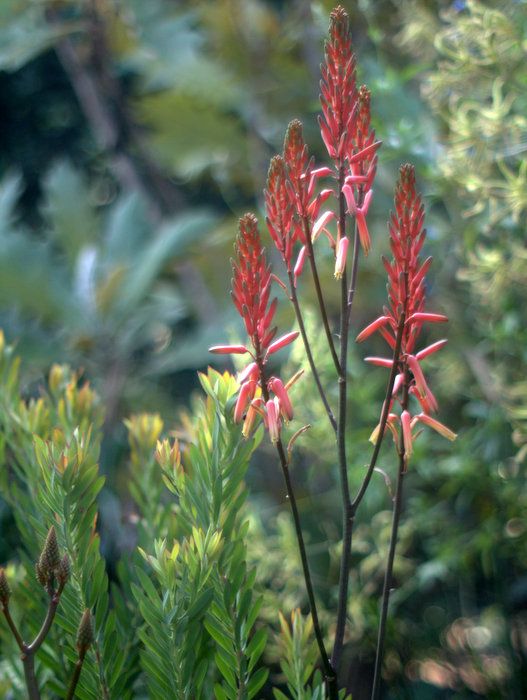 Aloe elgonica is joining in with other summer-blooming aloes.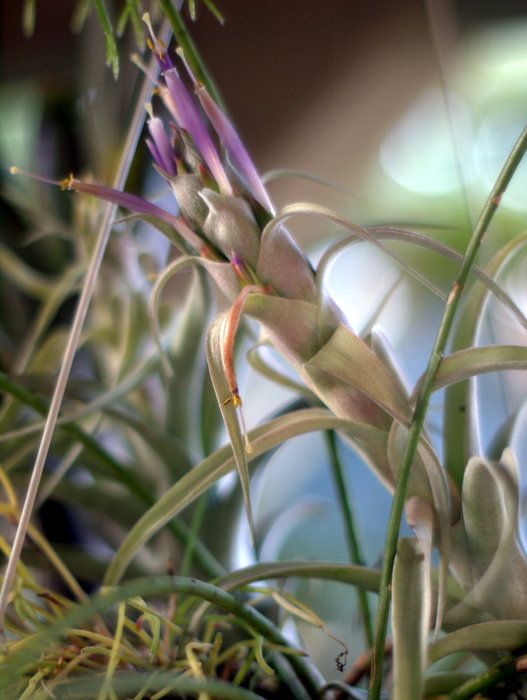 Lots of tillandsias sending out blooms.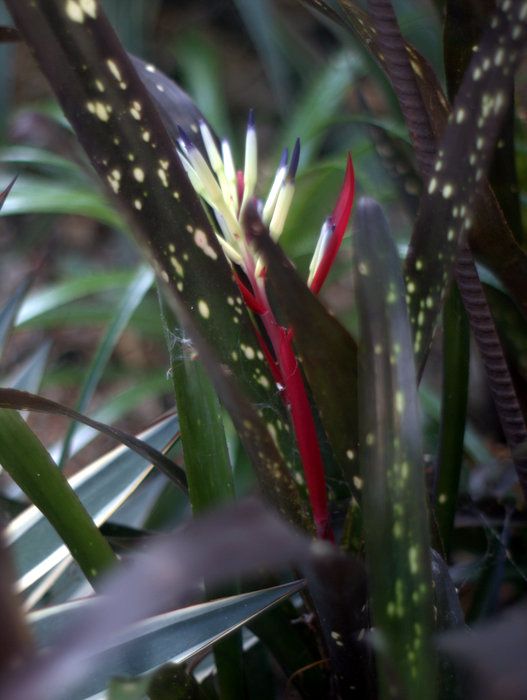 Several Bilbergia 'Hallelujah' are in bloom.
As with last month's report, solanum, salvia, anigozanthos, verbena, abutilon, valerian, leonotis, calamint, gomphrena are all still in bloom. Garden bloggers can file their bloom day reports on the 15th of every month with May Dreams Gardens.
*Succession planting –keeping the pace going and filling gaps in the garden until the end of the season, and we have a long if very dry growing season here in zone 10 — is more associated with vegetable gardening in the U.S. but also has vast ornamental implications. One of its most famous examples is the garden at Great Dixter, pioneered by Christopher Lloyd, powering on under Fergus Garrett. Lloyd's book published in 2005 "Succession Planting for Year-Round Pleasure" lays out the general principles and is worth a read if you're interested in this subject. Basically, it's geared to hard-core plant lovers. And, obviously, the size of your garden, length of growing season, climate and rainfall play into how effectively one can exploit these ideas, but even just adding a pot of chocolate cosmos to the August garden or plugging in some rudbeckia among succulents falls under the umbrella of succession planting. Bloggers at The Lower Left Corner and Digging have each just returned from separate visits to Great Dixter and have photos with vivid examples of the results of this intensive, unflagging style of planting that leaves little ground uncovered.