This is what's on my radar this spring. I'm also going to include these dates in "Dates to Remember" under the masthead for ease of reference and will be updating throughout the spring and summer. Let me know if there's an event that shouldn't be missed and I'll be sure to include it.
March 15, 2019, 11:30 a.m. to 1 p.m., landscape designer and ceramicist Dustin Gimbel will speak on "Sculpture and Modernism" at the Sherman Library and Gardens (if you missed Dustin's talk during Modernism Week, now's your chance to catch up with him locally — and he's bringing a selection of his ceramics for sale after the talk.) 2647 East Coast Highway, Corona del Mar, CA 92625
March 17, 2019, The Desert Horticulture Society of the Coachella Valley 14th Annual Garden Tour, 12 p.m., 1943 E Sandalwood Dr, Palm Springs, CA 92262. Self-guided
March 19, 2019, 1-4 p.m., APLD Greater Los Angeles and Pacific Horticulture present Nigel Dunnett at the Huntington Library & Botanical Gardens, Ahmanson Room
March 21-24, 2019, San Francisco Flower & Garden Show, Cal Expo, Pavilion Building, 1600 Exposition Blvd., Sacramento, CA 95815
April 6-7, 2019, 10 a.m. to 5 p.m., 16th Annual Theodore Payne Native Plant Garden Tour
April 13, 2019, UC Santa Cruz Arboretum & Botanic Garden Spring Plant Sale — check website for updated details
April 13, 2019, 9 a.m. to 4 p.m., APLD S.E.E. Garden Tour, order tickets here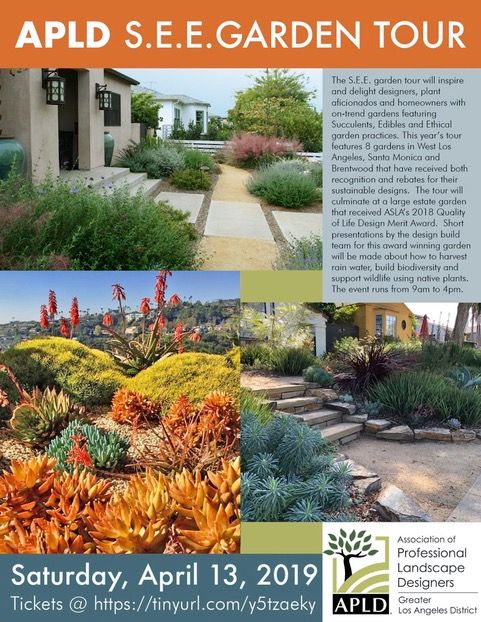 April 25-28, 2019, 30th Annual Southern California Spring Garden Show "At Home in the Garden," 3333 Bear Street, Costa Mesa , CA 92626
April 27, 2019, 9 a.m. to 4 p.m., San Diego Horticultural Society Spring Garden Tour
April 27, 2019, 1-5 p.m., Huntington Botanical Garden's Annual Spring Plant Sale, (open to members Friday, April 26, and April 27 til 1 p.m.)
May 4-5, 2019, Mary Lou Heard Memorial Garden Tour
May 5, 2019, Los Angeles, Garden Conservancy Open Days — check website for updated details
You should also be checking in with Gardening in LA for a comprehensive list of local events.