I love massing one kind of echeveria in pots and letting them multiply like crazy. Echeveria lilacina has completely filled in at the base of the shaving brush tree, Pseudobombax ellipticum. One E. liliacina in bloom is a novelty; over a dozen in bloom is an event.
I instagrammed the blooming echeveria and was asked about the tree. Which got me wondering about the age of the shaving brush tree, which led me to this post "Back on the Home Front" in July 2014. (The tree bloomed this year, an event also noted on Instagram.) I'm still unsure about the exact age of the tree, now with an over 8-foot trunk, but the earliest entry I could find was 2014. Looking at the rest of the post, July 2014 struck me as a fairly ambitious month in the garden, a time when I was working on more color for summer, whereas the 2019 garden has grown shrubbier, with more aloes and agaves grown among sesleria and horned poppies/glaucium. And since I often feel that followup on all the plants I talk about over the years can be somewhat inconsistent, it seemed like a good opportunity to revisit some of the plants grown in July 2014. Where are they now?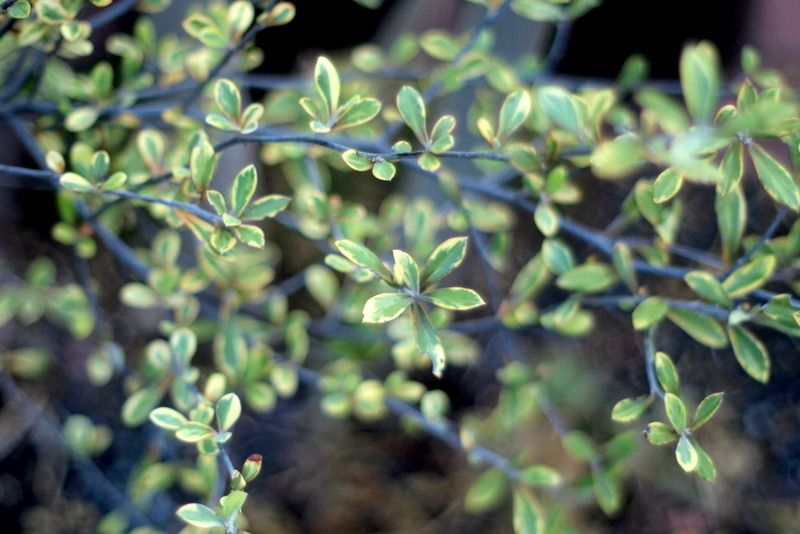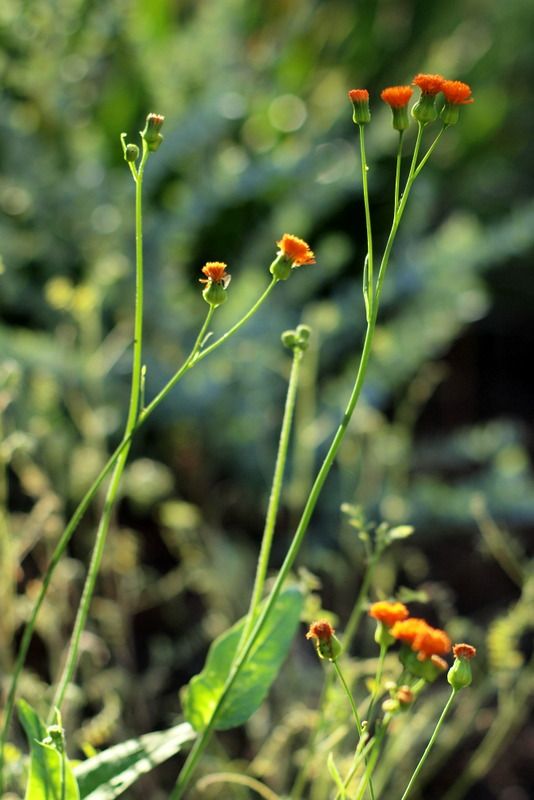 Looking at the July 2014 post, this is a partial list of the plants no longer in the garden July 2019. Others are discussed under their photos. Not a comprehensive discussion, just some highlights:
Musschia wollastonii is monocarpic, one and done. A really fun plant to grow, but needs a big pot and consistent moisture to bring to bloom.
Emilia javanica 'Irish Poet' reseeded for a few years and I'd love to bring this tassel-headed charmer back to the garden. Takes up no space and doesn't mind it on the dry side.
Cussonia gamtoosensis was fabulous while it lasted. It grew into a sizable 12-foot tree sandwiched between the bocconia and Grevillea 'Moonlight' but became increasingly destabilized and lost root purchase, lurched forward and had to be removed. I'd grow another one in a pot in a heartbeat if I could find it. I really feel it's the most beautiful of the cabbage trees. Remaining potted cussonias include spicata, paniculata, and natalensis.
Corokia virgata 'Sunsplash' is another great plant currently not in the garden. A bright light in the dry garden, great in pots or in the ground. Always welcome here.
Pennisetum 'Sky Rocket' — boy, do I cycle through the grasses, but it wouldn't be summer without them. Individual drawbacks are chiefly the speed of growth and quickness to girth. 'Sky Rocket,' a sterile selection, was too much for a small, crowded garden, but it's a stellar grass all the same and made a big impact in one year's growth, unlike the summer 2019 class (Miscanthus transmorrisonensis, Miscanthus 'Silver Sceptre') — I miss the oaty, arching plumes of pennisetums, but they do require a strong back to maintain them.
Gomphrena 'Fireworks' is perennial here and does reseed but was crowded out and didn't make a reappearance this summer. I like it but decided not to bring in new plants this year. The effect is like having alliums all summer but in a shrubby form. Self-sown nicotianas took up a lot of their real estate.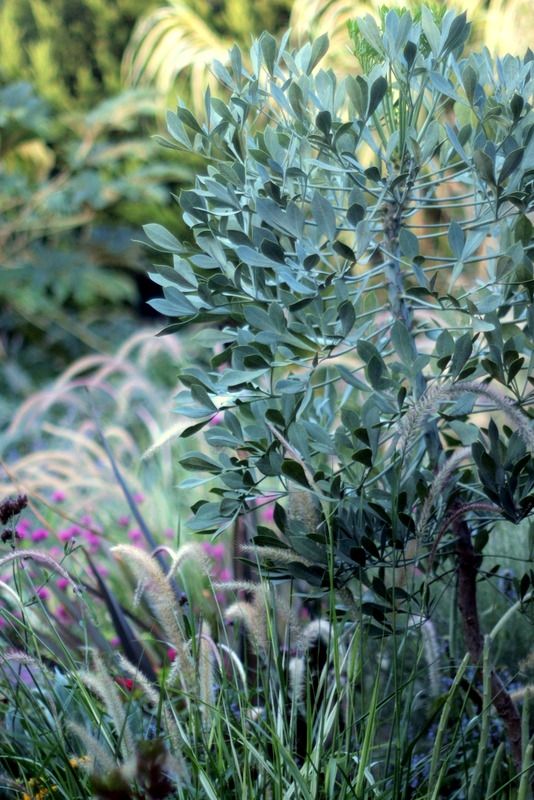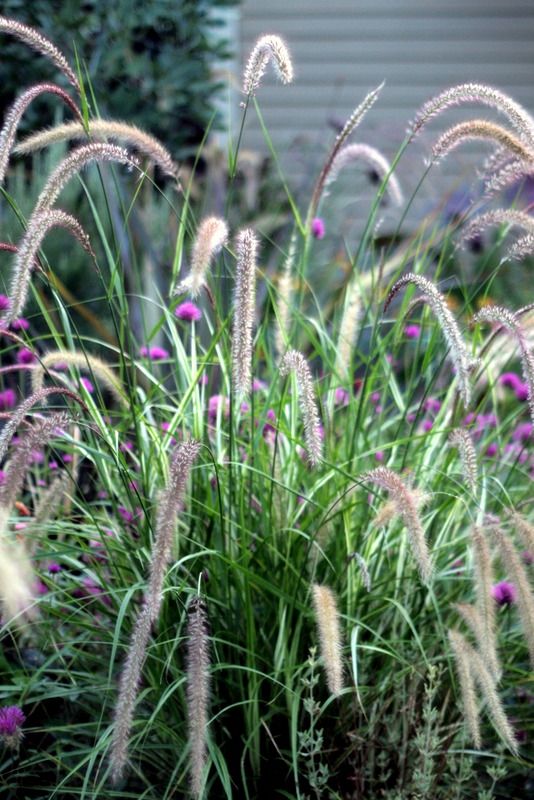 I'm pretty sure I'm on my second Leucadendron 'Ebony' since 2014. And the sideritis proved to be a little touchy in the amended clay of the back garden. I haven't brought any more in recently since they do tend to collapse, but I did find a seedling in a graveled area the other day. (A good silver has unexpectedly turned out to be the dwarf selection of a native buckwheat, Eriogonum giganteum var. compactum, now blooming in its second year.) As far as replacing the sideritis with some Cobweb Thistle in 2014, coincidentally, I recently planted a couple Cirsium occidentale in the front gravel garden, where they'll get much better air movement and leaner soil. What a merry-go-round.
I haven't grown the tall strains of marigolds much either. I've been avoiding planting annuals in the garden itself, which increases the need for supplemental irrigation, and mostly confine annuals and bulbs to pots. But there's no reason I couldn't grow these marigolds in containers too, so maybe next summer…I've taken a break from trialing agastaches too. There just isn't enough elbow room and air flow now.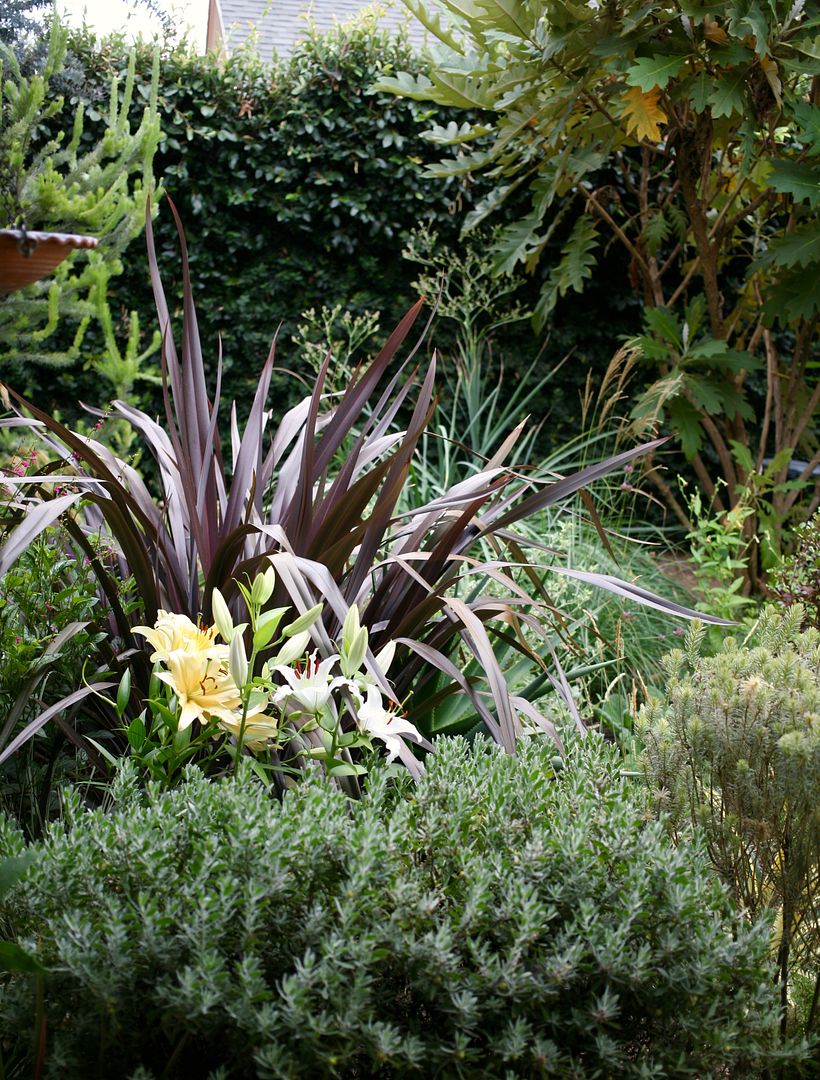 In its second year in 2014, this eryngium was still situated close to the pergola, the serrated leaves scratching our feet. The current plant is a seedling from the one grown in 2014, and the blooms strike me as smaller and paler. The leafy growth is substantial and makes an enormous clump at least 4 feet across, and even now that it's an unquestionably mature plant in 2019, it only throws a couple of bloom stalks, which may be why it isn't more frequently seen or talked about. It might be a more prolific bloomer in wetter conditions. I doubt I'd get anything else established in that dry, root-infested strip near the back wall, so it stays. I've kind of bonded with it but can't unreservedly recommend it for small gardens. Both those lilies, btw, were mislabeled. One was supposedly the trumpet 'African Queen' and the other a dark red — which turned out to be white. I prefer intense, saturated colors for summer bulbs and annuals, but at least these lilies have that incredible scent.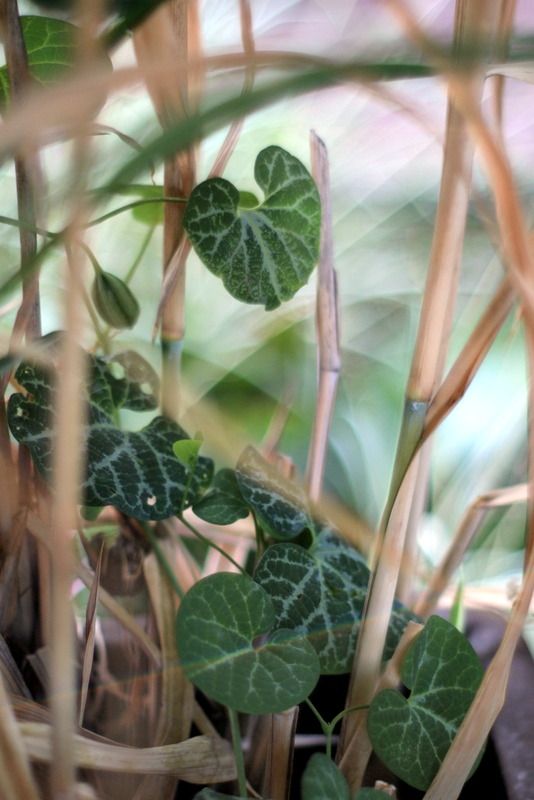 This little aristolochia is still defying the odds in a crowded garden and returning every year. I keep meaning to pot it up and give it some love — because I bet it transforms from an interesting survivor into a thing of beauty.
I had high hopes for Rudbeckia triloba, but it needed much more frequent irrigation.
All this ground level busy-ness has shifted to an emphasis on height and bulk, seen below, from bocconia and Grevillea 'Moonlight'. No longer in the garden, the 'Crocodile' pelargonium with the gold-fretted leaves is always worth growing but hard to find. Yucca 'Blue Boy' on the left has expanded into a colony. The kangaroo paws still bloom every year (!!) The aeonium has been moved elsewhere, and that Variegated Hemp Agave (Agave sisalana forma medio-picta) is now in Mitch's garden. The Crambe maritima made sprawling leafy growth and never bloomed, which isn't such a bad bargain but I've always wanted to see those incredible nubby seedheads, and it just wasn't going to happen here. The increasing shade became problematic too. The castor bean 'New Zealand Purple' still reseeds, with the seedlings moved to more sun. The variegated St. Augustine's grass has been moved under the fernleaf acacia. Basically, this sunny patch has been transformed into the shady understory of Grevillea 'Moonlight.' Agaves 'Mateo' and 'Snow Glow' don't seem to mind the filtered sun, but I may move 'Snow Glow' in fall. Bilbergia 'Hallelujah' thrives here too.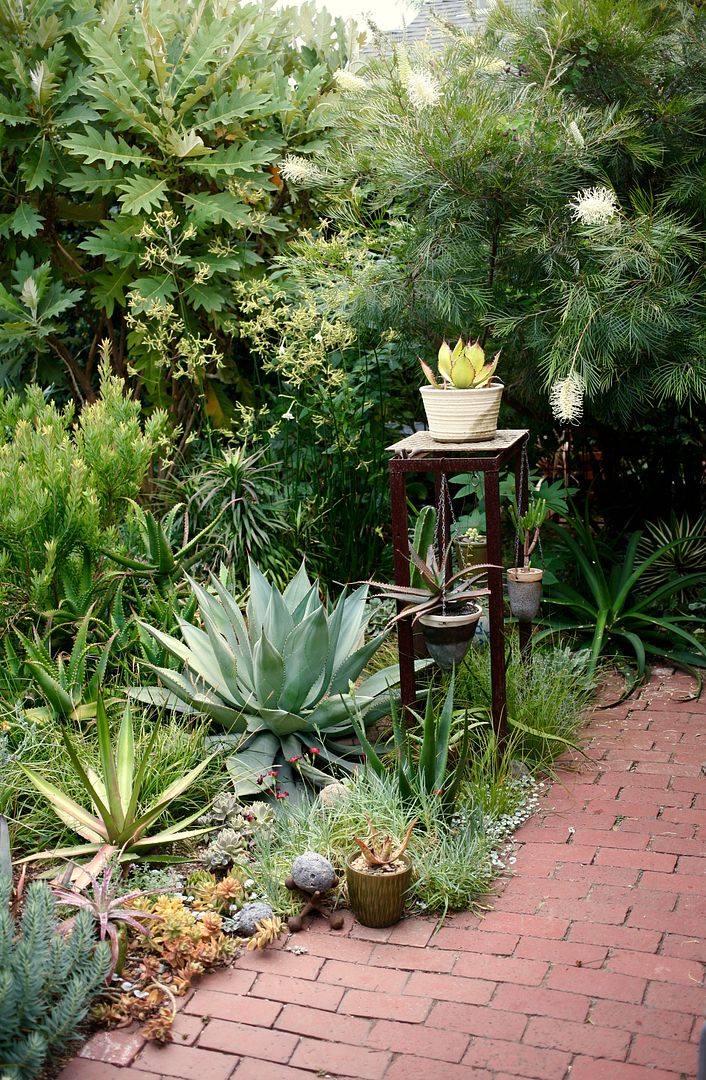 In the graveled area under the metal stand grow succulents, mangaves, with Carex testacea reseeding throughout, an effect I enthusiastically endorse.
What can I say? I knew the mint bushes were short-lived (prostanthera), but I expected more longevity from Eucalyptus 'Moon Lagoon.' What a beauty while it lasted.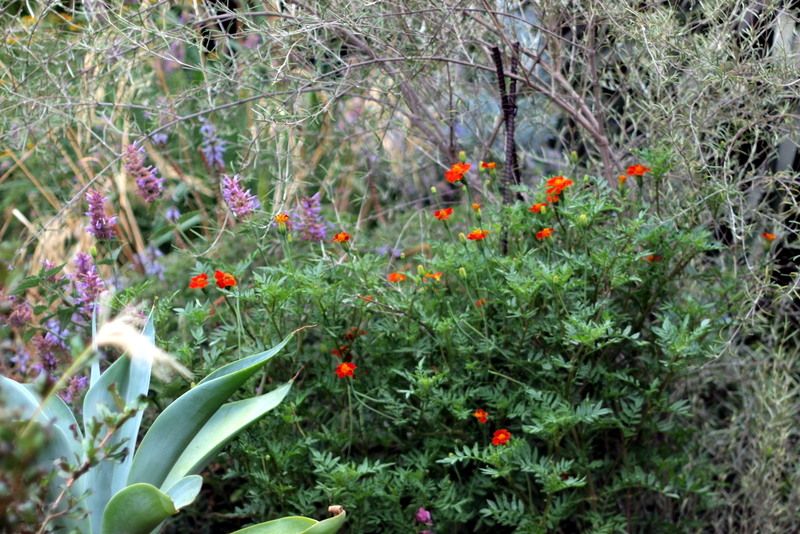 Agave 'Boutin's Blue' is now much happier in the shady front garden, growing under the triangle palm with Fatsia 'Spider Web.' The olearia is an interesting shrub for larger gardens maybe, but was sprawly and whippy here, requiring increasingly more pruning so was ultimately pulled.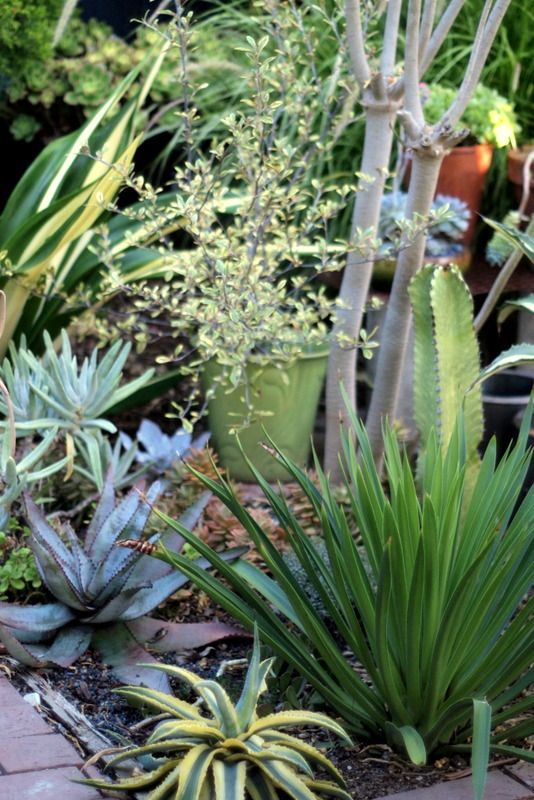 Scale really love to throttle beschorneria in my garden, and this beautiful clump was killed off by them after blooming. Agave 'Cornelius' has been moved to a pot. I think the trunks probably belong to Euphorbia lambii, which is a terrible reseeder here, but still I miss having a big specimen around. This Aloe capitata x quartzicola either died or was moved. The current one is much happier in full sun. The Euphorbia ammak is growing in a pot in full sun, over 6 feet tall now. The furcraea became increasingly shaded by the lemon cypresses and remorseless scale moved in, so it was removed.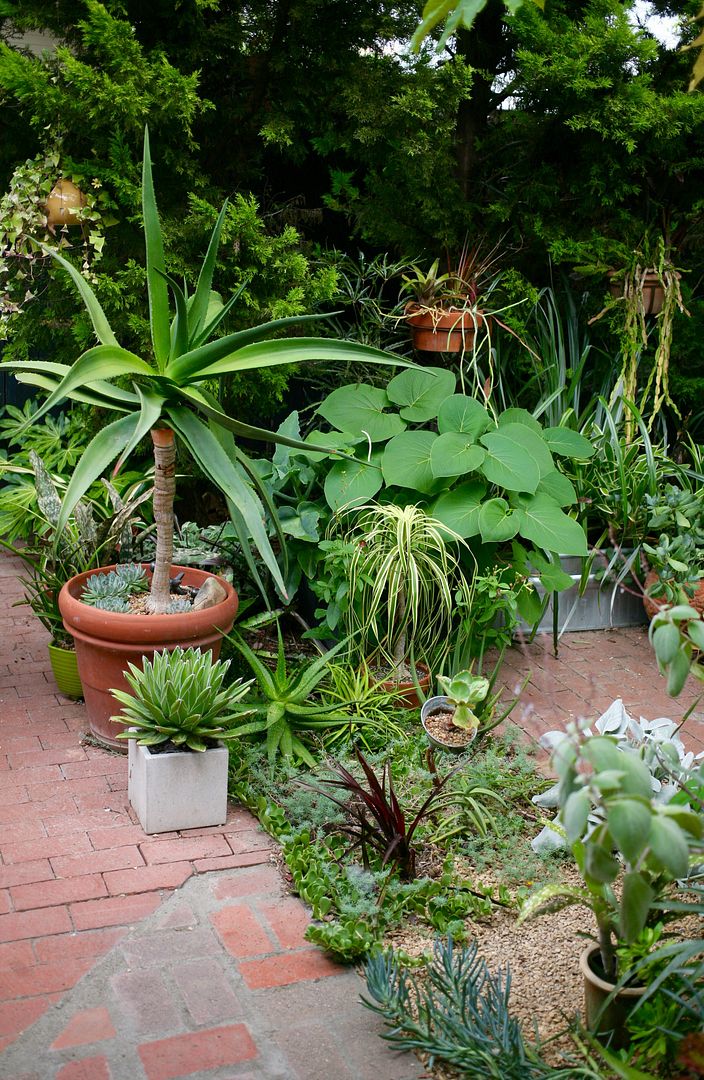 The little strip currently is occupied by small succulents, bromeliads, Aloe wickensii, with the trailing jade Senecio jacobensii nicely performing ground cover duties. The potted tree aloe 'Goliath' has recovered from a bout of mites but is constantly under attack from aphids in the tight interstices between leaves. Frequent Safer's soap spraying prevents severe infestations.
Pink trumpets belong to Sinningia 'Invasion Force' dangling over Beschorneria 'Flamingo Glow,' planted a few days ago. Newest member of the class of July 2019! And I'd love to try some argemone species from seed for next summer's class of 2020…