Maybe your local newspaper was following this story. Possibly the breaking Wikileaks news edged it off the front page. Now that Bunny and Peter have been rescued, I can exhale and indulge in some flippancy, but make no mistake, for the two days they were missing, a gloom was cast over our household.
And the gates were locked ever since the newspaper advised residents to "Be on the lookout for these dogs," dogs that look a lot like this one.
Distressed as we were over the lost dogs, we were also worried an overzealous bounty hunter might mistake our Ein for the kidnapped corgis.
(Some of you anime fans may remember our dog's namesake, the corgi Ein, as the boon canine companion and "data dog" of those interstellar misfits and bounty hunters in Cowboy Bebop.)
We tried to hide the news as best we could, but we could tell he was anxious.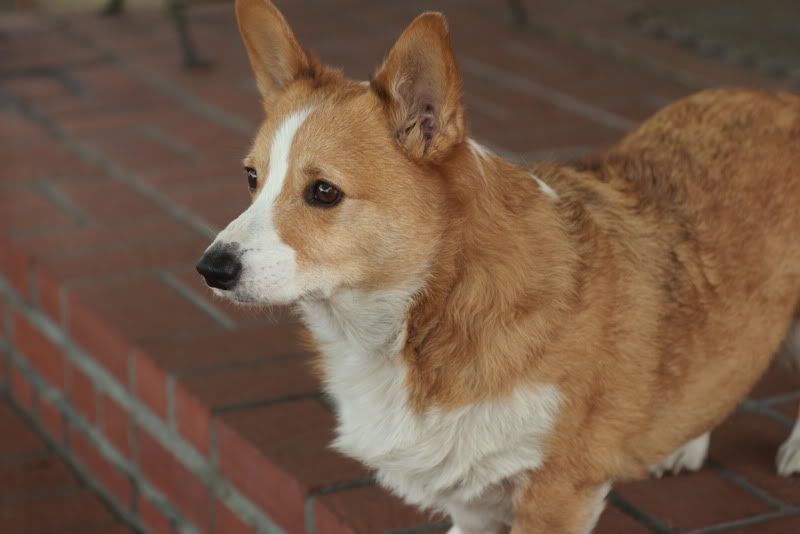 Sure, his nerves of steel steadied him, but the strain was beginning to crack through that courageously stoic, Buster-Keaton facade.
(Note chew marks on legs.)
Welcome home, Peter and Bunny, and congratulations to Peter, unfazed by the ordeal, going on to win best in his class at the Los Encinos Kennel Club Dog Show in Long Beach yesterday. Nice fortitude, Peter! And good luck to Peter and Bunny in the AKC/Eukanuba National Championship this weekend.
(Recent purchase of Aloe peglerae doing paperweight duty for the good news "Stolen Dogs Recovered.")
Stand down, boy. They're safe.