My memory of the name of this agave planted years ago in the front garden went as far as guada-something. Easy enough to plug in a partial search string, right? Yet searches always narrowed down to the most likely suspect, Agave guadalajarana, with the images never quite matching when compared to my agave, so it remained a mystery. This morning's search brought up the fact that the mature agave looks vastly different from the juvenile, something I'd never read before. The online photos were of the juvenile form, which lacked the slim, blue leaves of mine.
Distinction noted. Now we're talking. (Thanks for the ID, Cactus Art Nursery.)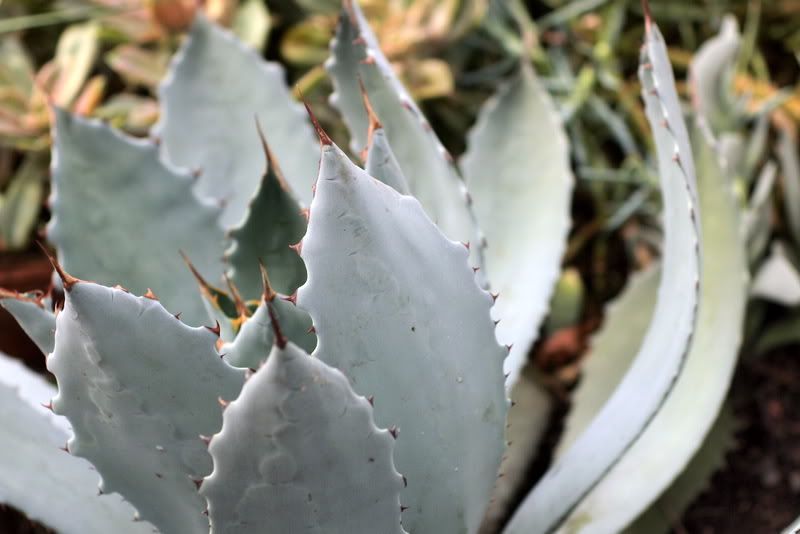 I really need to splurge on a good reference for agaves and the woody lily family in general. I counted the agaves in the front garden this morning. 18 in the ground, a few more in pots. Some of them still remain mysteries to me. Most of the agaves in the ground started out years ago as specimens for pots, became too large, then were planted out in the garden. A. guadalajarana probably looked like a different agave when first planted in the garden years ago. Has never suckered or produced pups either.
Identifying A. guadalajarana this morning had a peculiarly energizing effect on me. He's been swamped by a 'Sunburst' aeonium…
and an Agave geminiflora planted too close, both leaning in on him, deforming his silhouette. The A. geminiflora's wonderful sea-urchin symmetry was being ruined as well, and something needed to be done — but remained undone, oh, for about the past year.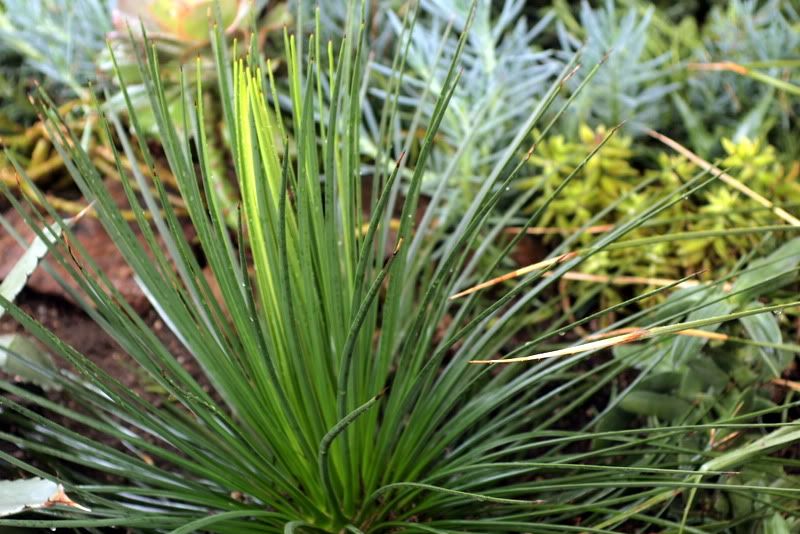 All of these photos were taken after the plants were moved this morning. I was too ashamed to take "before" photos, but this photo I had previously posted on the blog (seventh from the top) shows a happier time, before the throttling and deformation began. Planting close is a terrible, shameful habit of mine, stemming partly from sheer plant greed, of course. But also from a disbelief that anything will thrive and increase to an unmanageable size. Kind of foolish considering I was born and raised in zone 10.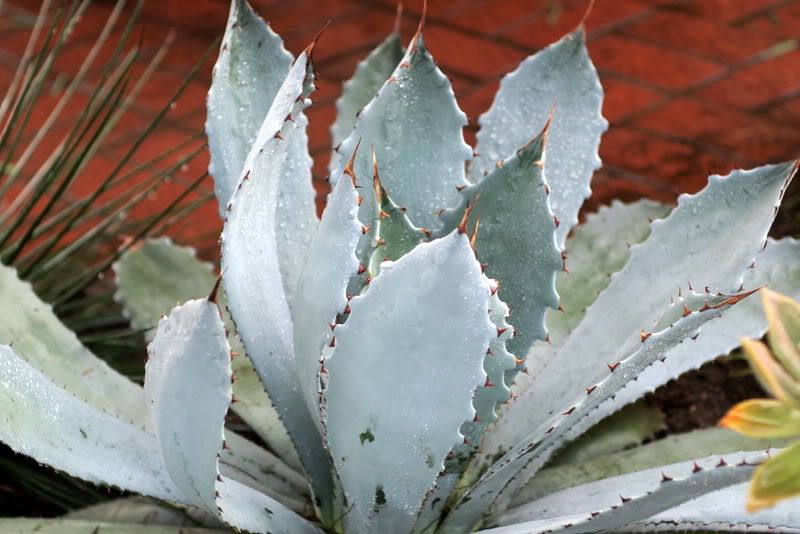 Also shown in the archive photo is the bank of Senecio vitalis behind A. guadalajarana that was removed this morning, which brings up a handy rule of thumb: Consider yourself warned when any plant carries the word "vital" in its name. A large clump of Senecio vitalis was left at the far end as a buttress to protect less vigorous plants from foot and paw traffic. It's seen in the foreground in this photo protecting the barely visible Agave desmettiana 'Variegata.' I still love this shrubby senecio and wish I had much more room to give it.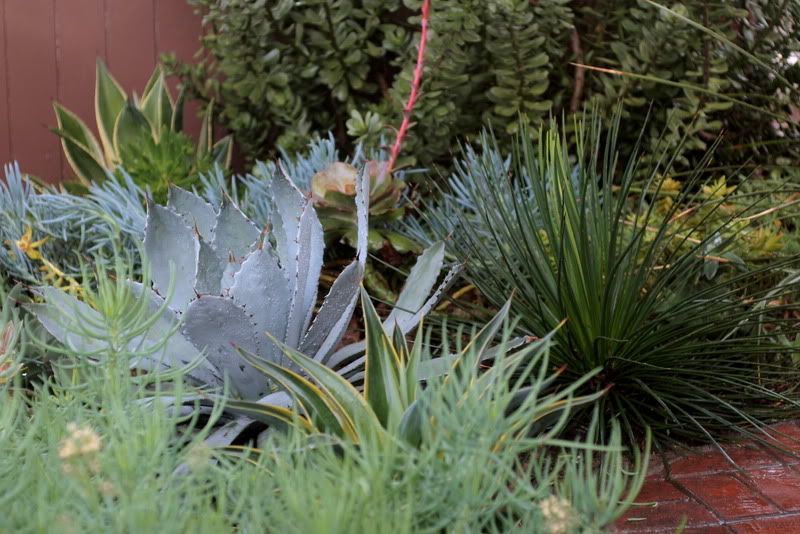 The agave against the fence is A. celsii 'Multicolor.'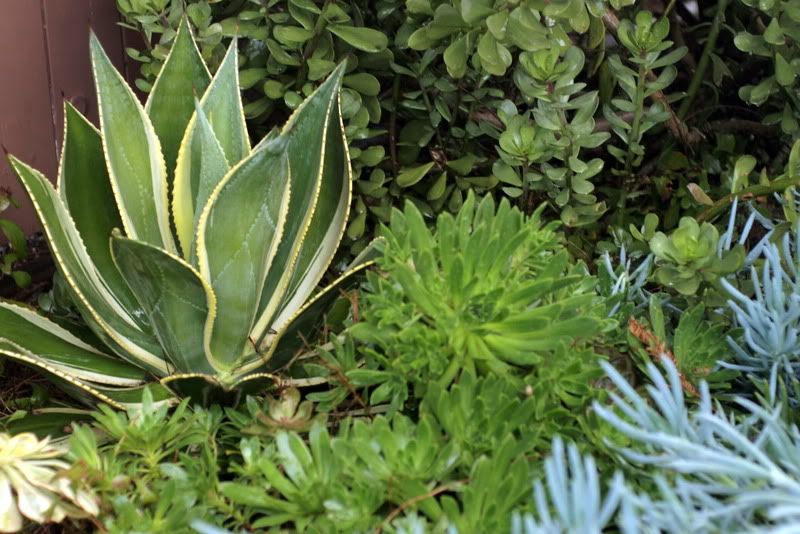 The A. geminiflora was a bear to move, and for a moment it seemed I'd been bested by its roots and that one agave would have to be sacrificed to save the other. The realization caused a pang — typically, only briefly. There was a large reserve A. geminiflora in a pot in the back garden. A pot I'd rather not water so frequently anyway, which could be tucked into the spot I had in mind, just a few feet from where this one was being violently wrenched out of the ground. I like to place the slim-needled agaves next to chunkier-leaved kinds, so intended to shift the A. geminiflora just a few feet over. In the end, the A. geminiflora was pried out with a good rootball, the final tug requiring an extra pair of hands. The force when it let go threw me into Graptoveria 'Fred Ives,' the pink succulent shown below with Senecio mandraliscae. (Not too much damage.)
The agaves are probably still planted too close by most gardeners' standards, but at least they are no longer crossing swords, as it were.
And it feels like there's a brand-new agave in the garden.