All succulents can be described as fleshy to some degree, but this kalanchoe is positively indecent, a real fleshpot. A tall, upright succulent to 3 feet.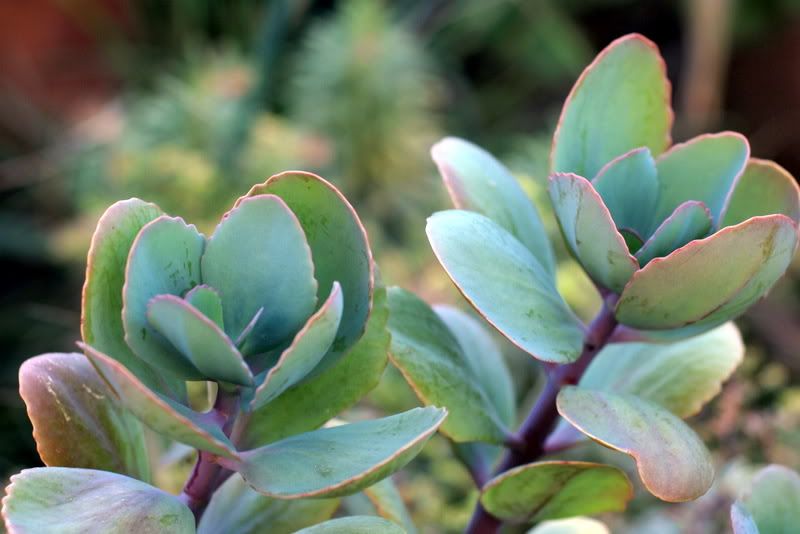 How to describe the color? There actually exists a means to describe the complex coloring of this kalanchoe's leaves in one word: Peachblow.
"Of the delicate purplish pink color likened to that of peach blooms; – applied esp. to a Chinese porcelain, small specimens of which bring great prices in the Western countries."
Turquoise leaves suffused with peachblow. The peachblow will most likely not be as pronounced in summer as with winter temperatures.
I circled around this kalanchoe at California Cactus Center last week, repeatedly tried to walk away, then finally plunged in, carefully stepping through the surrounding pots bristling with spines and spears, grabbed it, and headed directly to the counter before I could change my mind again. Trying to keep a top-heavy, brittle-stemmed succulent upright while driving could probably be added to the list of dangerous activities to avoid at freeway speeds, but way down the list below texting. Possibly similar to having a boisterous pet in the car, though.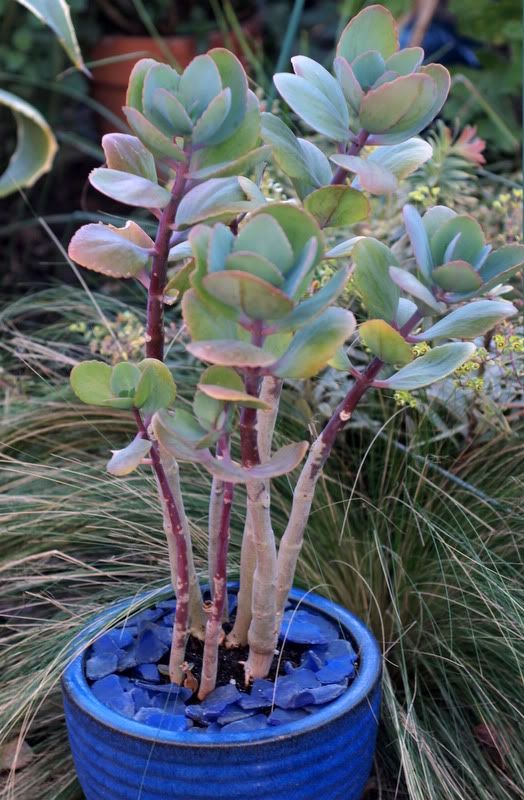 San Marcos Growers says its yellow flowers are not reliably produced every spring. (With leaves like that, I think I can bear the disappointment.) SMG's entry on this succulent includes a charming theory for the etiology of the naming of the genus kalanchoe: "The name Kalanchoe is somewhat of a mystery – there is some thought that it comes from a phonetic transcription of the Chinese words "Kalan Chauhuy" meaning that which falls and grows, likely in reference to the plantlets that drop from many of the species, but others believe it from the ancient Indian words "kalanka" meaning spot or rust and "chaya" meaning glossy in reference to the reddish glossy leaves of the Indian species K. laciniata." SMG also notes that K. grandiflora is often confused with K. marmorata, another fleshpot but with maroon spots.
My Hortus Third helpfully informs that "The name is pronounced with four syllables." Kal-an-cho-e.