Euphorbia 'Diamond Frost' is capable of an exceptionally long season in zone 10, basically year-round.
And not just spitting out a few blooms, but flourishing.
A cultivar of E. hypericifolia, it is a true perennial here in zone 10. Extremely drought tolerant and handles my heavy clay soil well. In colder zones, it has become a go-to component of summer container schemes, quite an amazing step up for a common U.S. weed known by such names as Black Purslane, Milk Purslane, Eye-Bright. (I can't imagine how any euphorbia with its irritating sap could earn a moniker like "Eye-Bright." unless red eyes are considered bright.)
Not much to look at up close, EDF is all about supporting the team. It has never self-sown in my garden. In fact, there is very little information available on starting it from seed. As far as I can tell, unless gardeners in colder zones take cuttings, new plants must be purchased each year (the perfect trademark plant!) Last year I trialed a new cultivar with bronzy leaves, 'Breathless Blush, a complete nonstarter, in my garden at least.
While EDF froths and foams year-round, Euphorbia rigida is on the typical euphorbia calendar, beginning bloom late winter/early spring in zone 10.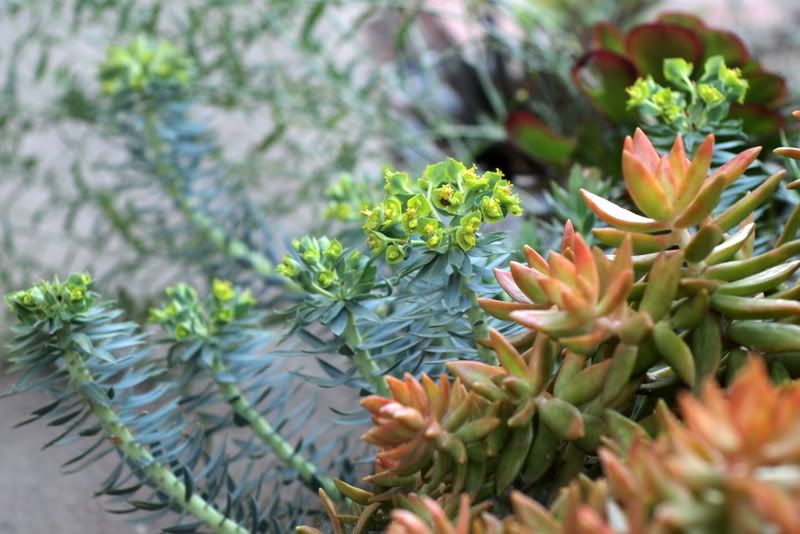 In summer EDF's growth is more dense, more floriferous,, but the open ground of winter provides enough elbow room for this little euphorbia to cleverly hike itself up amongst these plants to grab its share of winter sunshine. (Amicia zygomeris, phlomis, salvia, and prostrantherum.) I admire plants that show initiative like that.