In small gardens, a few feet of ground mean everything. This is not whining, merely observation. (Gardens, unfortunately, never respond to whining, but only to cold, clear-eyed observation.) I had some blue intentions for spring for the main garden border in back, which were necessarily whittled down to a couple 4-inch pots of the alkanet Anchusa capensis 'Blue Angel,' brought home a week ago, a tough plant for this sunny bit of garden that will tolerate dryish conditions. This alkanet will grow to about a foot. I grew one of the larger alkanets a couple summers ago, Anchusa azurea, hoping to get it to reseed. Nothing so far. I love typing that word, alkanet. Thank goodness I have no more children to name, or they could be saddled with the nickname "Alkie." Great name for a pet, though. Borage is a friendly word too. These anchusas are members of the Boraginaceae.
Like echiums and brunnera, anchusa also goes by the common name bugloss, glossa Greek for "tongue," as in tongue-shaped leaves, which can't possibly apply to the heart-shaped leaves of brunnera, but all three do have blue flowers in common. (Bugloss would not be such a good name, for child or pet.)
Here's the little charmer, Anchusa capensis, unbranched and still a little dumpy.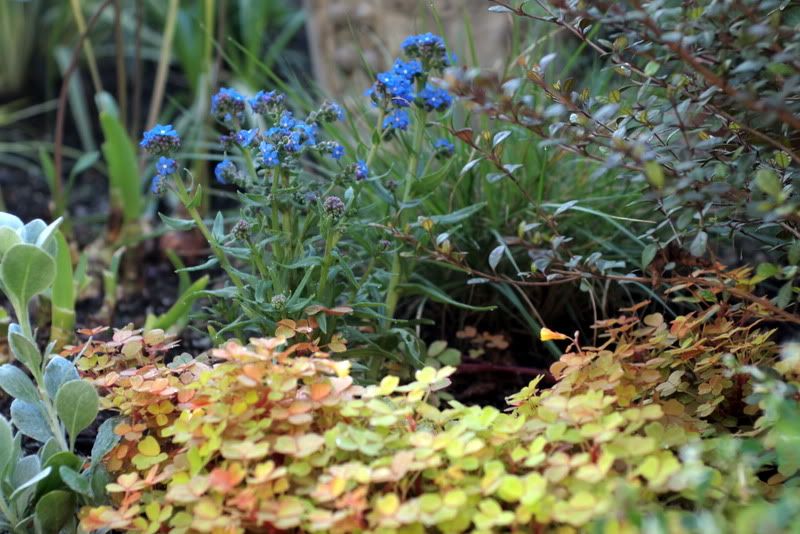 Finding a spot for these two alkanets amongst the kniphofias and grasses for summer and amongst the shrubs I love for winter was a squeeze.
But seeing their energizing effect on the spring greens and bright golds of the garden brought about the bitter realization that a couple more splashes of blue would be far superior to this piddly compromise of just two.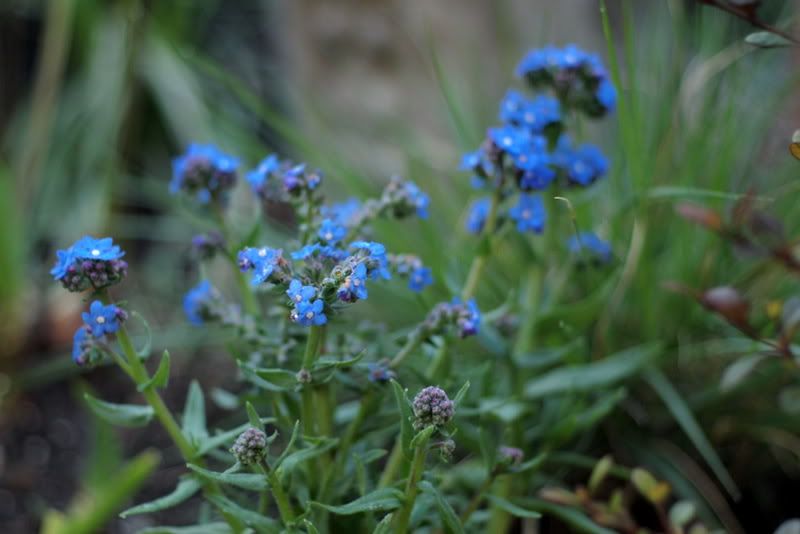 And since there was not a bit of ground left to plant, a bitter compromise it remained until today, when a large clay pot of this Lobelia valida I've had for over a year was discovered to be budding up amongst a group of pots and in strong growth after a recent rains. (Such a group of potted plants in reserve is sometimes affectionately referred to as the "pot ghetto.") I bought my lobelia locally, but Annie's Annuals sometimes carries it.
All winter the lobelia looked most unpromising, leaves yellowing, which is why unfamiliar plants now spend some time in the pot ghetto first, to suss out strengths and weaknesses, an invaluable strategy for small gardens. No more taking a chance on losing a whole season by including plants with no intention of joining in the summer festivities or that become exhausted by the briefest of appearances. Gardeners must be skeptics. Catalogues can deceive (sometimes unintentionally).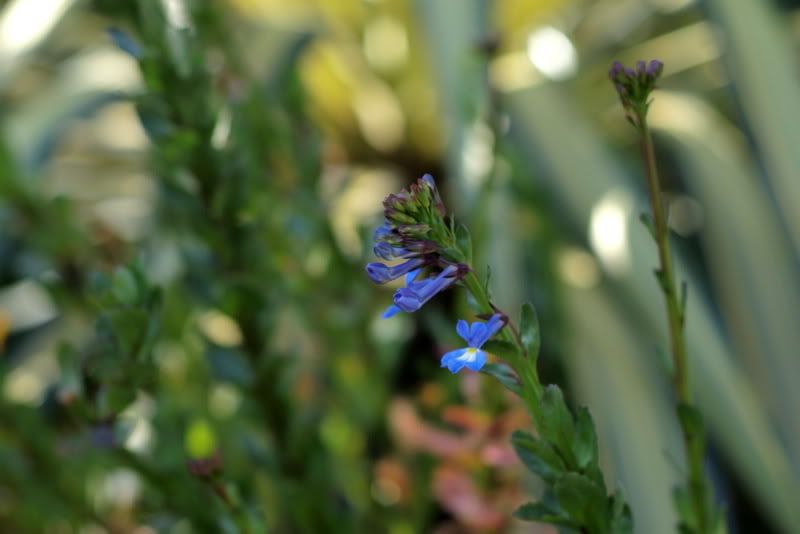 So this potted lobelia from South Africa, bursting with newfound vigor, was transported to a position on the brick patio, directly in front of the variegated yucca, to make a threesome of blue, just to the right and in front of the little alkanets growing behind in the garden. This kind of synergy between pots on the patio and the garden behind is constantly exploited, a great ploy for the small garden. The lobelia may be inclined to bloom for only a few weeks, in which case it gets whisked back to the pot ghetto. Seeded into the bricks spilling around the pot and nearly hiding it is some Haloragis erecta that's often sold as 'Wellington Bronze,' a compelling reason on its own to add some blue nearby.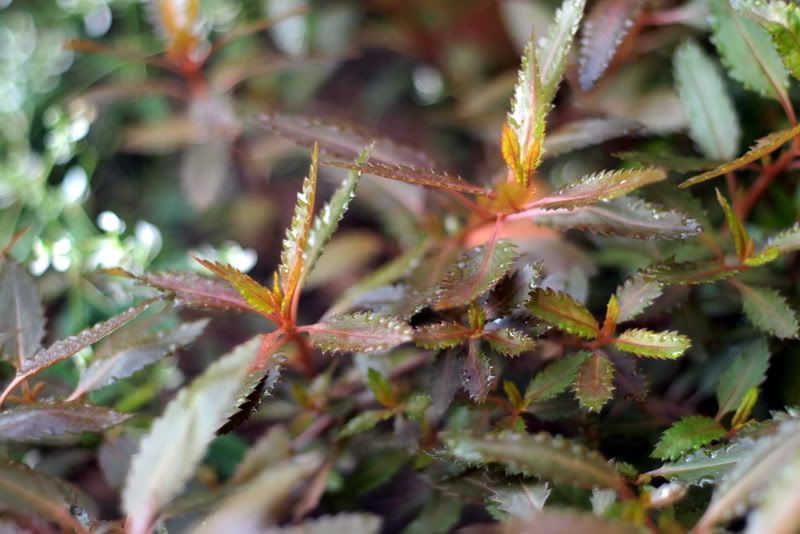 The eye now satisfyingly ricochets from one, two, three pools of blue, the third one deep in the garden bed.
(Taking a brief moment to recite the gardener's prayer, most effective when chanted while flinging handfuls of bone meal: Please grow and thrive.)
That three-or-five rule for flowering plants can seem so tyrannical in a small garden, but three does speak to intention. One is definitely the loneliest number.
No reason it has to be three or five of the same plant, though. Sometimes the same color is enough.
Apart from such considerations, I should have noticed sooner that the yucca and this tallish South African lobelia were clearly intended for each other this spring.