Good fences do make good neighbors. Good fences also make good plant barriers.
In this wisteria's case, I doubt anyone can be held accountable for planting this mighty vine. I think the birds accomplished that for us.
My job is to keep it out of the smoke tree 'Grace,' full-time employment all summer.
Strategically seeded in a corner where four gardens intersect, the location of its main trunk a perpetual mystery, one neighbor keeps it out of his citrus, another from eating the shingles on his garage roof. And still another neighbor works tirelessly to keep it out of his tool shed.
I hope they're not cursing me as they cut back its sneaky tendrils twice a week in summer. I did not unleash this vegetative behemoth.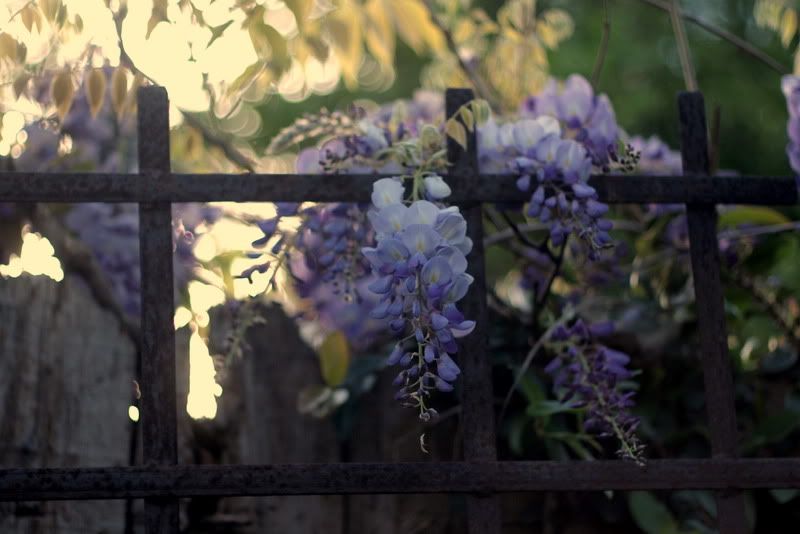 Fences are the best defense, visually and physically, against a neighbor's ill-chosen plants, amongst a laundry list of unsightly stuff. Including laundry.
(We do our laundry outdoors, as does our neighbor to the east. Our neighbor to the west moved his kitchen outdoors, not a satellite trophy kitchen for entertaining, but the main kitchen. The most amazing aromas of Vietnamese cuisine waft over that fence. I have no idea what the neighbors on the southern boundary are up to behind the 8-foot, creeping-fig covered wall, which is as it should be. As we clipped that fig-covered wall yesterday, the two of us attacking our side, the neighbor working on his side, a disembodied arm helpfully passed a beer over the top of the wall to speed us on our work. Good neighbor.)