Carol at May Dreams Gardens hosts this exciting monthly event, inspired by garden writer Elizabeth Lawrence's urging that "We can have flowers nearly every month of the year." Some days are so bleak, it seems astonishing that flowers could bloom at all, but indeed they always do. Some newer things in bloom in my garden here in Southern California, zone 10, a mile from the Pacific Ocean:
Geranium maderense ' Alba' opened its first flowers this Bloom Day morning.

Variegated Solanum rantonnetii, now pruned into a standard, to cram more plants under its skirts. Amazingly long-blooming shrub.

Euphorbia mellifera

Shrublike Impatiens sodenii, flowers so sugary sweet they make my teeth ache. Bit of overkill by Mother Nature.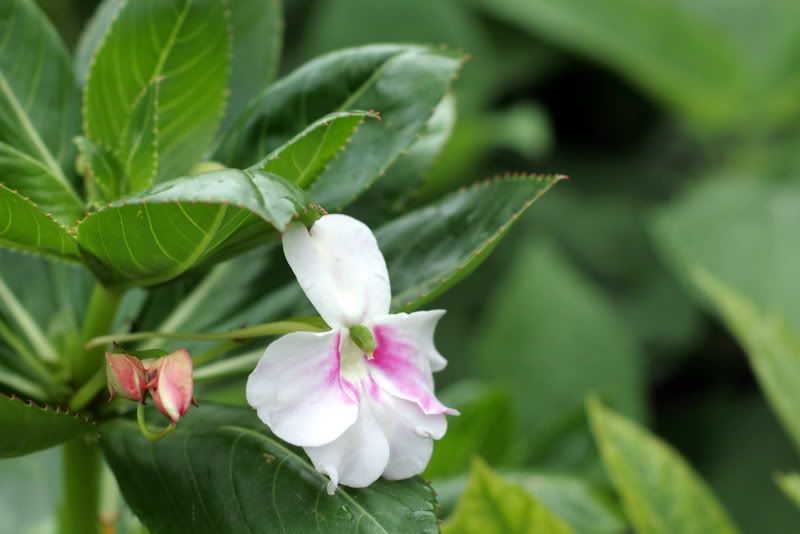 Anigozanthos, a good winter bloomer, with new blooms still coming for spring

Not in full bloom yet, just this one inflorescence on Echium gentianoides 'Tajinaste.' I shouldn't have moved it a month ago. Oh, well.

Self-sown Nicotiana langsdorffii, seedlings found mostly in dry paving, where I pry them up and plant in the garden.

Ein passing by the poppies near the porch, Papaver setigerum

Thanks again to Carol and all the bloggers participating in this Bloom Day, whose blogs I'll gratefully read while toggling back and forth between news reports about the crisis in Japan.
Dedicating my Bloom Day post to the good people of Japan.
(Huntington Botanical Gardens, Japanese Garden, photo from HBG site)