I don't explore West Los Angeles and Santa Monica nearly enough, since getting there means battling some of the worst traffic in Southern California. But yesterday afternoon I had to work in the 1800 block of Sawtelle, roughly between Olympic and Santa Monica Boulevard. Leaving mid-day, the traffic was relatively thin, and I arrived early for my appointment, which was fortuitous since it left me 15 minutes to explore The Jungle, a small nursery located directly opposite the building I was working in. I had discovered this nursery in just such circumstances a couple times over the years, but in the frenetic haste of a workday timetable never noted the name or location. It was lovely to stumble on it again, always a thrill to combine work with plant trawling. It is tucked away tightly on its small lot amidst tall office buildings and, driving by, can easily be overlooked. But even if you're distracted by West LA street life and inadvertently swiveling your gaze in the opposite direction as you drive by, you'd be clamping eyes on the Yamaguchi Bonsai Nursery just across the street from The Jungle. This little block of Sawtelle is the rarest of rarities, a street with not just one but three independent nurseries, including Hashimoto Nursery, which I didn't have time to visit yesterday, all very small, but each with a distinctive eye and taste guiding nursery operations, such as these valances of Spanish moss as drapery for a wall of The Jungle's greenhouse.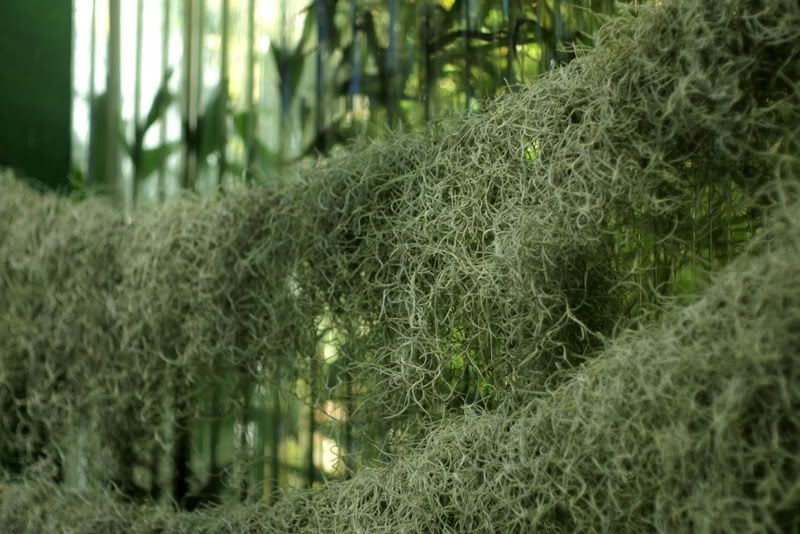 A display of ferns and Spanish moss were grown vertically in sculpted pockets of sphagnum moss against a large backboard, possibly of plywood.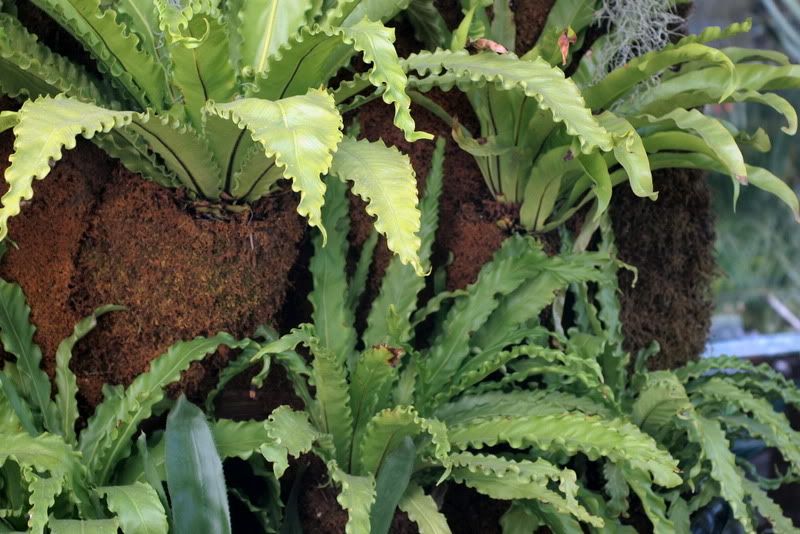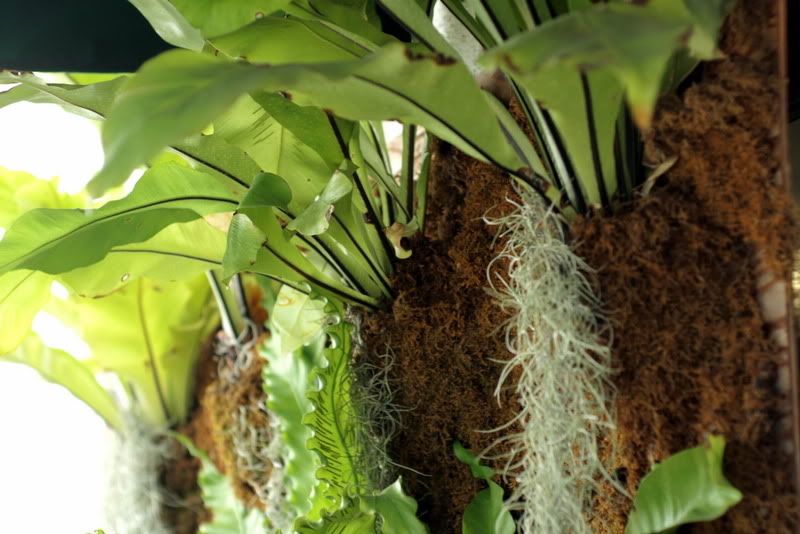 And what self-respecting jungle doesn't have fauna to go with its flora?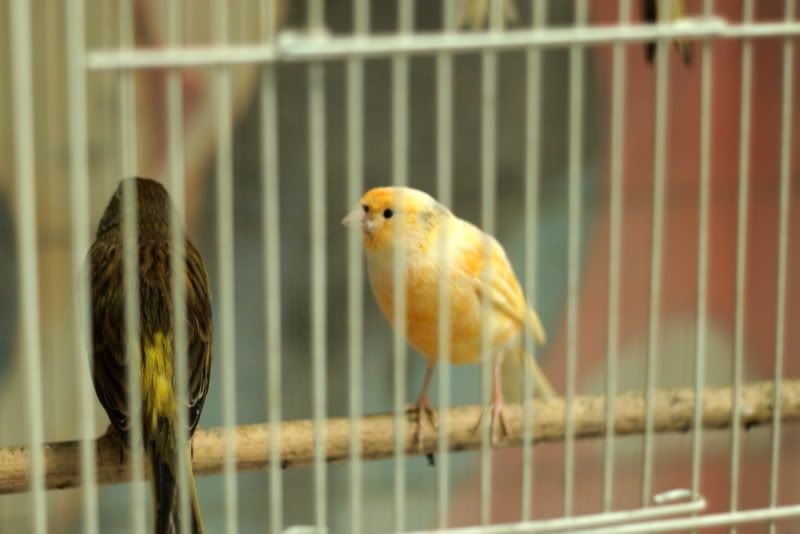 That first 15 minutes was the only time I'd get at The Jungle, which was closed when I was done with work and ready to head home a little before 5:00. I wanted to pop in before driving home to rethink passing up a variegated paddle plant, Kalanchoe 'Fantastic,' but was spared that agonizing deliberation. There was a large variegated Billbergia nutans, the bromeliad known as Queen's Tears, that I wanted a second look at too. This little nursery caters to landscapers, and plants come in large (and expensive) sizes, though they had an excellent assortment of succulents in small sizes. Checking comments online, The Jungle reputedly has the best selection of bamboo on the Westside, but I didn't have a chance for a good prowl and will have to return, next time ensuring the camera memory card is empty. I had enough foresight to bring a camera when heading to the Westside, but not enough to check the memory card, which was a few photos shy of full, so obtained just a couple photos.
With The Jungle closed, I headed to Yamaguchi Bonsai Nursery, still open just across the street, and spotted this through the chain-link fence (photos taken this morning in my garden). A restio I hadn't seen before, Elegia fistulosa. The one that caught my eye was enormous, much more upright than my thamnochortus at home, with inflorescences so big that, from a distance, they had an effect almost of cattails. A gallon size was helpfully placed nearby, so I nabbed it.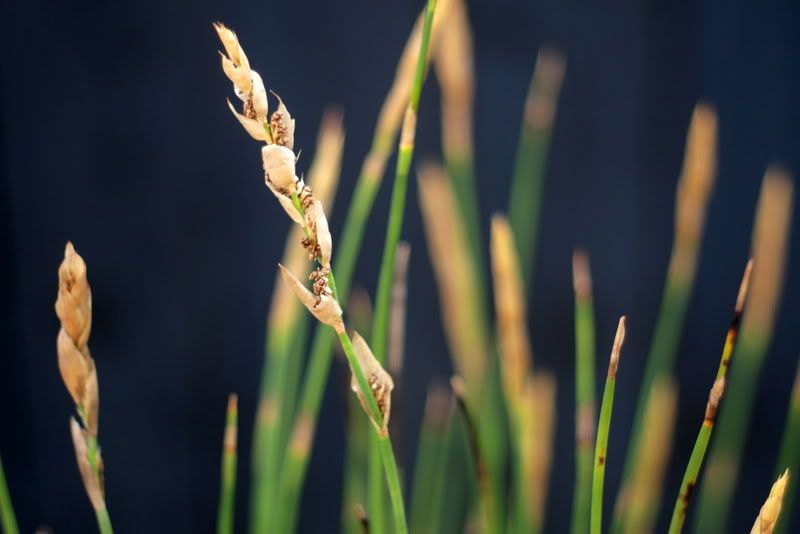 This morning in my garden. Still very slender in size, the large one at Yamaguchi must have been at least three times this one's diameter, bristling with blooms.
And then this lacy number on a shade bench caught my eye. Thalictrums are a fatal attraction for me in zone 10, fatal to the thalictrums, poor things, not that I torment trial many new ones these days. But this California native meadow-rue, Thalictrum fendleri var. polycarpum, Fendleri's Meadow-rue, is reputedly drought tolerant when established. Positively Oudolfian in its post-bloom state. I believe the flowers would be yellow in color. Who knows why dessicated flowers were such an appeal that day. Just being contrary, I suppose, now that it's spring.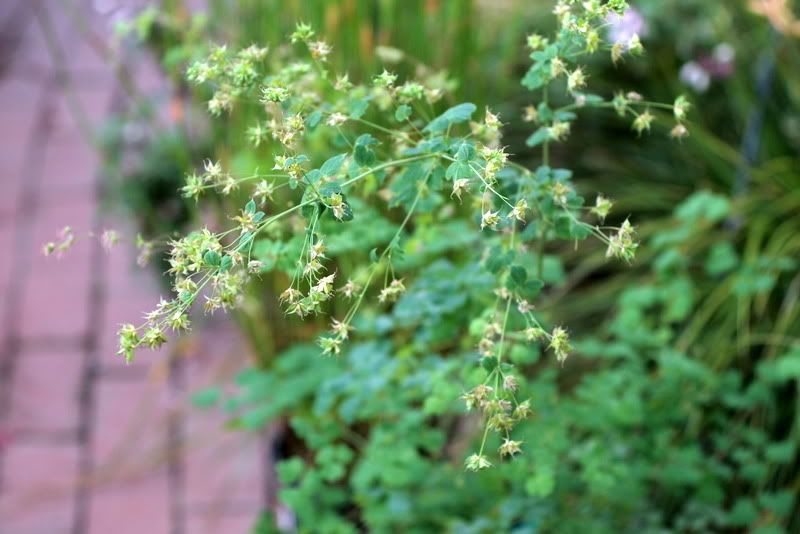 This thalictrum came staked, a little over 2 feet in height, with typically gorgeous meadow-rue foliage.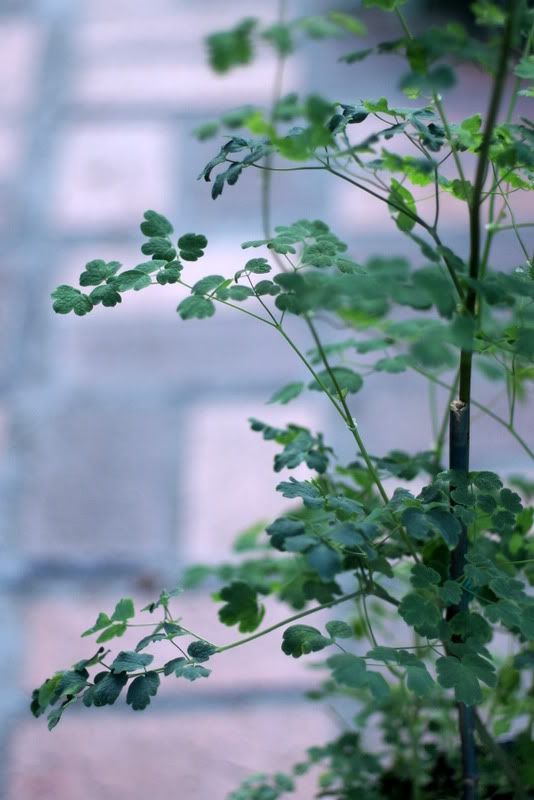 It was while I deliberated over this thalictrum that I overheard a woman drive alongside the nursery, put it in neutral, and shout through the fence about a particular plant. A clerk affirmed, yes, they carried that plant (shiso/perilla), but she'd have to come inside. With the car still idling, the woman shouted back that she'd like two, please. "Ma'am, you'll have to come inside!" Whereupon, the potential customer drove off in a huff. (Now, there's an idea, drive-through nurseries!) Buying my two plants, I asked the clerk if we, meaning the great unwashed public, we're really getting as bad as that incident would seem to indicate, and she rolled her eyes and recounted a few more horror stories.
The Jungle and Yamaguchi Bonsai Nursery have a fine selection of pots, all sizes. The nurseries of Yamaguchi and Hashimoto, like the remnants of cloud-pruned residential topiary still seen in Los Angeles, are vestiges of the time when Japanese immigrants filled the horticultural niche in Los Angeles, opening up the first Flower Market in Downtown Los Angeles in 1913. Yamaguchi's seems to be less about bonsai now, but that emphasis, along with The Jungle's landscaping focus, would seem to be clues to the survival of these small but excellent nurseries.