Véritable chaise des jardins parisiens restaurée.
Google translation: "Chair of the true Parisian gardens restored."
The Parisian shop Le Prince Jardinier is mentioned by Natalia Hill in her piece "Get Stuffed — The Animal Wonderland of Deyrolle," found on the Huffington Post. I never pass on an opportunity to read about this fabled Parisian taxidermy/natural history shop dating back to 1831, which was nearly lost in a devastating fire in 2008.
Photo of interior from Deyrolle found here.

In her article, Ms. Hill mentions that a garden shop, Le Prince Jardinier, is on the ground floor of Deyrolle and gives a brief history of the chairs:
"These garden chairs adorned the grounds of the famous Luxembourg, Tuileries and Palais Royal gardens for over 80 years (1923-2005).
Parisians over generations would have enjoyed their use. In 2005, the chairs were mostly in disrepair and about to be thrown away."
It was Prince Louis-Albert de Broglie, who bought Deyrolle in 2001, who also stepped in to restore the Parisian park chairs.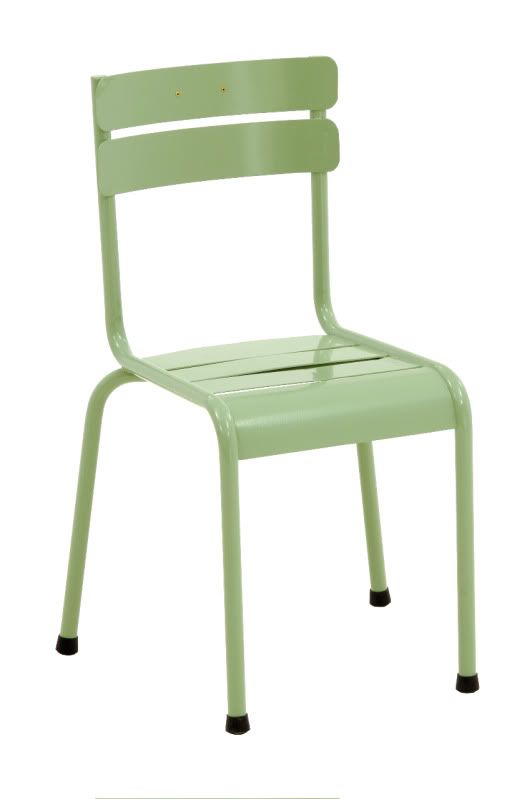 "CUSTOM Available only in the color of your choice: black, dark green, green amazonite, chrome, blue, yellow, red, pink … Transport costs on request.
(Disponible SUR COMMANDE uniquement dans la couleur de votre choix: noir, vert foncé, vert amazonite, chrome,bleu, jaune, rouge, rose… Frais de transports sur devis.)"
Simone de Beauvoir ("I wanted to talk about these things. I wanted to talk about all sorts of things with people who, unlike Jacques, wouldn't let their sentences trail away at the ends." Memoirs of a Dutiful Daughter) probably talked up a storm in one of these chairs. Supply the name of your favorite writer, painter, poet, philosopher, and they've probably passed away an afternoon in a chair very similar to this.
And then there's what photographer Andre Kertesz did with the chairs at the Luxembourg Gardens. Like a gardener, a photographer never actually sits in a garden chair. Not for long. Which is probably why I don't hanker after pricy chaises and oversized lounge furniture for the garden, which only steal precious space from plants, but hard, expressive little chairs like these.
Photos from Chasing Light