Asarina scandens. What a kewpie-doll mouth.
I love watching how the blooms trace along the ropey stems, scrolling intriguing outlines. See the letter "E"?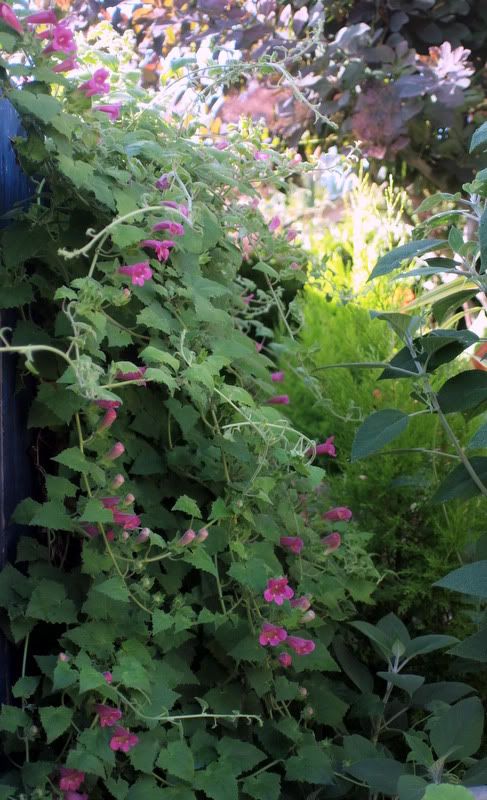 A trove of inspiration for a jewelry designer.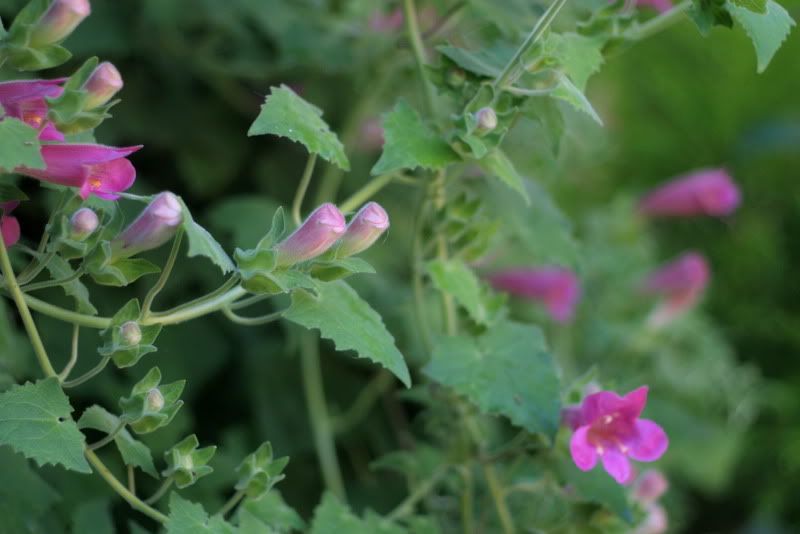 A galloping vine, wending its way this summer over the fence and into my neighbor's peach tree. I hope they feel free to take appropriate action.
I've been gently guiding its enthusiasm away from the Monterey Cypress, Cupressus macrocarpa 'Citriodora,' one of three against the fence.
In frost-free areas, zone 9-10, a perennial vine, otherwise grown as an annual. This was supposed to have been the white form.
Now I try to visualize white instead of pink but can't see how it would work. I mentally squint but see none of the details, just glare.
But that's probably a failure of imagination. I bet the white form is beautiful against a dark background. (Like a blue fence, the original intention.)
I planted this vine in a container a couple years ago, then pushed it against the blue fence, occasionally remembering to add water.
Just Add Water. Such an important horticultural maxim, with few exceptions. This vine was no exception.
Sneaky roots found their way out of the drain hole at the bottom of the container and into the dry-laid bricks.
I pretended not to notice, and the vine found a more reliable source of moisture and a cool root run.