The garden saw some frenetic activity over the long holiday weekend. Over the long, extremely hot holiday weekend.
Not since Nixon has a face dripped such copious amounts of sweat. Under these sticky, squalid conditions, one reverts to a feral state of being and savagely pushes on until the next cleansing shower rinse, emerging cooled and civilized once again, ready to attend holiday soirees. (For about five minutes.) Checking a weather map indicates that a good portion of the U.S. was taking frequent showers too this past weekend. I don't know how plants manage to keep looking so cool.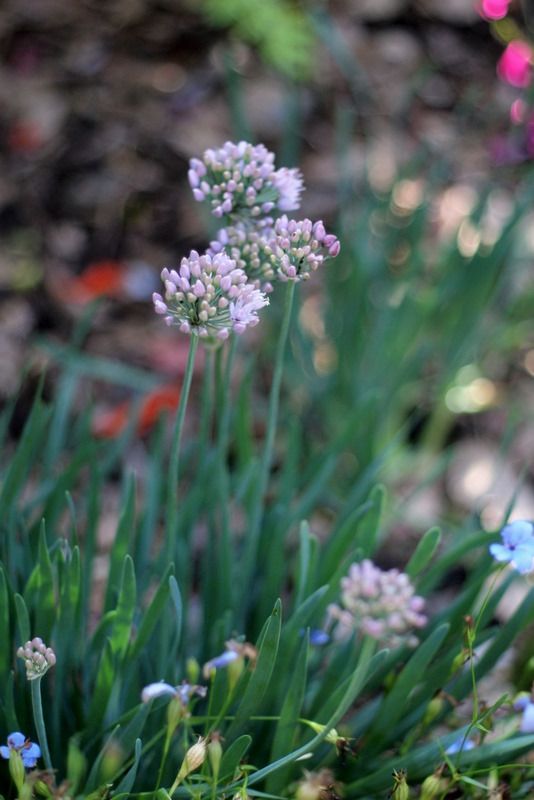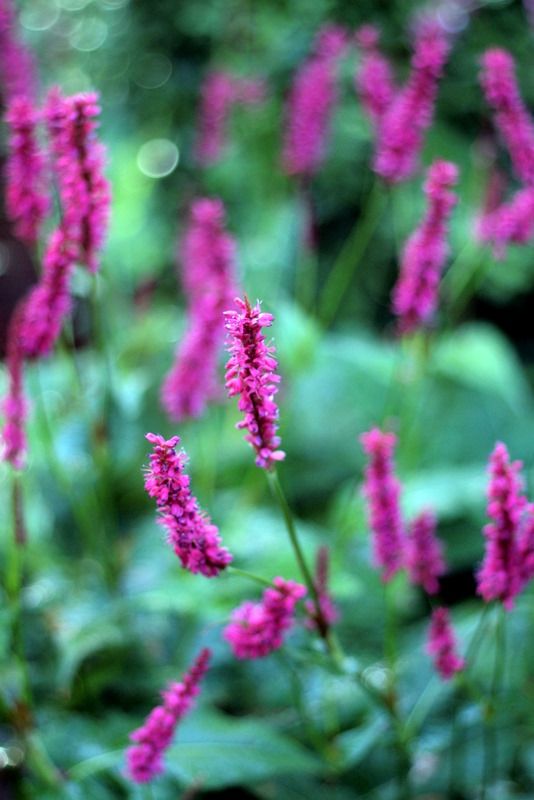 The big 'Hawkshead' fuchsia had to go. A Dan Hinkley introduction for Monrovia, a selection of the shrubby Fuchsia magellanica, it has proven to be nonresistant to the fuchsia mite and was getting the typical leaf deformation. Flowering doesn't seem to be affected. I'd highly recommend this fuchsia to any mite-free fuchsia gardens.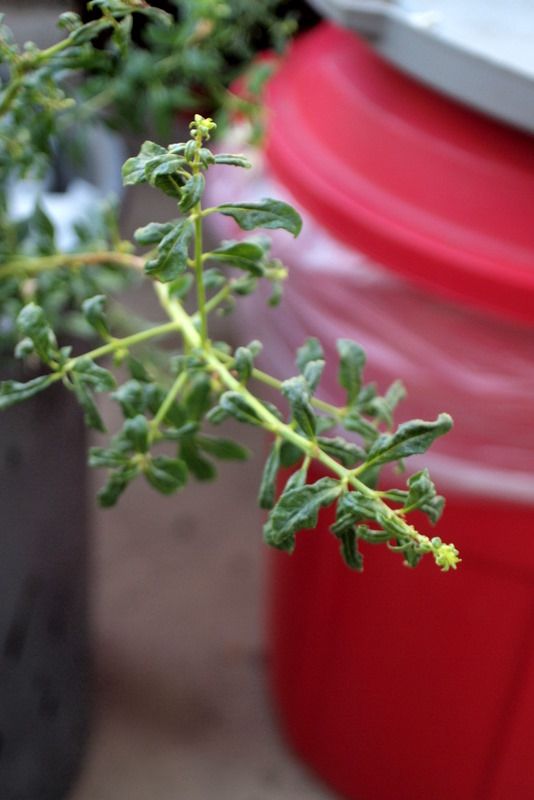 The 8-foot Coprosma 'Beatson's Gold,' I decided Saturday, also had to go. My love for this shrub was blinding me to how big and out of scale to the rest of the garden it had grown despite increasingly frequent pruning interventions. Arguments against removal included evergreen "winter interest" and as a support for the winter-blooming Clematis cirrhosa 'Wisley Cream.' To hell with winter interest. Time to realize this idea has grown stale, that waiting for the clematis to decide to bloom has become a tiresome winter ritual of disappointment, i.e., in spite of rampant growth, it's never bloomed and has decided its sole purpose in life is to thwart my desire for its mid-winter blooms. A 'New Zealand Purple' castor bean plant was also removed. Taking out that beauty really hurt, but what's the point of throwing kniphofias into the mix if there's no room for them to grow and bloom? A seedling from this ricinus thrives elsewhere in the garden.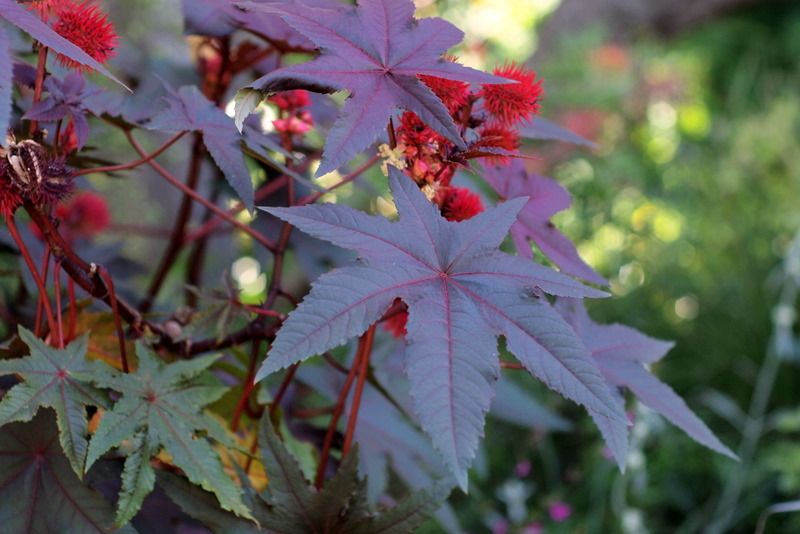 For a brief moment the entire area vacated by the coprosma and ricinus was simply left mulched, the bone-dry soil watered in, and I contemplated its serene emptiness, leaning toward resting the soil until fall. When I snapped to from this novel and unfamiliar state of being, a Melianthus 'Purple Haze' was being hauled out from elsewhere in the garden and planted to replace the coprosma, which has already been turned to mulch, and shade rigging erected over the honeybush. The melianthus can stay if it grows no taller than 6 feet. Loree's (Danger Garden) generous gift of variegated London's Pride, Saxifraga umbrosa, was moved here too.
Potted agaves were depupped, pots shuffled and reshuffled, begonias seared by afternoon sun dug up and moved to shade.
Tables and chairs were moved into the shade. Under the punishing sun, everything with means of locomotion moved to the shade.
But amidst all the demolition, the mud, the blood, and the beer, summer still works its magic.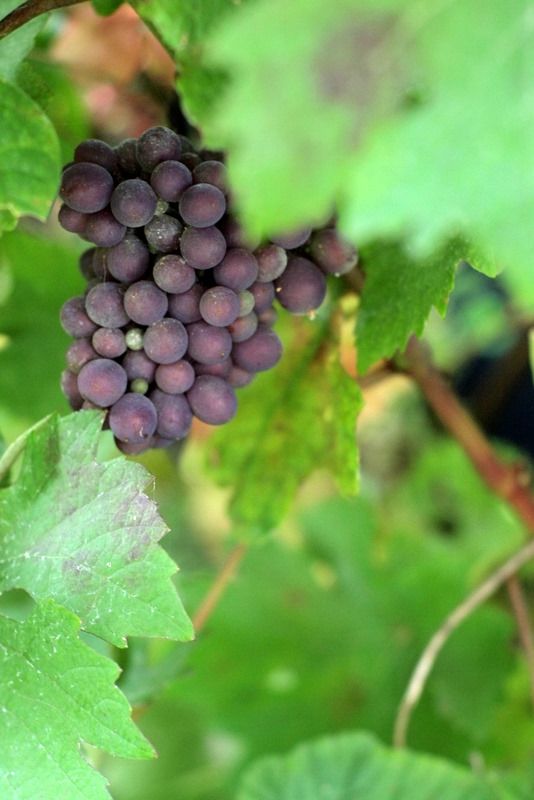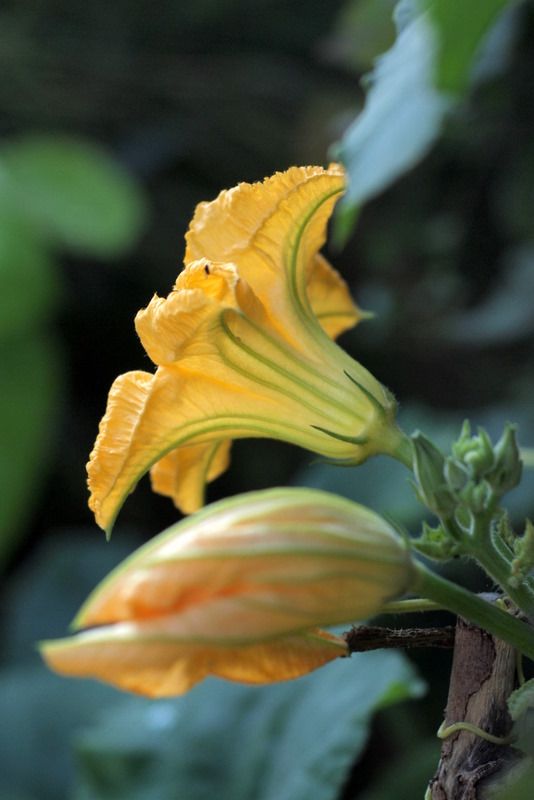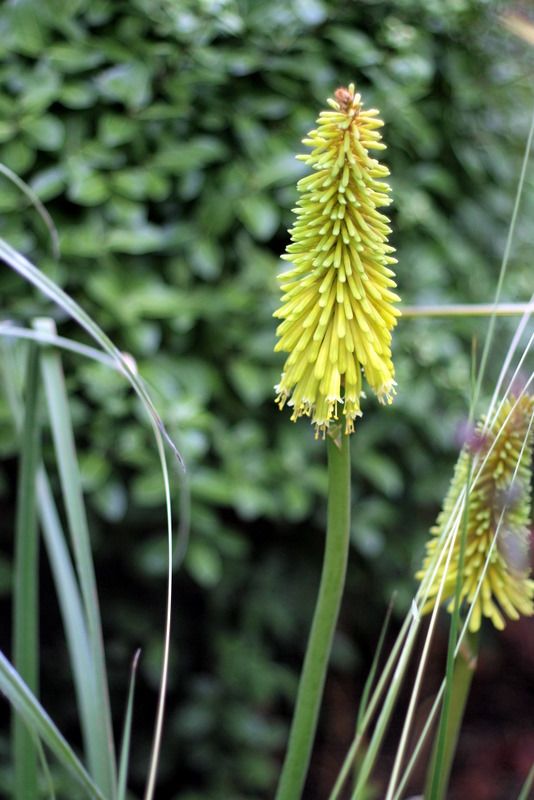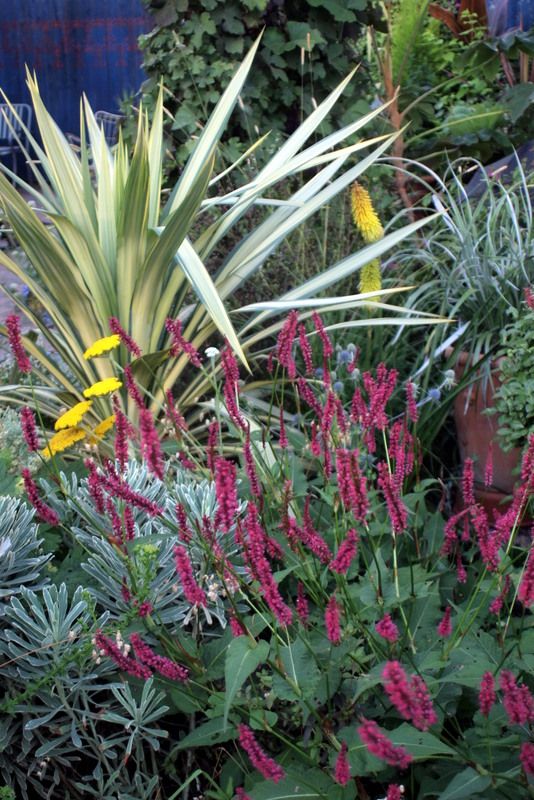 A forgotten verbascum, started from seed in 2009, pushed up its candelabra of buds about to bloom. Eucomis are blooming.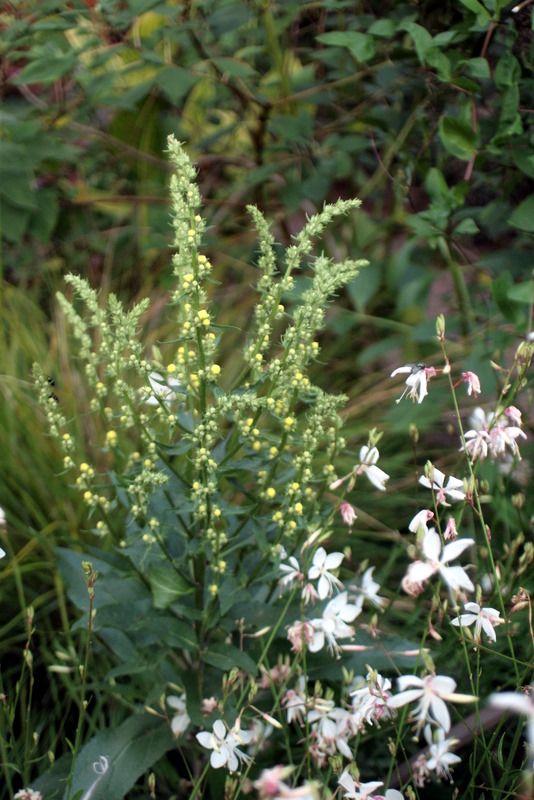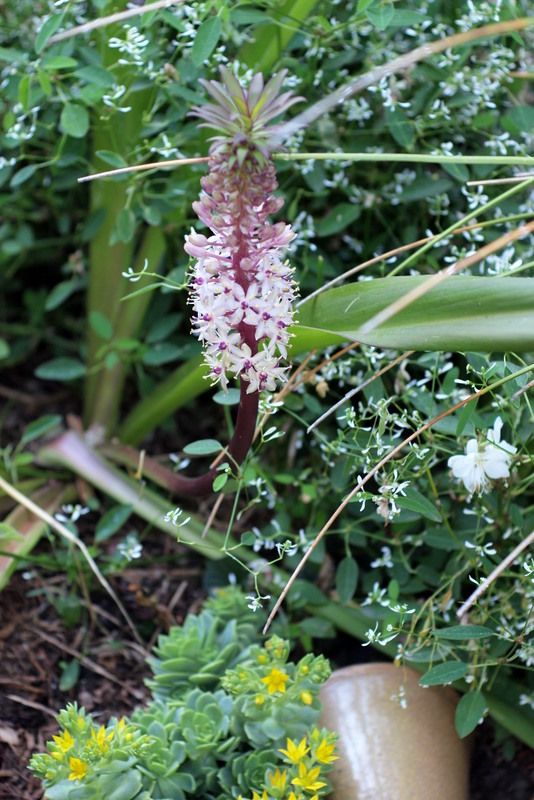 After the jump, I've updated the garden journal of February, mainly for my own record-keeping purposes.
1. Pairing cannas with the big, winter-blooming salvias, like S. iodantha, wagneriana, for carrying interest summer and winter.
Not a bad idea, but both plants are in a part of the garden farthest from the hose. Soil is bone dry here now. Much easier to dream up during the rainy mid-winter than to sustain through the drought of summer. Will leave both in place and let them struggle for now.
2. Interplanting kangaroo paws with sedums, grasses, and slim, tap-rooted eryngiums.
This area is probably at maximum congestion now in July. Sedum 'Frosty Morn' is in bloom, the Stachys 'Hummelo' has started to bloom. The ground is thoroughly covered. The anigozanthos are thriving, still blooming, but will probably remove the sedum in fall. The definition of shapes is mushing out.
2a. Remove some bricks and pavers under pergola for more planting space.
Have been chewing away at the brick paths all over the garden but have left the paving under the pergola intact for now.
3. Gloriosa rothschildiana at base of grapevine.
Never materialized.
4. Dicentra scandens climbing up fatshedera.
For a dainty vine, it's got the vigor of a pitbull. Light requirements for these two a perfect match.
5. Water garden research. Would still like to corral summer tropicals in one tank.
Water garden still being researched. A salvage container intended for a water garden has been used to corral summer tropicals. Much easier to give these brutes the water they demand centralized in one tank rather than scattered in pots around the garden. The individual pots are cached in the tank, not planted into it.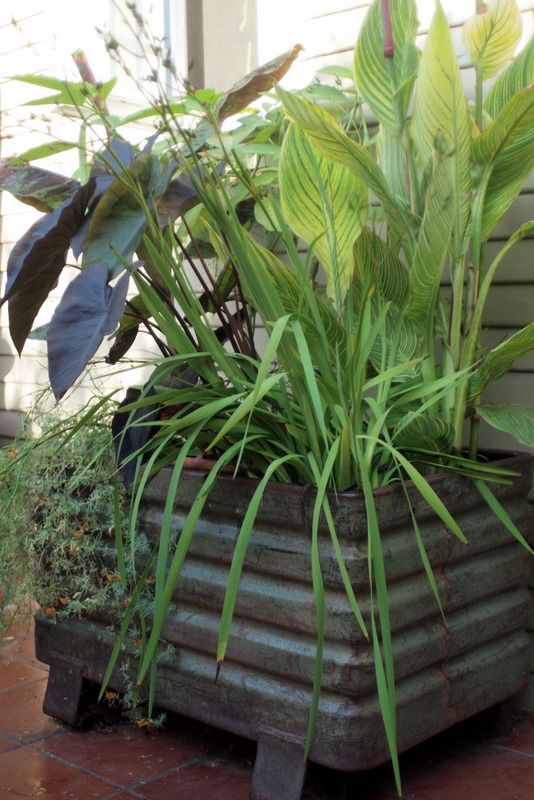 6. Bulbs from McClure & Zimmerman:
Iris versicolor var. Gerald Darby (thank you, Nan/Hayefield!) Maybe for the water garden?
Gloriosa lily 'Wine & Red'
Tropaelum tuberosum 'Ken Aslet'
Never made the order.
7. Still need seeds for Ammi visagna. J. L. HUDSON carries it and Atriplex Magenta Magic and Purple Savoyed.
(Ebay has sellers for both too). No self-sown orach coming up yet.
Also need seeds for Celosia argentea. Why does one source never carry all desired seeds?
Ordered the Ammi visagna and lots more from Derry Watkins. Will sow in fall. A couple atriplex seedlings were found in the garden. A very light self-sower.
8. More agapanthus research, maybe 'Graskop'?
Agapanthus are in rampant bloom all over town. As of yet, still feel no urgent need to include them in the garden.
9. Start seeds of Mina lobata. Will it really climb through Verbena bonariensis here and not just for the magicians at Great Dixter?
A single plant of Mina lobata waits for a spot to open up somewhere in the garden or, failing that, a bigger pot. V. bonariensis another light self-sower. Found two seedlings this year.
9a. Geranium harveyi under tetrapanax? — something needed under rice plant's skirts.
Used a golden acorus.
10. Watch germination of Crambe maritima sown 1/30/11.
Zero germination.
11. Planted Melianthus 'Purple Haze' yesterday deep in the back of the border among the cannas and grasses. Selection of Roger Raiche/Planet Horticulture, the leaves do have a lavender wash to them. Said to be more compact than the species, lower growing.
Moved this melianthus during the weekend's heat wave, now getting the umbrella shade treatment. A huge, 8-foot tall coprosma shrub had outgrown its spot and was removed.
12. Clean/rake out feather grass in parkway.
Done at least twice since February.
13. Both Cotinus coggyria and 'Grace' already leafing out. Scilla peruviana under 'Grace' in bud by early March last year.
Scilla took a rest this year and never bloomed, a common occurrence for new bulbs. Another serious chat yesterday about 'Grace.' She may be removed entirely next winter. Just too much tree for that corner and impossible to keep branches out of neighboring yards.
14. Zillions and zillions of Helleborus argutifolius seedlings coming up and not a bit of room left for another plant. In old age, make a garden of this hellebore for winter, agaves/aloes, perovskia and grasses for summer.
Nothing to fear. All those seedlings have perished in the dry conditions of summer.
15. Dormant tropicals showing growth, tipped pots up and watered lightly yesterday.
16. Tulips almost here!
A big event in pots for February and March. July is the time to order the best varieties.
17. Interplant Aster divaricatus with Scilla peruviana (added 2/5/11)
This little woodland aster has managed to get a root hold in some very dryish soil.
18. Interplant Allium cernuum with golden carex (added 2/5/11)
Onions are budding.
19. Belamcanda or Blackberry lily (Growing With Plants 2/5/11)
Didn't order any.
20. Alliums and wood aster available from Barry Glick/Sunshine Farm & Gardens (ordered 2/12/11)
21. Iris x robusta 'Dark Aura' (Plant Delights/Iris City Gardens) – similar to 'Gerald Darby.' Best of the xrobustas with dark leaves.
A winter delusion. Summers are way too dry here.