A word of advice. An invitation to dinner at Dustin's should never be passed up. Yes, he is a wonderful cook (Salade Nicoise with salmon, chocolate ganache torte). But prowling around his garden to see what he's been up to is the real treat. Take this sapote tree, for instance, with resplendent floodlit trunk gleaming directly behind Reuben Munoz (staking his claim on the planted salvage container dripping Frankenia thymifolia that's hanging from what's left of the tree's branches, upper right). The last time I saw this tree, its canopy shaded half the yard, a most welcome benefit from any tree. But Dustin finally pulled the plug on the sapote when he broke a toe slipping on one of its many slimy fruits that carpeted the garden and drew in clouds of houseflies. The tree is now reduced to sculpture, its dark, corrugated bark laboriously sledge-hammered away, revealing the tree's mythic core.
Mythic tree, mythic summer dinner party. Thank you, Dustin.
(At the table, far right, the back of Annette's sweet mother's head, then Annette Gutierrez, co-owner of Los Angeles' premiere garden design shop Potted, torso of Dustin's friend and partner in demolition, Jay, me, Gustavo Gutierrez, Reuben. Directly behind me are the collapsed remains of a magnificent gunnera formerly shaded by the sapote.)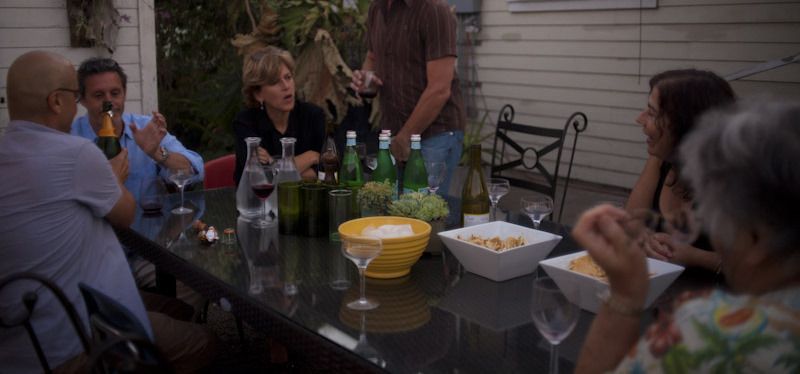 Photos by MB Maher.