I think it was George's son Dhani Harrison who let slip in the Martin Scorcese documentary "Living in the Material World," (last week on HBO) that the family sometimes called George "Capability," jokingly comparing George to the great 18th century English landscape architect Lancelot 'Capability' Brown. At age 27, George bought the derelict property Friar Park. His second wife Olivia moved in later. Dan Pearson describes visiting Friar Park and talking with Olivia about its evolution in an article for The Guardian entitled "Magical Mystery Tour":
"We never set out to make the garden a restoration, we were just doing it for the joy of it…You don't have to know anything or everything to make a garden and George set out quite independently to do it his own way. 'It's amateur hour' was a mantra and clearing away the dark Victorian palette of laurel and yew and overgrown box was key to being able to move the garden forward. Beth Chatto's visit to the gardens proved key as a confidence-building exercise. With typical practicality she had said: 'You know, George, if you had an old sofa in your house that you didn't like you'd throw it out!' The comment was a liberation and that was how they began to lift the gloom to make way for a new layer."
From the dearth of photos available of the gardens at Friar Park, it would be hard not to conclude that this was a very personal endeavor, rarely shared with the public. Image found here: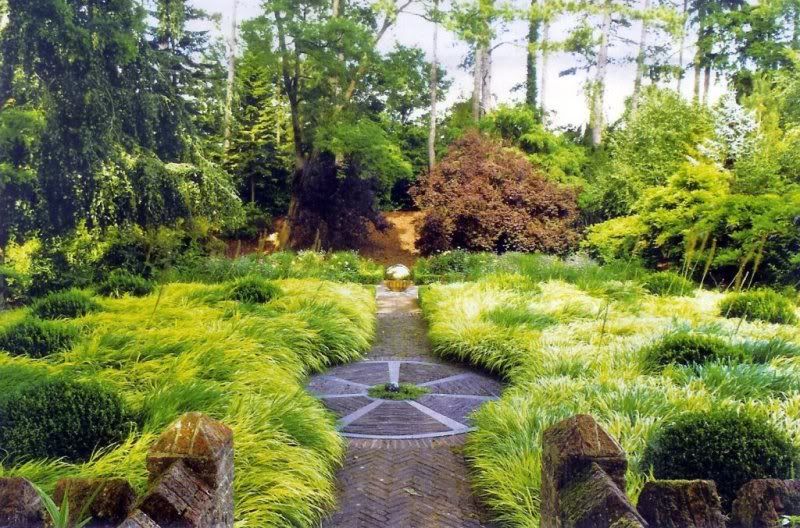 In 2008 an exhibit was entered in the Chelsea Garden Show entitled "From Life to Life; A Garden for George."
I forget who in the documentary commented that George had the most extraordinarily disparate groups of people visiting Friar Park. Along with the pantheon of musicians he hung out with, as a producer of the Monty Python movies and Withnail & I, George's guests could include Terry Gilliam, John Cleese and the Python gang, as well as Eastern mystics, Rhavi Shankar, visits by Dan Pearson and Beth Chatto. The house and gardens obviously sheltered a rich, layered life. I have to admit to not being much of a Beatles fanatic though consider myself passably knowledgeable on Beatles lore, but watching the documentary unwind the songwriting attributions to George of such songs as "Something" caught me by surprise. I knew it, of course, but had forgotten I knew it. George's son told a lovely story of his father out in the garden until midnight, running around with a shrub in his hand, trying to find the perfect spot for it, so I'll end with — what else? Here Comes The Sun.