On the Agave Walk this cerise Chilean showoff opens its first flower of spring. Zone 8-10.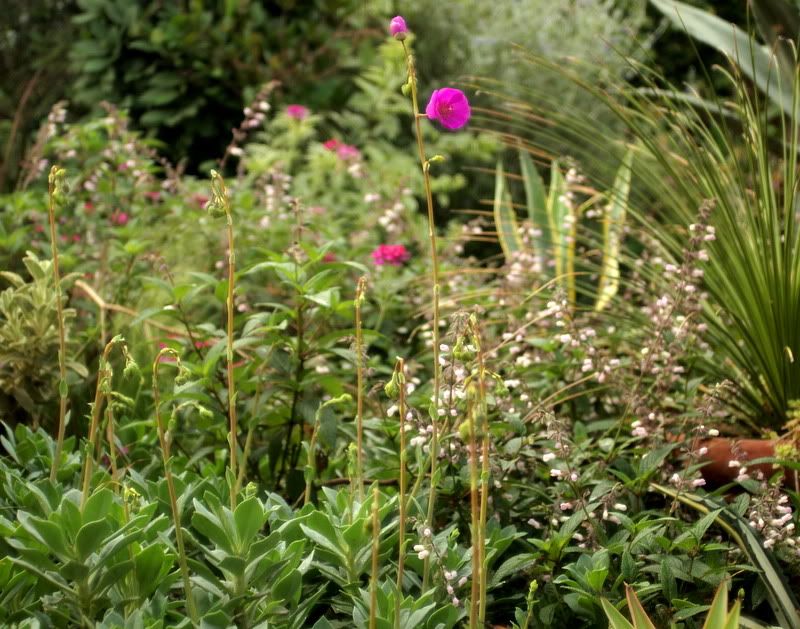 The calandrinia sprawls onto the Agave Walk and is cut back by half to allow foot traffic. Even with this heavy-handed treatment it flowers prolifically all summer long. Greeny-blue succulent leaves, a tough plant for full sun, best with minimal supplemental irrigation to contain the tendency to sprawl. Its vigor matches that of Senecio mandraliscae, in that they both will overrun detailed succulent plantings. These types of aggressive sprawlers are perfect to edge pathways, where you can cut as much or as little back as you like, depending on if you're in an expansive mood and welcoming visitors all summer or must keep your head down and work through the season, in which case you let the sprawlers loose to take over the pathways. I'm kidding, of course (sort of.)
I love the way most gardeners are instinctive cartographers of their little worlds, giving imposing-sounding names like the "Agave Walk" to a stretch of walkway no bigger than 10 feet long, 4 feet wide, named for the potted agaves that have been congregating here, mostly so I can watch the interplay of solidity and movement the agaves take part in with the perennials and grasses planted just behind the pots.
Just behind the agave walk in the main border, the castor bean 'New Zealand Red'* is starting to elbow its way out of the pack. Ricinus has naturalized in Southern California in waste areas, so I'm keeping a careful eye on this one all summer. What broke down my resistance was this variety, the best red I've seen so far.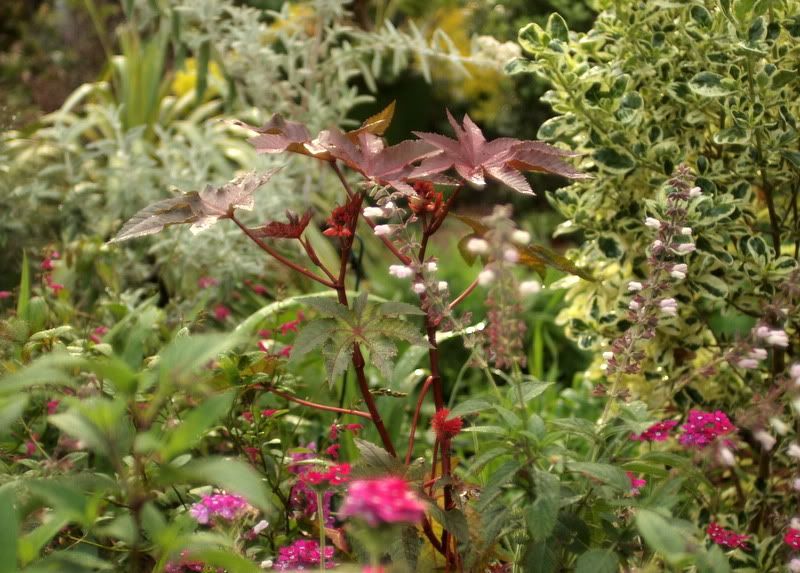 *Edited to correct name to 'New Zealand Purple.'