Outdoor furniture, kitchens, fireplaces. Outdoor fabrics have come a long way for dirt and UV resistance.
But anyone else notice something lacking? Maybe I'm just not looking in the right places, but it seems to me that for sturdy outdoor shelving, pickings are mighty slim. If what I needed was for sale, reasonably priced, capable of some serious load bearing, and not made of wood, I'd put it at the top of the Christmas list. In the past I've accumulated all manner of tables and high plant stands to hold an ever-increasing collection of containers. Like repurposing my youngest son's old aquarium stand, fitted with a slab of stone from Building REsources. Time for some sanding and a little paint this winter on this one.
The wicker top on this low indoor coffee table gave out decades ago, but the wrought iron base holds a big pebbled paver which can support quite a few pots of bulbs.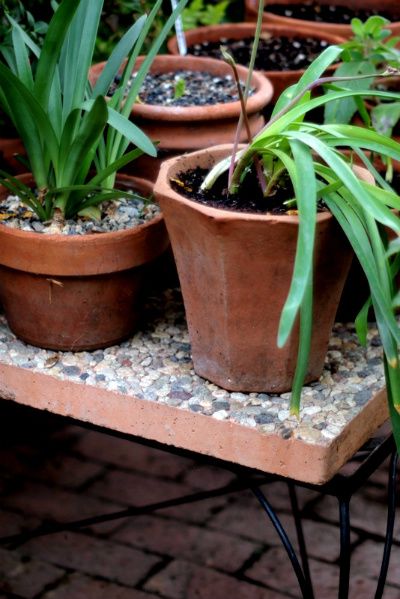 My next-door neighbor was throwing this tall rusted, topless stand out in the trash. Laying a couple of tiles or a metal grate over the top allows it to hold a half dozen or so pots. 43 inches tall, 23 inches across 12 inches deep. I have no idea what its purpose was in a former life, but if I had a personal fabricator there'd be lots more of these around. Incredibly versatile, adaptable, strong.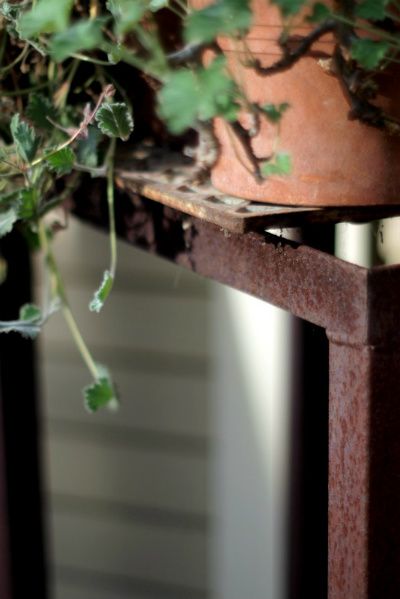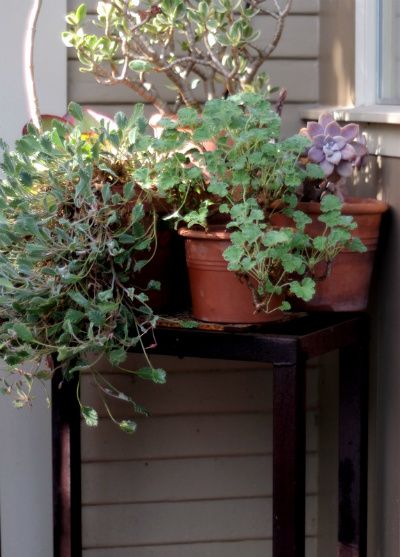 The rolling tool cart corrals pots and watering cans, as well as being a nifty transporter/outdoor bar when necessary.
But there comes a point when so many pots have accumulated underfoot that no amount of side tables will contain them. I am well past that point. Shelving was necessary. Bricks and boards could be stacked or college-dorm milk crate arrangements devised. Not very appealing. Plus, we stay far away from anything having to do with wood. Termites are a constant problem. I knew I didn't want faux Victorian curlicues or ornate baker racks of cheap metal. There's gotta be an alternative. So I've been scouring flea markets and salvage yards. There are some beautiful deconditioned industrial shelving units around. The cities of Southern California, hubs of aerospace industry, are full of industrial detritus. Inglewood, Hawthorne, El Segundo, Long Beach. I've seen a beautiful example at a flea market holding hundreds of dollars of Bauer pottery. The seller wanted $250 for it (sans pottery, of course). I knew if I went straight to the source, salvage yards, I could get a better price. Which is what I've been doing but haven't seen anything to equal it. So I gave up on a single unit. I can't build what I need, but I certainly can stack. For the moment, I'd have to make do with individual shelving across stacked bricks. I liked these. 40 inches long by 10 inches wide.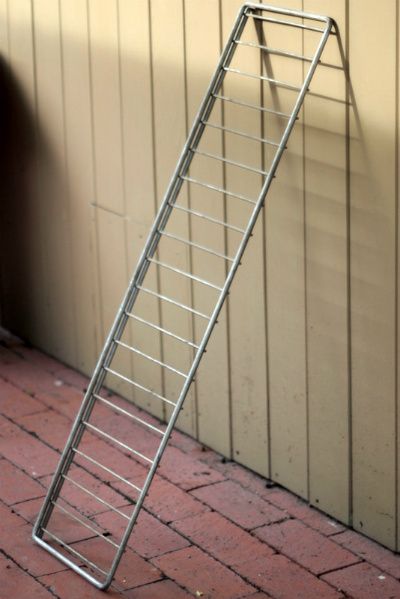 The price was right at $4 each for four. I've been nibbling away at the brick pathways and terraces that were laid 20 years ago, reclaiming space as the boys have grown for more and more plants, so there's quite a stack of bricks in the back of the garden. Not very exciting visually as side piers for the shelving but a temporary, sturdy solution. And then I remembered I had quite a few of these in the back too.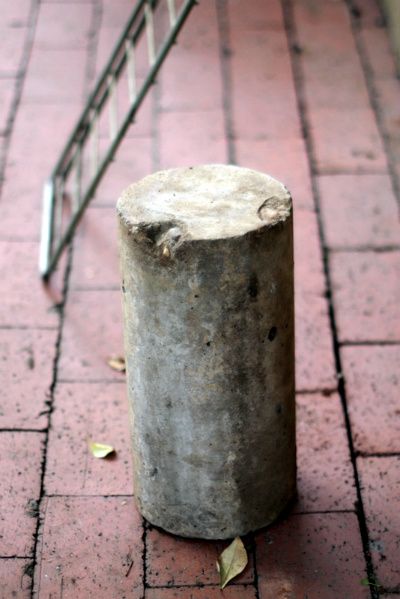 Concrete cores a foot high. (I felt an instant rapport with Reuben Munoz when I discovered he saw the utility in these cores as well, detailed in this post on his blog Rancho Reubidoux.) I've used them in the past to support pots, as bases for side tables, and just generally played around with their stacking possibilities. Now they were in the back with the compost piles, buried under mulch. They're concrete test cores poured to test the consistency and strength of concrete. Work crews leave them behind, which is where I found a dozen or so of them, lying in a nearby field. Carrying one of these, though heavy, was a lot faster than the back-and-forth needed to carry all the bricks required.
My first effort at four levels was judged earthquake-unstable, so I rejiggered the four levels to three and rebalanced the weight, bracing the top shelf against the house. In soliciting opinions from holiday guests, it was pronounced eminently stable, with the bottom row of cores finally reduced from four to three.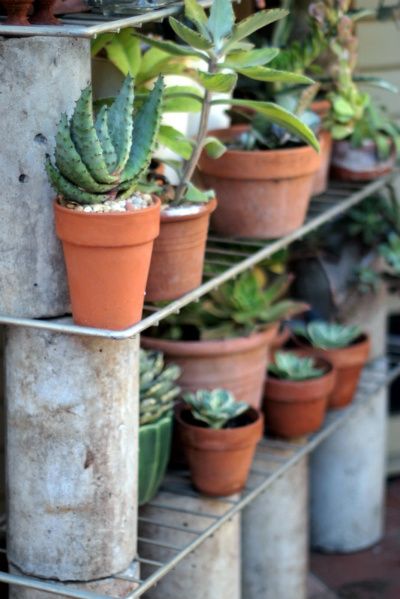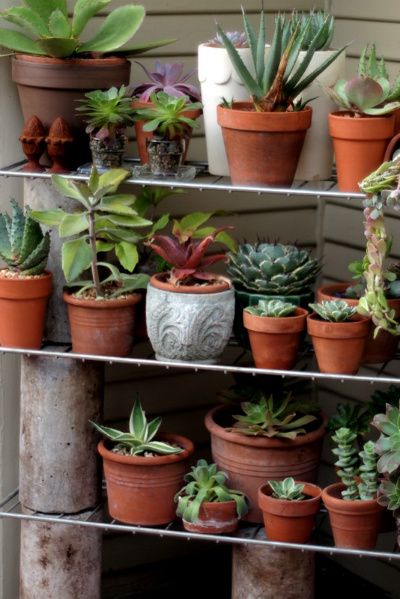 The shelves are narrower than I'd like, but I'm reasonably happy with it for now, especially with the price at just $16. Of course, if I stopped bringing home plants, the problem would be solved. But we all know that's not about to happen.