I suggest we leave the main table with its overturned wine glasses, scattered pie crumbs, gravy stains and increasingly madcap discussions and gather in an out-of-the-way corner to quietly talk plants. A kind of horticultural digestif.
A couple weeks ago I brought home Anthericum saundersiae 'Variegata', also widely known as Chlorophytum saundersiae, as it's listed in Plant Delights' catalogue. This is only the second time I've seen this anthericum offered locally. Having killed it off before in too much shade, full sun will be the new approach. Its graceful habit of growth is part dianella, part tulbaghia, but giving a much lighter effect, with more movement, like a dainty, diminutive Miscanthus 'Morning Light.' The wands studded with tiny white flowers add a charming, nubby texture. Monterey Bay Nursery is the grower.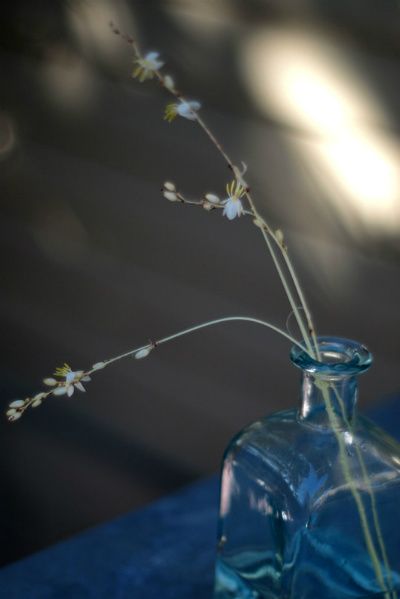 Half a minute to degrease the turkey stock again. Where were we? Oh, yes, November and plants, not my favorite juxtaposition of month and garden. Spring and summer are filled with giddy, ever-lengthening moments of
And then
,
And this
, one sweet anticipation following seamlessly after another, only to slam full stop into the diminished daylight hours of autumn. Twilight puttering time is over. It is a tricky season for a gardener to navigate, requiring far-sighted, judicious bulb and seed purchases to ease the deprivation, and depending on your climate, even plant purchases, which can occasionally get out of hand. For example, I would never have bought these gerbera in spring, but they were absolutely necessary for fall/winter.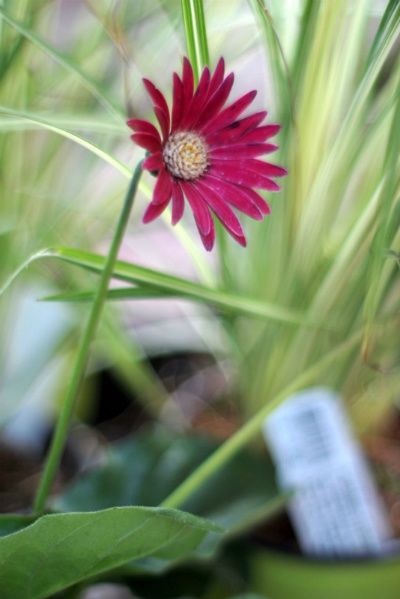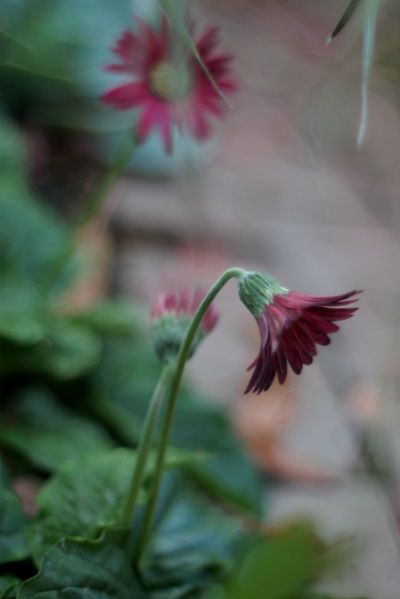 These brazen daisies are kin to the familiar florist flowers from South Africa, bred for thick stems and strong petals on huge floral disks. Earlier this year I'd read of work being done on breeding back in traits more suitable for garden than florist. My guess is I found it somewhere on Graham Rice's site,
The TransAtlantic Plantsman Gardener,
but now can't easily relocate the article. In any case, perusing the back pages of Mr. Rice's site is winter reading time well spent. I found both plants, the anthericum and this Gerbera 'Drakensberg Carmine,' at a local Armstrong nursery, which has more information on the gerbera
here
. The leaves are softer, not as leathery as the florist gerbera, and the scale of flower size to overall plant has been ratcheted down and is now similar in proportion to that of a geum. The gerbera's flowers are, of course, larger than a geum's, at approximately two inches across, still way under the florist bloom sizes. Playing around with this reputedly free-flowering gerbera would also be a fine winter diversion for a glasshouse.
Speaking of strategies to lessen the end-of-summer pangs, did you take up Nan Ondra's fantastically generous offer of Hayefield seeds? I'm sending my SASE envelope out today.
With the onset of cooler temps, the succulents grow ever more rosy-rimmed. (In the foreground, Echeveria ciliata X nodulosa.)
Like Marilyn Monroe, succulents have the best "skin" for photography.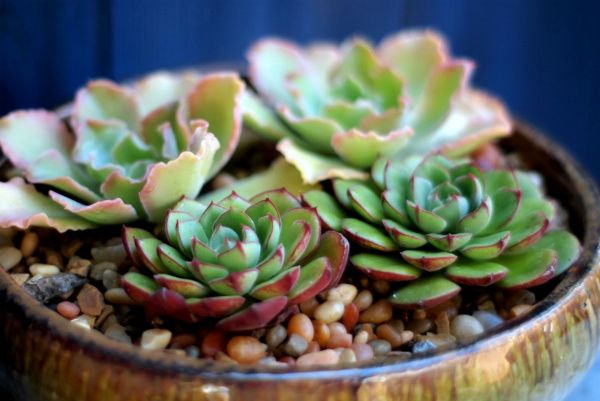 What else? I've had pollinators on the brain lately and have been haphazardly researching whether small urban gardens can be of any real benefit, or are issues such as Colony Collapse Disorder going to be resolved on much larger, contiguous tracts of land and involve changing agricultural practices. This recent
photo gallery
of Los Angeles gardens from the
Los Angeles Times
depicts sleek, modern gardens with very little blooming (messy?) plants. Often such gardens are contrasted, and not always politely, with plant-driven gardens. But if the garden is small, the pavement is permeable, water usage kept to a minimum, and no pesticides or foul practices are in use, why not? Is it only a matter of taste, or is wildlife suffering from such preferences? It would be nice if biologists could provide a definitive number of feet/meters or acreage necessary to support healthy pollinator populations, so designers or owners of small urban gardens, where pollinators might find little of interest, can enjoy them guilt-free. Or, conversely, face up to the harsh truth if even their small urban garden could be of significant help to pollinators. I've asked my handy neighborhood biologist, John, who works in native landscape restoration, this very question, and his face lit up with excitement, but he had no ready answer. John says this topic is currently making the rounds at seminars but didn't know of any definitive sources at this time. Please chime in if you know of any material on this subject.
I see the attraction in linking the house to clean, geometric spaces and the relative ease of maintenance, too, but personally I'll always prefer the mess of plant procreation. To wit, the Corsican hellebores are budding. Salvia littae's cerise buds grow fatter.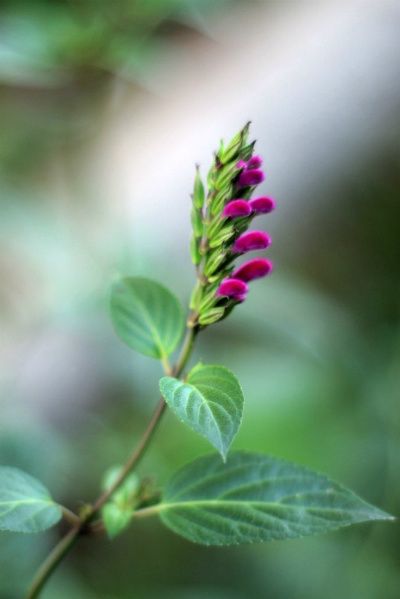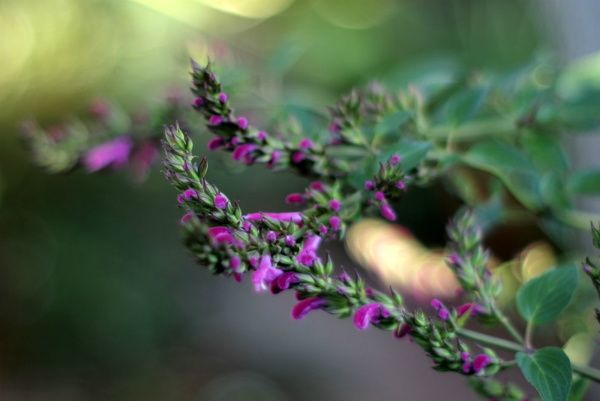 For this summer I'm bringing 'Monch' asters back to the garden, that long-blooming composite that often graces 10 Best Perennials lists, and getting introduced to the dashing thistle, Cirsium rivulare 'Atropurpureum.' Long-forgotten orders of bulbs keep trickling in, including a new hybrid lily, 'Lankon' (L. longiflorum X lankongense), even though lilies are on the short list of plants I've vowed to stop growing, since they hold a deep grudge against my garden. I suppose the bright side to these shortened days is we have the whole winter to plan for the immoveable feast that is the summer garden.
Until next summer, little manihot.