Toadflax, Spurred Snapdragon. My Hortus Third says there are "Between 75 and 100 species of annual and perennial herbs of temperate Europe, Asia, North America, but mainly of the Mediterranean region."

Linaria reticulata, a hardy annual that thrives in zone 10's cool autumns and springs, native to North Africa. The heat of summer finishes it off. There's a lot of hardy annuals to choose from for blooming in a mild zone 10 winter. A six-pack of this slender linaria does it for me this year. Known for self-seeding, it hasn't done so yet in my garden. Annie's Annuals & Perennials has famously championed the toadflax, selling many sumptuous named varieties of the annual kinds but also the perennials like L. triornithophora (Three Birds Flying), one of the tallest, and L. purpurea, usually white or purple, but there's also a pink selection known as 'Canon Went.' I've found L. purpurea to be the most vigorous reseeder in my garden, but not at all what I'd consider a menace. A good "minor" vertical to 3 feet that slips in unobtrusively, footprint-wise, and easily removed from where it's not wanted.
Image of Linaria purpurea found here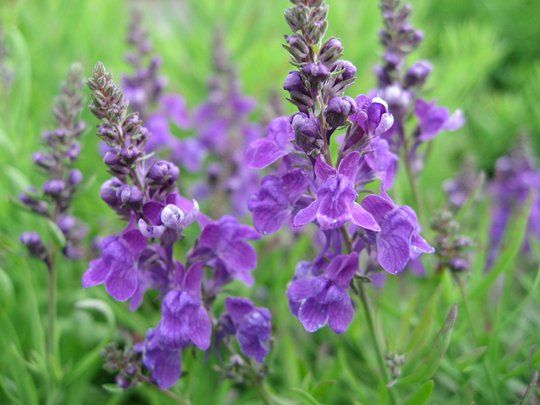 Linaria triornithophora's poetical common name of "Three Birds Flying" points to the many hours of enthralled observation linarias can inspire, a clue to their ability to transport the viewer headlong into their intricate, toadflaxian world. Tiny, wispy, insubstantial things they may be, but intriguing enough that you might find yourself lying flat on cold bricks some early morning, completely absorbed in their tiny spurs and sparkling colors, lost in the Land of Toadflax. Proving ingestion of plants isn't the only route to intoxication. If lying on cold bricks doesn't seem like such a good time, the annual linarias are wonderful in containers for a more comfortable vantage point.
Specialty seedhouses sometimes carry Linaria aeruginea from Spain, but I've never seen plants offered.
Image of Linaria aeruginea found here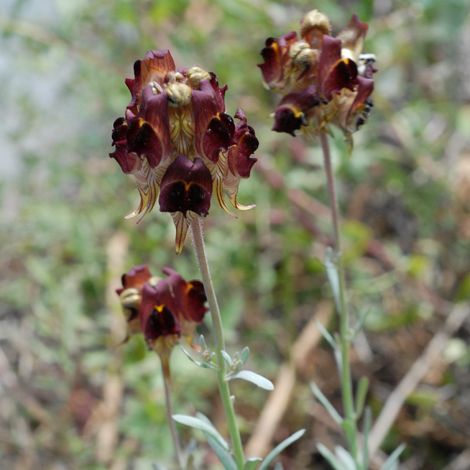 Some species of Linaria, including L. dalmatica, L. purpurea, and L. reticulata, are said to occasionally "escape cultivation" in California, meaning they get can a little too happy where conditions suit and given the opportunity.