We've been pushing ourselves to take long walks, sometimes early morning, sometimes early evening, as much as 4 miles, mostly through Long Beach's old downtown, which has seen many of its older buildings become frozen mid loft conversion. (Probably too many.) I never need encouragement to take a long walk, but I do need strong motivation as far as where to walk. The rules are no car can be involved, and the walk must begin straight out the front door, which necessitates passing through some mundane neighborhood streets I know all too well. In the evening, the carrot can be a movie (Hugo was wonderful! Who knew Scorcese was such a softie?!) or in the early morning, a cup of coffee.
Once the neighborhood is a mile or so behind, the sidewalks widen, and the view gets increasingly more interesting. The East Village has some beautiful old buildings, like The Broadlind Hotel, photo found here.
I did some holiday shopping on 4th Street's "Retro Row," which was a painful exercise in self-denial. A couple shops have exquisite mid century modern pieces. Image found here.
Rating right up there with garden travel has always been an irresistible desire to walk some of the world's great cities, and I have hiked through a few but not nearly as many as I 'd like. The pace of incoming stimuli, details, the places a car can't go, the unraveling of mental knots, the swing and rhythm, the layers of history read in a building's facade, a good walk can be as sublime an experience as any.
On foot the eye can hone in on details, like the inflorescence topping a 5-foot-plus bloom stalk of Agave desmettiana, a row of them in bloom in front of the architects' studio next to Lyon Art Supply.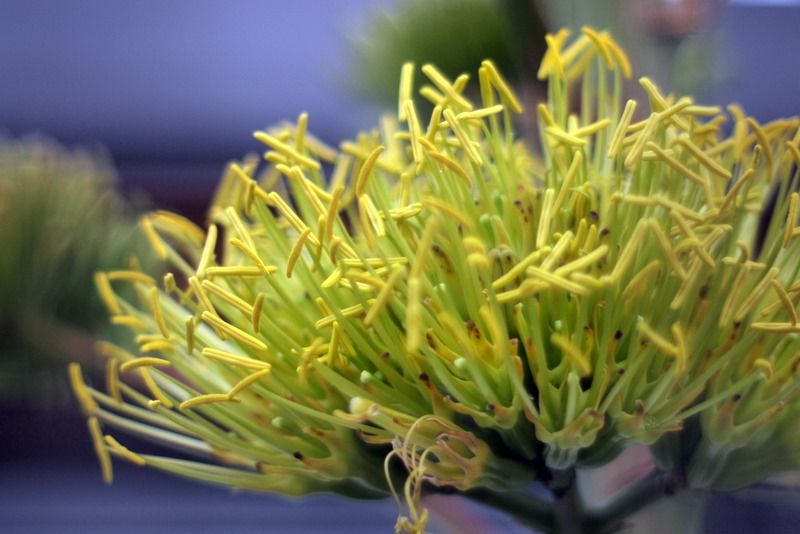 But day in, day out, you can only walk the neighborhood you've got. And this is Los Angeles County after all, not known for well-designed, walkable spaces. I don't mind scruffy, recessionary cities with a few teeth (windows) missing, just boring lengths of asphalt and concrete and vast intersections designed for cars, so Long Beach's older downtown, though small, is usually our destination, where the scale feels just right.
Brugmansia engulfing a porch. Agave victoriae-reginae from the Museum of Latin American Art.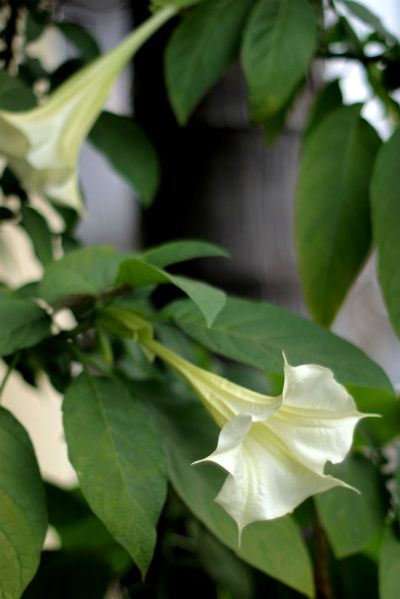 The mosaics of St. Anthony's Church, the oldest church in Long Beach. This version was rebuilt after the 1933 earthquake. Mosaics imported from Italy.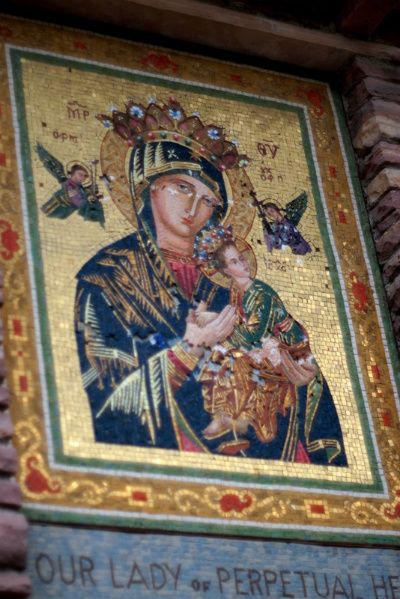 Always an adventure, as easy as one foot in front of the other.