A little prelude to upcoming posts on this tour held last Saturday in Venice, California. None of these homes were on the tour. They just happened to be located in the neighborhoods we toured through. Venice oozes a love of plants and gardens. This is the third year I've posted on this tour for the blog, and previous posts can be found here and here. The few photos not bearing photographer MB Maher's watermark were taken by me.
The weighty symmetry of two large agaves flanking the walkway to this front door we passed slowed me down. Agaves look a lot like A. salmiana, possibly 'Green Giant' or 'Mr. Ripple.' Dark red leaves from Euphorbia cotinifolia. Also with Euphorbia characias and coral aloes.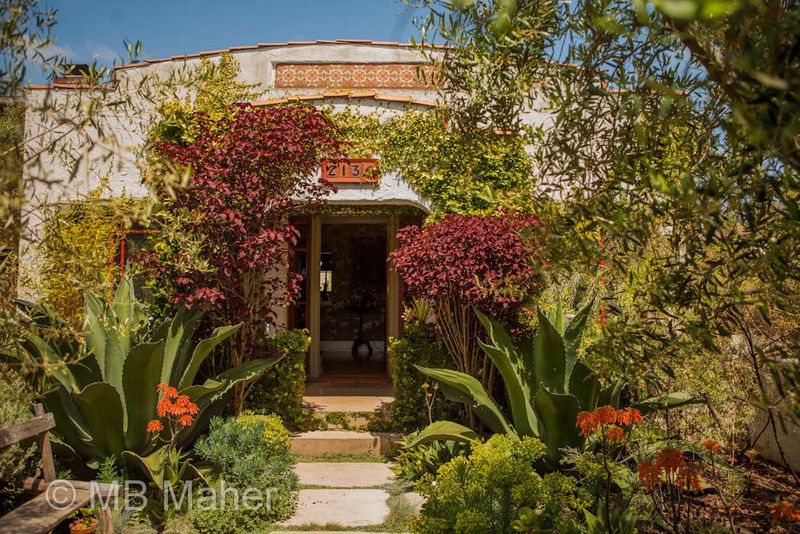 Euphorbia cotinifolia at another house, cut back hard or "stooled." In my back garden a 15-foot Euphorbia cotinifolia is given the space to grow as a tree and is just now leafing out. With Agave attentuata and Mexican feather grass, Stipa tenuissima.
Same house. Chartreuse shrub is the common tender bedding plant Helichrysum petiolare 'Limelight.' Silvery succulents probably dudleyas.
Concrete pavers outlined in Dymondia margaretae. A front-yard lawn in Venice is a rare sight.
Graveled-over front garden. Pirate foot locker for seating on the porch.
More dymondia, which tolerates light foot traffic.
Some of the sidewalks almost required a machete to navigate. Orange blur at the end is Thunbergia gregorii.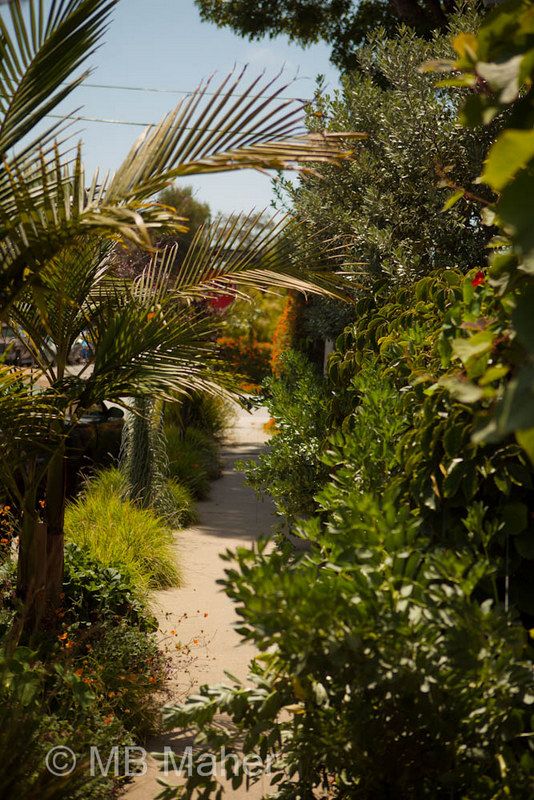 Echiums in the parkway/hell strip.

Agaves underplanted with succulents and gazanias.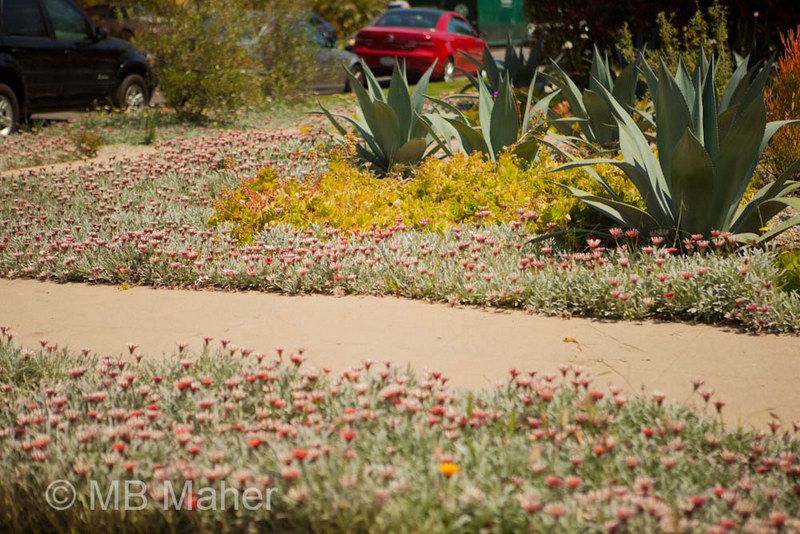 Must be an acacia.
Lots of Euphorbia characias on the tour. This one in a hell strip looked like it might be the selection 'Portugese Velvet'
More posts later this week on houses and gardens on the tour. Out of 32 houses on the tour, we saw maybe a half dozen. Some we just couldn't bear to leave. Like Molly Reid and Cliff Garten's home and studio, up next.