Today, 5/18/12, is Bike to Work Day, which I heard over the car radio stuck in traffic. So I have no cycling adventure to recount, but it's the perfect opportunity to share this very cool photo of Humphrey Bogart cycling on a Warner Brothers Studio backlot circa 1945.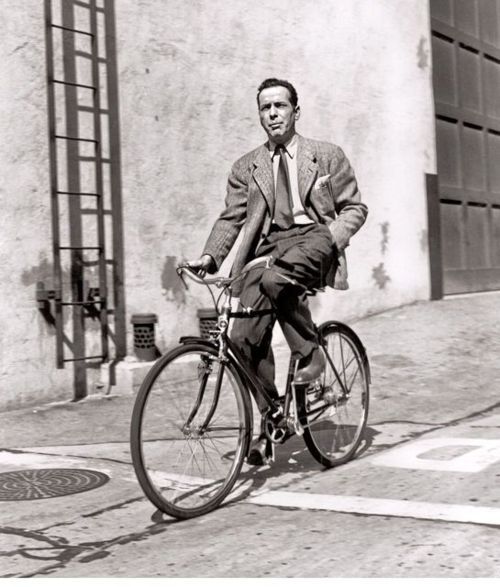 The photograph comes from The Philadelphia Inquirer film critic Steven Rea's book Hollywood Rides A Bike; Cycling With The Stars, published by Angel City Press, and is also on Rea's blog Rides A Bike. My town of Long Beach has invested in cycling in a big way, with designated one-way streets and bike lanes. Bike thievery is at an all-time high, too, as my husband will woefully attest. I've been looking forward to choosing a basket for my bike to load up with all the tomatoes and beans from my little community garden plot about a mile away — except that tomatoes now seem a long shot this summer. The plants are dying, and the soil, after no supplemental irrigation for two weeks, continues to be a squelchy, heavy mud. Explanations range among (A) I'm the worst vegetable gardener that's ever lived; (B) a fellow gardener has been surreptitiously turning my plot into a bog for reasons unknown; or (C) there's a leaky pipe. More on this sad state of affairs later.

But what a nice photo of Bogie. Which also illustrates that funny biking clothing is strictly optional.