Note to self: Stop planting Nicotiana mutabilis in full afternoon sun.
Note to garden: Stop spitting out my favorite plants.
Friday morning my Nicotiana mutabilis that wintered over from last year looked like this. Obviously still trying to get the hang of photographing this beautiful plant to its best advantage. Tiny, changeable-colored tubular bells (mutant/mutate/mutabilis) arrayed over a candelabra-like edifice that when built up and mature is as twinkling and swaying a piece of complex plant architecture as you're ever likely to see.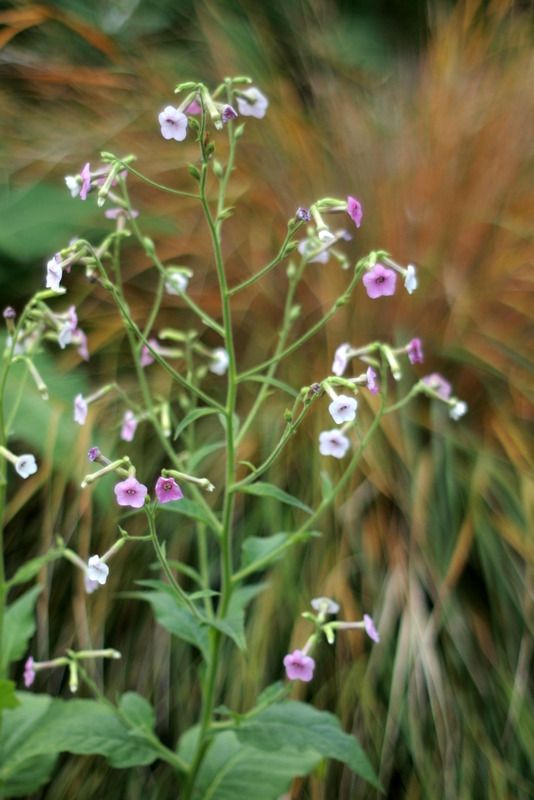 But I won't be getting any more photo practice on this ornamental tobacco from southern Brazil this year. Returning Friday evening, I found it in a dead faint after enduring temps in the mid 80s, full afternoon sun. Hoping it would revive and be fresh and dewy once again the next morning, it was instead in total collapse, leaves draped in flaccid curtains along the stems. I have lots of Nicotiana alata seedlings in different colors coming on, but mutabilis is in a league of its own. So annoying. The soil was laced with white threads, so there may have been a fungus involved that killed the plant when the soil warmed, some kind of
fusarium wilt
. Maybe it's not such a good idea to overwinter nicotianas in my heavy clay soil for that reason alone and grow even this tender perennial as strictly an annual. But that's just speculation and guesswork at this point. Yet the theory makes sense, since the stress of intense afternoon sun would set in motion a sequence of events where "the plant transpires more than it can transport, the stomata close, the leaves wilt, and the plant dies." Just in case, any new nicotianas will be planted at the far side of the garden, in afternoon shade, in very free-draining soil.