I got in too late yesterday for photos for a Bloom Day post, so made a head start last night on checking out the blogs linked on Carol's May Dreams Gardens host site for Bloom Day.
I think that's the best "issue" on June gardens I've seen in a long time.
Summer-blooming bulbs like crocosmia and eucomis stirring here in June.
Crocosmia and Teucrium hircanicum
Eucomis almost buried under a daisy with fennel-like leaves, Argyranthemum haouarytheum.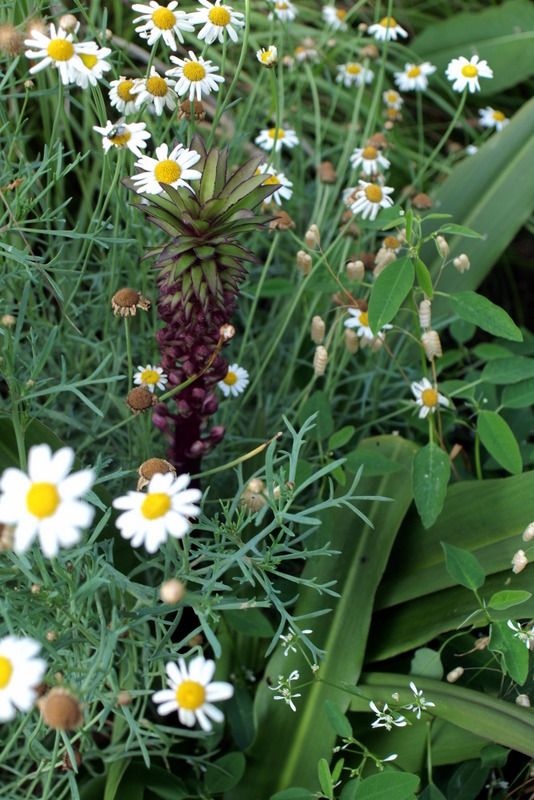 As with June Bloom Days past, white valerian seeding around at the edges. The seasons-spanning kangaroo paws, succulents and grasses.
I've been nibbling away at the bricks under the pergola, whose once-seamless perimeter is now as gap-toothed as a hockey player's smile.
(how 'bout those Stanley Cup-winning LA Kings?!)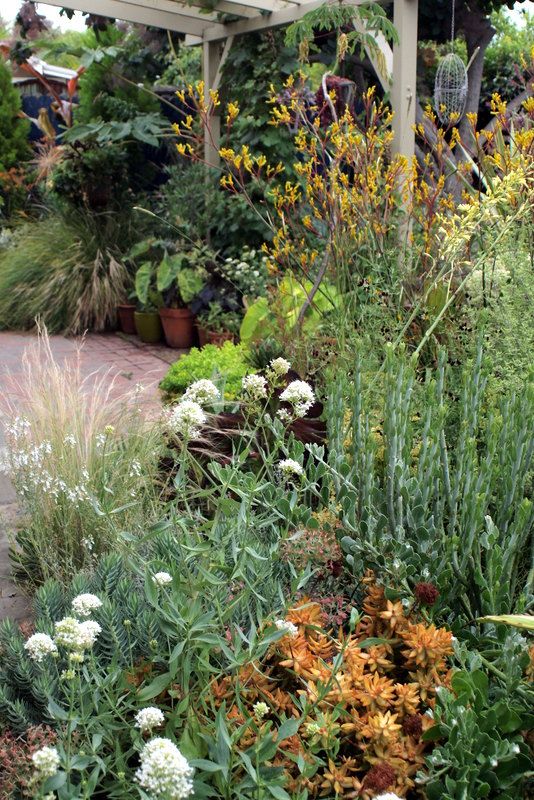 Latest brick removal was instigated by finding a source for Eryngium pandanifolium, the Giant Sea Holly.
I sowed seed last fall of a 'Physic Purple' variety but didn't get any germination, and then it popped up a month ago on Plant Delights online offerings.
Sometimes you've just got to scratch that plant itch. Of course I had to squeeze some Ruby Grass in while the eryngo thickens up.
More brick removal yesterday to try out Pennisetum 'Sky Rocket,' a sterile hybrid from the same batch as 'Fireworks.'
I've been on a destructive tear lately and have started hammering off the slippery tiles in the side patio too.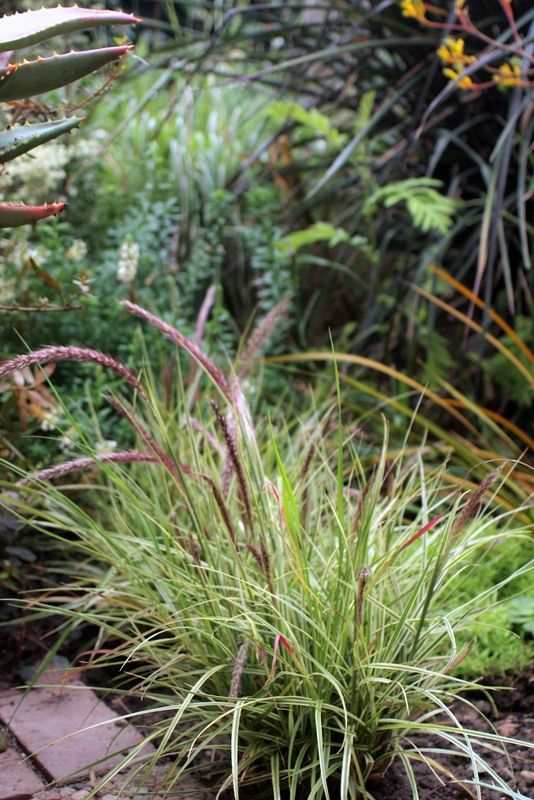 Onward and upward. This summer I'm training Passiflora sanguinolenta up the pergola. A rarity among passifloras, this one has proven to be a dainty, nonaggressive climber.
Sidling up to Aloe distans at ground level.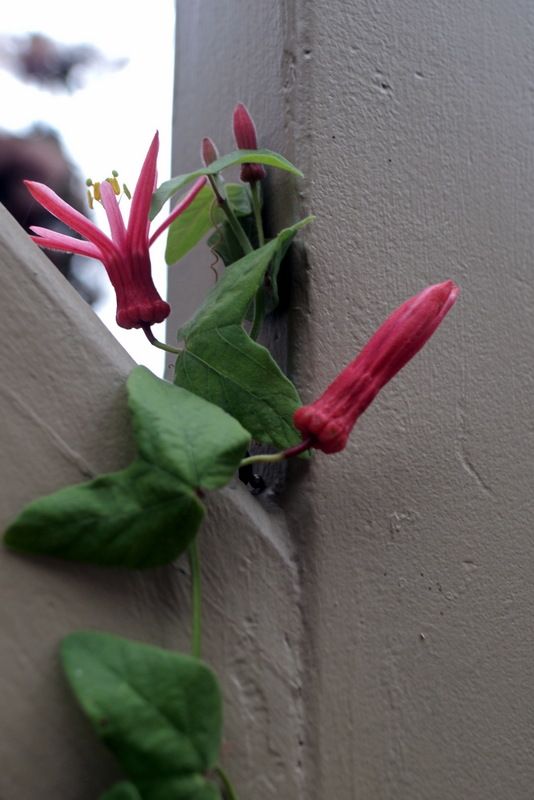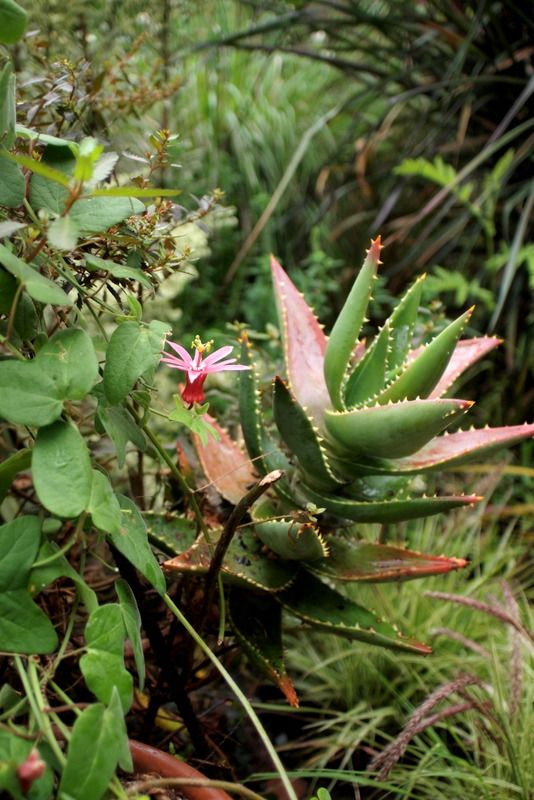 Not this Bloom Day but certainly by the next, I'll finally get to see Lobelia tupa blooming in my garden. I think the trick was thinning out plants possibly crowding it.
(Gosh, there's a surprise, overcrowding in my garden?)
First spikes appearing on Persicaria amplexicaulis. Salvia canariensis is more colored bracts than blooms now.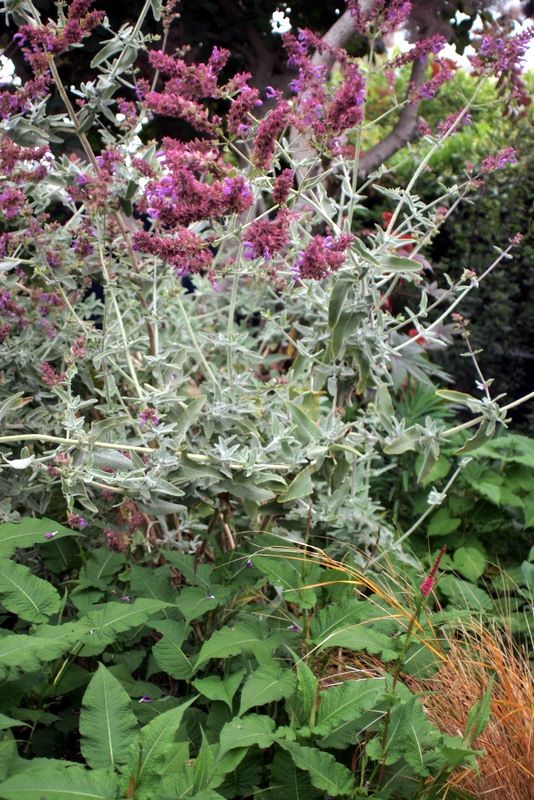 Verbena bonariensis 'Lollipop' in the iron tank. Eryngium tripartitum barely visible blooming here too.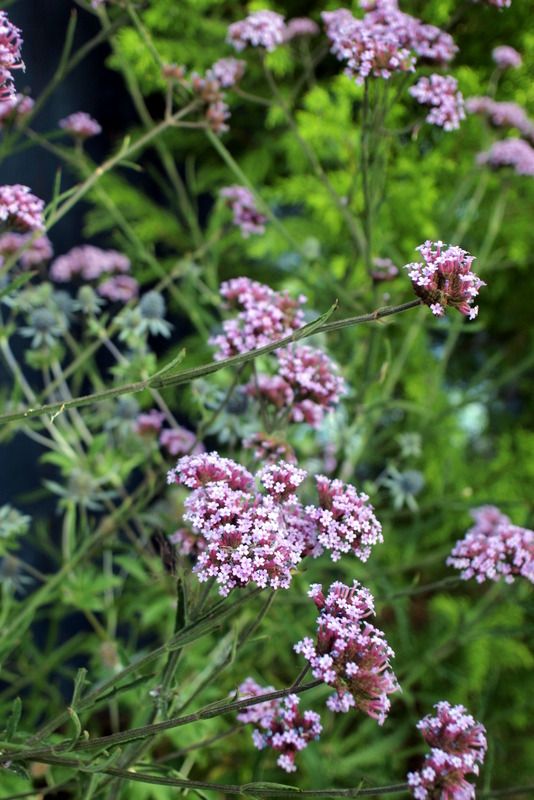 One lone drumstick allium amidst eyebrow grass, Bouteloua gracilis.
I think the 29 other Allium sphaerocephalum may have been swamped by the burgeoning Mint Bush, Prostranthera ovalifolia 'Variegata'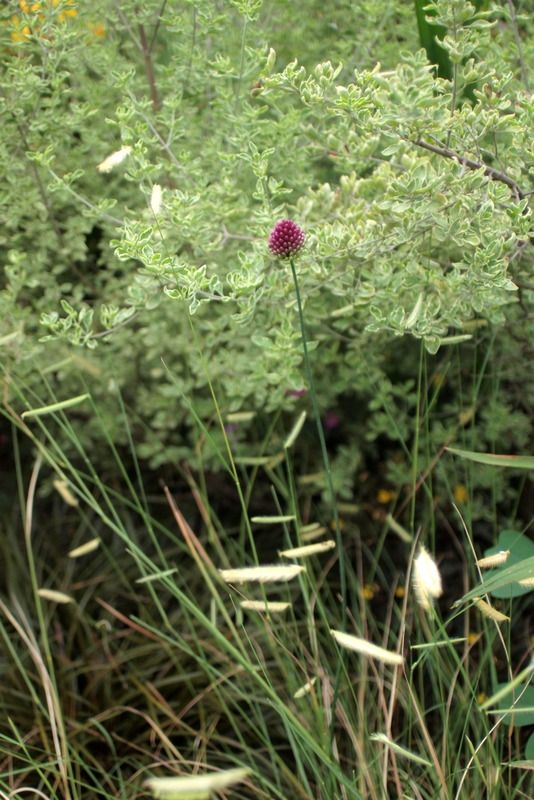 And since this post has wandered into Foliage Followup's turf of the 16th of every month, hosted by Pam at Digging, I'll close with a photo of a restio new to me.
Cannonmois virgata, identified by San Marcos Growers as more probably C. grandis.
SMG's photo shows the beautiful culms.
I was considering this restio to replace the rose I removed from the patio room, whose tile is being demolished…wonder where I left my hammer and chisel?